What Color Should I Paint My Bedroom? 
Blue is the most popular color for bedroom interiors. They are proven to induce a peaceful and relaxing sleep. The bedroom is the most favored space at home often used for relaxation, sleep, and intimacy. Regardless of its function, the wall color is an important factor to consider in order to introduce a soothing environment for the user. All you need to work on is finding one that will reflect your personality. It is dependent on the environment you are trying to build to make the bedroom more serene. We have rounded up colors suggestions of colors that you should use to paint your bedroom. Check out the color ideas below variating shades of blue, green, beige, white, yellow, and pink. 
Blue
Blue is the most popular color for the bedroom best inducing a drowsy feel for the space. Regardless of whether they vary in shades, they introduce a variety of moods for the bedroom that is ideal for both productive and dramatic environments. What we love about this color is how it works for the walls, ceilings, and even furniture. We have these three shades that you will find interesting for your bedroom paint color. Not because it is blue does not necessarily mean they are sad and gloomy. In fact, it is a color of variating emotions. 
Muted
A striking shade of blue is not for everyone. In fact, not because it is blue does not necessarily mean it should be bold. Muted blue is ideal for those who prefer a subtle shade of color for the walls. What we love about this idea for the paint on the walls is how it exhibits a cool vibe making it a color you would love to wake up to. Whether it be for modern or antiquated design styles, muted shade of blue will make the space feel more like home. 
Pastel
Pastel blue with a splash of grey is the most relaxing color you can have for the bedroom walls. It is like mirroring the afternoon sky. This color is a dream for many who wants to wake up to a vibrant yet relaxing ambiance for a space. If you are not a fan of bold and solid colors, this is something you would want to surround yourself with. It makes it a perfect color if you want the space both for productive and resting activities. They are rather sweet but subtle. Allow the color to embrace the walls altogether preventing an uncoordinated bedroom space. 
Sky
For a bolder color of blue, what is not to love about this sky blue color? It is a fun color to look at if you want a rather enthusiastic vibe for the bedroom space. Sky blue is meant to match with a variety of colors. This includes yellow, orange, beige, white, and even red. It makes a huge difference to how you see a bedroom considering how these days white seems to be the favorite color for the walls. When it comes to choosing a color for the bedroom, it is all about mixing and matching the shade. 
Green
Green is a color of serenity, oasis, and refreshing ambiance for the bedroom. It may not be one of the top choices. But, when the right shade is used, it makes a huge difference to the space's visual aesthetic. It is the closest color you can get to the hues of nature. Thus, it has the ability to exhibit the feeling of growth, freshness, and calmness.
Sage
Sage green is rather on the earthy side. It is a color that seems to be incorporated with mud. This is the perfect color if you are fond of the environment and how relaxing it makes you feel. In some cases, this color is used for the living room. No one knew how much it can make a difference when used in the bedroom. Sage green is a muted shade that is perfect if you do not prefer a rather strong shade, to begin with. It is subtle and soft that will change your idea of how green works in interior design.
Deep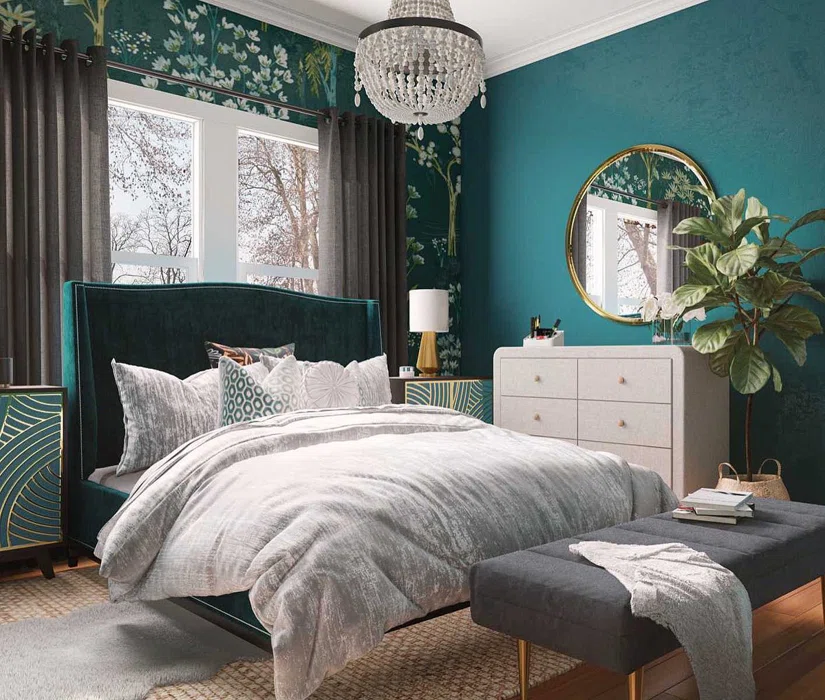 Not everyone is a fan of dark colors but deep green is a shade of refreshment and sophistication. What we love about this color is how it complements a variety of colors to make the bedroom space more cohesive. Using green is a way of having a touch of nature within the bedroom space. The inspiration above is proof of how much deep green can be a color designed for relaxation and boldness. It is all about releasing your inner creativity on how to make the bedroom look cozy and comfortable to be a sleeping space. 
Beige
Yet another popular color in antiquated and post-modern design styles is beige. It is a color that is calm and neutral that is perfect if you prefer something subtle yet bold. Beige exhibits similarity with ivory and oat shades. It is like mixing brown with different amounts of white and grey to maintain the saturated feel. The warm and inviting hue dwells on the relaxing idea of being in a bedroom. 
Hazelnut
Hazelnut shade of beige is rather on the dark side. Its saturated hue makes a huge difference in the bedroom aesthetic. This shade of beige works perfectly with off-white, blue, and green. Go beyond neutral colors and work with shades of colors that you did not expect would work alongside with it. Painting your bedroom walls with hazelnut beige is the best way of exhibiting an antiquated visual impact that can work in a variety of design styles. This is a safe color, to begin with, if you want to maintain a productive yet relaxing color to work with. 
Parchment
On a more vibrant note for the bedroom walls' paint, what is not to love about this parchment color for beige. This is ideal for those who want a warm yet vibrant color for the bedroom. It is a safe color to dominate the space with. What we love about this parchment shade is how it can work with a variety of color palettes. Since it is a color that is close to white, might as well treat it like one. Incorporate warm or cool shades that will highlight the natural lighting and build a saturated space at night. 
White
Believe it or not, white is a color that is popular for bedroom walls and ceilings. It is a refreshing color that suits both night and day settings. Apparently, it is dependent on the lighting color, temperature, and intensity in building the environment of the space. The vibrant visual impact introduces a productive and airy space to be in. What we love about this color is how it suits a variety of strong and subtle colors. The options are endless and white can go beyond modern designs. 
Flat
While some may find white as a basic color, it is actually one of the most powerful paint colors to work with. If you are using white for the ceilings and walls, you do not have to worry about what color of finishes for furniture would suit you best. It works for all. As seen in the inspiration above, we cannot help but appreciate the combination of vibrant and striking colors, to begin with. If you think white is too plain for you, be creative with furniture and fixture that will surround the bedroom space. 
Yellow
Yellow is often tagged as the color of anger and frustration. Why would it be used for the bedroom walls? Serving you facts, yellow is a powerful color that establishes a lively and rather enthusiastic vibe. On the other hand, it also exhibits a variety of negative and neutral emotions for the living space. What we love about this color is how subtle it can be as compared to red and orange as its closest colors. This warm yet cheery color works best for a bedroom's interior. 
Sunflower
If you are a fan of the vibrant side of yellow, this sunflower shade is to die for. This is the perfect shade for those with a cheery and enthusiastic attitude towards life. It provides a warm yet positive feeling the moment you wake up in the morning. By the looks of the color, it makes you miss the view of the sun rise and how it provides a sudden awakening. 
Butterscotch
On a darker note, butterscotch yellow is another favored shade that is ideal for those who are not a fan of the vibrance of yellow. This helps in relaxing the visual impact of color on the user of the bedroom. Besides, it can be a bummer having your eye strained with too much light. What we love about this shade is how inviting it looks. The warm welcome of butterscotch yellow establishes a defined ambiance in building a serene space for rest and relaxation.