Can You Use Masonry Paint on Wood?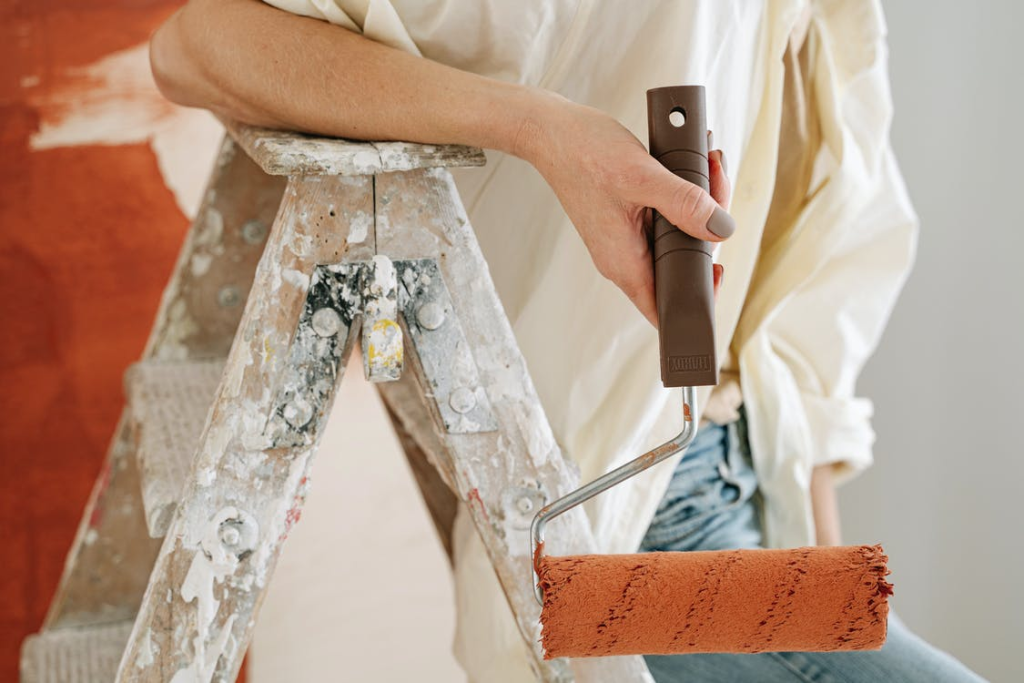 The use of masonry paint over wood is acceptable, and several homeowners opt to do so for aesthetic purposes. Paint is applied for a variety of reasons, including aesthetics, but it is also used for safety and sound absorption in many cases. Prior to beginning the task of coating wood using masonry paint, it is necessary to complete certain preliminary work that is completely essential. Because wood is porous, it is not possible to just paint the masonry paint straight on it. Preparing the wall with primer sets prior to actually applying paint should be a must first before the paint can be applied. Paint will peel off if the pretreatment is not done properly, and you may experience difficulties with paint debris and chalking, to mention just a few issues. As a result, it is critical to use the proper primer and select the appropriate kind of masonry paint before painting. We have rounded up everything you need to know about using masonry paint on wood.
Where is Masonry Paint Commonly Used For?
Masonry paint, to put it simply, is a paint that is used for painting materials that are found from outside structures. Its construction allows it to adhere well to uneven and hard surfaces. Beyond the building, there are much rougher surfaces than there are within the property.
Masonry paint has the capacity to endure extreme conditions all through the entire season. Once you paint the wood with masonry paint, it prevents humidity and precipitation from soaking into the wood and causing it to expand and contract as a result of the movement. Harm to the structure occurs as cracks grow in size and become larger.
High-quality masonry paint is an excellent approach to keep the appearance of the brickwork as well as the overall beauty of the property for a longer amount of time. Furthermore, they are available in a variety of colors, enabling you to select the color that best suits your needs and complements your structure.
Does Masonry Help Insulate the Wooden Walls?
The use of masonry paint on wood in the house has been shown to optimize the general insulating properties of the whole house.  The coating of the paint on all of the walls in the house will guarantee that no places are left unprotected from the effects of the fire. 
Since they are absorbent, the walls of the house that have not been sealed are fatal flaws. Water and moisture can be collected by the pores of the object and even become lodged within the material. As a consequence, the walls are not adequately sealed, and the house gets chilly, wet, and costly to heat and cool.
Masonry paint applied to wood as well as other inside walls of the house helps to counteract the permeable quality of the material while also providing an additional protective layer. Although the paint protects the exterior walls, it still enables the walls to flow and move, as though the walls were a living structure, You may protect the outside walls while still allowing them to shrink and flex as necessary.
Can You Paint Over Painted Wood?
It is feasible to paint raw wood with a top-notch exterior paint, but priming it first will ensure that the paint will remain longer. You can start peeling any remaining wood from the locations you peeled away. If you are having problems with oil seeping into paneling, you might consider applying a light coating of external primer over the existing painting.
What Happens When Masonry Paint is Used on Exterior Walls?
If you decide to utilize masonry paint for your exterior walls, we can make certain that the walls are properly primed and treated before applying the paint. Cleaning the surface with high-pressure cleaners to eliminate dirt and impurities, cleaning for moss, making any needed maintenance, and restoring the face are all part of that system.
Will Masonry Paint Adhere on Plywood?
The findings for Masonry paint on Plywood are of excellent adherence on the surface. The paint has adhered effectively to the surface, with the poorly prepped piece appearing to require just one layer to be completely finished. Despite the fact that nothing got away while scrubbing with the coarse lumber, this has worked brilliantly, and the only thing left to see is how well it operates outdoors in all weather conditions for several weeks.
Will Floor Paint Adhere on Wood?
For the greatest outcomes, use oil-based patio and flooring paint or oil-based enamel on your veranda and flooring surfaces. Despite the fact that they aren't the most environmentally sustainable materials available in the marketplace, they will outlast any other type of paint in terms of durability. Another option is to use commerce paint, which will emit reduced emissions but does not last as much as traditional paint.
What is the Best Paint for Wood?
Painting wood furniture using latex paint, which can be found at nearby hardware stores, is usually a good idea. Furniture painting is typically among the most straightforward chores that can be accomplished using this paint. Despite the fact that oil-based paints seem to be more robust than latex paints, but are not quite as resilient as latex paint types.
Where Can Masonry Paint be Used?
There seem to be numerous spots throughout the house in which you can use masonry paint. Spaces with rough, uneven, and hard surfaces are excellent candidates for masonry paint application. Typical brickwork regions include cement floors and walls as well as brickwork, aluminum, timber, and gypsum, among other things.
Since the paint is accessible in a variety of colors, it may be difficult to select colors that are appropriate for your structure. As a result, neutral colors will be a wise choice in this situation.  Colors that are adaptable, such as gray masonry paint, light grey masonry paint, dark masonry paint, and light masonry paint, work very well in a variety of various adjacent furniture and accents in the home.
Masonry paint offers a thick covering on uneven ground, such as brickwork, to protect them from damage. Additionally, painting your property with masonry paint creates an insulation coating that aids in the efficient use of energy in your residence.
Does Masonry Paint Work on Fences?
Previously, we've confirmed that masonry paint may be applied to wood surfaces. First of all, you must determine if the paint is appropriate for use on exterior grade areas, such as fencing, before applying it to those substrates. In this instance, the fence is contributed to a large deal of the elements. Fences must be painted using external masonry paint, which is designed to withstand the elements and is particularly effective on rugged outside areas.
It is necessary to sand your fence and clear off all mildew and algae prior to painting it. You should also fix any holes or breaks in the top of the barrier when painting it. The entire procedure results in a flat surface, which prevents the paint from seeming uneven when it is applied.
Use a primer once you have completed the measures to provide the paint with an underlay that complements the wood in terms of resistance to cracking by giving a protective barrier to the surface. When the primer coating has dried, you may apply another layer and then paint the fence using masonry paint to finish it off.
What Makes Masonry Paint Better Than Emulsion Paint?
The decision between masonry and emulsion paints is based on a variety of factors, including demands, preferences, and interests. The majority of the time, masonry paint is used to paint the exterior of a home or building. However, because of recent technological advancements, masonry paint seems to be quite adaptable. 
Emulsion paints, on the other hand, are primarily intended for internal application. Emulsion paints are unable to withstand the effects of adverse environmental poor weather conditions, hot weather, and cold. After prolonged exposure, the emulsification begins to crumble and wither away in appearance.
Masonry paint is the finest choice for your outside wood demands because it is durable and resistant to adverse weather conditions. Masonry paint on walls allows humidity and precipitation to move away, allowing for better air circulation. Additionally, masonry paint serves to protect and preserve the wood.