How to Decorate the Center Table of the Living Room – 12 Ideas to Try
More than just the couch, the center table is also one of the most significant pieces in the living room. It is the surface where the remote control, magazine, and even a cup of coffee land. There is more to a coffee table than being just a landing space. It is the center of attention in the living room. Therefore, it is the perfect place to organize decorations whether it be flowers, plants, pieces of literature, trays, or other objects may come in handy. To highlight the focal point of the living room, we want to spare 12 details and ideas on how to decorate the center table in the most stylish way possible.  
1. Setup Another Table
One coffee table alone is sad and lonely. Making it two adds a little leverage to the design. Apart from keeping the other one company, having two makes room for more landing space. This is ideal if you have a more central room. Since it is light in weight, it can be easily moved aside if you need more room for movie nights and sleepovers. The lower part of the table also has room for storage of blankets and even throw pillows when they are not in use. These days, tables are designed to be smart and compact for home use. As the homeowner, it is your responsibility to make use of it and make it presentable for the household and guests. 
2. Fill the Space
If you are torn between what to put on the table, the best way to go is by making room for different items on the table. The purpose of the center table is to have a landing area and to have items within reach from the sofa or armchair. As seen in the example above, there is a variety of items on the table. Even though, it does not look cluttered. In fact, the arrangement looks neat and in order. It is all about keeping the items grouped accordingly to prevent making it look like accumulated clutter. Also, it would be best to focus on the colors of the items for decorations. Keep them coordinated in terms of color to have a rather visual aesthetic for the center table. 
3. Add Edible Decorations
Instead of dwelling on the plastics, working on edible decorations would suffice too. As a room of comfort, having variations of food as decoration creates a warm and inviting atmosphere, especially for the guests. On the side, you can see a tall pitcher. It is perfect for keeping the tea warm. Whether it be for a tea party or just a casual gathering, it is something you might want to have on the center table. Most of the permanent decorations are placed on the lower level of the table. This includes a place for the books and magazines to be stacked and still has room for remote control and all the other items in the living room. The top tier is mostly for temporary placements. It means it would not interfere with storage and the surface will not look too cluttered. 
4. Layer in Levels
Two-tiered coffee tables often come with a larger room for storage. As seen in the image above, there is enough vertical space for books, plants, and even baskets beneath the surface. These coffee tables are the type that makes a great piece for coffee and tea parties. If you are the type of person who prefers everything in order, this style would work best. Imagine having tea and cake on a casual afternoon while reading a newspaper or magazine. The table makes a great surface to gather around and have snacks and the decorations would not interfere since they are located in the lower tier. 
5. Have a Coffee Nook
For those who are fond of breakfasts and brunches, this idea would come in handy. As seen from the inspiration above, they opted for a two-tier coffee table. Technically, the lower portion is for storing magazines and books and the upper portion is for temporary placement. If you are the type of person who loves having meals in the living room, it would be best to keep the surface empty at all times. This strategy prevents breakages, especially from decorations that are susceptible to breaking. If you have an ideal decoration of magazines, candles, or picture frames in mind, it is still possible but it would be best to have them placed beneath and put it on the top tier when the table is not in use. 
6. Make it Multipurpose
The living room is also considered a multipurpose room for a variety of activities. This is often used as a reading room, workspace, entertainment, and even personal space. What we love about the idea above is how the table has enough room beneath for a variety of items that requires storage when not in need. The decoration of the table is ideal for those with a busy living room. If a table is designed to be mobile, the decoration should be kept simple yet aesthetically pleasing. We want to maintain the warmth and inviting atmosphere of the living room. Since the table is mobile, it will be more prone to breakages. It is just right to keep the decorations plain and simple. 
7. Make Room for Fresh Florals
What better way of seeing the living room's center table than having a view of fresh flowers? Apart from the refreshing sight of life inside the house, flowers tend to diffuse floral-like scent that most households love. Besides, flowers are customizable. You can arrange a set of flowers to your liking. Whether it be a set of tulips, roses, daisies, or whatever you like, it would look good on the center table. If you are not a fan of fresh ones, dried ones would work too. They are low maintenance and their color induces a warm ambiance for the living room. 
8. Work on One Side
A little asymmetry would not kill the vibe in the living room. What we have here is an arrangement of variating items on a table placed on the side. It makes more room for other activities to take place in the living room. The candle holders managed to set the depth and height of the table. Always remember to keep the decorations grouped rather than scattered within the table. This will prevent the decor from looking like accumulated clutter. Keep the decorations as simple as possible. Place what you think will be often needed and place a piece that you think is useless. 
9. Incorporate Small Indoor Plants
To keep the environment of the living room more refreshing and inviting, incorporating fresh pieces of small plants would suffice. This is ideal for living rooms that are dominated by a warmer color palette. Having green pieces will create a visual difference to its design. It would be best to work with low-maintenance ones. Indoor botanical plants tend to require less water and vitamins. It just needs enough sunlight for it to grow. On the other hand, plastic plants can work too if you literally have no time to maintain real ones. Plastic plants are aesthetically pleasing too. With the variating options to choose from, you can change it every now and then depending on the aesthetic you are trying to pursue. 
10. Warm Up with Decorative Candles
For a simpler design for the center table, candles can be a great sight to see too. They come in different colors and designs. It is not a decor only good for the holidays. In fact, it is a decor that can work for all occasions. Be selective of the candle's design and color. Ensure that it can blend in with the entire living room's aesthetic. It can either be used or just be solely for display as long as it matches the theme of the living room. If you prefer to add depth and elevation to the candles, it would be best to place them on top of a tray. Candles, just like fireplaces, create a warm atmosphere for the guests and households. 
11. Play with Variations
For those households with fewer to no kids, you will love how this center table is arranged. It is a combination of geometry and material that exhibits the classic chic design. The variation of the decor in size, shape, and color established a sense of visual impact for the users of the space. This two-tiered center table has room for different activities. Whether it be for reading, working, or even designing, we love how the decor of the center table makes a huge difference. It can either be something useful or just something to fill the space. 
12. Style with Glass Decor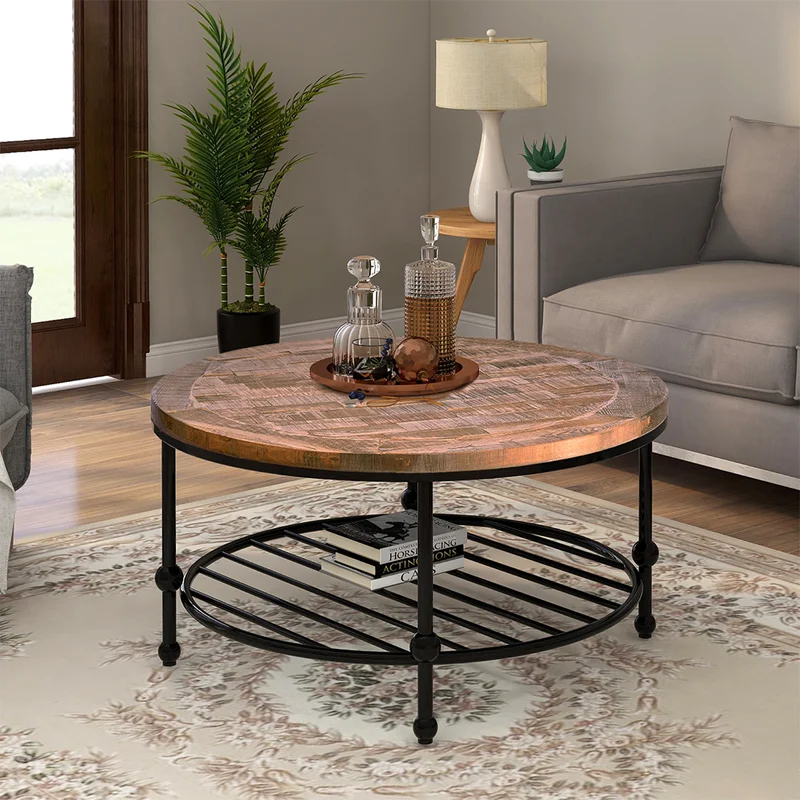 Nothing beats the class and the grandeur glass finish brings to a center table. Its ability to reflect light creates a shiny visual. It has the same vibe a glass coffee table brings. Glass decor tends to indicate a vintage rather antiquated aura to the room. There is no decoration in specific but as long as it is glass, it works well in any themed living room. It brings a luxurious character to any space.