10 Flooring Ideas for the Living Room
Choosing the perfect flooring material for your living room can somehow be a challenge for some. We all want our living area to be cozy and dreamy to enjoy its perks such as housing guests, households, and even for a quiet and intimate time alone. With the countless flooring options, we have drawn the options to the 10 most popular flooring ideas. We evaluated these 10 options according to their style, durability, and maintenance. It is about time to spice up your flooring without having to go to your nearest depot to choose. Allow your creativity to run free with these 10 flooring inspirations for your living room to check out. 
Carpet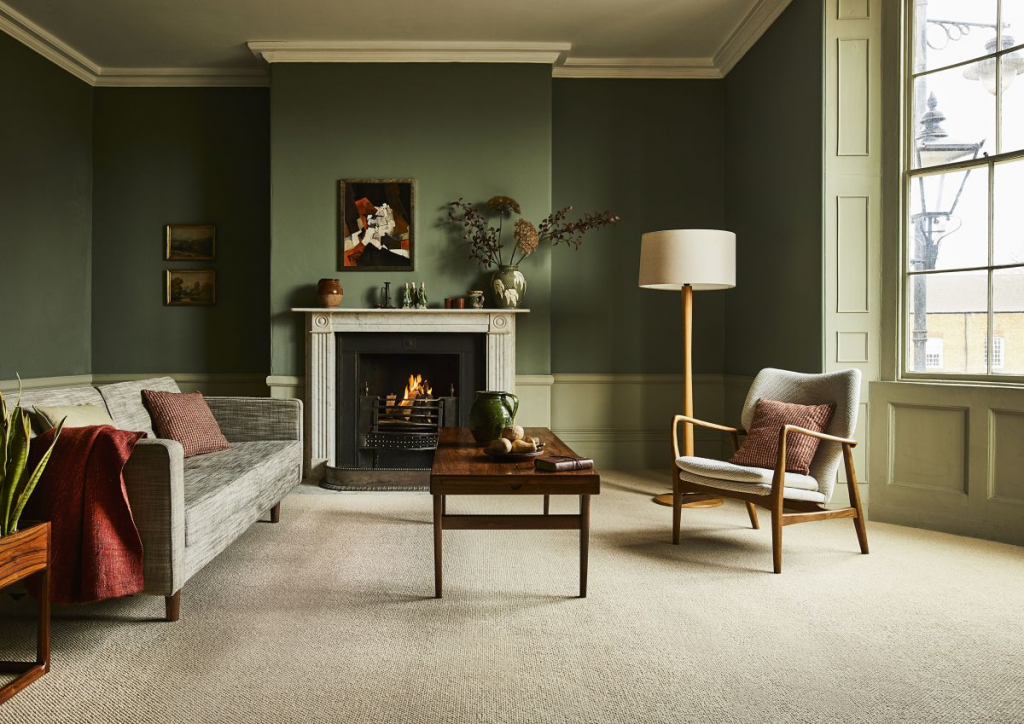 Don't you just love it when you rub your feet together feeling the warmth of the carpet? Wall-to-wall carpet is a flooring material to opt for that can spice up any living room design concept. For example, this design inspiration from Real Homes is a contemporary living room topped off with warm-colored carpet flooring. It is a dainty material that is perfect for big households with children. In terms of maintenance, carpets can be easily cleaned by using a vacuum which is often used in dusting off the household. On average, the lifespan of carpets ranges from 10 to 15 years when properly maintained. We love the flexibility of carpet flooring for the living room. As it works on any design concept, it is something that you can use to increase the coziness of your living area. It is a soft and warm material that makes the entire room look intimate. 
Laminated Wood
If you are looking for something rustic and vintage, we highly recommend the use of laminated wood. Often come polished, laminated wood for the floors of your living room adds adequate texture and details. Its intricate cuts bring life a boring and plain living room design. It is an ideal material to opt for if you want to settle with industrial, modern, contemporary, and even minimalist concepts. This amazing example from Tarkett gave us a rustic vintage vibe for the living room. Balancing the light and dark tones, the laminated wood flooring supplemented the minimal use of patterns and textures in the living area. It can easily be maintained through wiping and polishing. Friendly for pets and children, it is resistant to dents, scratches, and moisture.
Porcelain Tiles
If you are looking for a material to invest in that will work long-term, porcelain tile is a gem in every interior design. More than just its durability, we love how sleek and shiny they look when properly maintained. Thanks to this inspiration from Barana Tiles, we already have a view of how the flooring accentuates the elements within the living room. Apparently, it is not child-friendly, but it works well for households with pets. Porcelain tile is the most durable of its kind. More than their aesthetic value, they are tougher and are less porous as compared to other tile types. Its shininess will make the living room look grand sophisticated. 
Marble Flooring
Most seen in minimalist and modern interior architecture, marble flooring is the material to opt for. This design inspiration from Pinterest nailed a clean and airy look for the living room. Flowing flooring materials are often seen in open plans where the living area and dining area are interconnected. Instead of dividing the entire space with walls, the flooring kept a sophisticated gesture of having them both in the same place. The flooring material made it look larger and cleaner to look at. Maintaining it may be quite the challenge but twice a year would work well to resist stain and damage. On average, marble tiles can last from five to ten years depending on how it is maintained. 
Polished Concrete
If you want an economical and environment-friendly alternative to the traditional stone and wood flooring, polished concrete should top your list. Polished concrete for the floors provides a luxurious accent turning the tables for modern techniques in interior design. Having your living room floors be finished with polished concrete allows you to be flexible in terms of the concept you want to achieve. In this case, the inspiration from MYMOVE gave us a modern industrial approach for a living room. Combined with the right dyes and polishing materials, concrete floors turn old and plain concrete into something exceptional. If you are seeking more textures and patterns, they can also be stamped with stencils to add character. Polished concrete can last up to 20 years. It is a perfect flooring material if you want to cut the costs but not compromise the aesthetic impact. 
Laminated Wood
The roots of laminated wood lie on pressed wood that indicates its durability when it comes to moisture, scratches, dents, and tears. Its prestige and longevity are just undeniably good compared to other wood flooring preferences. This design inspiration from Nimvo exhibits the homey and cozy feeling brought by the flooring. Dust build-up may be a challenge but they are easily maintained and polished as compared to tiles. We love how this paneling of laminated wood added a rustic Scandi vibe. Besides, woodworks are in different design concepts, especially for a living room. The cuts of the wood give us a great view of the core of the wood adding character to the living room. On average, the lifespan of laminated wood ranges from 15 to 25 years depending on how it is maintained. 
Slate Tiles
We love how texture and finish allow us to determine the character of a living area. Thanks to this exceptional design inspiration from Dwell, slate tiles tend to have a rustic masculine vibe. It looks neat and orderly in precut squares. Slate tile is a versatile material made from metamorphic rocks created out of pressure and time. Its hardness is resistant to dents, scratches, and even scrapes. Because of the intricate process of how it is made, slate tiles are more expensive rather than other tile types. These are ideal if most of your activities within your living area are housing guests. Slate tiles can handle human traffic and they do not easily crack. It is an ideal flooring material that works effectively on different design concepts for interior design since it is both resistant to moisture and water. 
Terrazzo 
Thanks to this design inspiration from Floornature, we can have an actual view of how terrazzo tiles work perfectly for the living room. The lack of patterns and textures is outweighed by the patterns of the flooring material. It may come in cheap but it does not look cheap. When properly sealed and installed, they can last a lifetime. This material is in increasing popularity considering the resourcefulness of the designers of the 21st century. Designers opt for terrazzo because of its beauty. It does not wear off over the years. And even if it does, it can easily be finished and polished to restore its beauty. This is a perfect material to opt for if you are on a tight budget. Terrazzo is relatively more affordable as compared to other floor materials and remains to be long-lasting. 
Solid Wood
House Beautiful's use of solid wood gave us an amazing view of how its flexibility in design. It gives us a warm and cozy vibe ideal for the living area. Paired with the right pieces of furniture, the solid wood added a rustic and vintage character. This is perfect if you are in a household with kids and pets because this material can last for decades. The greatest thing to know about it is how low maintenance it is. These slabs from trees are originally cut. Apparently, they are more expensive as compared to other flooring materials but it is an investment that is worth every penny spent. With its beautiful grains, each panel is different from the others. That is how unique it is. With the varieties of wood that can be used, it is easier to tell which ones to choose depending on your ideal design. 
Engineered Wood
Engineered wood is the material of the 21st century. Since we all are focused on seeking sustainable alternatives, it is one of the eco-friendly creations from wood derivatives. On the other hand, they are more affordable as compared to solid wood. Engineered in the process, they are resistant to moisture and are expected to last from 20 to 30 years. If you are thinking of a long-term investment for your flooring, we suggest engineered wood panels. If the polish wears off, the least that you can do is to sand it off and repolish the entire flooring to retain its visual aesthetics. This will perfectly fit your living area if you are rooting for modern, minimalist, rustic, and even Scandinavian design concepts.