14 IKEA Living Room Ideas for Your Next Room Makeover
The design of our living room reveals our identity. More than that, it is a place where we want to chill and rest after a long day of work. Since we want it to be as inviting as ever, we should offer our gratitude to IKEA for its amazing design inspirations to add flavor to our homes. In the midst of the variations that different stores can offer, IKEA provides a sense of direction towards achieving your ideal interior design. With that in mind, we have gathered 14 different living room ideas from IKEA to spice up your next room makeover. 
Messy & Clean Look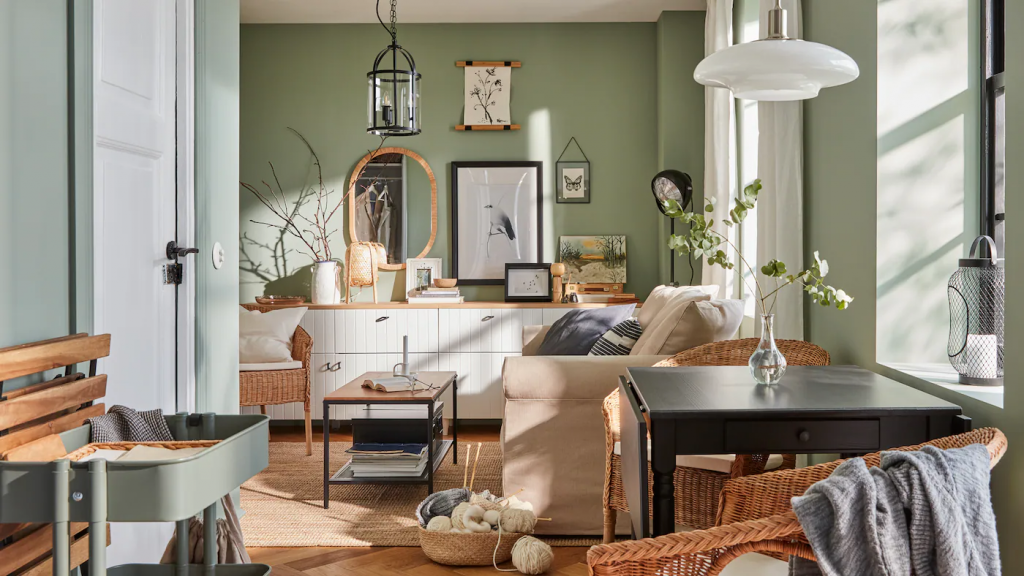 The first inspiration indicates earthy tones that make the entire living room relaxing and refreshing. There are minimal elements in dark tones present which make the living room light up. What we love about this design are the matcha-colored walls that matched well with the predominating color of the sitting furniture. The design achieves a messy-clean look. Symmetry is not considered but regardless, the layout of the furniture delivered its objective, to create a cozy and comforting atmosphere. If you are to invest in furniture, the first thing to do is to scrutinize different couches that are flexible for the themes you aspire. 
A Bookworm's Dream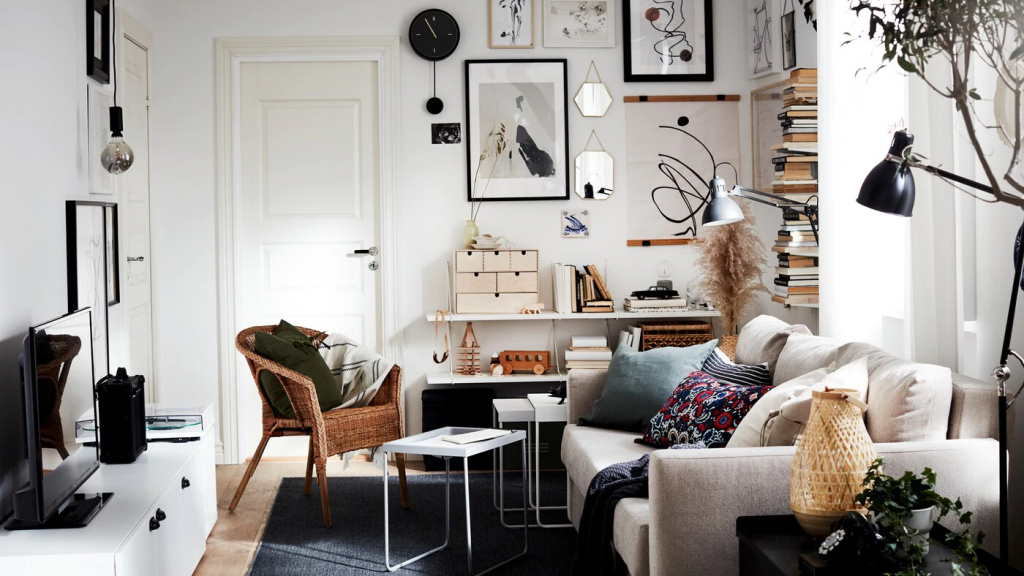 Our ideal living room design shall reflect our activities. This is why the living room should be flexible in design to cater to all activities such as entertainment, housing guests, and even relaxation. This design inspiration from IKEA is a dream for all bookworms out there.  It is a Scandi-minimalist concept in hues of black, white, and brown. This is the perfect design inspiration if you are rooting for a cozy living room where you can lounge and read. It looks personalized with the hanging framed accessories. 
Light Scandi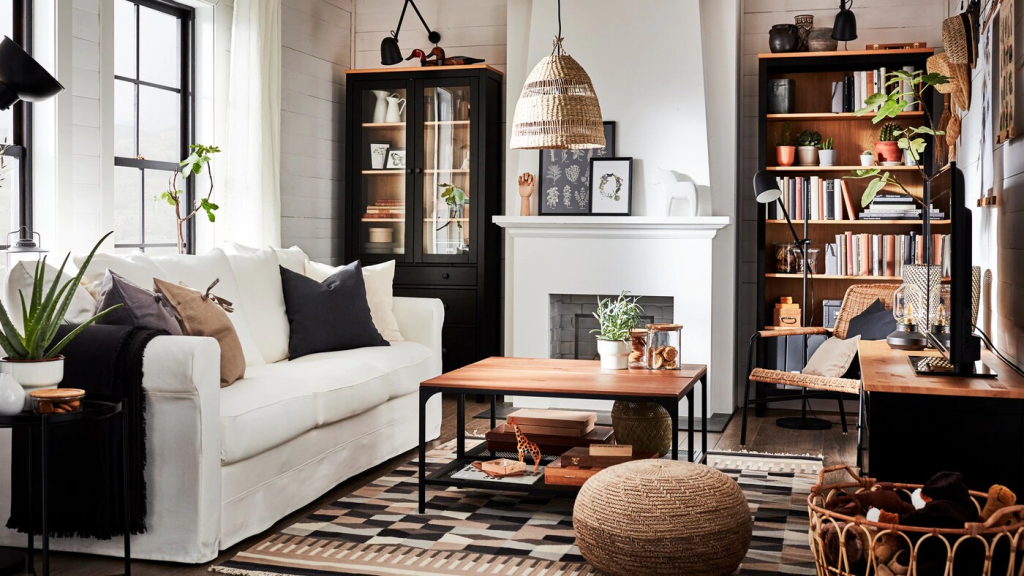 We all want our living rooms to be clean-looking. Though, there are times that we have to admit that it will not always be in order. Therefore, investing in clean-looking materials is the ideal tip to give for your next living room makeover. In this design inspiration from IKEA, there are plenty of elements and accessories housed by the living room. But, it does not look cluttered. Thanks to the dominance of the color white, it looks neat in spite of all these decorations. What we love about this design is the cozy off-white couch with puffy throw pillows. It seems to be the place where you breathe after a long and tiring day at work. 
By the Seaside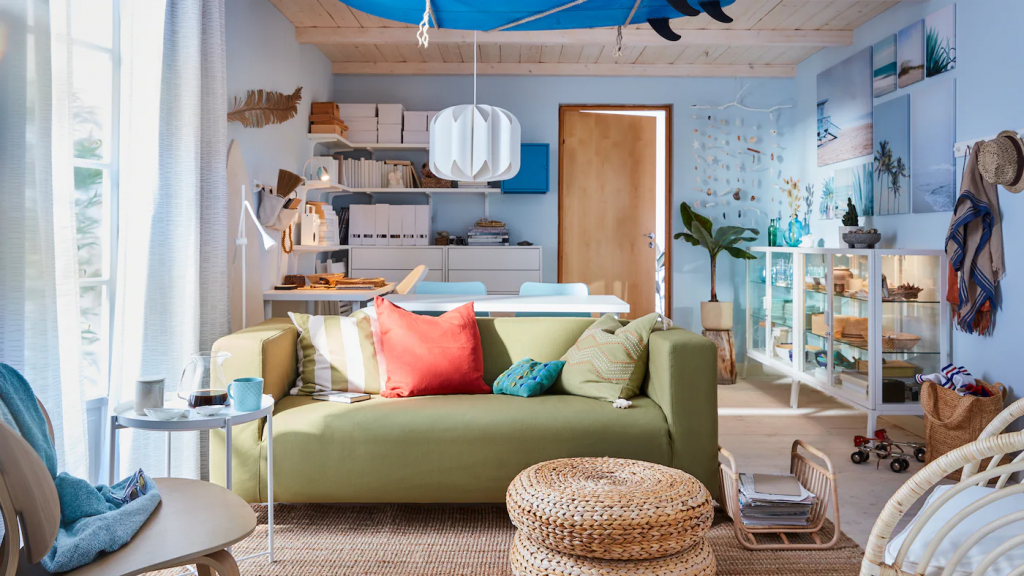 Are you a fan of the sea? Well, you are in luck with this amazing seaside-inspired living room. It is the baby blue color that gave away the vibe of the beach. Thanks to this inspiration from IKEA, you will realize that some colors do blend well together such as blue, orange, and green. It really takes a lot of courage to experiment with the different colors complementing one another. The best tip we could give you is to invest in lighting fixtures that will add icons to your living room. In this case, the designer opts for a pendant molded lighting in white and a floor lamp. It has this minimalist-industrial vibe that is ideal when incorporated in a design with bold elements. 
Living Oasis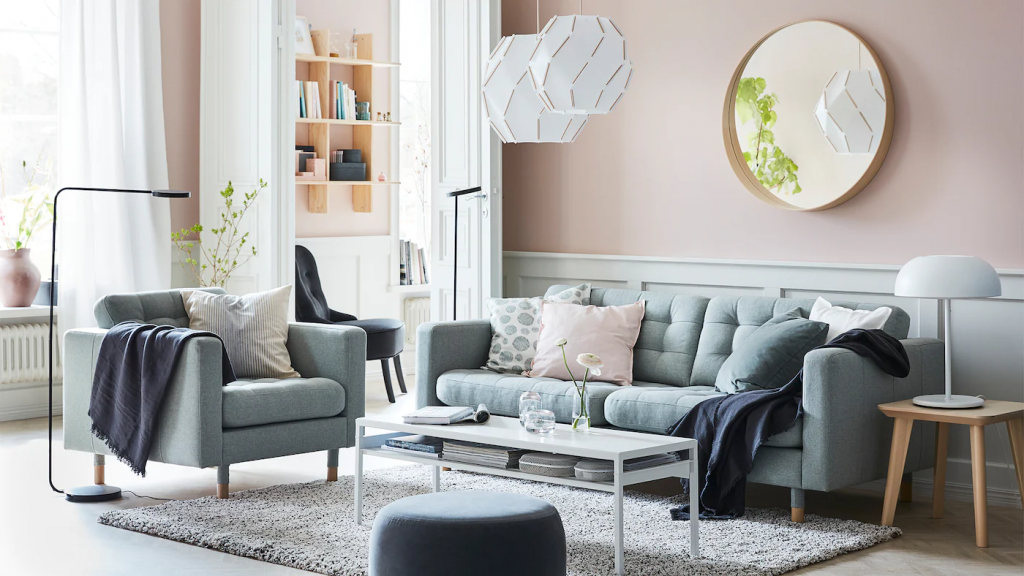 If you are up for subtle tones, this inspiration will surely make you stop at IKEA and check out their furniture in pastels. What we love about the Living Oasis is their comfy upholstered couch in pastel teal. It gives us the light and warm vibe that will make you feel comfortable spending the day on your couch. This is a neat idea if you house a small number of guests most of the time since there is enough seating capacity. In addition, the design has impeccable taste for lighting fixtures. As you can see, the designer opts for a floor lamp, table lamp, and pendant lamps. Each of these provides both direct and distributed lighting. 
Friend's Cave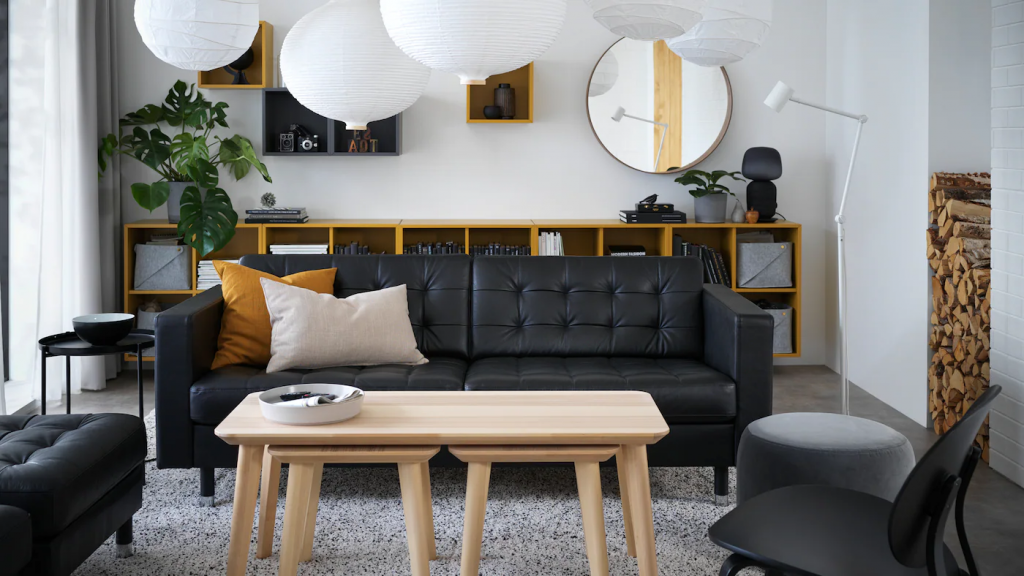 More than two is a party they say. In addition to keeping the living room comfy for the household, it must be inviting for the guests to enjoy. Thanks to the bold black square couch from IKEA, we have the idea for the perfect living room for all activities. Whether it be for parties, entertainment, or just a regular chill day, this design idea would work evidently. In this case, the key concept is the light spherical pendant lighting. Since most of the elements on the ground are dark, they paired it with lighting fixtures on a lighter note. It is not that hard to look at and at the same time, it complements the design. 
Intimate Space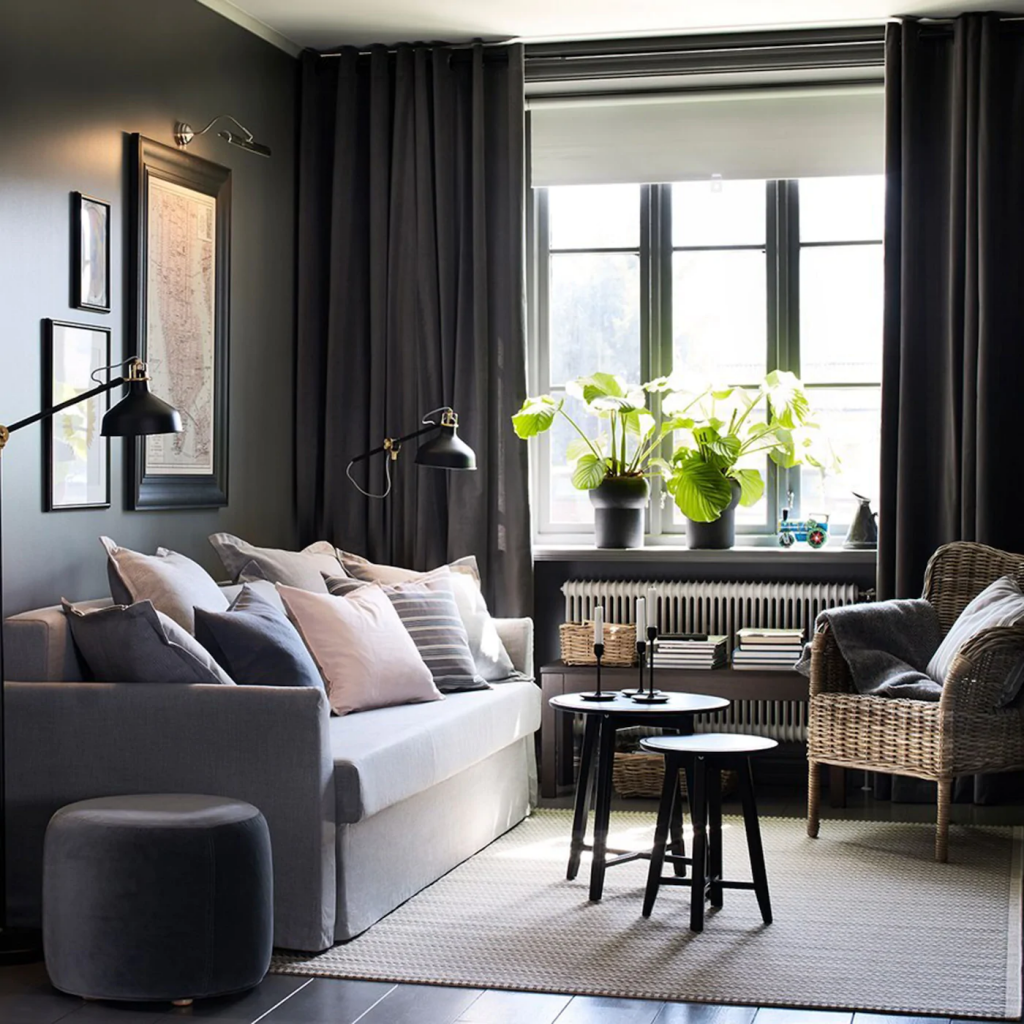 What we love about IKEAS' layout of living rooms is how they cater to all types of people. In this case, we have a concept designated for those who are private and expects fewer people within their home. All these dark tones allow the couch to highlight its color. In addition, it is paired with a handcrafted armchair. It takes a lot of courage to pair the modern couch with an armchair you would least expect to blend with the design. It may not be as comfy as the couch but it will work, especially for the guests. 
Small and Fancy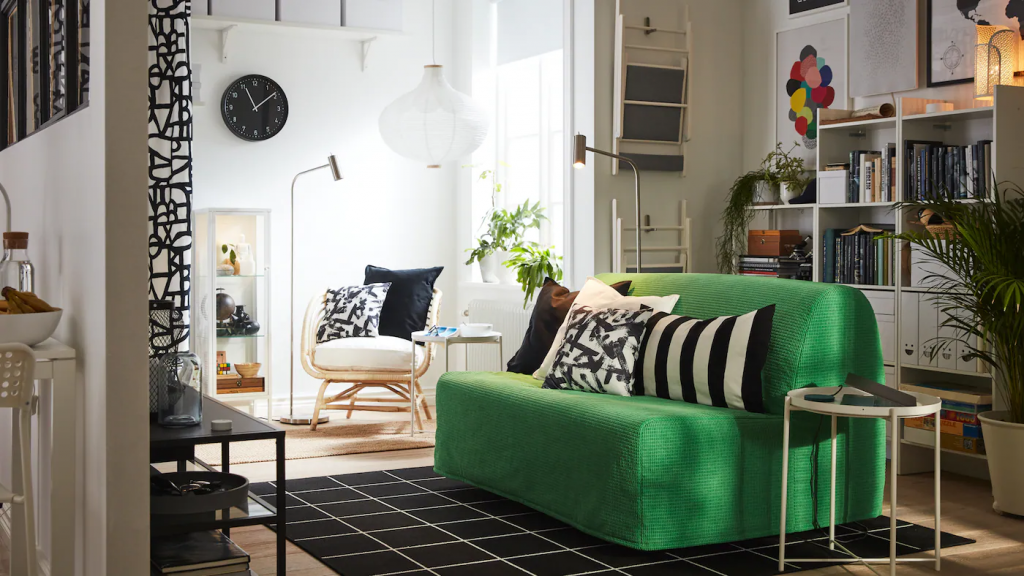 If you have limited space for the living room, the next big thing for you is to invest in pieces of furniture that are space-saving. In this case, the bookshelf and the pull-down shelf for temporary storage. This design inspiration came with a compact two-seater couch in bright emerald green. In spite of all the bland colors, the iconic green couch did a good job of making the living room feel comfy and cozy. It has a compact design that can work on different activities for the household. You better be choosy when it comes to purchasing the couch of your dreams. Remember, we are looking forward to long-term versatile furniture and is low maintenance. 
Oriel Bay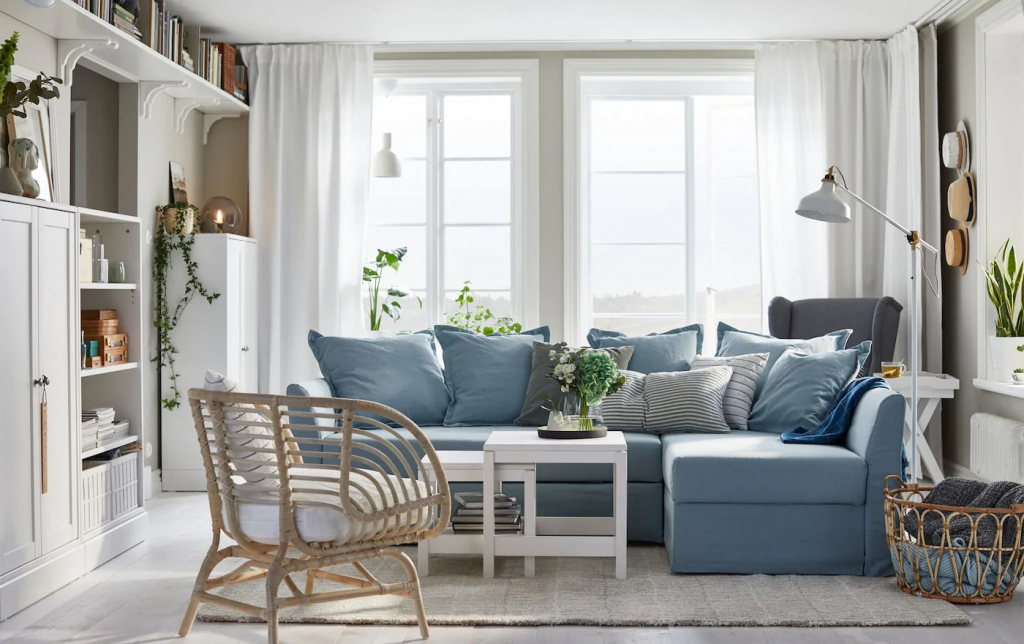 The image above is another beach vibe concept from IKEA with subtle tones of whites and blues. What we love about this design is how they managed to maintain the light and airy atmosphere regardless of the limited space. It looks clean, neat, and organized. The key concept here is the Carolina blue L-shaped couch. Often found in sectional living rooms, it created a sense of division between the seating area and a reading area behind it. It feels good to have a personal space within your living area where you can lounge every once in a while. 
Sweet Serenity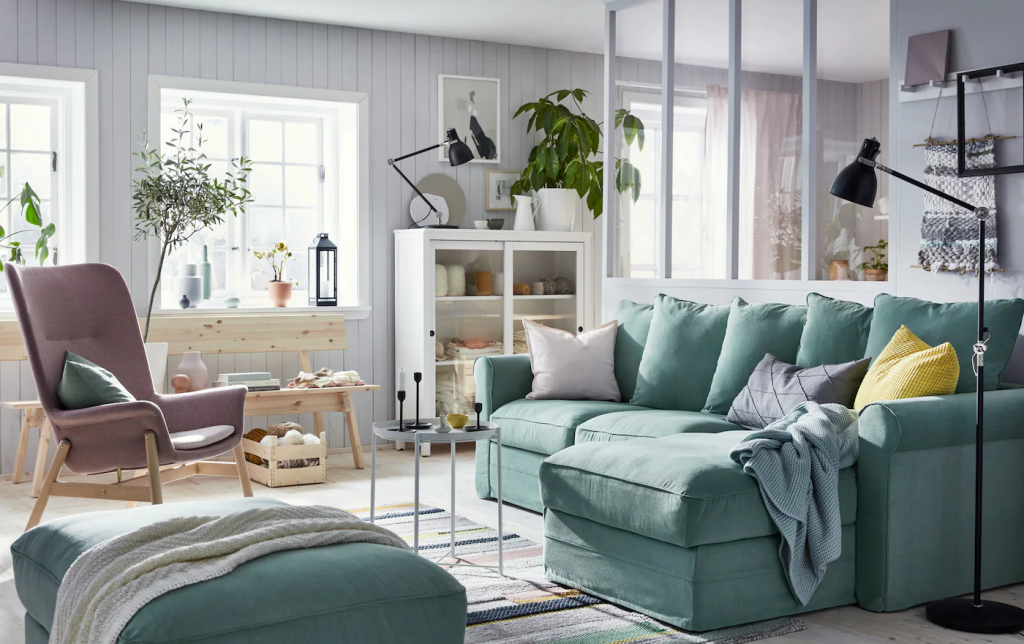 In every living room, we look forward to what makes it different from the others. We sprinkle the design with a personal touch that reflecting the personality of the household. IKEA designed the layout above with different textures, colors, and finishes. By the looks of it, it is a modern farmhouse design in subtle and earthy colors. It keeps the room lit with opportunities for natural lighting. In this design, there is plenty of textures. From the textiles to the building materials, with the right color and distribution of lighting, it will be your favorite spot for lounging and drinking coffee. 
Modern Boho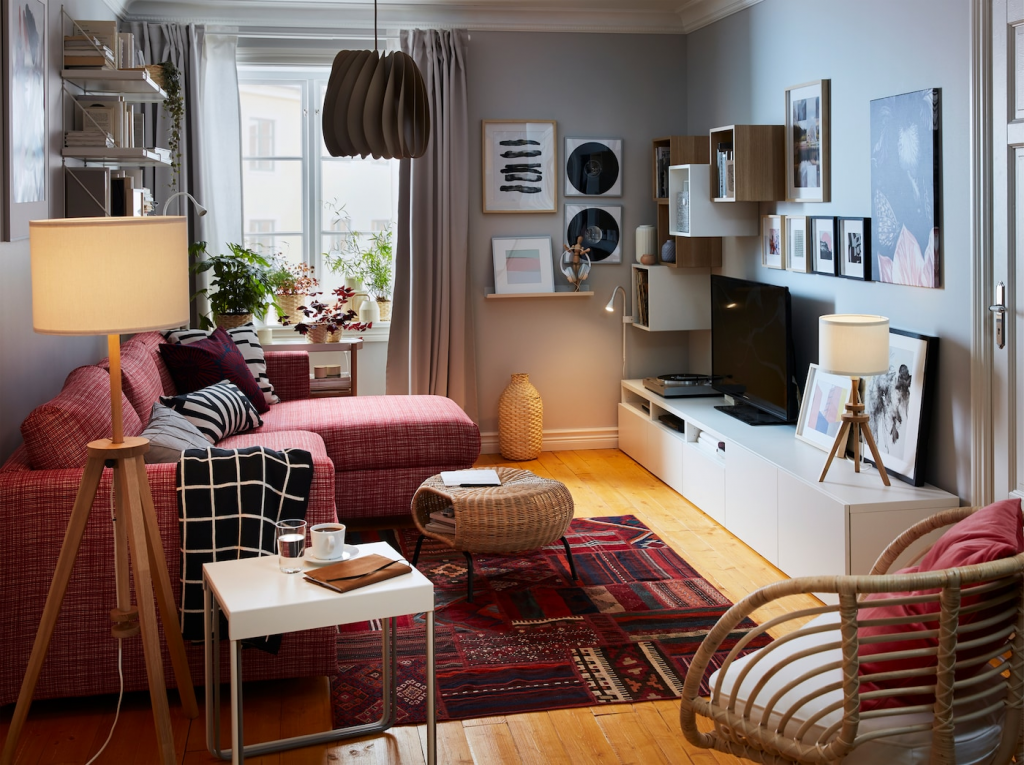 What's not to love with these amazing textile patterns Boho looks bring? Fortunately, this is not your ordinary Boho living room design. Thanks to IKEA's creativity and resourcefulness, the designers were able to maximize different hues of red, brown, and white. What is not to love with these handcrafted weaved armchairs and coffee tables. It defines an identity that is not often preferred. When, in fact, they add versatility to the entire design. The key designs in this concept are the woven furniture and the icon pendant lighting. We got used to the traditional textile-focused theme of Boho. This modern Bohemian look just turned the tables for your next living room makeover. 
Orche Touches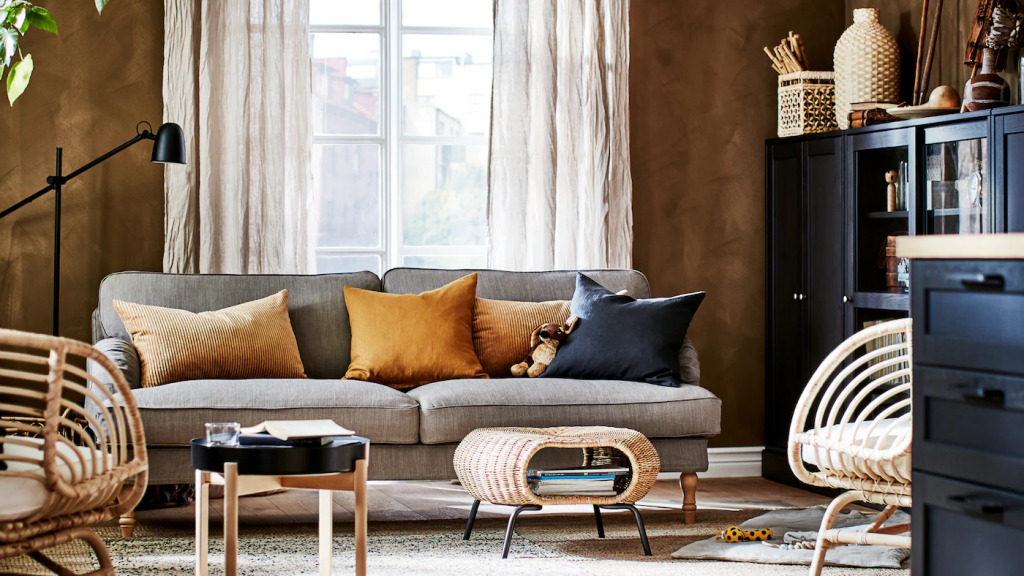 Yet another popular color scheme is in the sandy pigment of clay. In this design concept, we have a dominant color of yellow ochre paired with woven twines. In every living room, we have to feel like we are in our own comfort zone feeling well-rested. And, we must say, this is the perfect opportunity to do so. With the types of furniture used, we can tell how sleek this design is in spite of lacking shiny metallic materials. But then, we have these amazing cabinets and drawers shined in polished black to stand out. A piece of advice best for living rooms is that you can never go wrong with polished wooden cabinets. 
Family Life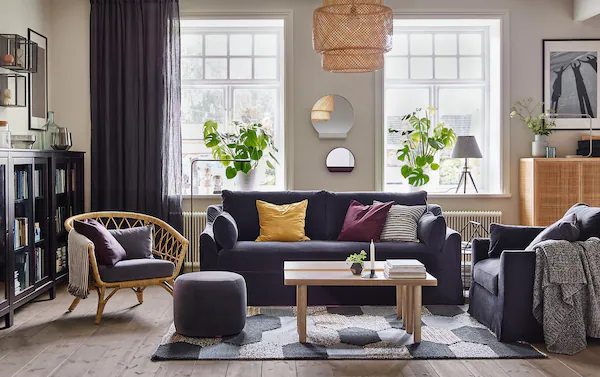 The first thing you go to as soon as you wake up apart from the toilet is the living room. Just by looking at this design inspiration from IKEA, gives you a bright view of what to look forward to the entire day. Even with the minimal presence of botanical plants, the pop of colors used managed to give a lighter vibe. What we love about this design is the purple-grey textiles used for the upholstery. The layering of the blankets gave away the cozy and homey vibe you are rooting for. You better check IKEAS different blankets, carpets, and curtains for your next living room makeover. 
Open Gallery
It is IKEA's best interest to make a house feel like a home. This design inspiration sure did a good job at making the living room look more personalized. We love how plenty of artwork was hung on the wall that created an open gallery ambiance. Space may be small but enough to carry out the seating furniture and storage. The icon of this design is the set of pendant lighting. We love how the curvature of the design and the fact that it is white in color made it look clean. It did not make the room look small at all. Choose a color scheme that you think will suit the space and will make it look light and airy.