12 Bedroom Style Ideas with Loft Beds
Loft beds are often found in dorm rooms. In fact, they are a stylish way on how to add contour and detail to the entire bedroom design. It provides opportunities for more storage space and divides the space according to the activities done within. It saves space, provides more room for other activities, and looks aesthetically pleasing in personalizing your bedroom space. The bedroom space is where you should be most at home considering all the other spaces provided. It should be the cave where you feel most comfortable, relaxed, and in some cases, productive. There will be times where you are required to spend more hours working or studying. With that in mind, we have scooped 12 bedroom style ideas with loft beds. The long search is over and we are sure you will find one that will suit your style and interest. It is time to turn your space to another level. 
Fifty Shades of Grey
Grey is one of the famous colors used for a bedroom as it conveys a neutral character for an indoor environment. For a loft bedroom, it allows to divide and distinguish the spaces without the use of walls and divider. As you can see in the image above, a variety of shades of grey were used to enhance the comfort and serenity of the goal environment. The loft bed inspiration is also a wardrobe, dresser, bed, and workstation. It saves space and at the same time, it made the design more compact. You can have the rest of the room for other activities and even put up a mini living room for your bedroom. This is a great idea for those who are in work-from-home setups. 
Industrial Touches
Industrial interior design gives a light but rustic vibe to a bedroom. Typically, loft beds are ideal for small bedroom spaces. When in fact, it is perfect for those who want to design a productive space where they can work or study. Space-saving furniture is indeed one of the greatest innovations of the 21st century. It provides more opportunities for storage as it frees the space from clutter. From the image above, you can see a simple yet aesthetically pleasing inspiration for a loft bedroom. There is no need to worry about the bed consuming most of the space because it is elevated. You have the space below designated for work or study. This is a great idea for those who are battling insomnia. It provides you a personal space where you can do whatever you want to before directing straight to bed to rest. 
Compact Footprint
In interior design, a loft bedroom is one of the most challenging spaces to work on. More often than not, they are given either too small or too big spaces which makes loft beds a suitable option. We love this light and sturdy compact loft bed. Just like any other, the bed is elevated off the ground to have more room for personal pressing matters. It makes the space more dreamy in spite of having a limited floor area. This piece of furniture allows you to create your office haven within your bedroom. It induces a productive environment paired with good lighting and a comfortable chair. It is all about allowing your furniture pieces to work altogether. 
Ultimate Bedroom Crate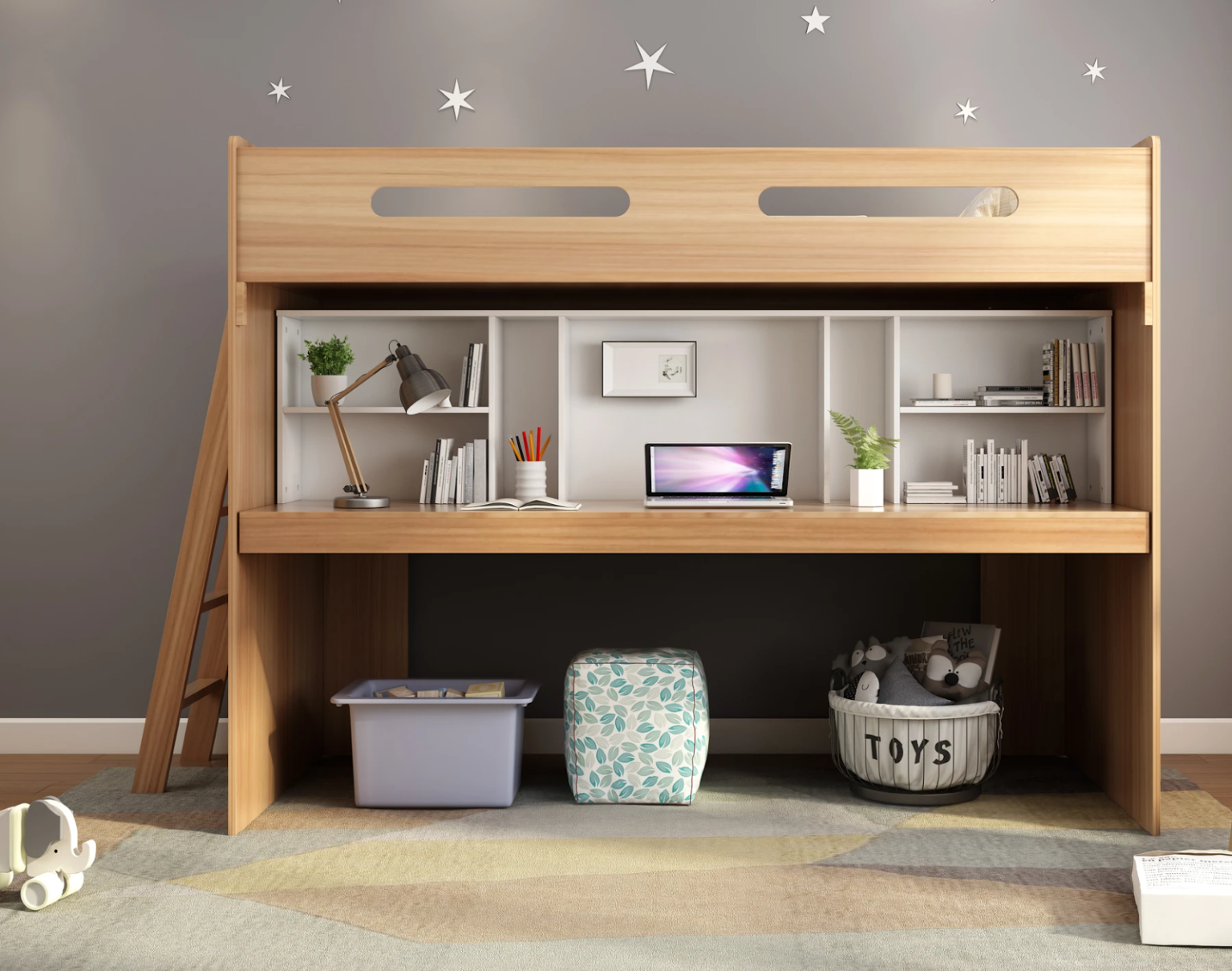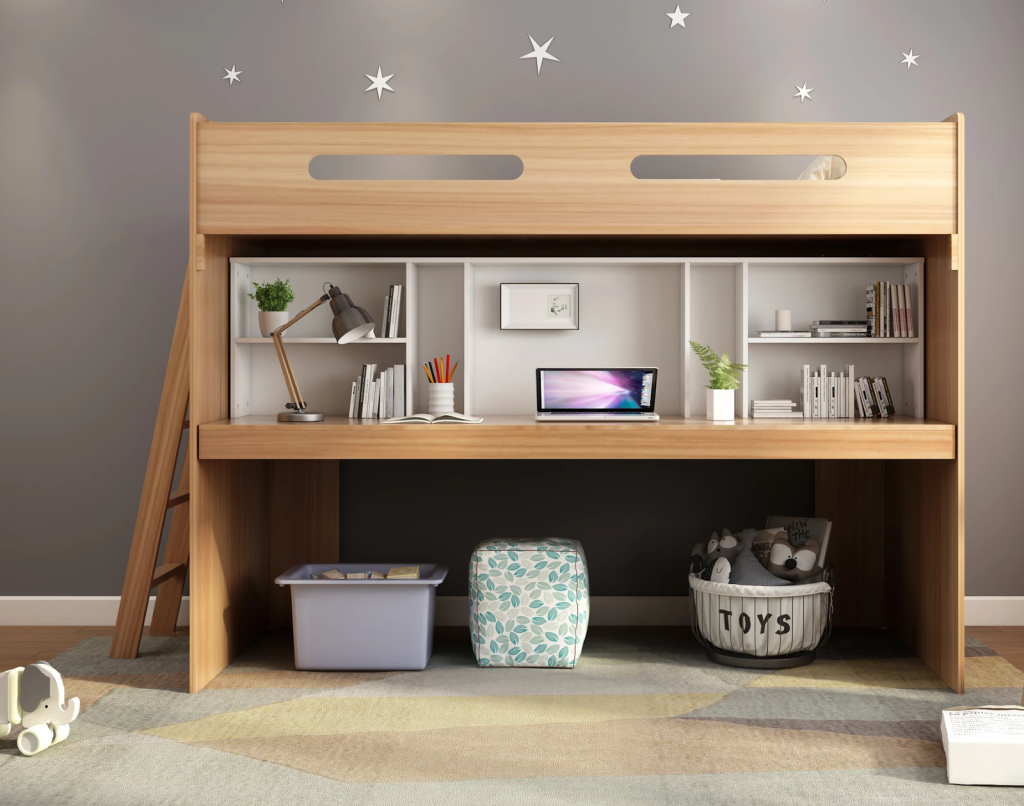 Loft beds do not necessarily mean they have to be elevated to great heights. There is no standard height or measurement to follow. It all depends on what would be its counter-use apart from being a bed. As you can see from the inspo above, in spite of being elevated at an ample height, the loft bed served as a storage and a worktable alongside. This is a great alternative if you want to keep the clutter out of sight making the bedroom look neat and tidy. Since the designer opted for engineered wood, it gave away a cozy vibe for a bedroom. Always focus on the material used and its durability. In this case, bold pieces of natural oak wood were used to put up a multi-functional piece withstanding the weight of the variety of its uses. 
Mono Minimalist
Dig into modern minimalist vibes with this amazing loft bed inspo. Keeping things neat and tidy within your own personal space affects the productivity of your activities. In this case, they made a mini-office on the bottom part of the loft bed where they can work or study. Since there is enough room for other activities too, it can also be used to add drawers or shelves alongside. If you want to keep things more personalized for your bedroom, working with a raw and simple loft bed will give you the freedom to design how it will look. It would be great to work with a white canvas for the walls. It allows the room to acquire natural lighting minimizing the use of artificial lighting sources. Besides, it is one way of making the room be a productive environment during the day. 
Sweet and Subtle
A splash of colors for your loft bedroom is one way to brighten the mood. By the looks of the inspo above, they kept the vibe alive but sweet. The colors used were close to being pastel giving away an enthusiastic, at the same time, a cozy vibe for a bedroom. Always remember that the color palette to be used plays a significant role in establishing the environment you want to live in. The loft bed above is a gem for all bookworms out there. There is enough room to exhibit your books and other collectibles that makes it a sanctuary for reading, studying, and even working. It is a proven fact that a loft bed induces productivity compared to studying in normal bedroom layouts. 
Warm Bunk Space
For those who wanted to build a home within a bedroom, check out this amazing bunk space bedroom inspo. The bedroom is designed for rest, play, and entertainment. The workspace is separately designed to have an evident environment for work and study. The bed is highly elevated to create a sanctuary for rest alone. Below, they created a space for relaxation and entertainment. If you are the type of person who has people come over, this is a convenient space to house guests. It may seem to be a large space for all these spaces but with the bed elevated, it made the room more spacious to designate different areas. The recreational touch in this design is the swing on the side. It became a serene space for relaxation. Paired with a variety of orange hues, it gave away a sun-kissed vibe for the bedroom perfect for both productive and relaxing activities. 
Modern Minimalist
For those who want to keep things clean and simple, using a loft bed for your bedroom is one way to do it. It makes the space look enlightening and free from potential mess. To maintain the environment you are trying to build for the bedroom, using white for the walls will enable a productive environment for you to work on. There is a variety of ways on how to decorate your loft bed. Since the one above is just a plain sturdy bedframe, you can customize the given space below. If you do not want a workstation below, you can designate the space as a mini living room area where you can have guests come over or just have the space for yourself. 
Multi-Purpose Crib
If you have a generous amount of space but decide to have compact furniture in place, this multi-purpose crib will work well for your needs. Even though the crib is massive, it has enough room for the shelf, wardrobe, appliance, and shoe rack. This type of furniture will work if you have plenty of items to store apart from clothing. They did a great idea with the layout of the bedroom since the elevated bed did not consume much space. Instead, a space for a living area was created perfectly for hosting guests and for entertainment purposes. The variations of seating furniture used made a statement for the minimalist multi-purpose crib design. Even though all the items are visible, they still look all organized because of their designated spaces. 
Muted Palette 
If you prefer a subtle productive and relaxing environment, you will love how they did with this loft bedroom. It is a stylish way on how to define the work and life balance all in one space. The loft bed is designed to be simple with its steel frame polished with a grey finishing. Below the bed, you can see the space designated for workspace. It can either be for work or for entertainment. The furniture made the bedroom look light and airy. Even though it seems the workstation is in a different space, it is not bounded by walls allowing air to flow throughout the bedroom. The lower part of the bed can be easily customized with drawers or shelves for additional storage without consuming much floor area. This is ideal for those who want to keep things organized and in one place. 
Massive Loft Space
For more coverage, instead of opting for a single loft bedframe, a double one would indicate more space below. As you can see in the image above, they managed to have enough room for a workstation and storage. This is important if you have enough items to store relating to work or school. You can have all items kept in one place separate from your wardrobe. Even though the space below was able to cater to all items relating to work, it still managed to make the room look spacious. 
Coastal Haven
White does have the ability to make everything look bigger yet lighter. It makes the entire loft bedroom look clear. We love the combination of materials used in this setup. The workstation below is free from clutter and is spacious. They still have enough room for a drawer on the side. The combination of colors looks refreshing indicating an enlightening vibe. Even though there were patterned textiles, the plain surfaces dominated the bedroom design.