What is the Ideal Paint to Use on Glass?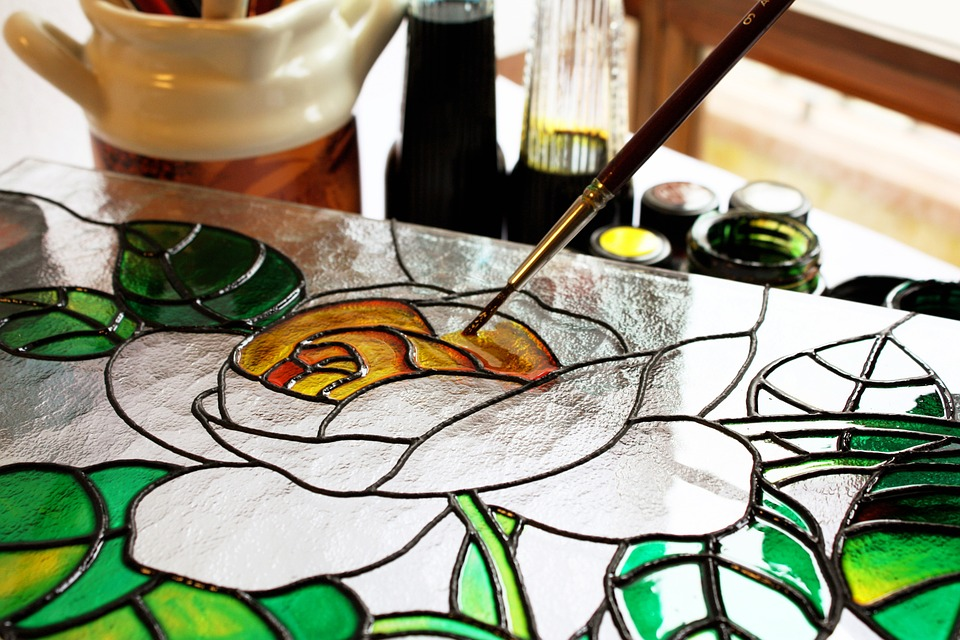 The best paint for glass is acrylic enamel paint because of its flexible properties including high-quality bonds to glass surfaces. Painting glass is a creative way of upcycling the material. It is a fun hobby to work with and it is more enjoyable to do with friends and family. Whether it be for home decor, glassware, windows, and other glass painting activities, this makes it a perfect way of revealing your inner creativity. If you are just starting to paint on glass, you must have plenty of questions in mind, especially on where to start. We have rounded up the possible questions for glass painting. Allow these questions with answers to help you out in making the glass painting activity more manageable for you and your company. 
Can Window Glass be Painted?
Yes, glass on windows can be painted. If you prefer something temporary, we highly recommend using latex paint. It dries on the glass but does not bond on the material for too long, especially when exposed to moisture and humidity. For a long-lasting adherence to glass surfaces, it would be best to use acrylic enamel paint. This works, especially if you want to cover the entire window to completely block natural lighting from entering the space. Either of the two, if you want them to last, painting from the inside is highly recommended. 
What Type of Paint Can be Washed Off?
If you prefer non-permanent paint on glass, using acrylic paint would work best. This is often used in businesses with a front glass window where they personalize the design of the window using paint. They change it every now and then since acrylic paint can be washed off. Window illustrations and statements make a huge difference in the aesthetic of the store. Acrylic paint works on glass crafts too since it can be a great way of practicing painting glass. It can be washed off or peeled off on the windows. 
Can Regular Paint Work on Windows?
Yes, regular paint can work on windows but you do not expect them to last for a long time. Even the slightest exposure to touch can allow the paint to chip. This is only ideal if you are working on glass craft products but using it on windows is just a temporary coverage. Regular paints are often used on surfaces that are textured. Meanwhile, glass is made from relatively fine articles that create a smooth surface. Even when the surface is sanded and primed, it is not a  guarantee that regular paint can adhere to the surface of the glass. 
How to Ensure that the Paint Stays on the Glass?
To prevent the paint from coming off the glass, we highly recommend prepping the glass surface first. This will ensure the adherence of the paint on the surface. For better adherence, it would be best to clean the surface first and remove any dirt, dust, and even oil. Right after, apply a coating of an all-purpose sealer and leave the glass to dry. Once the sealer is all dried up, apply thin coats of paint for the glass and allow it to dry. Allow the paint to set and dry before applying a sealer again. Wait for it to dry in order for the paint to last longer. 
What is the Best Paint for a Stained Glass Effect? 
The best paint for a stained glass effect that will last longer than expected is acrylic paint mixed with glue. The adhesive of the glue will make it stick on the surface that even when it is exposed to moisture it can still stand. Combined mod podge and rit dye can also work. You just have to balance its contents. Adjust the measurements of the dye to come up with the right color that you are looking for. The stained glass effect is rather transparent than solid. Therefore, we highly encourage adjusting the pigment or dye used in order to achieve the color or shade that you are rooting for. 
What Paint Type Works for Glasswares?
For DIY paintworks on glasswares, the best paint type to use is water-based acrylic. This is specified because acrylics are flexible in use since they work on any surface such as wood, paper, canvas, and tiles. Apparently, they do not stick to the surface as much as you expect them to be without proper priming and treatment. If not, they tend to chip away or wear off when exposed to environmental factors. Water-based acrylics can be used on vases, jars, lightbulbs, and even windows. Once the formula completely dries on the surface, they become resistant even to scratches. 
Is it Necessary to Prep the Glass Before Painting?
In order for the paint to last on the glass surface, prepping the material is necessary. This includes cleaning, sanding, washing, and drying the glass first before proceeding to the painting process. It may take up too much time but it is the best way to start the job and expect the coating to last on the surface. As much as possible, using a primer after the glass was prepped is necessary. We want to ensure that you get the adherence that you need. The preparation of the glass is dependent on the level of permanence of the paint on the glass. 
How to Work on Reverse Painting on Glass?
Reverse painting on glass is applying paint on glass and reversing the piece to create an image on the opposite side of the glass. This is a popular painting technique as early as ancient times because it is then identified as a scientific art thus reaching its peak during the Renaissance period. In the modern generation, it is still recognized as a form of art and a classic way of using paint on glass. It may be framed, on the window, and even on vases. What makes it difficult is if you are trying to reverse paint glasses and mugs because the access to the opposite side is limited.