Sectional Couch VS Sofa – Which is the Ideal Furniture for a Small Living Room Design? 
Every savvy furniture shopper would find it a challenge to pick between a sectional couch and a sofa for a small living room. The limited space makes it difficult to decide which one to choose. In buying furniture, we consider the size, design, style, color, and scale. The decision depends on the pros and cons of both when placed in a small space. It saves both your time and money. We want to prove that the limited space is not a reason to make it less of a living room. We want to prove that you can still design your living room according to your dream aesthetic. Thus, we want to show you both sides of the picture by defining the pros and cons of a sectional couch and a sofa to fit your small living room. 
Sectional Couch 
A sectional couch may not be the first choice for a small living room design considering its scale and being built as furniture. In spite of being large and more expensive than a regular sofa, it makes up the entire living room by just being there. Choosing a sectional couch will depend on the size of the living room and how you want to design the space. Working on the layout of the space, how will the sectional couch blend with the ideal design? We have rounded up the advantages and disadvantages of a sectional couch leaving you to decide if it is worth the shot.  
Advantages
Induces Greater Seating Capacity
In a small living room, what we want to achieve is to maximize the space as much as possible. Considering how the sectional couch comes in an L-shaped layout, it best suit the corners of the living room making every inch of the space worthwhile. What we love about this furniture is how it can cater to a larger number of people. A sectional couch can cater to three to five people depending on its size. It is perfect for those who have parties or movie nights occasionally. Imagine having a piece of furniture to make room for a small party. 
Flexible Furniture Choice
A sectional couch is a flexible furniture choice compared to a regular sofa. It may cover a larger space yet manages to be a multipurpose piece. This is the perfect piece to lounge on a night alone while watching movies considering how it provides a resting space for your legs. There is no need for a coffee table or ottoman to rest your feet on. In addition, it can also act as an extra bed. This works as a comfortable alternative to a single-sized bed. If you live with a small household, this is the perfect piece to cover the other pieces of furniture needed to make a living room more livable. 
Prevents Awkward Empty Spaces
Because of its L-shaped layout, there is no room for awkward empty spaces. There is no need for filling the void with plants, additional side tables, or shelves. The small space will only make it look cluttered with all these filling the void. The sectional couch can be perfectly located on the corners of the small living room space. Thus, it of our best interest to add it to the advantages of a sectional couch. Besides, the lesser there is in the living room, the more factors for a living room to look more spacious. 
Gives the Space a Sense of Privacy 
Not because a living room is a public space of the house does not necessarily mean that privacy is no longer a consideration. In fact, it is. A sectional couch is often used in open plans. This allows the space to set boundaries even with the absence of walls or dividers. It is an ideal choice to make room for more intimate conversations because of its built and design. Its corner-friendly design makes a living room a more communal space for the household and guests to gather around. It somehow creates a pit surrounded by people. 
Maximizes a Small Space
At first glance, it may not be the first choice you have in mind in designing a living room. But, when you come to think of it, a sectional couch is an ideal choice to maximize a small space. Whether it be rectangular or irregularly-shaped living rooms, it makes a difference in how it is used and how it impacts the space. In designing small spaces, we hate how even inches of space are put to waste. Box-type layouts for rectangular layouts are highly suggested to put up the furniture against the wall. This allows more central space for other activities requiring a spacious room. 
Perfect Vantage Point
Because of its 90-degree angle, it is the piece of furniture you would love to lounge on while watching the television. It allows them to watch the television more comfortably. Comfort is the main concern in designing a living room. As a common space at home, one must do a good job in making different activities to be done with comfort within the limited space. 
Disadvantages
Difficult to Move Around
Because of its L-shaped layout, it can be quite difficult to move around the space. On average, the standard size of a sectional couch is 1.2 meters by 2 meters. It means it is a challenge to move it in and out of the living room space. On top of that, it can be an obstruction on the doorway. As much as possible, all doorways across the house should be free from clutter and obstruction for easier access to and from the different spaces throughout the house. In picking pieces of furniture, ensure that the pieces of furniture should be easily done even by yourself. 
Takes Up Great Space
On top of being difficult to move around, the standard dimension of a sectional couch suggests how it takes up a great space. Designing a small living room with large-scale furniture will make it look a little odd to be in. Always remember to design a small living room according to ratio and proportion to manage the visual impact of all the other elements within. Ensure that the furniture and decorations within a small space looks and feel at home. 
Expensive Option
As much as we love how it would look in a small living room, a sectional couch can be quite the expense in designing the space. In some cases, they can be half as much as the cost of a regular couch. If you are on a tight budget, this may not be the ideal option. On the bright side, it is about time and be resourceful and creative in having one in your living room. 
Sofa
On a more traditional note, a sofa or couch is a more evident choice. It is common to see these types of furniture in a living room, especially a small one. They come in a variety of designs, styles, materials, and compositions that would fit the dream living room design. In getting one, it is important to weigh in the factors of how it can make the space feel more livable. Whether it be for spending time with friends and family, napping, watching television, or even reading, a sofa manages to be multi-purpose furniture. There is a variety of ways on how to set it up in the living room but one must be well aware of all the advantages and disadvantages of having one. 
Advantages
Flexible Fitting 
Since the standard layout for a sofa is linear, it makes it easier to fit even the smallest of living room spaces. They come in sizes that can fit two to five people depending on the dimension of the sofa. It is flexible furniture that can work on the corners and even in the middle of the living room space. It works well with the space considering how small it may be. A sofa can suffice the multiple needs of the households. Whether it be living alone or sharing the apartment, it is the key to a more functional living room space. 
Easier to Move Around
When it comes to designing a small living room, we want to ensure that the accessibility to and from the space is easy and convenient. Having a sofa will ensure that redesigning or remodeling makes it easier to move around the limited space. On average, a two-seater sofa's dimension is 0.9 meters by 1.5 meters. This means it can be easily transported to and from space. 
Cheaper Option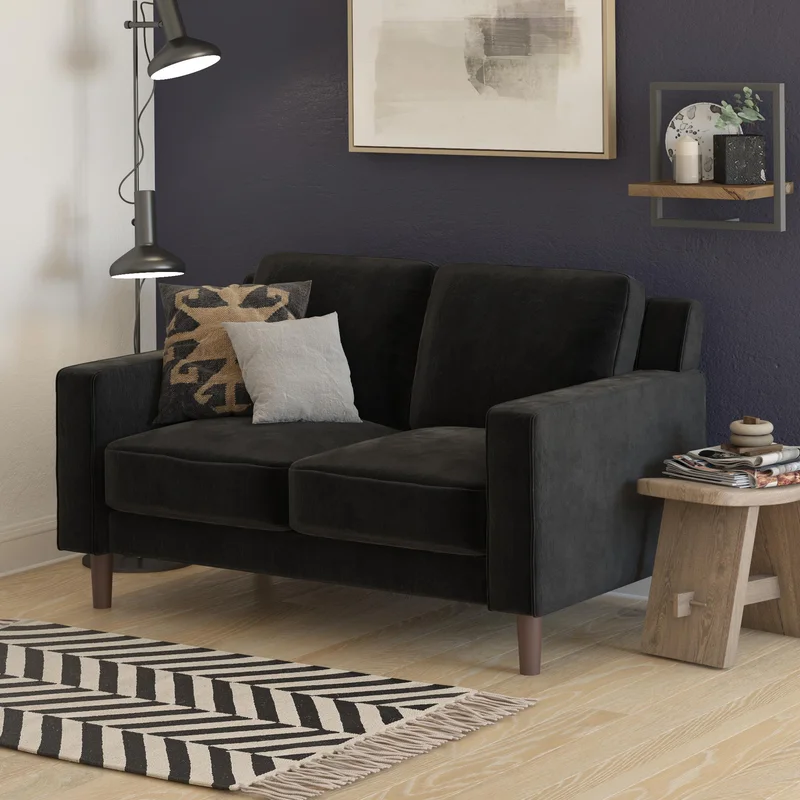 Budget is always a consideration is shopping for furniture. Nothing comes cheap these days. Scoring old and antiquated ones from thrift shops would work too. All you need is a little maintenance and cleaning up to do. But if you are up for a cheaper alternative for furniture shopping, having a sofa is the best way to go. 
Come in Different Scales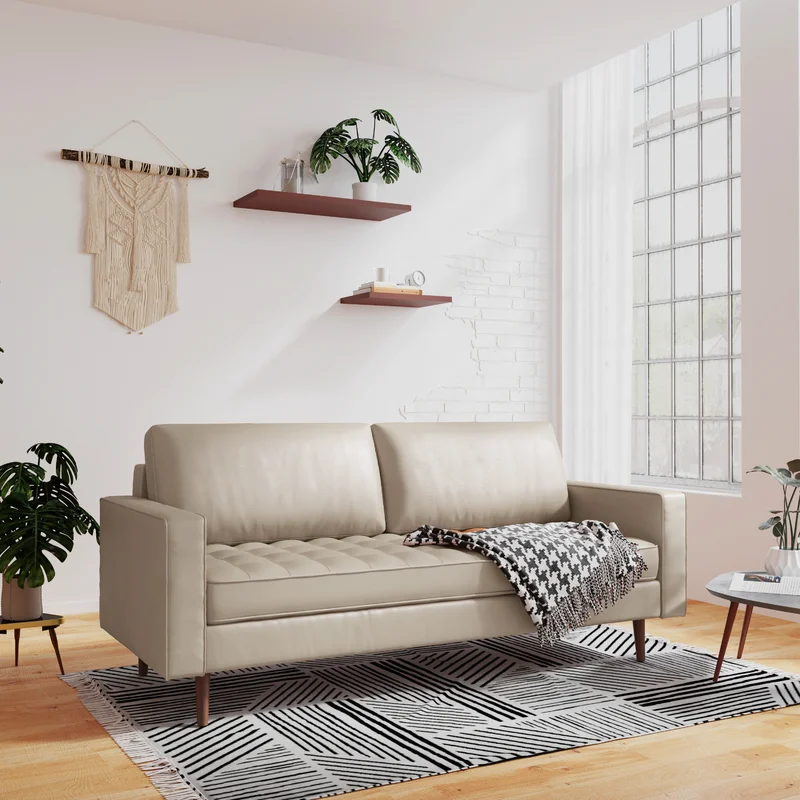 Sofa comes in different sizes and scales. What makes it even more convincing is how this factor does not make it a hindrance from spicing up your small living room. It is all about finding a sofa that does not just fill in the comfort of lounging in a public space at home but to have a space where you can relax beyond the bedroom. Sofa's linear layout makes it an ideal choice to have standard seating furniture in the living room. 
Makes the Room Look Larger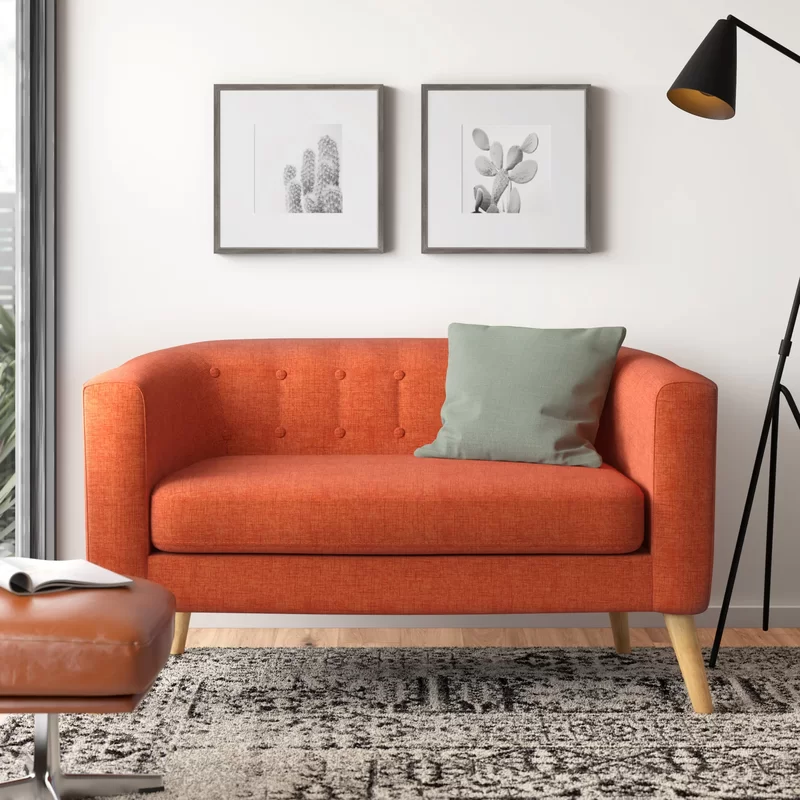 A regular sofa does not cover much space as compared to a sectional couch. Because of its built and design, it can only cover a third of the space leaving more room for other appliances, decorations, and pieces of furniture. It has the ability to make the living room look bigger and less cluttered by furniture. 
Disadvantages
Limited Seating Capacity
If you are living with a family or a group of friends, having a two to three-seater couch would not suffice. It will leave the other people to have a seat on the floor or the dining chairs. The idea can be a bummer because the comfort of the people is compromised and it does not clarify the communality of the space. 
Compromised Privacy 
Having a sofa in a small living room does not guarantee sufficient privacy for conversations that are intimate and private. Having a conversation on a couch does not guarantee having a peaceful conversation. Always remember that choosing either the couch or sectional sofa should tap the entire household's need for comfort and relaxation. 
Not that Relaxing
A sofa is seating furniture where one is expected to sit upright. It is not comfortable furniture to lounge or to relax your legs not unless you have a footrest or a coffee table in front of it. To sum it up, it is furniture that requires additional furniture to tap comfort and relaxation even in the small living room space.