12 Practical Tips on How to Arrange Furniture in an Awkward Living Room
Setting up your living room exactly how you want it to look is a big task on its own. But when you're faced with the challenge of an awkward living room space, then styling your living room becomes more difficult. 
Not everyone has the option to alter the dimensions of their living room. This mostly applies to those who are renting an apartment or a house. Since they do not own the property, they just have to live with and make do with what they have. 
However, this shouldn't stop anyone from achieving their dream living room. Given the right tips and furniture, you can turn any awkward living room into something functional, stylish, and true to your taste. 
Size Strategies 
When trying to decorate and furnish a living room, you must use all of the space thoughtfully. Therefore, apply this rule a little stricter if you're dealing with a living room that has an irregular shape. 
Does the room have an awkward corner? Are there any curved spaces? Does the room have a corner fireplace that serves no purpose? These are normal questions that you may be faced with. And if you have an awkward living room layout, you must first consider the room size. 
After you've determined the size of the room and the areas that need a little more thoughtfulness when it comes to designing, only then can you introduce furniture and pieces of decorations that you will need. As a common practice, get smaller furniture if you have a tight space and bigger ones if the floor area is a lot bigger. 
Keep the Door Clears
The pathway leading to the door must be kept clear at all times. Similarly, if you have two doors in the living room, the area in between them should have enough space to walk on. If the pathway in front of the door is crammed, or there's a sofa or a display table blocking the way, it also makes the place feel tight. 
But if you need to place furniture and other living room items near the door, make sure that they're not obstructing the entrance and there's ample walking space for you and your guests. You can also make use of some furnishings like a runner rug or a rectangular one to compliment the doorway and pathway. 
Don't Block Windows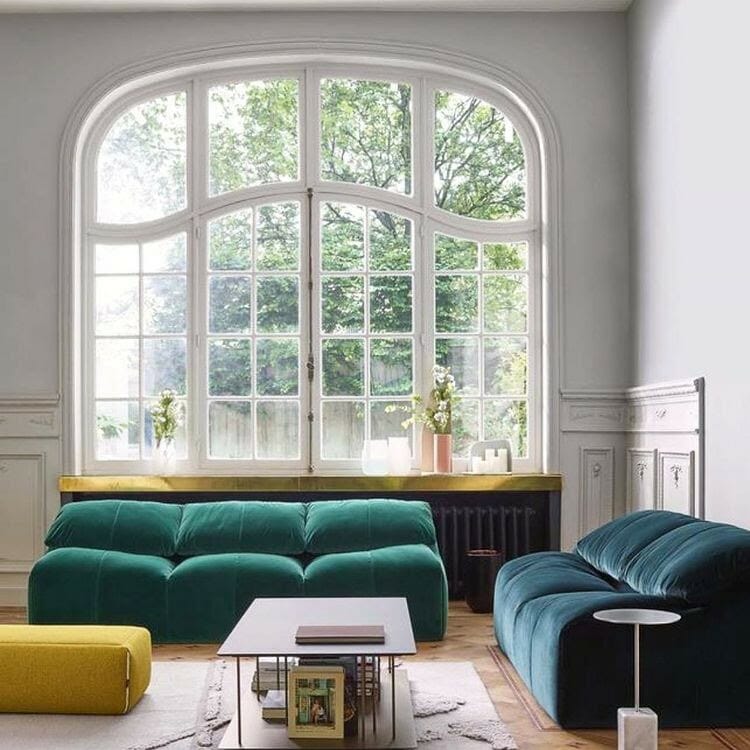 Windows always play an important role when it comes to designing any room in the house. If you're working with awkward spaces, you mustn't block the windows with any furniture big enough to cover most  of it.  If you do, you limit the light that comes into the living room, which then directly deflects the illusion that space is bigger and has more symmetry. 
By keeping furniture away from the window, the living room receives more light and therefore makes it seem a little bit bigger. The same principle also applies to other pieces of furniture in the living room. It's best to keep the living room more open and free of space for air and light to flow freely. 
Smart Storage
One of the secrets to achieving any dream living room is smart storage. Whether you have a small space or a big space, storage helps in organizing not only your living room but all parts of your home. A smart storage system is especially ideal for those who want to remodel their living room into something more minimalistic. 
If you have a smart storage system in the living room, you wouldn't have to worry about the clutter and you wouldn't have to waste time looking for items around the house since you'd already know where it's kept. And as a result, the more organized your living space is, the more spacious it will look. Additionally, you must also learn how to execute proper furniture arrangements to keep things more sleek and clean. 
Minimize What's in the Room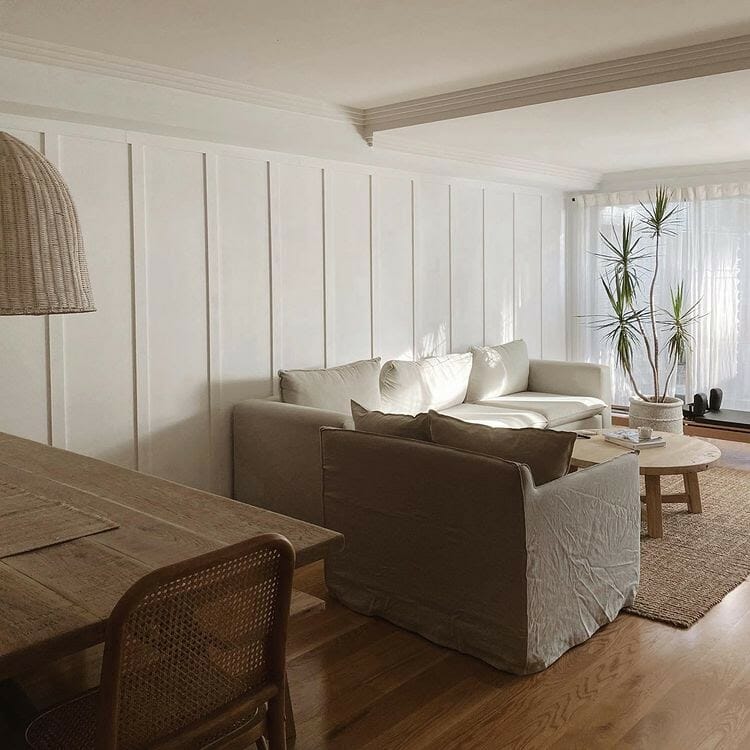 When you're working with small floor space, you need to think about the things that you keep in the living room. When you have a lot of living room furniture, it tends to look overcrowded, but when you keep it minimal, space will appear larger. 
After you've figured out the floor layout and the furniture that you need, be mindful of the pieces that you'll put in the space. As much as possible, think of minimalism when you're looking for a design aesthetic for your awkward living room space. 
Use Furniture and Rugs for Division
If you have an open floor plan but you're a little on the fence when it comes to decorating since you're dealing with an unusual floor area, using furniture and rugs to create division will do your living room some good. 
To create little smaller areas in the living room, you can use rugs and furniture to subdivide the space. For instance, to make a little reading nook, you can place a small round rug under a chair and a floor lamp beside it. Make sure you have ample lighting for reading. For the rest of the living room, choose a rectangular rug, a couch, and a nice coffee table to create your main seating area. Using this kind of method will separate each space from the other.  
Be Consistent and Cohesive with Decorations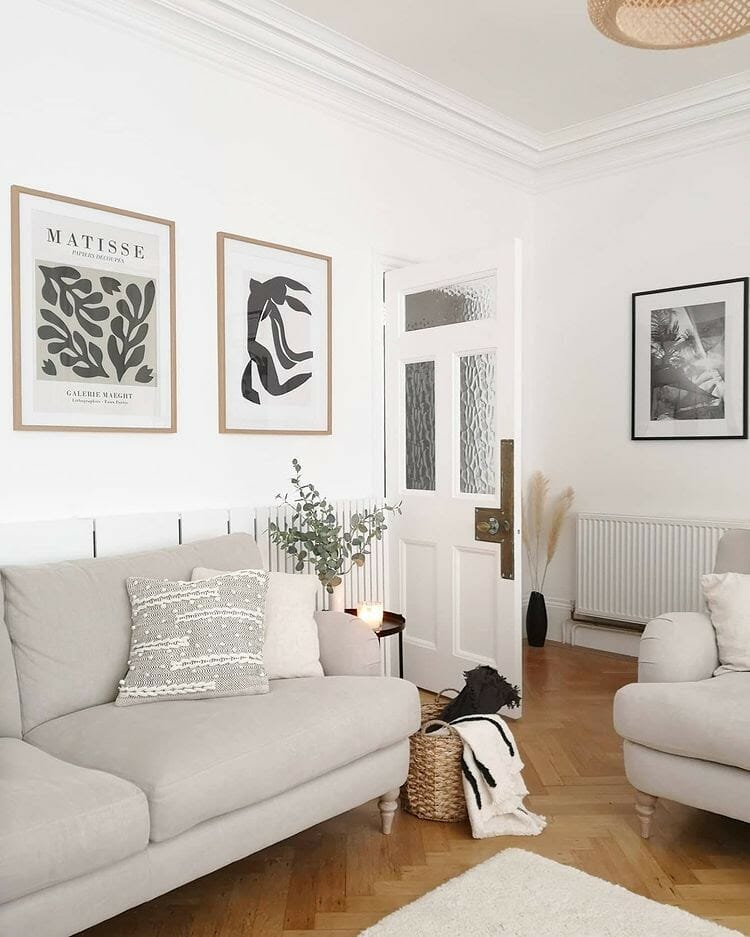 If you like to mix and match items and furniture, make sure that it's still somewhat cohesive and consistent, otherwise, it will just look more awkward. Make sure that when you're thinking of interior design and planning your room layout, the living room furniture and the rest of the items are still connected either by color or material. Also, keep track of furniture arrangement as you want to place each item thoughtfully and in areas that will work best for the whole living room look. 
When you throw in different pieces of items in the living room, it'll look messy rather than eclectic or boho chic. To avoid this kind of style disaster, try to remain consistent with your design. 
Create Small Spaces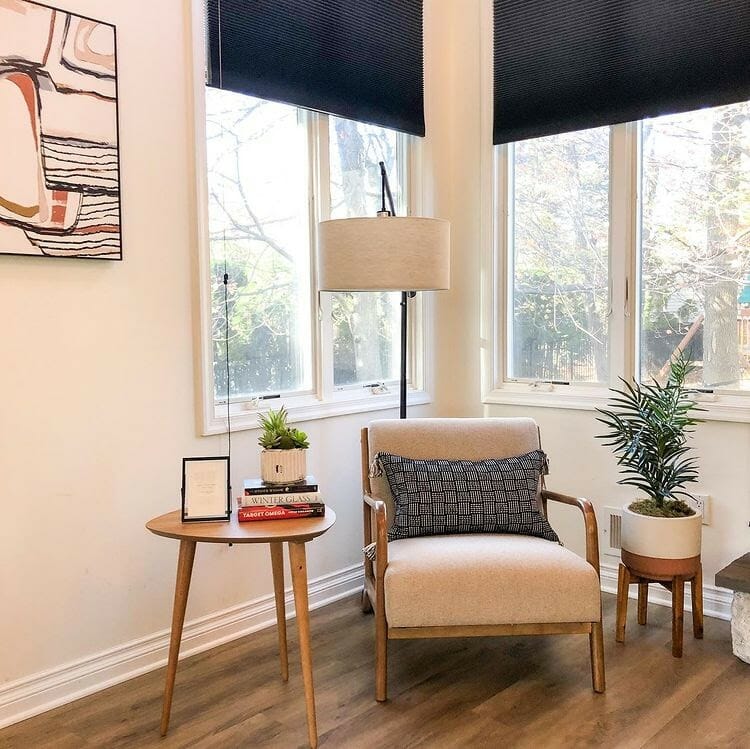 If you have big floor space, you can divide the area by creating individual small spaces. For instance, place a loveseat near the window with a small side table beside it for an additional seating area. In another opposite area, use a rug under a sofa and this will be your main couch. By creating little spaces, you are also putting a limitation on the area that they occupy. 
If you're planning to do this, make sure that you start at the center so that you can easily incorporate other furniture while working on your living room layout. This also helps you estimate if you have enough walkways. 
Find a Focal Point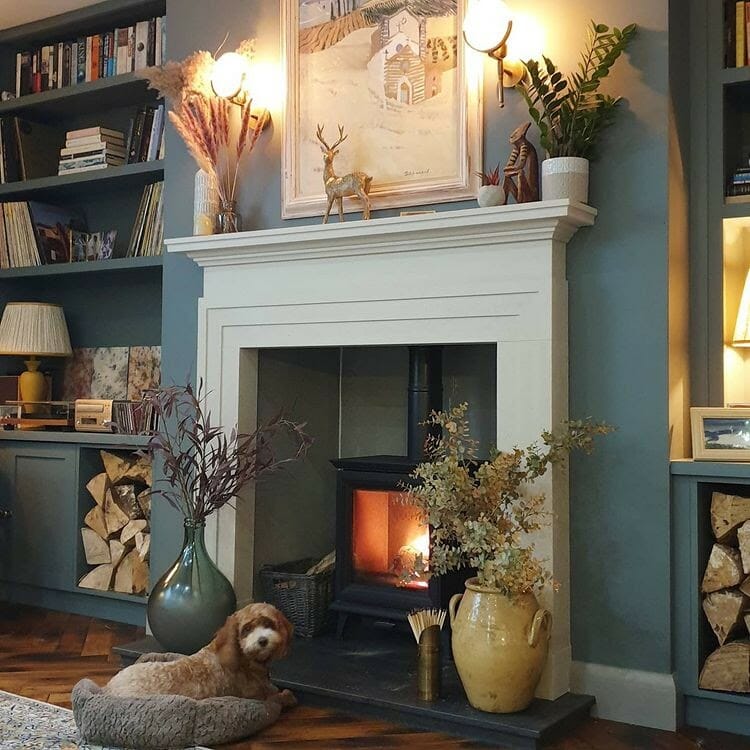 If ever you are unsure where and how to start, one of the safest bets is to find a focal point in the living room. Are you planning to put a giant television on the wall? Or perhaps there's a fireplace that you'd want to elevate? If that is the case, it would be easier to determine the furniture layout if you know that all you have to do is work around the focal point. 
In case you want to make the fireplace the center of the living room, you can place a sofa right in front of it or two loveseats facing each other – parallel to the fireplace. You can also put decorations around the fireplace in order for it to standout. 
Camouflage Radiators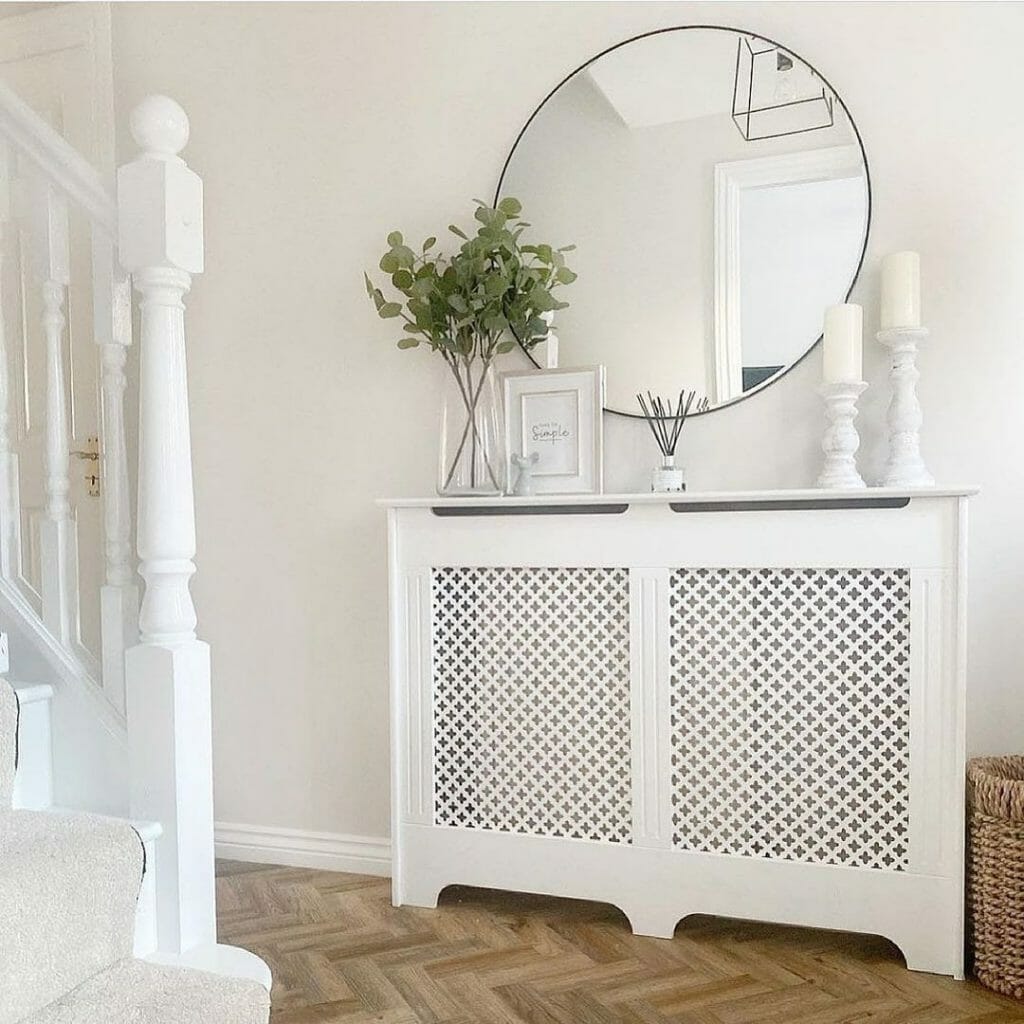 A radiator in the living room can be an eyesore, especially if you're trying to give your living room a stylish facelift. It can make your awkward nook appear even more awkward. As a solution, you can camouflage it simply by getting a radiator cabinet or cover. 
Once it's installed, you can even spruce it up with some decors like a framed artwork or a large mirror that hangs right above it. You can also put photo frames or little decorative items that would fit nicely on the wooden top. 
Add Some Plants 
To eliminate obvious and awkward edges and corners, you can rely on plants to soften any area. Aside from being aesthetically pleasing, plants also add a nice and calming feeling to the living room. It also puts some color and brings life into any dull living room.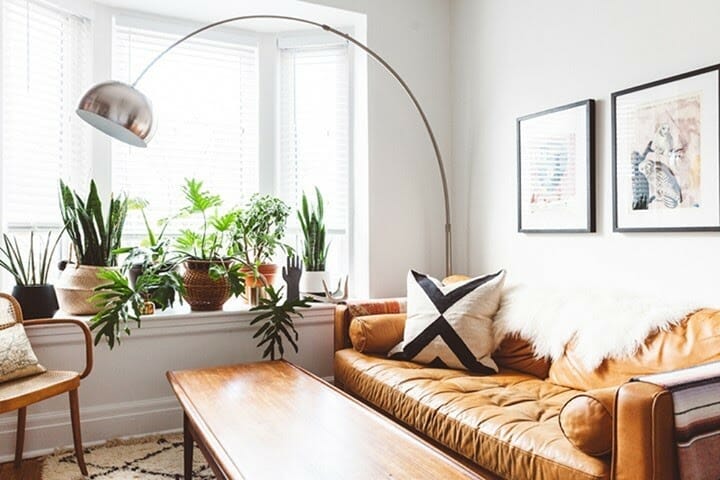 If you want to place plants in the living room, you can put a big potted indoor plant right in that awkward corner. You can also place them above a corner fireplace in order to make that space less odd than it already is. 
Balance the Living Room Lighting 
If you have a small living room and the light coming through the windows is not enough to brighten up the whole room, you can introduce different light sources in the space. For instance, instead of putting a side table beside the main sofa, you can opt for a big floor lamp that is not only decorative but will also illuminate the living room during nighttime. 
Consider placing a pair of wall sconces beside the fireplace to create a cozy atmosphere or a table lamp on an awkward nook to brighten up the corner. Making sure that there is balance in furniture arrangement and lighting helps any irregularly shaped living room look more cohesive and balanced. 
To further give you an idea on how to style awkward living room spaces, below are some examples that might serve as inspiration. 
Staircase Nook
If you don't know what to do with that little space under the staircase, why don't you turn it into a cozy nook? If it's big enough, you can customize a daybed right under it and have a small built-in shelf on the side to put some of your favorite books. A little wall lamp would also be a nice addition for a warm illuminated glow. 
Another option would be to make it into a small storage cabinet where you can put some items like electronic appliances and other non-decorative items that you need to store away. 
Split Level Living Room and Dining Room 
A split-level room may or may not work out but this all depends on your preference. For some, they're completely fine with the layout since it's multi-functional. Meanwhile, some who have specific interior design in mind might find it a bit off. 
If you're dealing with the latter, you can balance the quirkiness by placing smaller furniture against the division wall. Doing so will make the uneven levels less noticeable. 
Skinny Hallway
To play up a narrow hallway, you can either place a runner rug to make it less awkward or you can transform the wall into something else. A chalkboard wall would be a nice idea especially if you like leaving notes and reminders. If that's not your thing, you can just choose an interesting wallpaper design to make the hallway more stylish.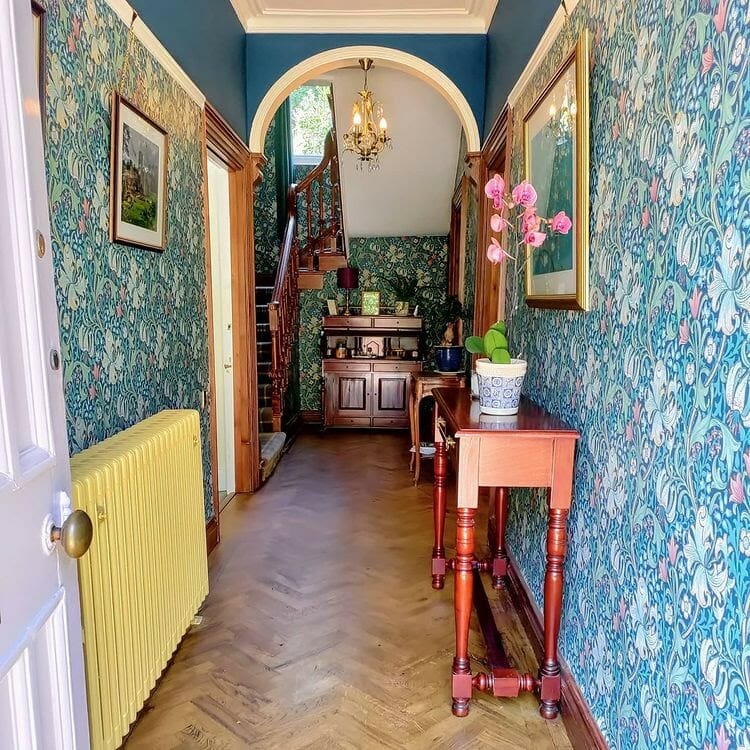 Exposed Wiring 
When renting apartments, you might come face to face with pesky exposed wiring. To avoid this kind of eyesore, decorate around it to make it look like it's part of the design or conceal it completely with the help of framed photos, curtains, string lights, and other decorations.