11 Accent Wall Ideas for the Living Room
It is a pain in the eye to spend a fortune to establish distinction with the interior design of the living room. Considering that the living room is a popular common area where the household lounge, which is achieved from the room's pale scheme to add flavor to the boring walls. The best idea is to opt for accent walls. We need to take a break from the conventional uniformity in the color and material of all the walls. Designing accent walls is one way of doing so. It adds flavor to the walls. 
As one of the most favored areas within the house, it takes a lot of courage to think of ways on how to establish an accent wall. The first step on how to endure a challenge like this is to conduct research and browse for design inspirations. Take risks in experimenting with different materials, colors, and even patterns defining the intricate details of the living room. It may make the design of the living room a little spice. Check out these 11 accent wall ideas for the living room to provide enlightenment. 
Wallpaper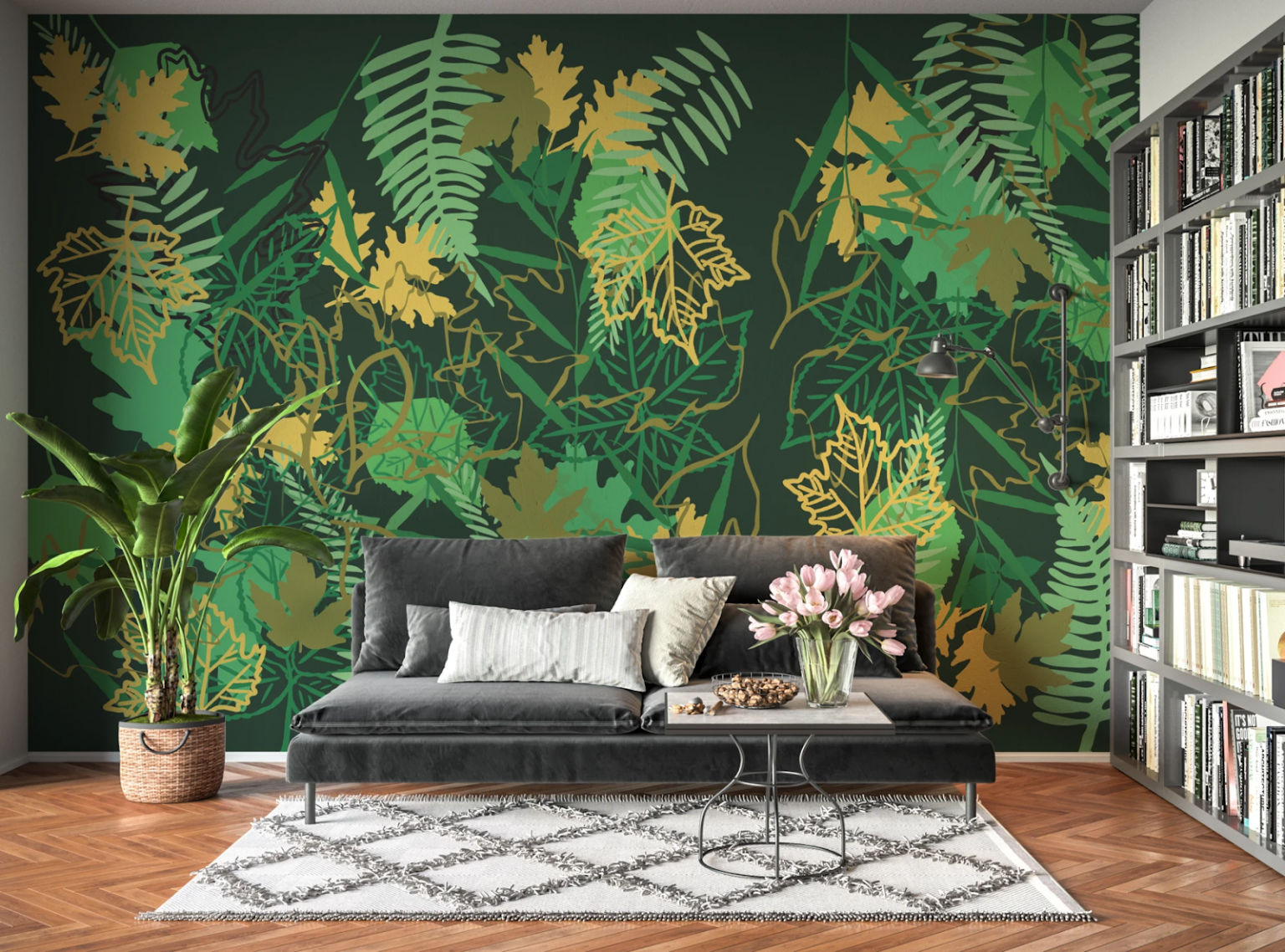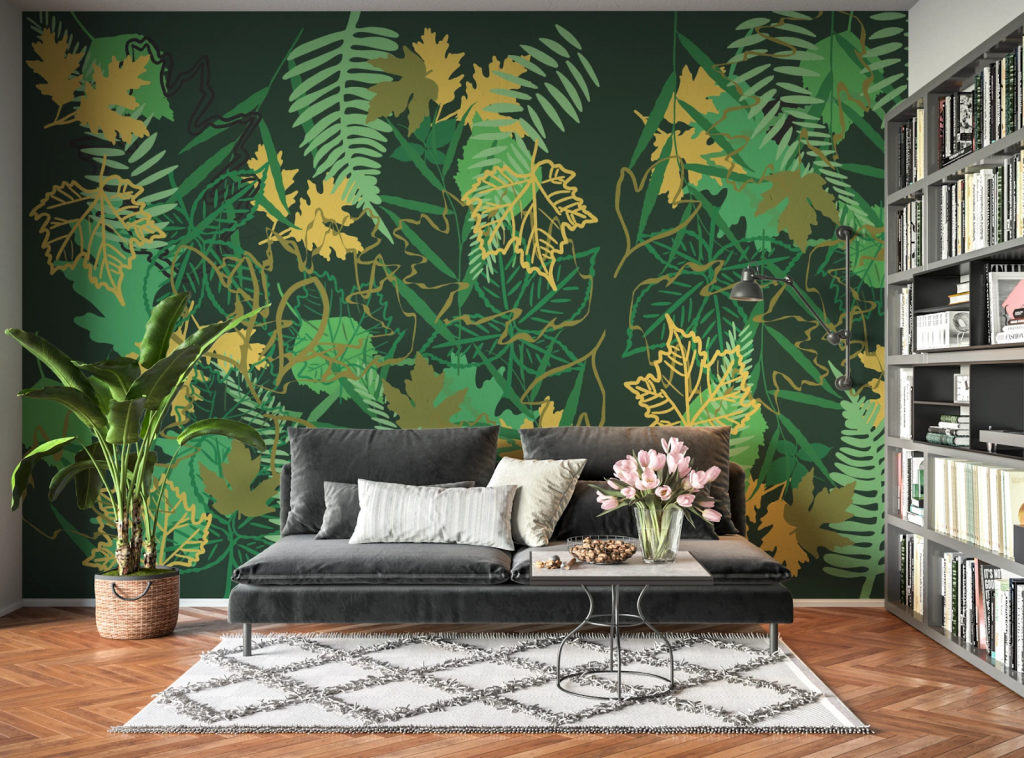 These days, everything is instant. If the goal is to save time and energy without compromising the appearance, opting for adhesive wallpapers is highly suggested. The good thing about using adhesive wallpaper is that it is customizable. With the limitless options for the design, it is easier to peel and attach it to a wall. The example above from Aliprint is utilized wallpaper with plant prints. Moreover, it comes in different finishes too depending on the paper used. Even though it is composed of adhesive paper, its durability remains unquestionable. On average, properly installed wallpaper can last a minimum of 15 years. It is low maintenance and the appearance does not depreciate. 
Wall Cladding + Mural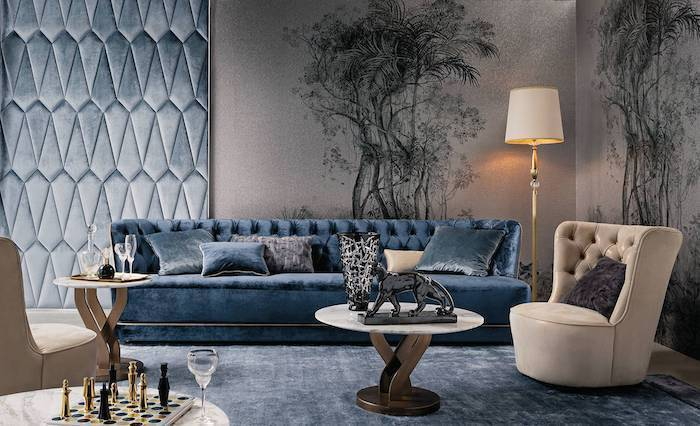 Are you not deciding between wall cladding and mural for the accent wall? The good news is that an accent wall can work with both. We understand that you are rooting for a design with an established sense of identity. That is what we are trying to pursue. The example above from ArchZine is one of the intricate concepts for an accent wall. As you can see, there is a mural on the right portion flowing effortlessly towards the adjacent wall. On the other hand, there is an upholstered cushioned floor-to-ceiling cladding to balance out the free-flowing design of the mural. Since the mural is abstract, the upholstered wall-cladding is in a uniform pattern that outweighed the imbalances. 
Combined Colors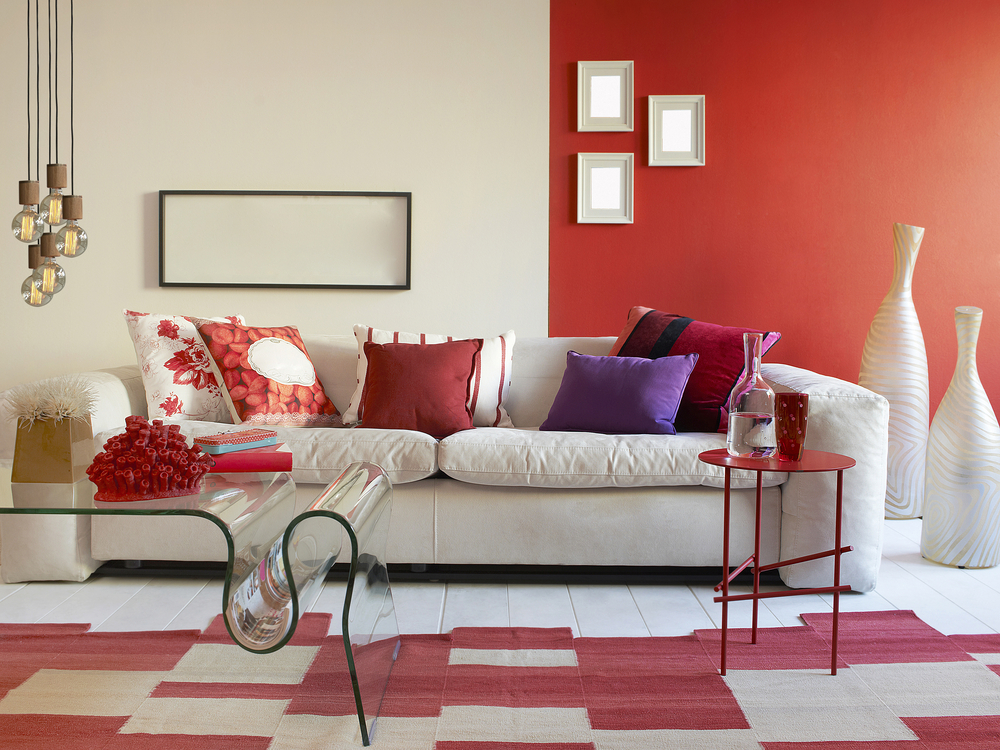 A cheaper yet effective alternative for construction-requiring options is opting for the use of paint in two different colors. Depending on your preference, one way of doing it is using a dark and a light color to balance it out. In this example from Urban Company, the designers selected flat red and white to match the color scheme. To make the wall functional, hanging framed canvases sure does the trick adding a personal touch to the design. It is a low-cost and uncomplicated option for an accent wall. Besides, the goal here is for the accent wall to be different from the others, which is achieved. 
Wood Trims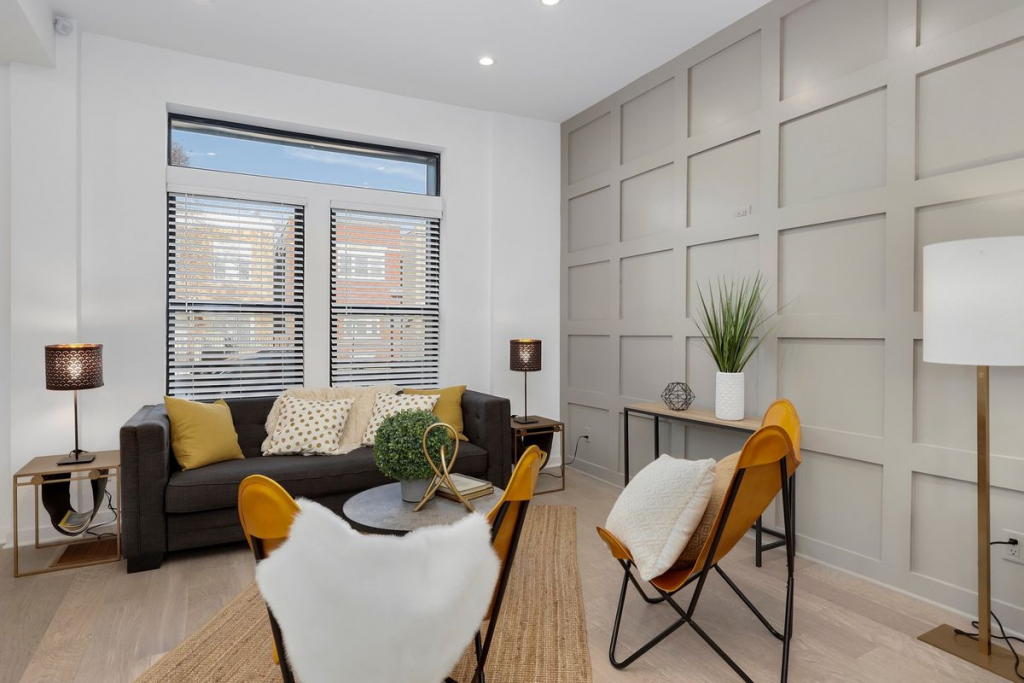 Often found in vintage and contemporary design, wood trims is a more customized approach on how to spice up an accent wall. The inspiration from Curbed Chicago is a modern approach to utilizing wood trims. It is commonly seen in vintage and contemporary interiors where it is used for all the wall surfaces. It may sound too much but it blends in with the old-age concept. Who knew there are other ways of using it and there are numerous interior design styles that can work with it? It creates an edgy yet sophisticated look that can work as an accent wall. 
Clay Brick Finish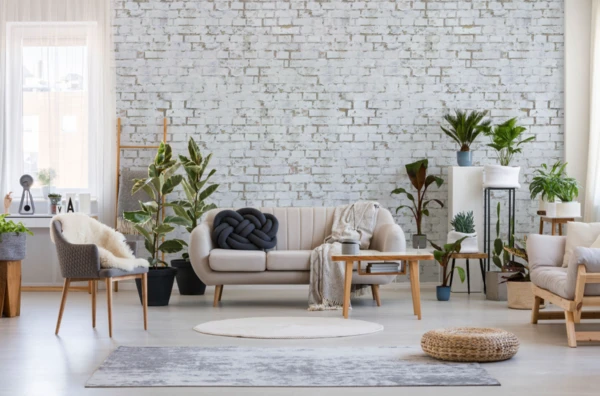 Another simple way to establish an accent wall is by using a different building material. In this case, the designer from Easywallz opted for a brick wall in a rustic industrial finish which blended perfectly with the Scandi theme of the furniture. The great thing about this concept is that it is flexible in working with different design styles. By looking at it, you can see that the color scheme used is very subtle but the first thing that catches your attention is the accent wall. That is what we are rooting for; an accent wall that will make you look twice. 
Scrap Tiles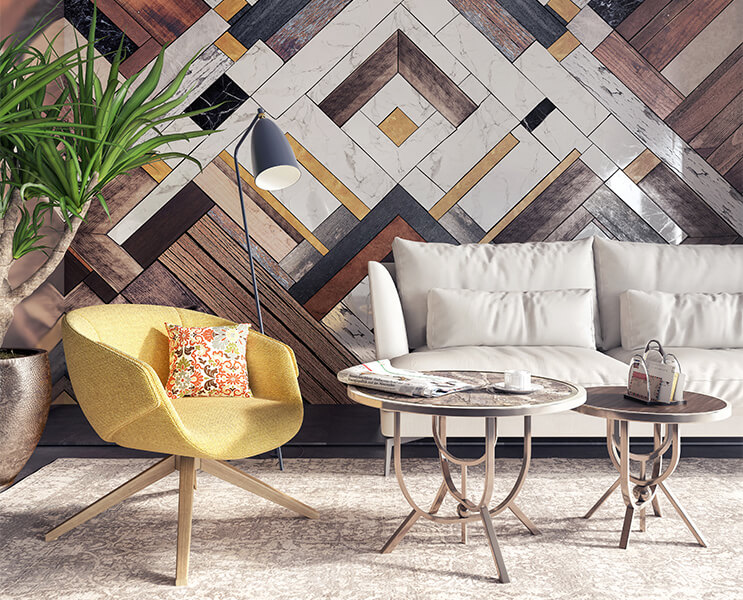 An accent wall is designed to be singular and exceptional in design. This inspiration from Friel Lumber Company is the best way to define how an accent wall should be put up. It is a tedious and intricate preference for an accent wall which is a combination of tiles in different designs. When built on a wall, it can amplify the theme and scheme of the living room. It has the vibe of the lobby of a hotel. What you would love about this is that you can play with the patterns. Besides, there are a variety of options to choose from. This makes it more customizable in terms of color and texture. 
Recessed Wall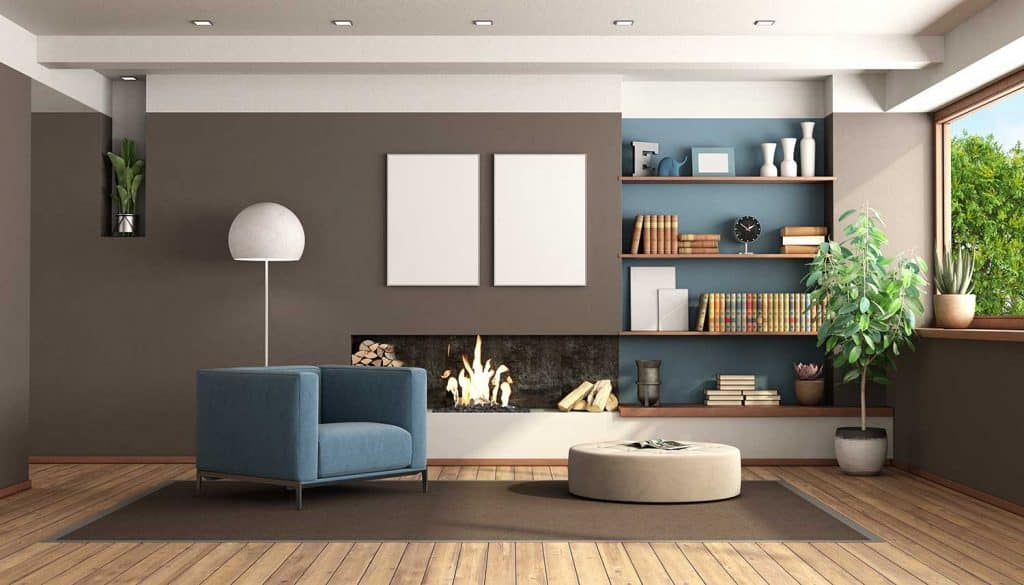 If you want an option that does not consider a change of materials and color, a great alternative would be a recessed wall. The design inspiration from Home Decor Bliss is the best example to prove that even in the uniformity of the colors, utilizing a portion of the wall to be recessed. In this case, the pastel brown wall flowed to the adjacent walls. What made it an accent wall is how it was recessed and used as a shelf and a fireplace. The form followed the ideal function of the wall which is to house the books and the fireplace. Recessed walls are often used to highlight invisible lighting fixtures. But in this example, the designer opted for an accent wall with multiple functions.
Fireplace Feature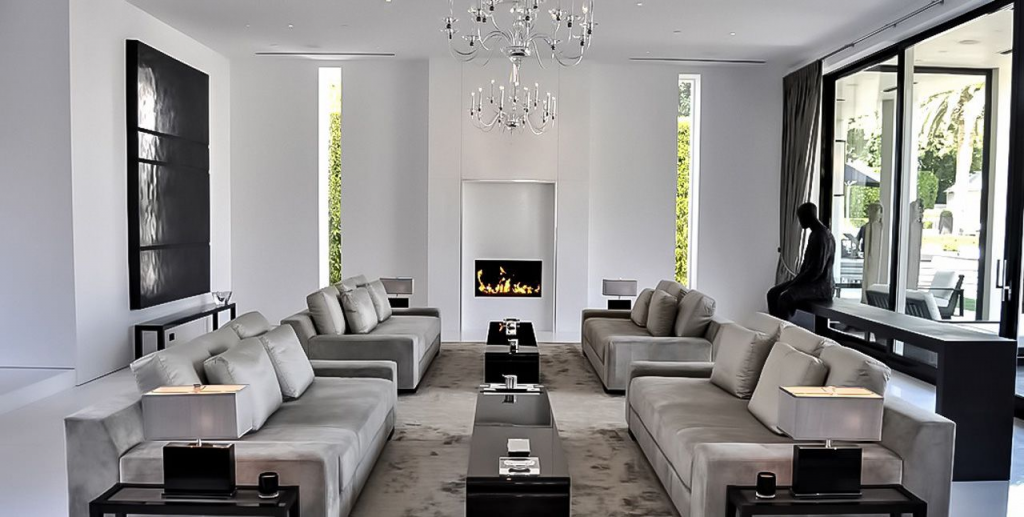 More than just keeping the living room beautiful, we must retain its identity of being a cozy and comfortable space within your home. With that in mind, hit two birds with one stone by designing your accent wall with a fireplace. Apart from the fact that the vibes hit differently, it establishes a warm and comforting feeling perfect for relaxing after a long and tiring day. Thanks to the design inspiration from Pinterest, you can see that all walls are in flat white. What made it an accent wall is how it was recessed and has a fireplace installed. What boosted the colors of the room's pale scheme is the two floor-to-ceiling windows on both sides of the fireplace. 
Mirrors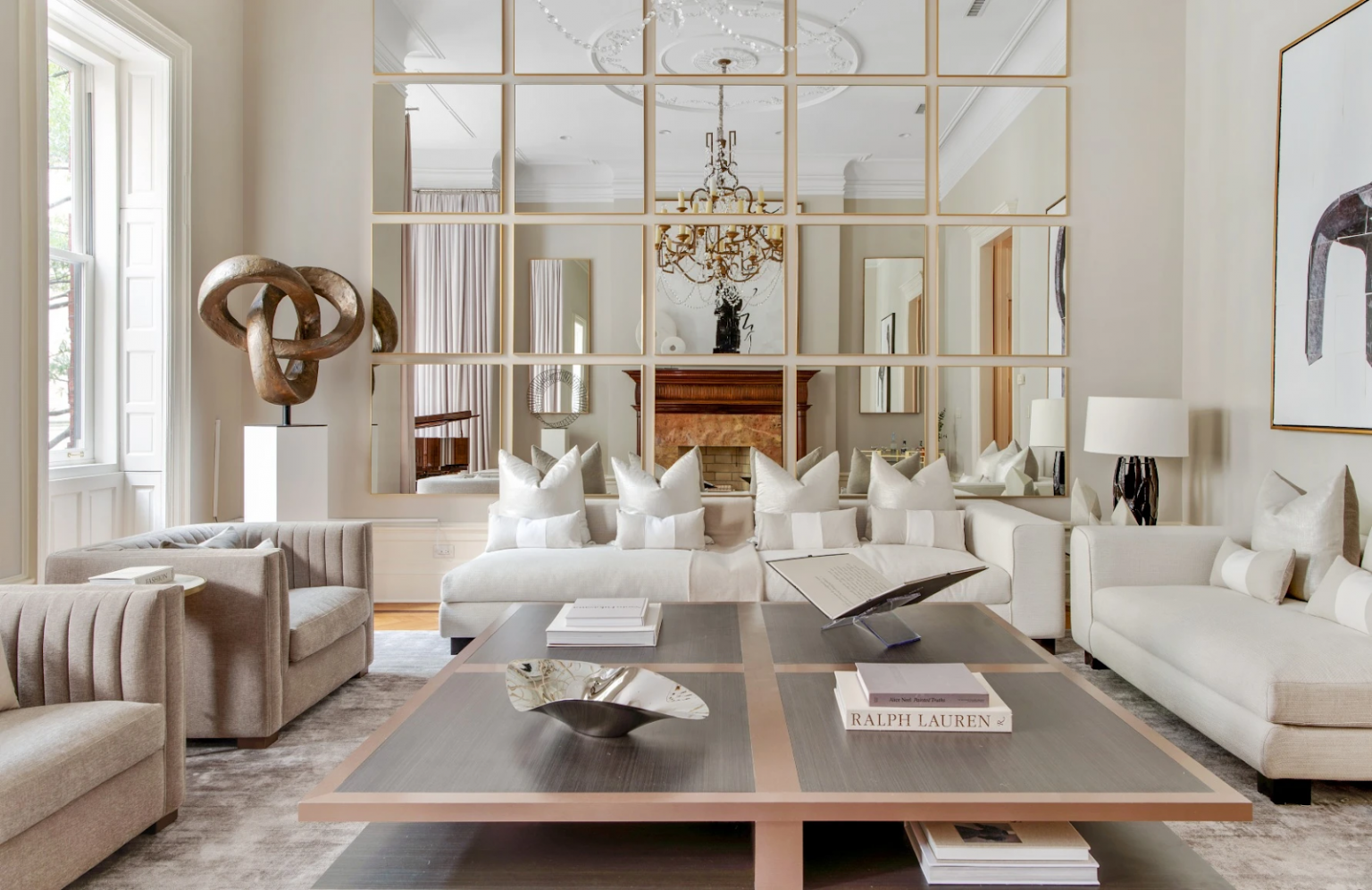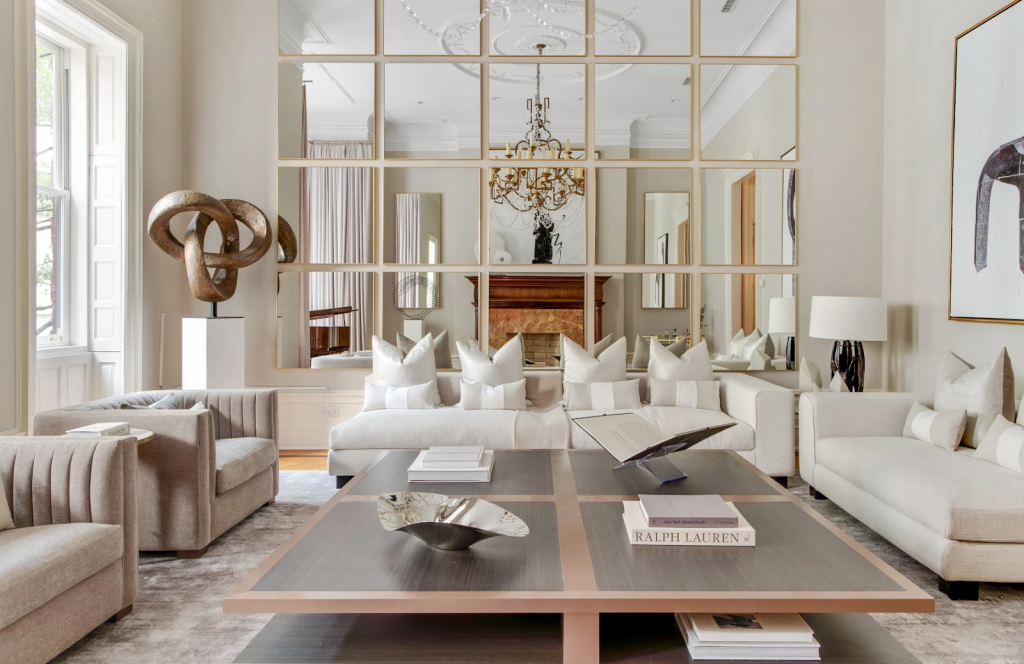 Keeping it sleek and simple is one way to prove that mirrors have this outstanding appeal when used as an accessory in the living room. LuxDeco utilized and arranged mirrors in a grid spatial concept. The living room alone is already spacious and setting up arrays of mirrors did its trick of making the room look bigger.  In addition, it reflects the wall in the opposite direction, a drop wall with a fireplace. This design is ideal with a high vertical clearance to acquire the opportunity to make adjustments in terms of the placement of the mirror. It is a more economical option for an accent wall considering that there is not much construction to be done. And besides, 
Accent Lighting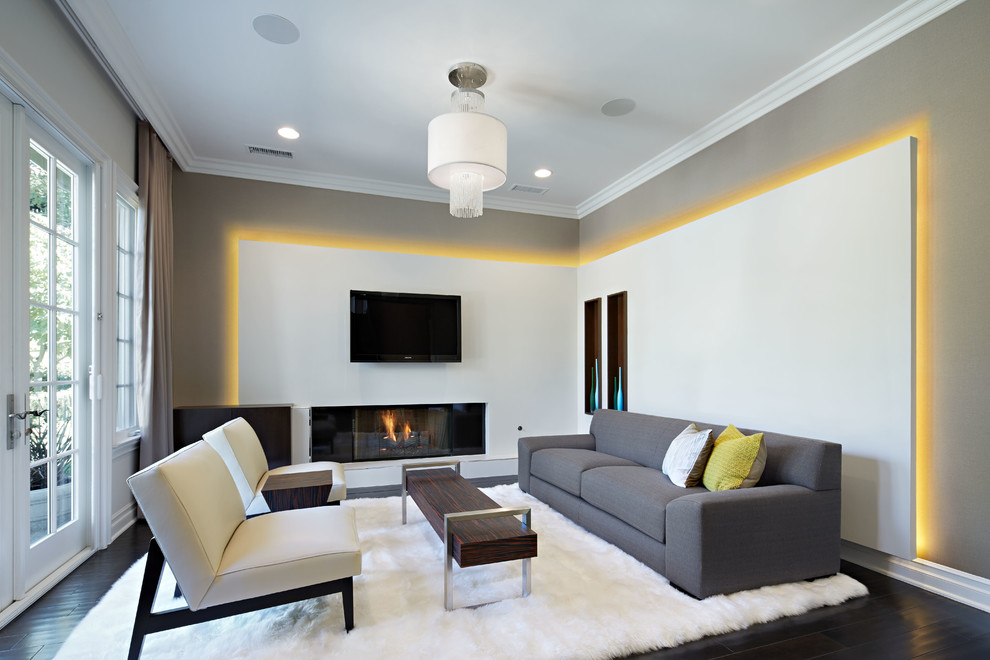 If you opt for a minimalist yet illuminating aesthetic, this concept from Beauty Harmony Life may be ideal for your living room into the accent wall. Compared to the previous examples, this one settled in subtle colors in bold textures. It may be too plain to look at but the LED strip lights in drop walls create this clean and airy vibe. Thanks to the generous vertical clearance, the designers were able to adjust the accent wall to make it look like it was framed. Since there is not much to look at, the best way to catch the attention of the viewer is to utilize the illuminating accent wall beyond highlights. It acted as a house for the fireplace, recessed shelves for the vases, and a fireplace. 
Patterned Textiles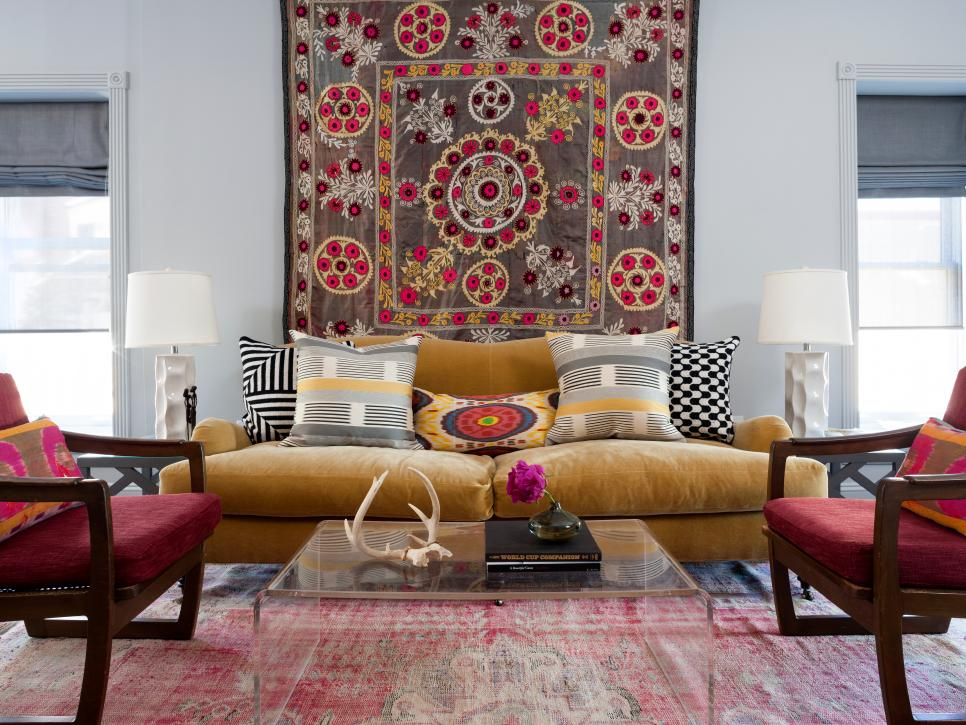 No matter how much money are you willing to spend, sometimes, it not the case. For a more economical option, HGTV designed a living room with a boho textile to add as an accent to the design. The colors may seem to uphold a sense of witchcraft but it is a concept that is cheaper, customizable, and easy to install. Calling construction companies would no longer be necessary since all that you need is a boho-style textile to amplify how accent walls work and it is not only for the privileged. Take time to choose what type of layout, armchair, and coffee table can work effortlessly with coffee.