11 Bedroom Lighting Ideas to Illuminate Modern Designs
Apart from the furniture, one of the most significant things to consider in designing a bedroom is the lighting. It is an interior art that highlights the features of any space. As it covers a comprehensive space, it is just right to plan on how to properly arrange the lighting. Its position touch multiple points of the bedroom. Besides, lighting defines the ambiance built within. The variety of available colors and designs for lighting fixtures gives you reasons why not to settle with the traditional lighting design. We have gathered 11 bedroom lighting designs that will illuminate modern designs for personal space. 
Soft Glow Lighting
Bedrooms define intimacy and privacy. As much as we want to stay there for the rest of the day, its sole purpose is to be the resting place. Thanks to this amazing lighting concept from Contemporist, subtle light sources are one way to go. This is perfect for accentuating walls. But, in this case, they used it for the headboard. Its impact made the headboard and the side table float. This is the best option to opt for if you are a night owl who prefers to lie down and read a book. It may not be enough source of light for other activities but the way it illuminates is enough for you to see the floor. It is not always good to walk on dark floors. The elegance of the light goes beyond the bed and diffuses to the entire room. It made the bedroom look warm and enticing. 
Wall Candle Lamp
Accent lighting for the side tables is very common in modern bedrooms. To spice it up, a wall candle lamp is your best choice. Green Leaf's design inspiration is a dream among bookworms. It makes nighttime reading more worthy of time. At the same time, its vibe is cozy and relaxing. This is also perfect for those who cannot sleep peacefully with all of the lights off. The impact is very subtle yet the design is not compromised. More than just the modern bedrooms, this can also fit in an industrial and minimalist setting. A wall lamp is also identified as a wall sconce in which it often faces upwards. In this case, its goal is to diffuse natural lighting. The color used for the lighting fixture allows the light to gradually spread throughout. 
Recessed Wall Lighting
If you prefer several lighting sources, you can opt for wall lighting, recessed lighting, and bedside lighting. These three are very common in bedrooms. The wall lighting highlights the accent wall of the entire room drawing attention towards the bed. The recessed-down spotlighting is supplementary lighting to the entire bedroom. This is often used if you are not a fan of chandeliers or other grand lighting fixtures. The industrial bedside lighting used diffuses a subtle amount of light to complement the wall lighting. Society 6's inspiration is one of the top picks if you prefer a minimal amount of light in the entire bedroom. It gave the bedroom a five-star suite vibe. More than that, in spite of being a dark-themed bedroom, there is enough light to support the activities within. 
Minimalist Side Lighting
Pendant lights are often attached to the ceiling but Tudo & Co's inspiration turned the tables around for side table lighting design. This minimal side lighting concept is perfect for minimalist, modern, and industrial bedroom designs. It is an ideal alternative to bulky side lights diffusing too much light that can burn your eyes in the middle of the night. This type of lighting is perfect if you do not have many activities in the bed and you just want an ample amount of light. It gave away the intimate and passionate vibe in bed. Warm lights sure do the trick in highlighting the cozy and comfortable vibe within the bedroom. A key tip is to opt for lighting fixtures that are light in the eyes and are cost and energy-efficient. This is one way of maximizing your options for lighting fixtures since most companies are switching to LEDs. 
Suspended Pendant Lighting
Often found in kitchens, suspended pendant lightings have their way of spicing up the bedroom. If you are not a fan of grand chandeliers and accent ceiling lights, this is what we highly suggest. Pendant lighting can be both main and supplementary lighting depending on the amount of light diffused. Ooh Fancy's design will give you a reason why to opt for this lighting type. In spite of being placed directly on the bedside table, it still acted as the main source of light. It is a perfect idea if you want to keep the ambiance of your bedroom light and airy. In addition, they have placed recessed-down spotlighting for supplementary lighting. Since they differ in color, the white lights are perfect for bedside activities and the warm lights are perfect for resting and relaxation. 
Overhang Chandelier 
Often found in staircases and living rooms, who knew an overhanging chandelier would suit your modern bedroom design? Studia-54 designed this modern bedroom with a golden chandelier with shiny crystals attached to it. Aside from the sophistication and grandeur brought into the room, the crystals helped in diffusing the light evenly. It stated an impact of class and wealth. This is highly suggested among bedrooms with a generous amount of floor-to-ceiling height of approximately five to six meters. To complement the chandelier, they opted for recessed pin lights for supplementary lighting sources. In terms of bedside activities, the designers prefer a traditional table lamp in black. 
Nordic Floor Lamp
Floor lamps are not typically seen in the bedroom. It is often preferred in entertainment rooms and living rooms. The Brand Deco gave it a vibe that the nordic floor lamp will complement bedrooms with limited floor-to-ceiling height best. In this case, the approximate height of the bed is more than half of a meter. The floor lamp acted as a wall sconce that is perfect for reading books or just keeping the night light up as you sleep. Always remember that floor lamps work best in subtle and warm colors. This way, it would not be that disturbing being woken up in the middle of the night. Look for floor lamps where you can adjust the color and illumination. 
Accentuating Neon Lights
If you prefer mixing modern with retro, one way of doing so is by accentuating the bedroom with neon lights. Casa Vogue gave that Riverdale kind of vibe with the statement neon lights. This is perfect if you want to get creative with the color and design of your lighting. They are highly customizable and can be used as a night light too. If you want to upgrade your sense of style in design, investing in neon lights is one way of adding flavor to lighting. It is the accent lighting that highlighted the pastel color scheme of the bedroom. When placed accordingly, you already have an IG-worthy post. 
Wall Sconces
Wall sconces are often placed upright to make the lighting subtle but well-diffused. In this case, Society 6's turn the things around with downlight wall sconces. In spite of being a complementary lighting source, the sconces still managed to keep the bedroom light and airy. The white lights signified neatness, organization, and class. It is the lighting that nailed the modern minimalistic design concept for this white bedroom. In choosing the perfect wall sconce, always consider the activities done before going to bed. This way, you can weigh whether or not you should opt for subtle or direct lighting fixtures. 
Pole Lighting
Accent lighting is very common in modern bedroom design. We have here minimalist pole lighting from Modernsia. Just by the looks of it, it is a dream among those people who cannot sleep with the lights off. Warm lights induce intimacy and relaxation which is the perfect mood to build before going to bed. It gives away the hotel vibe when taking a vacation. This is a perfect idea if you want to keep things light and simple instead of opting for bold and massive lighting fixtures. When choosing pole lighting as your bedside light, always consider its measurement from the floor and from the bed. This way, it would not be disturbing when you accidentally wake up in the middle of the night. 
Bulb Strip Lights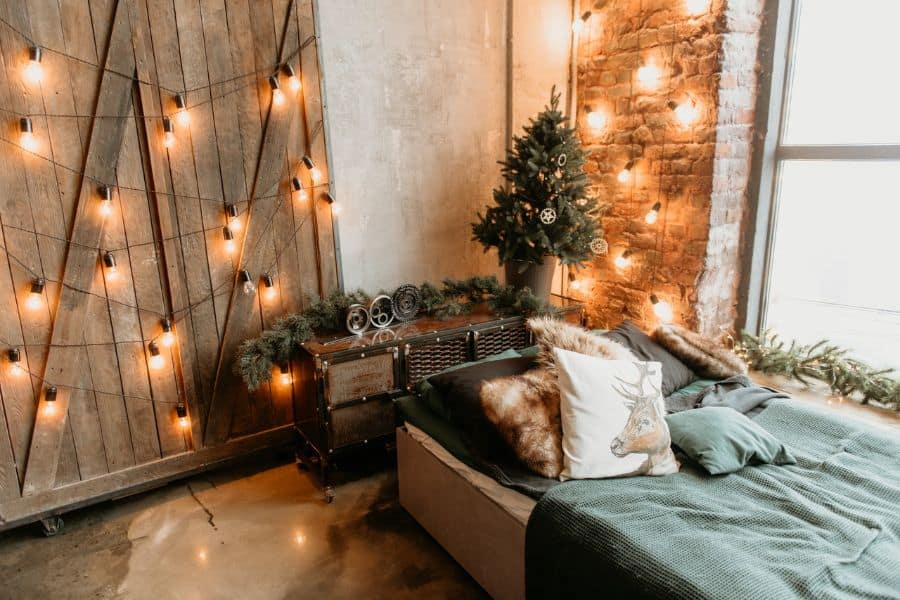 If you are rooting for the dreamy outdoor vibes, opting for bulb strip lights is one way of nailing it. Thanks to Next Luxury's hung lights on the accent wall, it brought warmth to the entire room. It gives this cozy feeling of home. This is perfect for modern and minimalist bedroom designs because they can easily be paired with color and building material. It may be often found outside but it can also nail your outdoor-inspired modern bedroom design.