12 Blanket Storage Ideas that are Space-Saving
The best investment to have at home is the blanket storage. It may not seem to be the thing you consider in designing a house but you need storage for your linens, blankets, beddings, and even throw pillows. These days, we want to be uniform in maintaining the design of the room. With that in mind, we have gathered 12 aesthetic blanket storage ideas that are space-saving. Considering aesthetic, functionality, and organization, check out these inspirations below that will turn the tables around in storing your blankets. 
Blanket Rack
When you have a limited floor area, it can be a challenge to make space for additional storage. Thanks to The Pioneer Woman's design inspiration, this wall blanket rack will surely be something you want to consider. By the looks of it, there is plenty of room for a number of blankets that you can easily store and get. Its design will work in any space within your home. Moreover, we love the industrial design it exhibits. It may seem simple but it sure is functional. There is no need to worry about massive cabinets to store everything when you can maximize your wall space instead. The good thing about this design is that you can opt for a DIY one with the chance of choosing your preferred colour and material. 
Side Table
If you prefer your blanket storage to blend with your design, another option is to store it beneath your side table. It saves space because it works as a side table and blanket storage. You can place it next to your couch, bed, or even an armchair. Roll your blankets and place them beneath the table. Doing this will make space for more blankets and make it more accessible. We love Contemporist's idea of designing this multi-purpose table. You can move it wherever in the room since it is light in weight too. In choosing your blanket storage, always remember the number of blankets you have at home to be able to store them all together. 
Bench Chest
It may seem to be a normal seat to you but it has a hidden agenda of storing blankets and throw pillows. This is an ideal option in bedrooms and living rooms, especially when dust keeps coming your way. If you are having trouble finding space to place your bench chest, you can keep it next to your bed or be used as a footrest. Because of its rectangular shape, you can store more blankets preventing them from being dusty and dirty. Thanks to The Family Handyman's design concept for blanket storage, it turned the table of using baskets for storage. Always remember to measure the dimensions of your preferred blanket storage to prevent wasting space. 
Ottoman Storage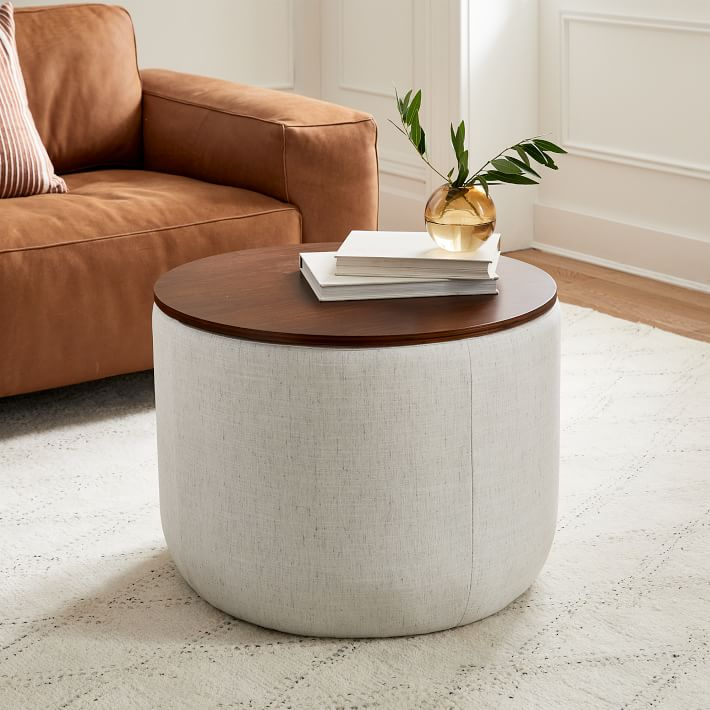 If you are a living room junkie who spends most of the time in the living room, this ottoman storage should be on your shopping list. What we love about this blanket storage is how it is disguised as a coffee table. This is the best place where you can put a small indoor plant or even land your books on. Instead of opting for a traditional cabinet for the blankets and beddings, this ottoman storage is an aesthetic way of upgrading your blanket storage. The good thing about this design inspiration is how it has the ability to adapt to the design of your bedroom or living room. Its dual-purpose features save you the money and space that will cover the floor area. Always consider the amount of space the shape of your storage will cover to prevent making the room look cluttered and congested. 
Crochet Blanket Storage
These days, we root for the cozy and homey atmosphere within the spaces of the home. This makes this crocheted blanket storage a suggested choice. You can either opt for a DIY or purchase one from your nearest depot. What we love about this design is how light it is in weight. It can easily be placed anywhere. In cases where it is not necessary to be used, it can be folded and stored. Its softness will surely complement the fluffy blankets. It is a multi-purpose blanket that can work as blanket storage or even a laundry basket. More than that, it is more convenient and portable to move from one space to another. 
Bench Drawer
If the space is too limited for having a bench and blanket storage, the smartest way to have both is with a bench drawer. One of the greatest creations of The Home Depot is the bench drawer where you have plenty of room beneath the bench for blanket storage. This furniture works best for both the living room and the bedroom. More than just the blanket, you can also store your throw pillows and beddings beneath the bench. Having the baskets displayed this way highlights the amazing weaved drawers. Besides, it is customizable. You can change it with any box you want as long as it fits perfectly. 
Wired Storage Side Table
If you want your pillows and blankets displayed, having a wired storage side table is the ideal choice. Thanks to Contemporist's idea, these mesh-type side tables will surely do the trick in nailing the industrial look. Since it consumes less than a square meter of space, there is no need to worry about a limited floor area. It can work as a bedside table or even a side table for your couch in the living area. The wired storage side table is one of the best ways on how to dress up your blanket storage. There is plenty of room for blankets and beddings that you will be needing to warm up a cold winter night. 
Under the Coffee Table
Spending so much time in the living room watching movies or just resting required a soft and fluffy blanket. To make it more convenient, this industrial-designed coffee table has a handcrafted weaved basket beneath. This can be used for storing magazines, blankets, and even pillows that are not in use. What we love about this design is how it taps the modern farmhouse living room design. Having the storage beneath it added colour and details to the entire living room. Besides, you can never go wrong with handcrafted baskets. They are stylish and they never go out of style even in the modern world. 
Linen Storage
If you want a walk-in closet-type of blanket storage, the best way to do it is by working on an empty space within your home. This is a perfect way of storing your blankets, beddings, and pillows with the generous organization. It will save you time in finding your preferred ones since everything is in place and there is enough space for everything. Invest in baskets and shelves to add layers to the small room. In this case, they have decided to make the pillows and comforters to be seen easier. You can also add labels just in case your preferred canvas for the storage is not see-through. 
Steel Mesh Storage
For a more minimalist look, another design idea to try for blanket storage is through the use of steel mesh baskets. Its simplicity taps in making the storage look neat and organized. The linens are seen easily since they are in grid form. There is no longer a need to dig further. A key tip in using steel mesh baskets is regularly cleaning them. Ensure that they are free from moisture to prevent the occurrence of rust. It is a go-to idea, especially when you need to launder them all together. As a custom design, you can choose your preferred colour and even add rope handles to make it more convenient to carry. Before putting the blankets back to storage, ensure that they are free from the air as much as possible to prevent unwanted smells. 
Mobile Steel Basket
If you still have no idea where to place your blanket storage, what we highly suggest is to opt for a mobile steel basket. It can be used for blanket storage and even for new and used laundry. Mobile steel baskets are promoting convenience in transporting your blankets and other bed accessories. Contemporist's idea is to have easier access to just grabbing whatever you need depending on your mood. Once you are done using it, you can easily put it back. Besides, you can easily move it from one place to another depending on where you plan to rest and relax. You do not have to worry whether or not it will fit the design of your bedroom or living room because it fits any design perfectly.