12 Space-Saving Kid Bedroom Ideas
In designing your kid's bedroom, we all have this creative imagery in mind to build their character as they grow up. The ideal characteristic for a kid's bedroom is a space where they feel safe, within their comfort zone, and learn the responsibilities of their gradual transition to teenage years. Providing them their own room will practice their skills in organization and slowly being independent. With that in mind, we have browsed the best 12 space-saving kid bedroom ideas to give you inspiration in transforming your little one's space. 
Avenue Greene
Loft-type beds are the next big thing in 21st-century bedrooms designs. What makes it interesting is how it is also suitable for a kid's bedroom. Since their earlier years are all about discovery, having space below their bed for playtime and school activities might just do the trick. Considering the short attention span of kids, it would be best to designate a space for play and rest. It exhibits a system of what should come first in terms of setting their priorities. With its sleek steel design and subtle mute colors, you can already sense their personality growth. 
Dream of a Child
One of the space-saving hacks in designing a kid's bedroom is by adapting the linear layout. All elements are placed on one side to have enough room for other activities such as playtime and schooling. In this case, Interior Design Ideas opted for a dreamy atmosphere for a kid. Considering their fear of darkness, the lighting layout will allow them to sleep on their own. It manages to build a warm and relaxing ambiance for the bedroom. On the side, we love the activity area with plenty of room for storage. They maximized the floor space to the point where it does not look too congested. 
Kids Hub
Kids love a little challenge. They love things that are new to their eyes. This design inspiration from Spacejoy can cater up to two kids within the same age bracket. It is a bunk bed idea with stairs on the side designated for storage. We love how it does not consume much floor space that they still have room for tables and chairs. At first glance, it does not seem to be a kid's bedroom because of the color scheme used. But when you take a closer look at the entire design, you can see the intricate details that define their childhood such as the hanged wall arts. A key tip in designing a kid's bedroom is to have them involved. Allow them to choose the colors that they want as well as the theme. This way, they have a specific view of what to expect once the bedroom is done. 
Colorful World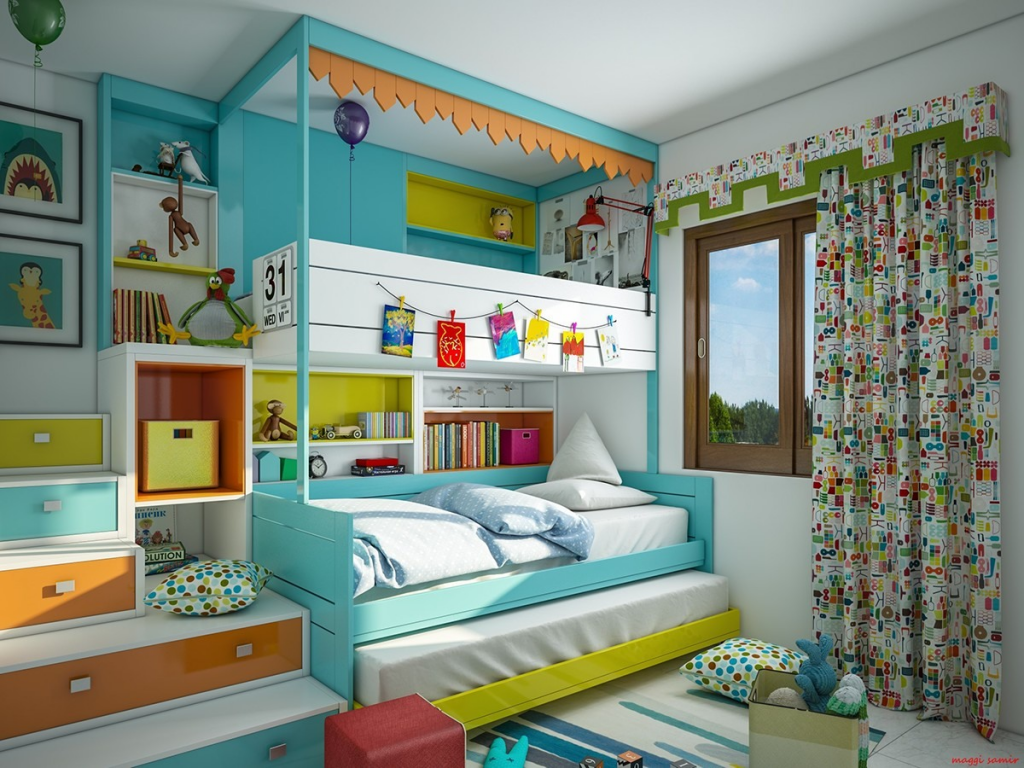 If you prefer a fun and engaging atmosphere for your kid to grow into, this lovely and colorful bedroom idea might interest you. Considering the combination of colors, it brings enthusiasm and uplifting properties that can help in developing their mental growth. Kids who are exposed to a colorful atmosphere tend to be more engaging and elevated. With plenty of room for toys and books, this indeed is a dream bedroom for kids. Imagine waking up to a cave filled with all of the things that you like. It is a creative loft-type arrangement with the educational activity area on top of the bed. There is plenty of room for storage since they have drawers beneath the stairs. We love the creative aesthetic of how it is designed and as a parent, it will bring the inner child in you. 
Bright Space
If you prefer a simple bedroom design for your kid, brightening up the space is one way of compensating. This layout used by Better Homes and Gardens is pretty simple. We love the mint color of the bunk bed paired with colorful and impacting textiles for the beddings. It is a great idea to have their own wall space for their art pieces. This will help in making their creations feel appreciated and that it is not taken as a little achievement. To have room for playtime, the color yellow and orange carpet would free your kids from dust. Alongside, it is nice to have a dress-up rack near their play area. It is similar to having a theater of your own. 
Clean Turf
If you prefer the beach house-vibe, this clean turf kid's bedroom idea from DIY Network will leave you in awe. It may be a little too modern for a kid's bedroom but we love the mini lifeguard's chair on the side. The neat and ordered system of how it is arranged gives the kids plenty of room to learn and play. Kids of the same age bracket can share the room. In spite of having plenty of toys that interest them, there is enough room for the drawers beneath the bench and the bunk bed. Always remember to consider what activities does your kid fancy. This way, you can adjust the layout of the design. Compromise with what they need and want as they grow up. Besides, providing their own bedroom is like allowing them to start being independent. 
Play Cave
DIY space-saving bedroom layouts are a joy to behold not only for the kids but as well as the parents. We love this play cave from Decoist where the bed is recessed inside the shelf and the closet. This aesthetic imagery is similar to having an Oriel bay window. Instead of having a bench next to the window, a bed is used. A movable ladder is placed on the side so they can reach for the books and other toys on the upper shelf. Using this type of layout will save you space and at the same time, manage the clutter of your kid. Since you saved space, you can add a little activity table on the side where they can study and make art. A key tip in designing a kid's bedroom is to design their bedroom with something that is different from their typical environment. Allow their bedroom to be their safe space. 
Space Suite
Having kids of the same age bracket will save you the money of designing two bedrooms. Even though you designated one bedroom for both of them, it is still important to set boundaries. We love how Design Cafe exhibited an activity-based design for a kid's bedroom. There is a boundary between playtime and school time. On the side, using a blackboard as an accent wall is ideal considering how they fancy writing on the walls. They have this to draw or color whatever they want. Instead of using stairs, the designer opted for a mountain climbing-type of activity to get to the top. Below the bed is a study area where they can take time to review for school. Even though there is plenty of features, you can still see how there is still a generous amount of space for other activities. 
Active Space
Kids tend to be more active during the earlier ages. They want to explore the things that seem different to them. Interior Design Ideas created a space for the kids to enjoy their childhood years. These are the years when they deserve to live their life filled with excitement. We love the bunkbed's design and how they used ropes instead of the typical dividers for the bed. They can roleplay like they are flying an airplane. More than its undeniably exciting design, we love the earth colors. Typically for kids, colors are often just blue and pink for the kids dividing their preferences. Using moss green gave an outdoor kind of vibe for the bedroom. This linear bedroom layout saved space that there is still enough room for other mobile activities. Allow your children to explore challenges within the vicinity of their bedroom. 
Captain's Bed with Bookcase
One of the space-saving hacks of modern design is opting for a multipurpose bed frame. In this case, Wayfair's bed frame is also a bookshelf with a series of drawers beneath it. We love the joyful color of yellow that will fill the kid's day with excitement as the sun rises up. The color of the bedroom is one of the trickiest factors to identify. Choose a color scheme that you seem would interest them or would define their character as a flourishing kid. What we love about this design is how the layout looks neat and in order to implicate a sense of organization and responsibility. 
Rustic Kid's Space
If your kid is up for a rugged and rustic look for a bedroom, Wayfair's got your back. This kid space induces a mechanical and masculine vibe for a kid. We love this loft-type bed with plenty of room for things that interest them. There is a space beneath the bed where they can place a study table or can serve as a play area. This way, the clutter is in control. This bedroom design is perfect for kids who are interested in automobiles and roads. It would be best to start them young with road etiquette. The best tip we could give you is to design the bedroom with accessories that you think would contribute to their growth. Accessories that are educational. 
Tiara Twin
For a more compact design for a little girl's bedroom, we love this pink dream bedroom from Wayfair. It is an all-in-one product for a bedroom. You have a bed, closet, drawers, shelves, and even a study table. The best part of it is how it maximizes approximately three square meters considering that everything your child needs are already there. If you have limited space for your kid's bedroom, this is the best furniture to have. When a bedroom is equipped with a compact set of furniture, it looks neat and free from clutter. Thus, having more space for other activities. This is a bedroom design that your little girl would enjoy having.