18 Blanket Storage Ideas Perfect to Spice Up the Living Room Aesthetic
Blankets may seem to take up space in your living room, especially during the cold seasons. As much as possible, making space for invisible storage will just do the trick. This will keep your living room free from clutter and make it look more organized. Considering how bulky blankets are, they need to be stored somewhere within the proximity of the living room with aesthetic imagery. The organizational system may seem like a nightmare. But, to give you inspiration, we have scooped 18 of the best blanket storage ideas that are perfect for your living room. 
Felecia Seagrass Basket
For a simple yet aesthetically pleasing idea, a seagrass basket would do the trick. This is perfect for any interior design considering its handcrafted creativity. It does not take much space and it looks pretty next to the couch or even the side table. Its hollow design manages to take up to five blankets or even a few throw pillows. Because of its lightweight character, it can easily be moved around the entire living room. 
Decorative Wicker Basket
If you prefer Pinterest-inspired blanket storage, this weaved wicker basket will do the trick. It is not just perfect for your blankets but as well as the other accessories in the living room requiring to be stored. This handicraft is not just functional for storage but as well as adding an aesthetic impact to your living room's design. Weaved baskets such as this are perfect for any type of design inspiration considering that their irregular shape adds a character to the living room. 
Utility Fabric Basket
If you prefer massive side storage, a utility fabric basket will fill the void. Its large capacity for storage can house both blankets and throw pillows in cases where they are not needed. This prevents dust from seeping through the textiles. Moreover, fabric baskets are laundry-friendly. With the right material, its material does not degrade over time. With its design, it does not pair effortlessly with the living room but as well as the bedroom. 
Powell Kayvon Storage Drum
For multi-purpose blanket storage, this massive storage drum might interest your tastes. By the looks of it, the design will make you quit opting for a coffee table and blanket storage. It is designed to work as both. Therefore, it does not consume much space in the living room area. What we love about this design is how easily movable it can be in cases where the household wants to watch a movie and lounge on the carpet. On average, it can cater from four to five blankets with throw pillows. With its wooden lid on, it can be difficult for the dust to peep through. 
Storage Bench Tufted Linen Fabric Ottoman
This linen fabric ottoman from Overstock is invisible blanket storage. If you have a variety of blankets to store, the best storage idea would be a bench disguised as blanket storage beneath. It is the perfect match for your living room couch. You can locate it on the side or next to it. With this idea, you can just take out the blanket whenever you feel like it. No one would even notice that it is blanket storage. This sure is an upgrade from the traditional weaved baskets on the side. There is nothing to worry about the blankets being dusty with a foul smell because it is kept air-tight under the bench. 
Red Faux Leather Round Storage Ottoman
If you want an accenting color to spice up your living room, one way of doing so is by opting for a round storage ottoman. It is multi-purpose furniture that can act as a coffee table, additional seat, and blanket storage beneath. You can roll up your blankets and organize them inside to make more room for the throw pillows. Because of its sleek leather material, spilling liquids would not be a problem. Your blankets will remain dry. Moreover, it has a sealed cover to keep them away from dust and dirt. 
2-Piece Wicker Set
If you have a half-shelf with empty spaces, you can purchase wicker set to fill the void. Apart from its creative aesthetic, these cube storage can manage to hold more blankets. Plus, it does not look like a blanket holder. It comes out like a drawer where you can just pull out your blankets any time you prefer. Considering the cold seasons, it would be best to keep them within the vicinity of your living room. They are easy to dust and are more compact storage for the blankets. 
Nonwoven Polypropylene Storage Cube Set
If you prefer simple canvas storage for your blankets, Overstock's got your back. They have these amazing storage cube sets that are simple in style perfect for minimalist interiors. You can have these next to your couch or even on the corner of the living room. Since they are in cubic design, they have more space for rolled or folded blankets. They come in a set which means you can store them next to each other. One for the blankets and another for the throw pillows. A simple design for blanket storage such as this is ideal for modern living room designs. 
Handwoven Banana Leaf Rattan Basket
We love handcrafted woven blanket storage. Compared to the other handcrafted storage mentioned above, what makes this different is how tall it is. Since its structural integrity can manage the one of a table, it can also serve as a side table for the living room. There is plenty of room for the blankets either rolled or folded. Plus, the design will surely match both modern and vintage design aesthetics. What we love about this design is how its details add aesthetic character to the imagery of the living room. 
3-Piece Metal and Wood Basket Set
Often found in modern interiors, we love how this metal and wood basket set from Wayfair is perfect for minimalist and industrial styles. It is quite the catch to have these within your living room filled with rolls of blankets. You can see the blankets through the mesh. At the same time, this design allows you to use it as a side table. Its wood cover and steel structural elements can sustain ample weight. This set of tables can be used as a coffee table, side table, or even a seat alongside being blanket storage. You can check these out at Wayfair's website. Spice up your living room design with this amazing set of blanket storage. 
Rattan Basket Set
If you prefer to order and uniformity in design, this set of rattan baskets will do the trick in housing your blankets and throw pillows. You can have them stacked on the corner of your living room where you can just pull them out whenever you want to warm up. Rattan is known to be a very versatile material for baskets and other handcrafted products. It is one of my personal favorite styles. It is a great alternative for blanket storage with enough ventilation preventing must. This style is perfect for bohemian, minimalist, farmhouse, and even industrial design styles. It brings the design together making it perfect if you want something iconic in your living room. 
Large Round Storage Ottoman
This hack is perfect for those with limited space in their living room. Its sleek design surrounded by a cushion adds comfort and a cozy vibe. It can act as a coffee table, chair, and even blanket storage. Whether it be rolled or folded, there is still enough space for a number of blankets. The large storage beneath the lid can also fit squishy throw pillows. Therefore, being surrounded by dust would not be a problem. There would be more space for clean and used blankets. Compact living room designs are popular in the 21st century and this is one way of utilizing the functional design. 
Chevron Pattern Upholstered Storage Ottoman
Another style for blanket storage disguised as an ottoman will tap your interest in adding it to your living room. You can grab this stylish decor from Overstock to store your blankets and throw pillows. By the looks of it, it barely looks like storage. It just looks like a normal ottoman where you can either sit or lay your morning coffee. The color alone is enticing and warm. It adds character to your preferred aesthetic for your living room. This is an ideal option for a minimalist, art deco, and even bohemian interiors. 
Black Bicast Leather Storage Bench
This chest storage is one of the must-haves for your living room. It may be massive in size and at the same time, it adds room for seats. This blanket chest will suit your interior, especially if you are digging for the modern rustic vibe. You can hide your blankets anytime within the proximity of your living room. Its defined upholstery will turn your tables of how these storage benches look. They are easy to clean and because of their length, there is plenty of room for more blankets and throw pillows. 
Grey Lift-top Storage Ottoman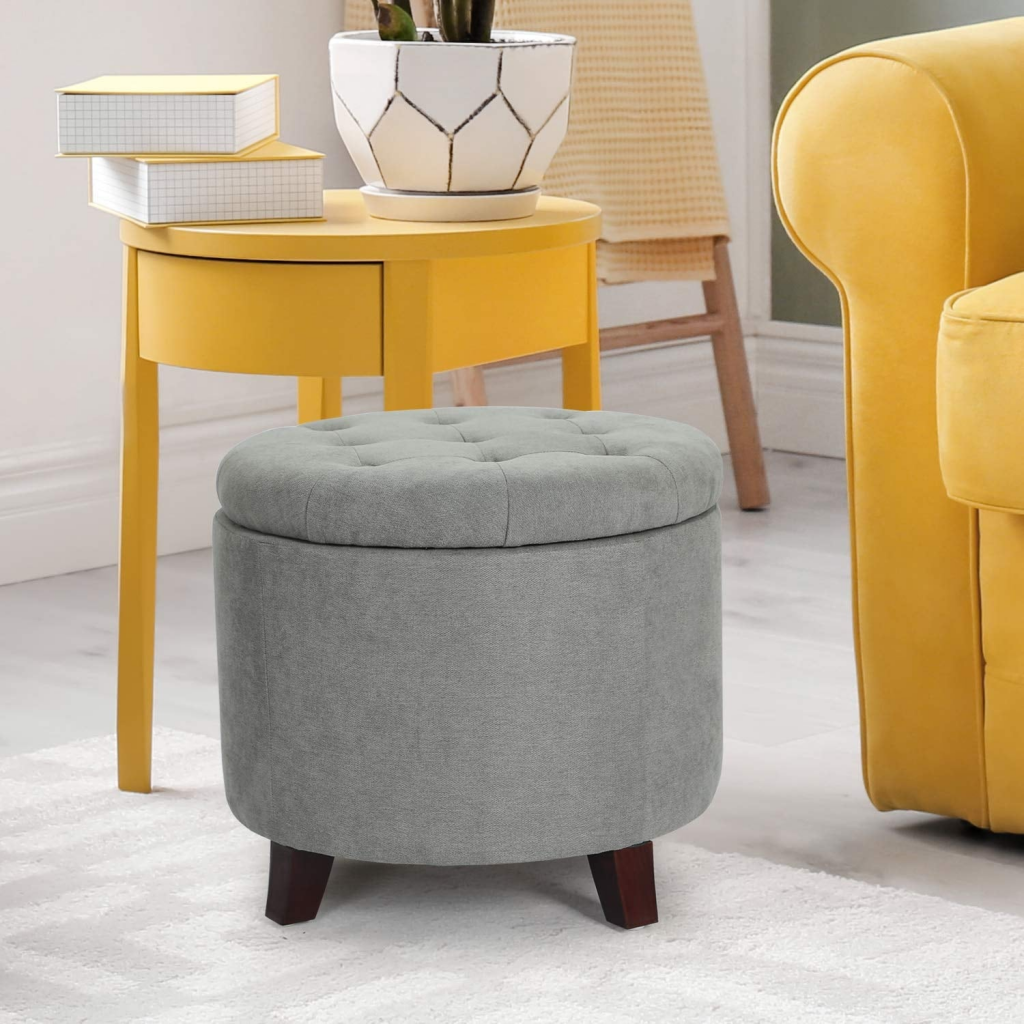 If you have a limited collection of blankets, this one-seater storage ottoman will do the trick. On average, it can hold four to five rolled blankets. With its top lid on, you do not have to worry about dust peeping through the fabric. Moreover, it is small in size perfect for small apartments and living rooms. It can act as a seat, a footrest, and blanket storage. Its multi-purpose properties will tap your space-saving objectives for your living room. 
3-Tier Farmhouse Leaning Shelf
If you prefer a series of blankets displayed, this 3-tier farmhouse leaning shelf is a must-have for your living room. It saves horizontal space considering that it is standing. You can store the unused blankets on the bottom bag and hang the ones you have used. This is a gem from Amazon that will answer your problems with blanket storage. Besides, it can be a challenge, especially if you have limited space. In terms of design, this leaning shelf will best suit rustic, minimalist, modern, farmhouse, and even bohemian vibes. 
Nesting End Table Storage Stools
Upcycling is a budget-friendly alternative to purchasing blanket storage. Overstock gave us an idea of how to do one that will act as a side table, seat, and blanket storage. These heated aluminum drums are topped with an engineered wood acting as furniture. By the looks of it, this can be matched with industrial and rustic vibes for the living room. Because of its height, there is plenty of room for a collection of blankets. It is easily be maintained by wiping the surface. Besides, it can be placed anywhere within your living room. 
Lift Top Storage Ottoman Bench Footstool
If you prefer a smart choice for blanket storage, opting for a lift-top storage ottoman is the best deal. Talking about plenty of uses, this can be used as blanket storage, a working desk, a seat, and even a coffee table. This is a space-saving gem that will spice up your living room. Whether it be modern, contemporary, minimalist, and even monochromatic, this ottoman will ace all the activities done within the living room.