12 Shelf Styling Ideas to Spice Up Your Living Room
One of the functional yet aesthetically pleasing pieces often found in the living area is the shelf. Whether it just be for storage or for exhibiting art pieces, it is a space-saving element that can spice up every living room wall. Shelf styling is one of the ways to add flavor to your plain walls. It is a chance to display different elements that can add character to the entire room. In addition, it makes all the clutter more cohesive looking all neat and organized. We have gathered 12 inspirations12 inspirations on how to style your living room shelf at home. 
Multi-purpose Shelf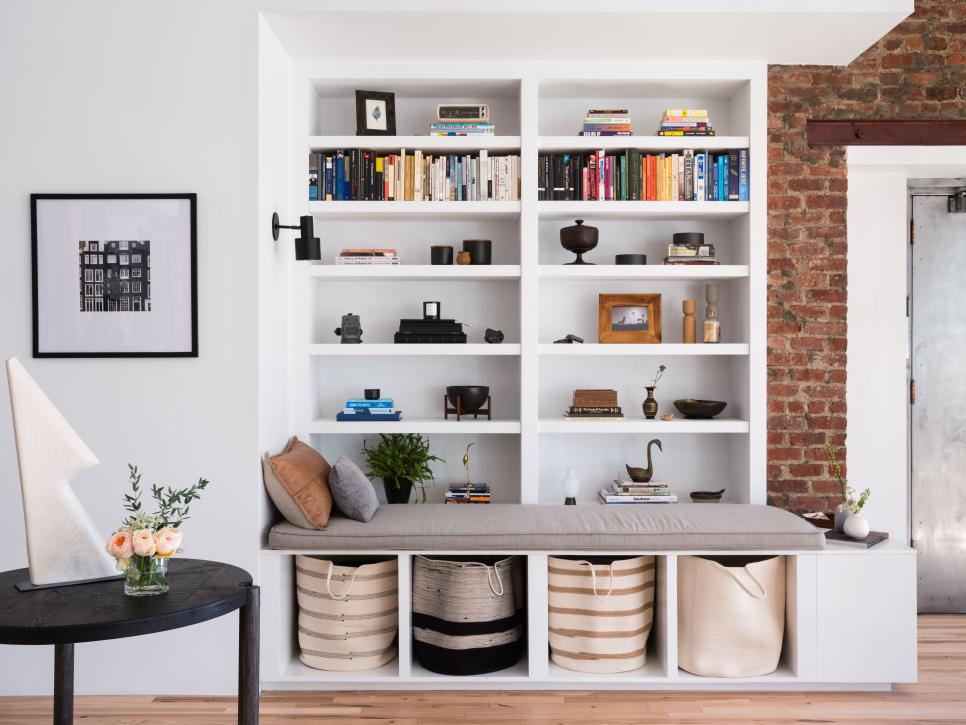 In our living room, apart from being the popular place for entertainment, it is a place where we seek solace. Thanks to this example from HGTV, the shelf is more than just for storage, it also worked as a reading corner. It is a multi-purpose space acting as an accent wall. Finished with the right color or material, it can define the characteristics and the depth of the living room. This is perfect if you want to have your in place within the public space of your home. Besides, it's always great to have sections within the living room without the use of walls as divisions. 
Moveable Shelf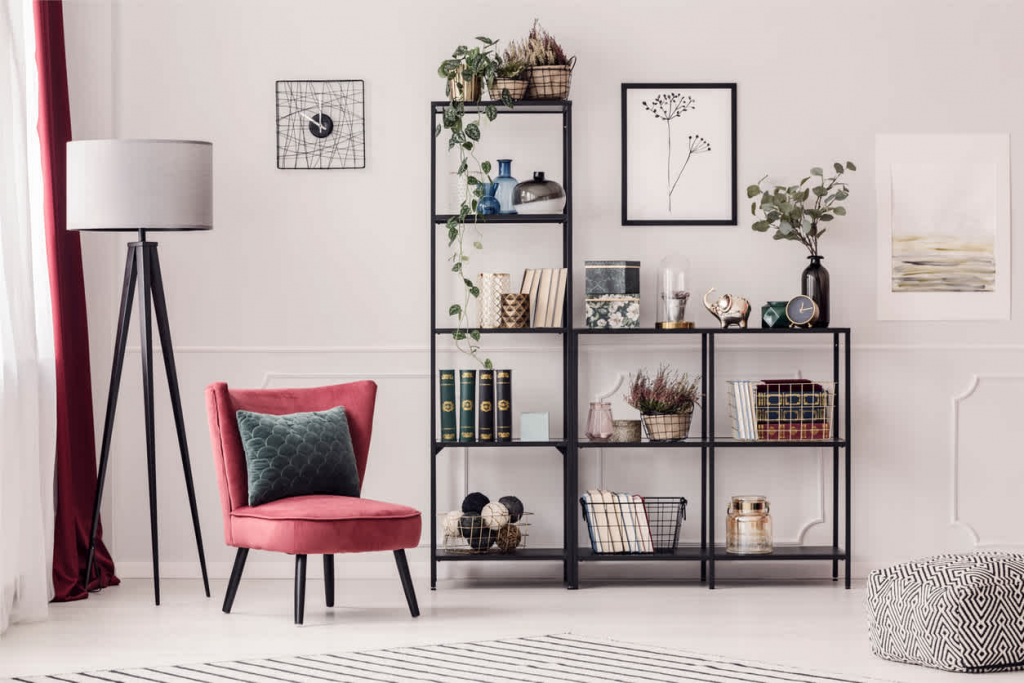 It is a habit among households to move and redesign the layout of the entire living room. With this in mind, we suggest a shelf that would work according to your taste in design. Movable shelves come in handy in times when you want to change the setup of your living room. Besides, it does not only work for the living room. It can also work for the other spaces of the house such as the bedroom, dining room, and even the kitchen. It is grid-type storage perfect for both storing necessities and accessories. This is ideal if you are still uncertain and you still have plans of moving things around. 
Floor-to-Ceiling Shelf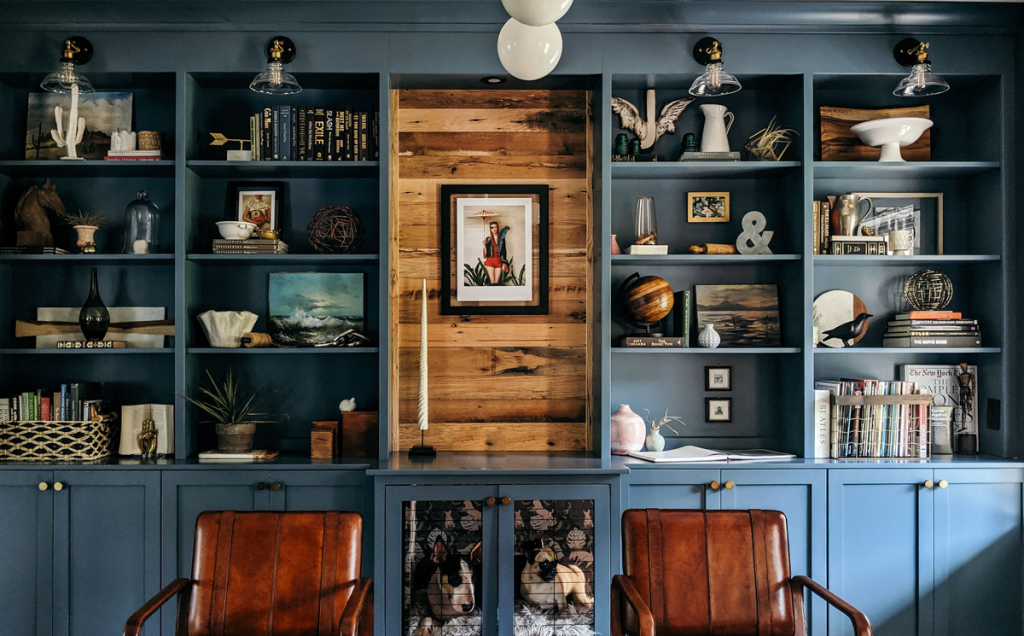 If you want a vintage aesthetic for your living room, you can opt for this amazing subtle blue floor-to-ceiling shelf. What we love about this shelf is how it has cabinets on the lowest portion for additional storage. This shelf is an icon for its center column with an accent wall and a hanging image. For the lowest portion, we have another drawer converted into your pet's sleeping area. It works for all types of uses and it is neat to look at. This is an ideal option regardless of the design concept you're trying to build. This grid-type floor-to-ceiling shelf creates a more compact design for storage. 
Cantilever Shelf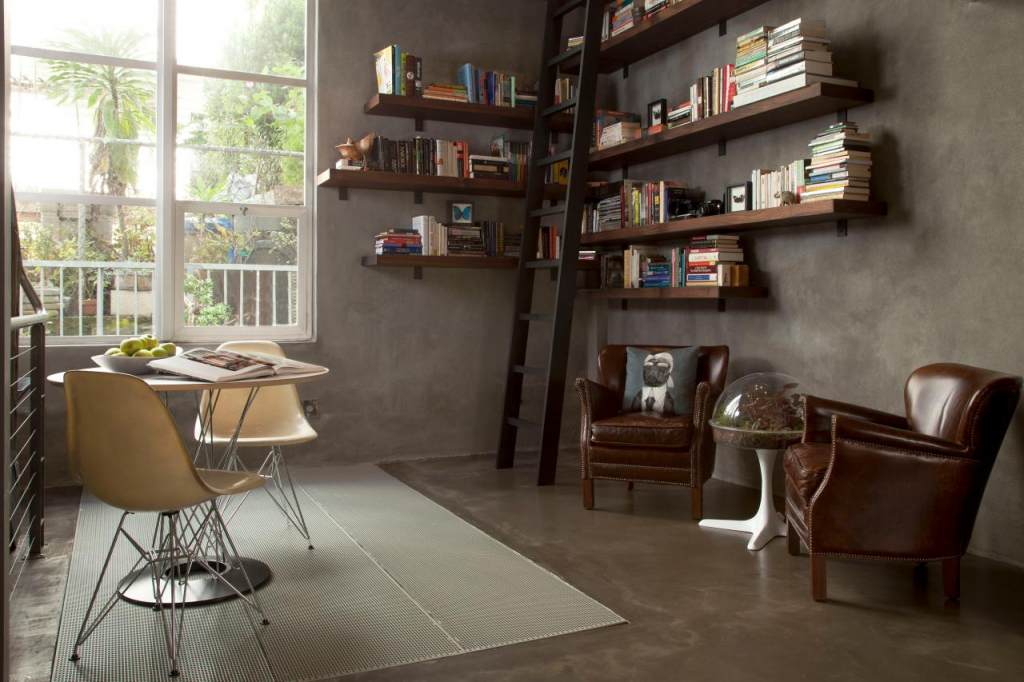 If you want to keep it simple and easy to install and uninstall, we highly suggest a cantilever shelf. This is ideal for DIY projects since cantilever shelves are just wood planks attached to the wall on one end. What we love about this design inspiration is that it can work with any design and it is easy to install. In this open living area, you can see that the cantilevers are in different lengths defining layers and accents. More than just being an easy option, to begin with, it is also a cheap alternative to pre-constructed shelves. The good thing about cantilever shelves is how customizable they are. Besides, it is a brilliant idea if you have limited floor space and you do not want to take up the entire space. 
Floating Shelf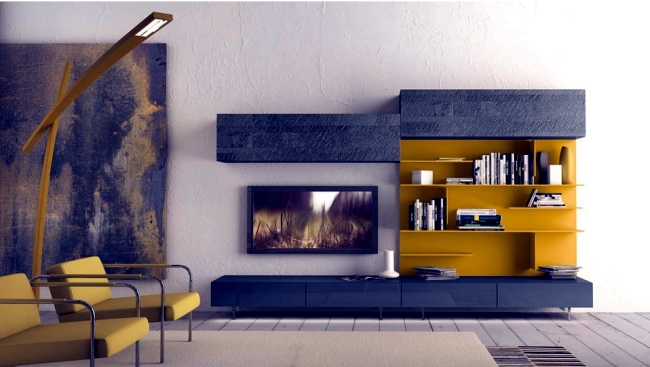 If you want your shelves to be the living room's focal point, one way of doing so is to opt for floating ones. What we love about this yellow orche floating shelves is how it is arranged like a maze. Its color is contrasting with the navy blue top and bottom storage. The good thing about this shelf type is how its color highlighted it. It acted like an accent wall drawing attention towards the painting, television, and shelf. A piece of advice in choosing the color for your shelf, opt for a color that will not look invisible when hung on the wall. This is a modern approach that keeps things simple but taps the aesthetic impact. You better think of a way to add flavor to walls and this floating shelf should be on the top of your list. 
Diagonal Shelf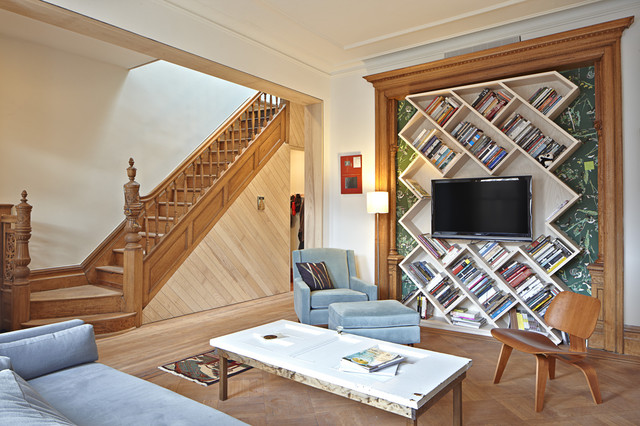 In terms of designing our living room, we love to go the extra mile. In this case, it is the diagonal shelf that also acts as the accent wall. Its the breaking the norm when it comes to the traditional linear and grid shelf style. What we love about this wall is how it can work as a bookshelf. It is also the dominant wall where the television is hung. It is not the usual shelf that you would see in a farmhouse interior design for a living room. Ensure that the shelf you want to build is more than just aesthetically pleasing but functional too. This is an amazing option if you want to display a set of books that you are done reading. 
Built-In Shelf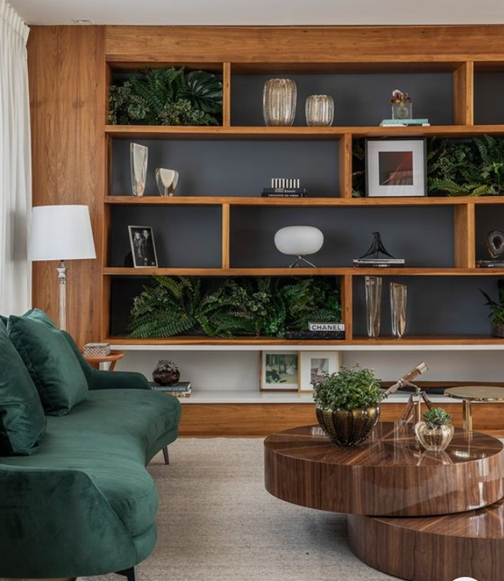 Often found in large living room areas, if you want to settle for something permanent built-in shelves are something to consider. This is ideal for those who want their shelves to serve as a place where you can display different photos, accessories, and even botanical plants. Look at this bold built-in shelf from Remodel or Move. It is aged oak wood polished beautifully making the living room look closer to nature. This is perfect for maximizing an entire plain well. It is better to put it to good use. Besides, the whole point of putting up a shelf is to serve as storage or to display. 
Linear Shelf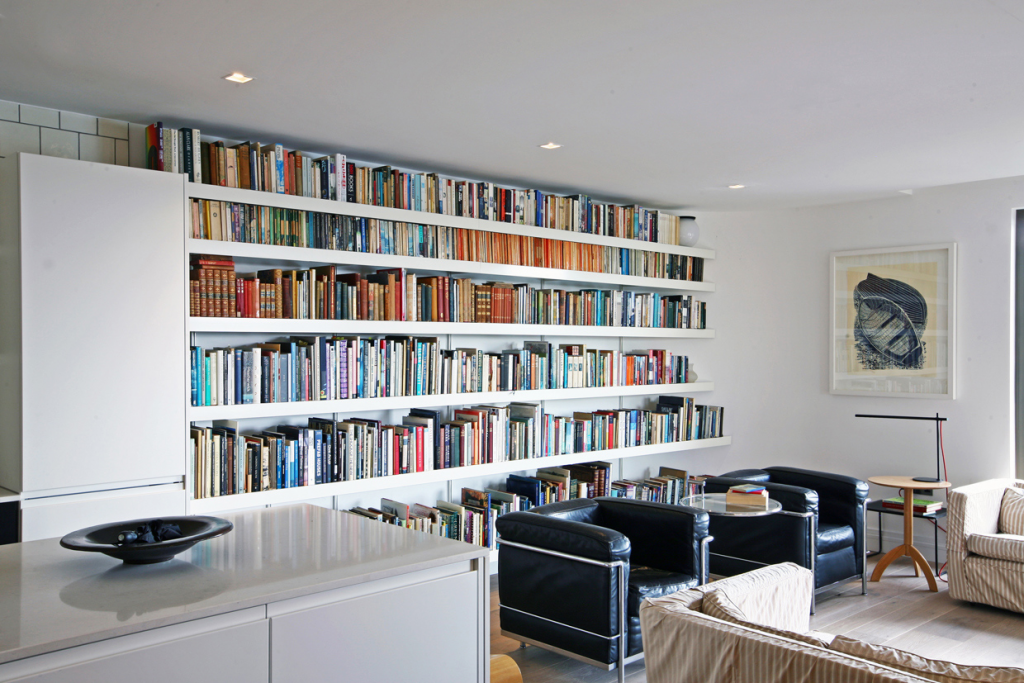 We love how bookworms maximize a plain wall turning it into a linear shelf to store and display all the books. As you can see here, the inspiration from ON&ON adds character to the entire living room. It is a compact yet simple design that can be easily installed and uninstalled. It is an ideal option for DIY projects. Besides, sometimes, it is better to design it on your own terms rather than buying the pre-made ones. Linear shelves can work not just in the living room but as well as the different spaces of your home. Its flexibility in design allows us to make it more customizable and personalized. We want to display a piece of our identity in the living room. Hence, this is a great way to start. 
Contemporary Shelf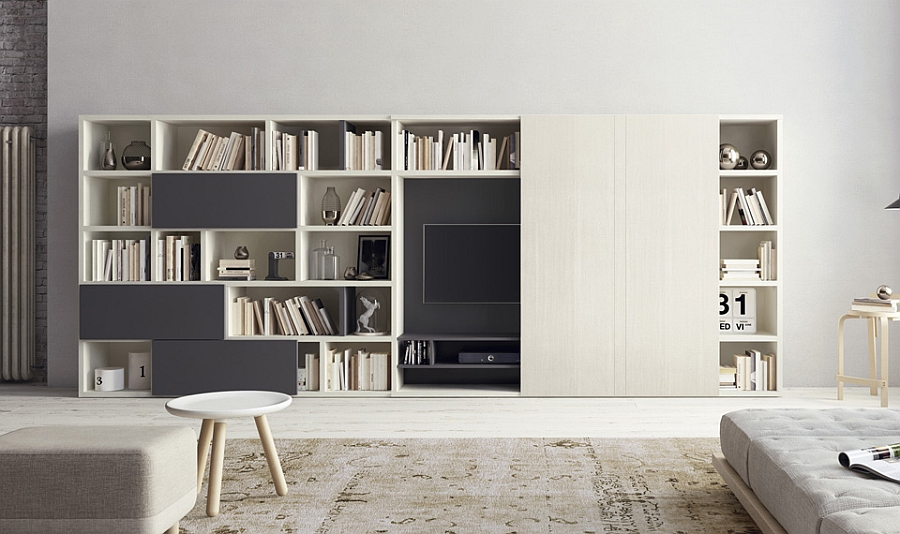 If you want a massive shelf to perfectly display, store, and hang different appliances, accessories, and elements, opt for this large and sleek shelf style from Decoist. The design style used is modern contemporary. By the looks of it, the dominant color is off-white. It gives this clean, airy, and neat environment keeping the personal touches at a minimum. What we love about this shelf style is how it is maximized as a storage for books and other accessories. We love the simplicity of the finishes used but it's the arrangement of the shelf that draws attention to the people lounging on the couch. 
Invisible Shelf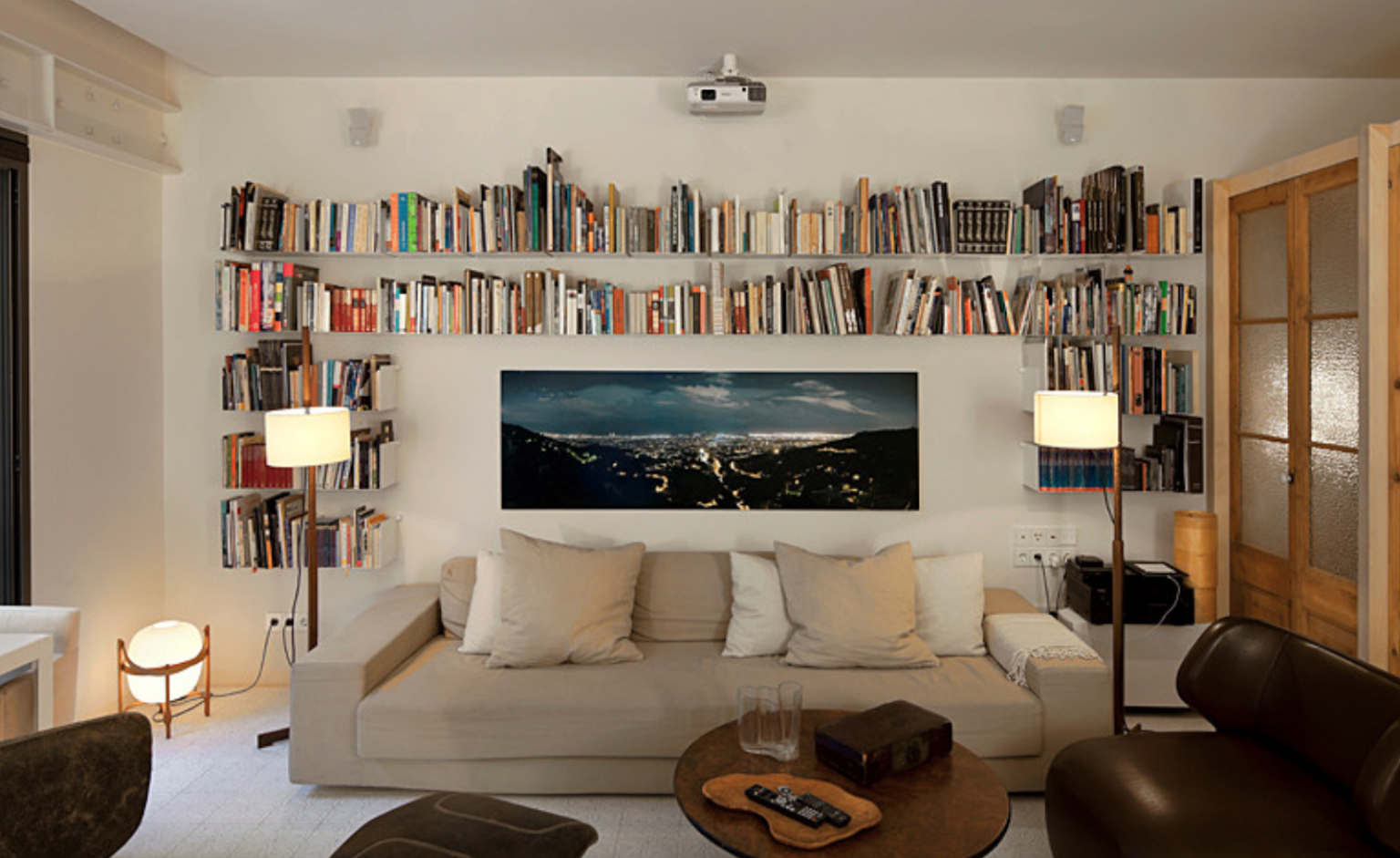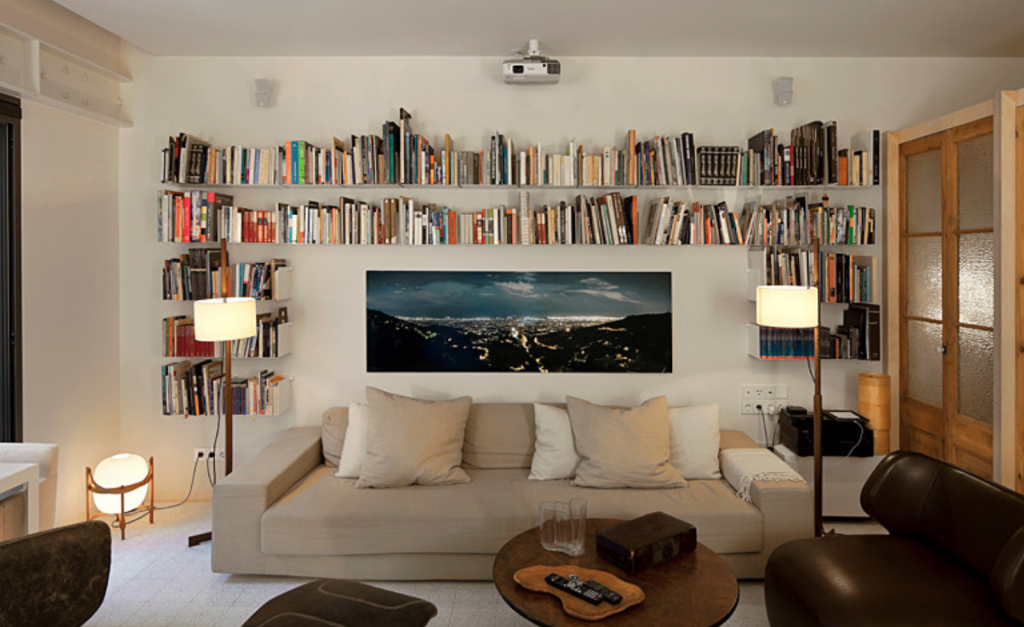 In some cases, we want to keep our shelves invisible. It is the books that act as the design bringing character to the entire shelf. We love this invisible shelf from Pinterest. They used a thin plank enough to carry the weight of the books. The shelf is not that visible making the books look like they are floating. This is proof that shelf style matters in adding character to the living room. It enveloped the image of city lights beneath the couch. It looks like a living room of a college apartment but it is indeed a cave of bookworms. 
Recessed Shelf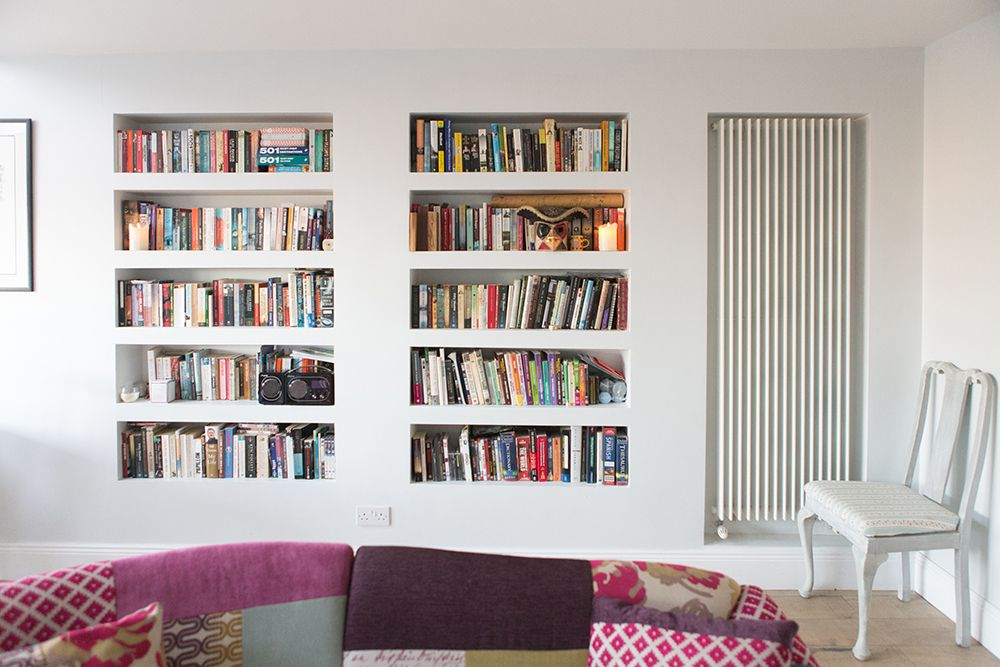 What we love about shelves is how it comes in different shapes and sizes. It defines the dept of the living room. But, when it is recessed, it is space-saving and clean-looking too. By the looks of this inspiration from Pinterest, it does not consume floor space since it is built-in within the wall. We love the clean white finish of the entire wall and the colors on the wall come from the books all set. This is a great way to put up your accent wall. It may not be too grand but it has this visual aesthetic with the splash of colors from the books. If you have limited space within your living room, this is an amazing idea to opt for. 
Modern Shelf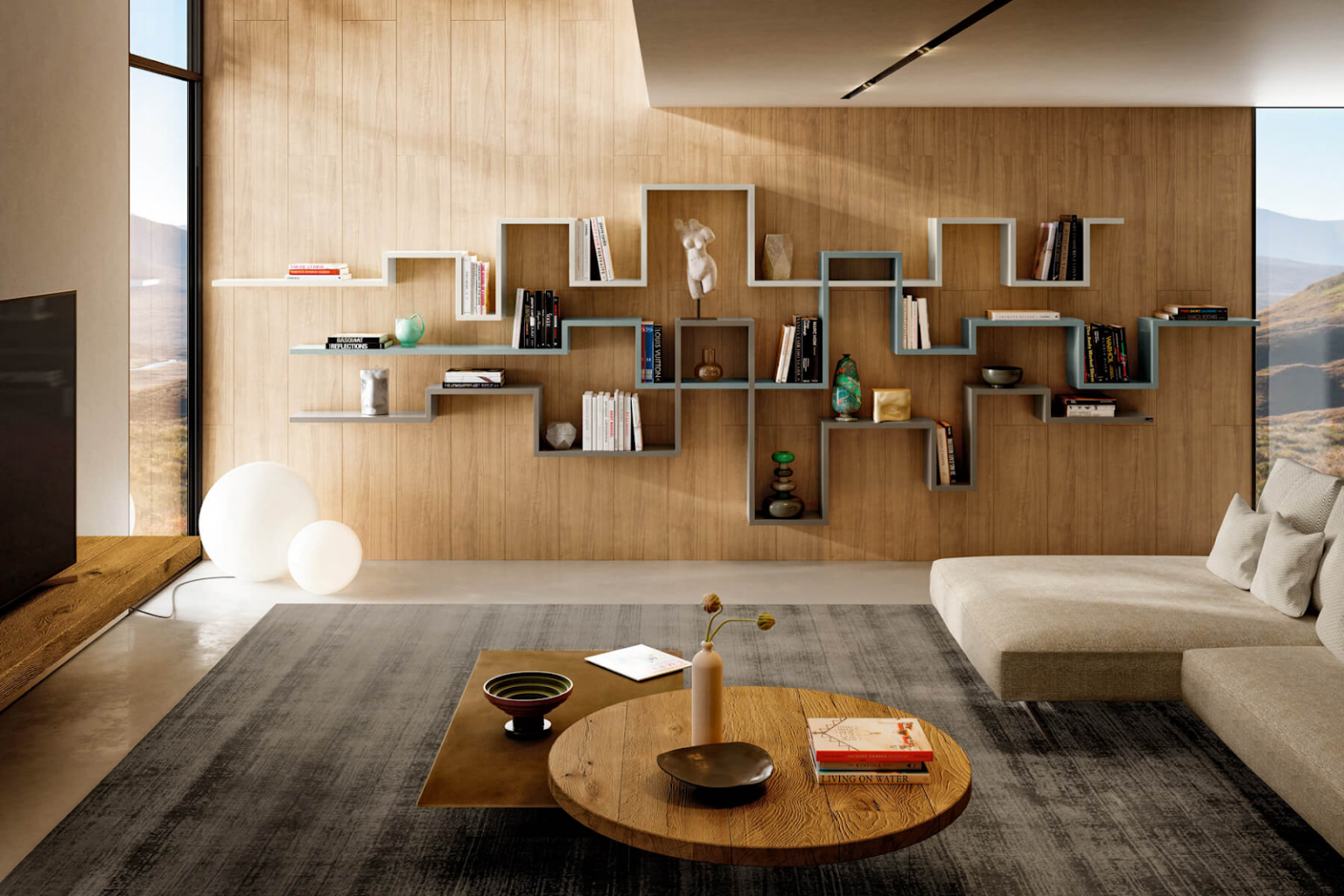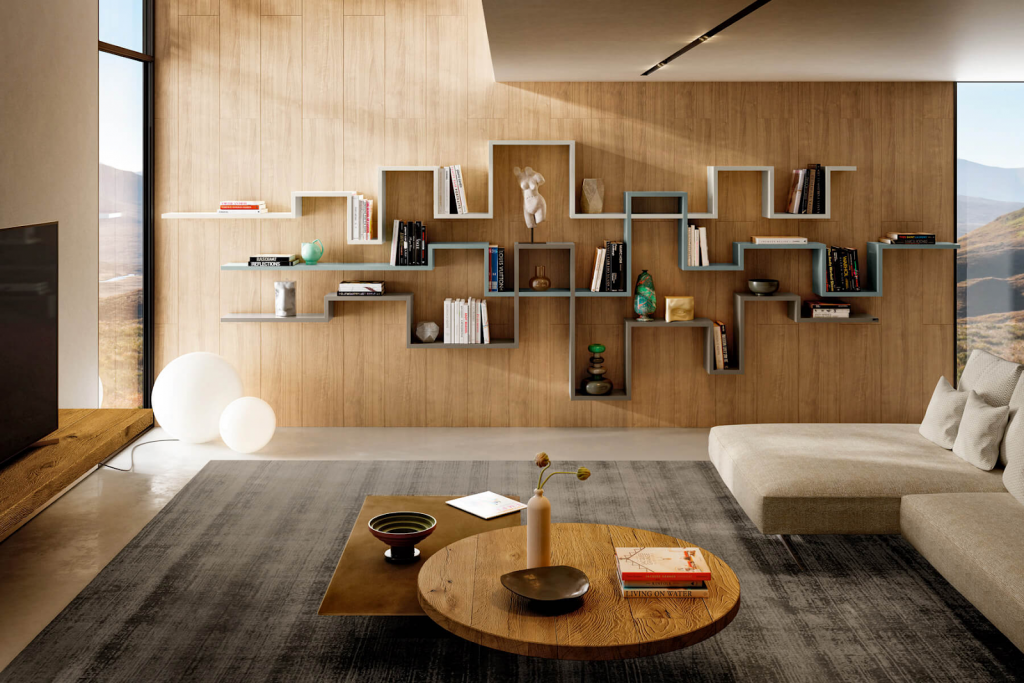 If you want a touch of the 21st Century, you better invest in these amazing modern shelves for your living room. It has this linear maze-type arrangement that works as a storage for the books and display accessories. This is a perfect alternative to floor-to-ceiling shelf style since it is hanging and it does not consume much floor space. We love the accent and design it brings to the entire room. It added flavor to the plain wooden walls. Since most of the elements are either textured or flat, the shelf acted as a counterbalance to the design.