20 Styling Tips on How to Create a Foyer in an Open Living Room
A foyer serves as a welcome hallway for guests right after they enter your house. A lot of homeowners take it seriously when it comes to decorating their foyer since it gives people an initial impression of their home. 
There are houses that already have foyer space, but for those who live in a home with an open floor plan, you might find it hard to create an entrance foyer. But if you're really desperate to have one on the entryway, there are ways to make a foyer even if you have an open living room. For some tips and tricks on how to fake a foyer, learn more from the list below.
Measure the Space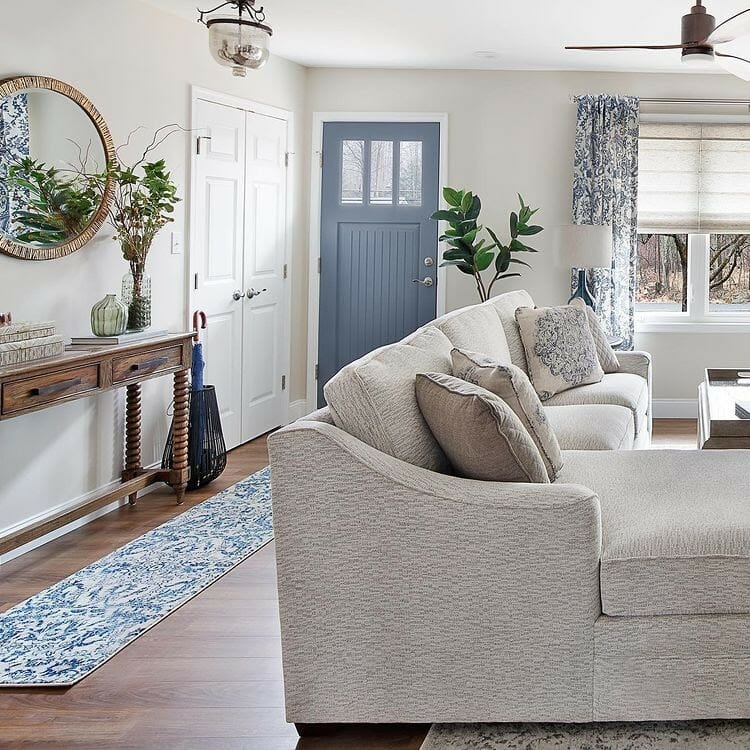 The first thing to do to create an open foyer would be to measure the area that you can work with. If you know the amount of space you can spare in your open floor living room for a foyer, it would be easier to pick furniture and decorations. 
If the allowable space would be small, then it's more practical to get smaller entryway furniture, like a slim console table beside the front door and a rug that will complement the space. If you have a larger area, then you can get a bigger table or even a large cabinet. A tufted bench paired with a full-sized round mirror will also look nice. 
Figure Out What You Need 
Like what was said previously, knowing the exact measurement of the space you can work with lets you know what type of furniture you can get. But you also need to know the kind of items that you will need in your foyer. You have to consider both the usefulness and design of each item that you'll place along the entryway. 
Seating
Typically, having something where guests can sit down to take off their shoes would be a practical and thoughtful touch in the foyer. A bench is usually the top choice if you're looking for an efficient seating space for your guests right after they arrive at your home. This is a good example of having furniture that is both decorative and utilitarian. 
There are several bench designs you can choose from, depending on your needs. A bench with cabinets underneath will provide extra storage. Meanwhile, you can also opt for something that has open shelves underneath so guests can easily tuck and get their footwear when they enter and leave. 
Storage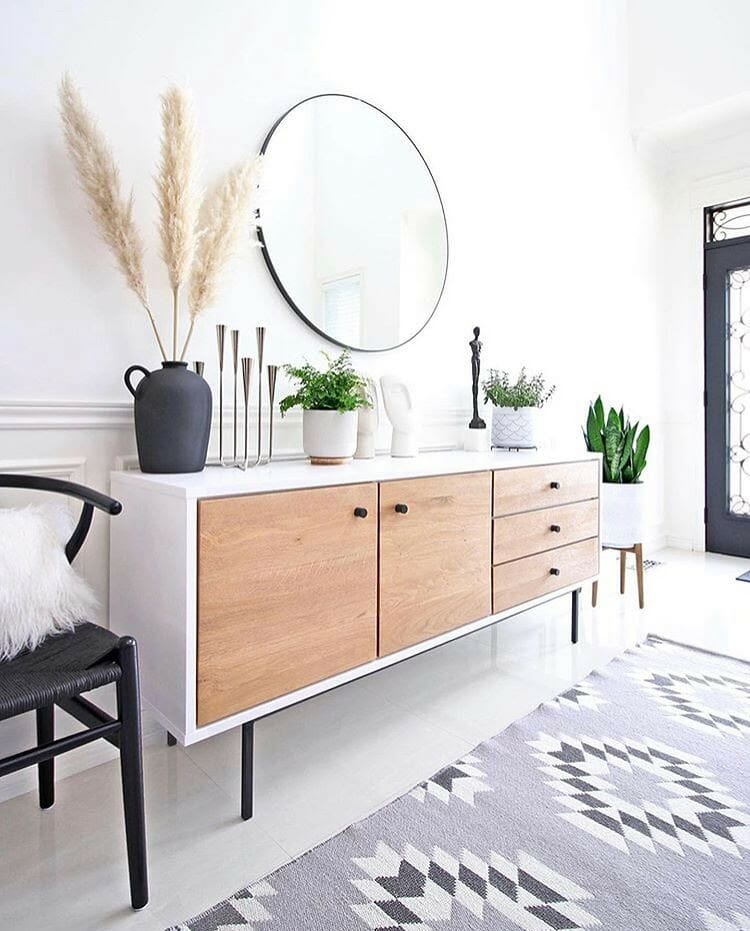 Think about what kind of storage furniture that's needed in the space. This might come in the form of a mounted shelf with coat hooks where you and visitors can hang their coats. An umbrella holder would be ideal to put in a corner to keep things nice and tidy. Some people opt for a small table to put a bowl key and other decorative items. Whatever kind of storage you plan to put in the foyer, make sure that they're perfectly sized and usable to maximize the space. 
Rug
A rug is a great way to create some sort of division between the foyer and the rest of the living room. Still, depending on the measurement of your entryway, you need to choose the appropriate size of the rug that would frame the doorway nicely. You can either go for a rectangular or round rug if the space can accommodate it or a simple floor mat right at the door entrance will do just fine. Both options work in making the foyer visually distinct. 
Lighting
Luxury homeowners usually have massive chandeliers to greet their guests, hanging by the foyer. But that's not the kind of lighting you should be looking for if we're talking about a modest home. Traditional homes don't usually have a high ceiling that calls for chandeliers, so you're best to stick with some other form of lighting. Perhaps, a matching table lamp, placed in between a large mirror is a better choice. You can also choose a floor lamp that can be put in a corner. Having some lighting in your entryway not only illuminates the space but also creates an illusion that the foyer is bigger than it actually is. 
Accessories
After you've determined what kind of furniture you're going to put in your foyer, you pick several accessories to add a little flair. This could be as simple as putting a throw pillow on the bench or framed art piece near the door. A plant pot placed on a small side table would also be delightful to the eye. 
Keep Things Connected 
With the word connected this simply means to keep things cohesive to form some continuity with regards to style. When it comes to creating a foyer design, especially if you have an open living room, you want to make sure that it's coordinated in style with the rest of the house. To achieve this, here are a few things that you need to consider. 
Colors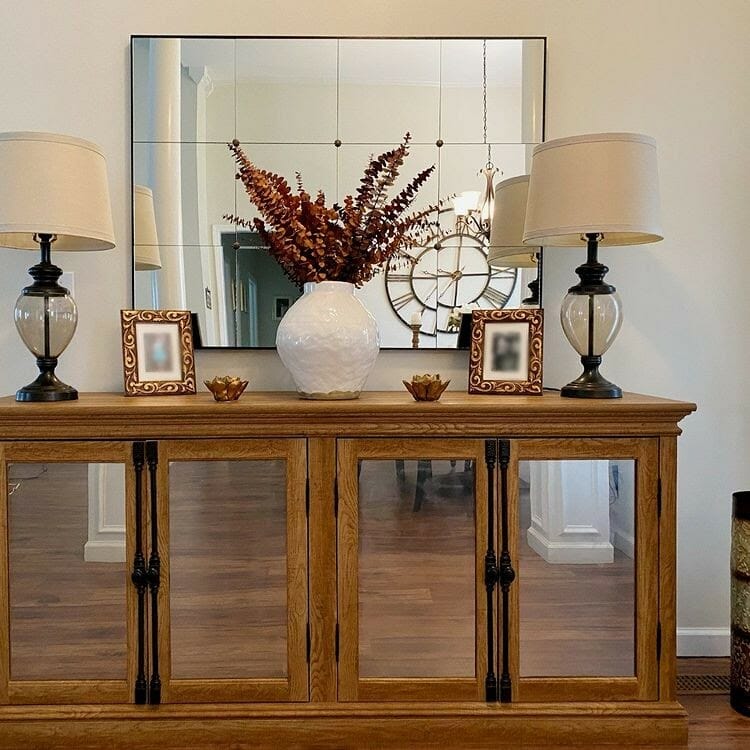 Color is a good way to add an illusion of cohesiveness to a home. Many interior designers use the power of color coordination to be able to execute masterful designs. In terms of colors, you want to pick something that you can repeat in a couple decors and areas in your living space. If you like the color brown, then you can add elements of that shade in your foyer. 
Pattern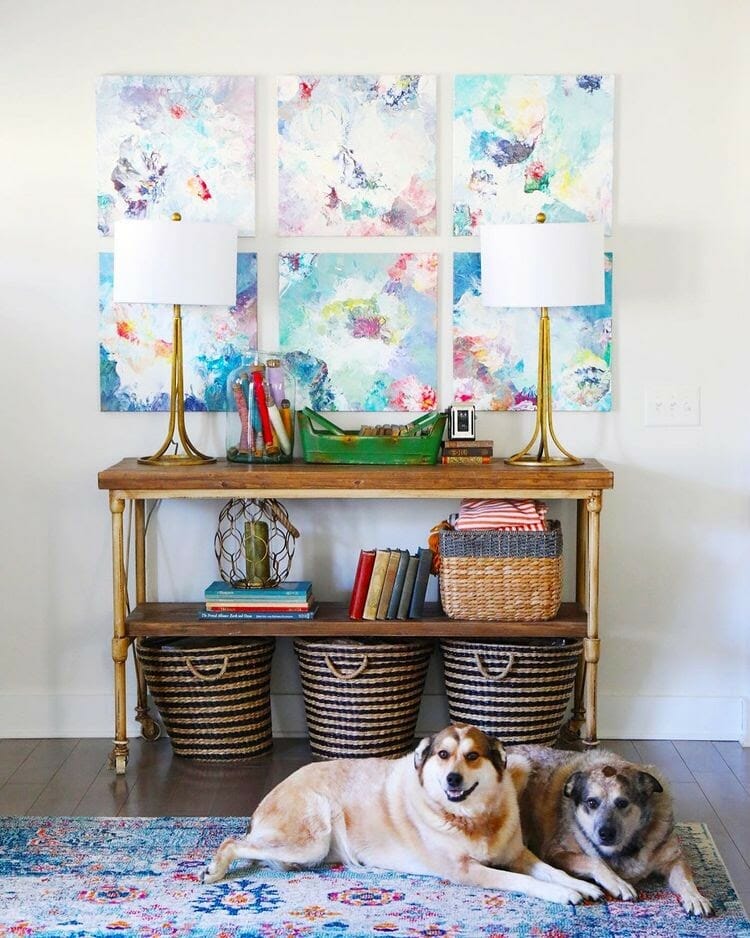 Another effective way to coordinate the design in your home is through patterns. For instance, you can use a rug with a similar pattern in the living room and in the entryway. If you like floral prints, then you can throw pillows in the foyer and the ones in the living area.
Materials 
Decorations made from the same or similar material can also tie up the living room and the foyer. If you have a couple of metallic elements in the living room, then pick metallic decorations that have metallic touches. A good-sized mirror with metalling edges would be a charming accent in the foyer. 
Find Do-It-Yourself Projects 
For those who thoroughly enjoy making do-it-yourself projects, then you might want to consider making furniture and other knick-knacks yourself. Sometimes, there are floor plans that call for customization, especially ones that have uneven or unusual spaces. 
Here are some projects that you might be interested in doing:
DIY Mudroom 
For families who are always in a rush, a simple mudroom will keep everything neat and organized. In creating your very own mudroom, you can install top and bottom shelves on the wall. It would be nice if you can incorporate a bench somewhere in the middle of it all. And in order to keep everything in place, you can designate one box to one family member and that's where they should keep their things like boots, raincoats, and other things that they often take or use outside.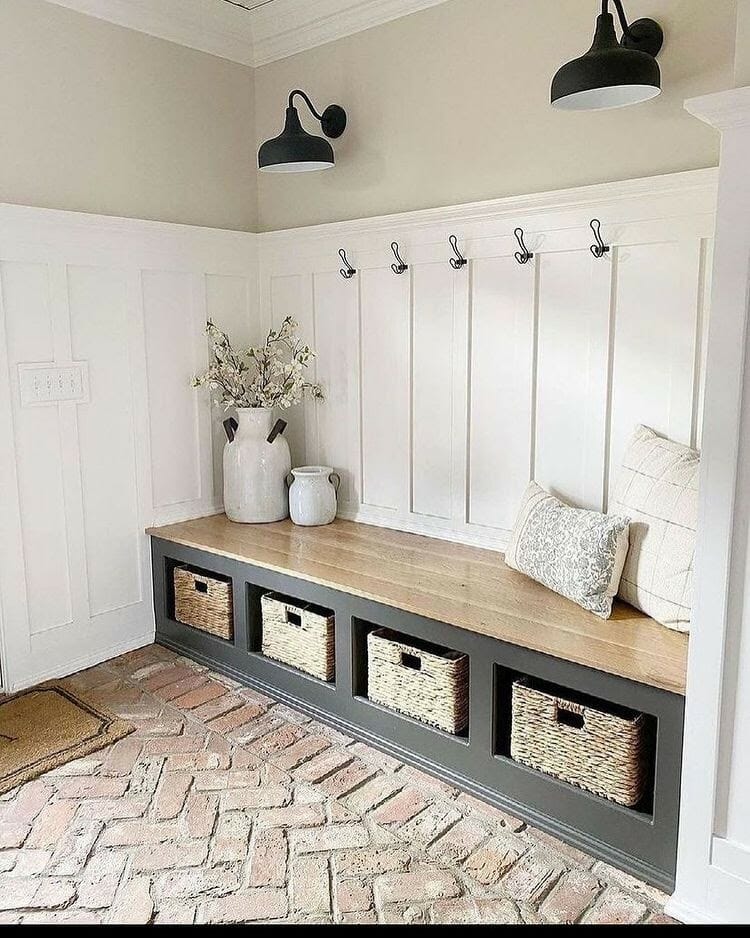 DIY Chalkboard Wall 
A large chalkboard wall is always a hit – whether you're a kid or an adult. This adds a fun twist to any regular entryway. Guests can either write thank you messages after they leave or the wall can be used as a board for important and urgent reminders. It's both fun and functional – which is what most people really look for when it comes to any interior design. 
DIY Hallway Tiles 
If you really want to go all-in with your DIY project, why not overhaul the look of your foyer space by installing new hallway tiles. Depending on your style preference, you can always choose what tile trend you want to follow. Are you leaning towards the marble tiles? Or perhaps you like the look of Morrocan tiles? It's not an easy one-day home renovation, but rest assured that it can give your foyer a major makeover. 
Add a Room Divider 
A simple solution to create some kind of division when you have an open floor plan is to get a room divider. You have the option to either get a piece of furniture that will separate the foyer from the rest of the living room or have a divider custom-made. 
Get a Sofa Table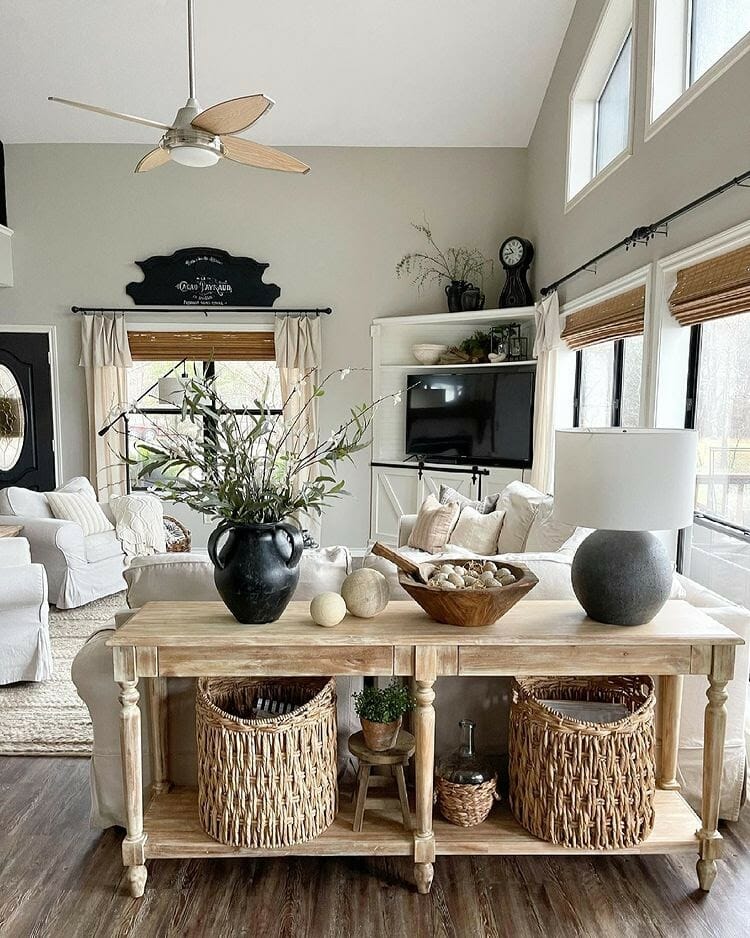 If you have a small entryway, you can just add a tiny table behind the sofa. This serves as a mini foyer and will serve its purpose like a traditional one. Place a key bowl on the table for keeping car keys, coins, and other small trinkets. The drawers and bottom cabinets can also be a form of storage space. 
Place a Bookcase 
Another simple way to define your entryway is to place a bookcase. But keep in mind that you have to pick one that's not entirely bulky. A shallow bookcase will do the trick while also adding a little style in the doorway. 
Create a Half Wall 
A half wall is a little different than an actual wall, but this one is easier to install. Also, if you have an open floor plan and like to keep it that way, a half wall will create a subtle division without completely contradicting the concept of an open floor living room. You can place a small bench right beside the half wall for a small seating area to create an illusion that you have an entryway. 
Build a Small Entry
An enclosed foyer made of wood and glass would be a nice alternative for those who want a foyer but are limited in terms of space. This small entry will serve as your foyer and will be sectioned off from the rest of the living room. Although it is a lovely and fantastic idea, it does call for labor and construction. But, if you don't mind that aspect, then go for it!
Open Living Room Foyer Style and Tips 
If you're determined to create a foyer in your home but are short with ideas, sticking to basic design and styles will be your best and safest bet. To give you more inspiration, here are some tips on how to foolproof style your foyer. 
Simple But Timeless 
A no-frills foyer is always a good idea if you want to keep everything simple and minimalistic. Aside from having very little to clean, guests will have an impression of a tidy and put-together home once they enter the door. A glass or wooden console table with a couple of decors on top paired with a corner indoor plant will be just right. 
Charming Country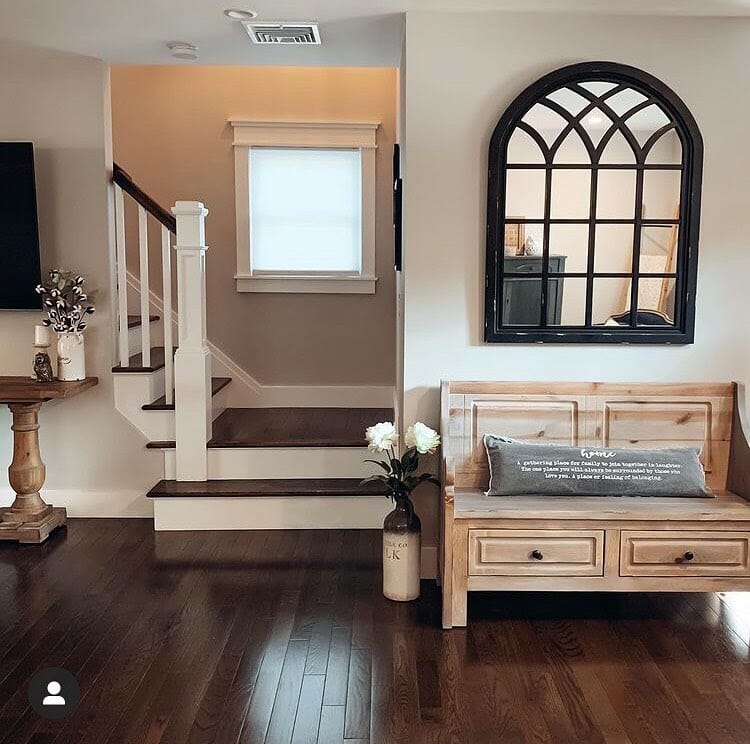 A rustic modern farmhouse foyer always looks fresh in the eyes. If you love country design, then having a foyer inspired by this certain aesthetics would be a tasteful addition to your open living room. In order to create this kind of vibe, stick to neutral color palettes and wood furniture. You can add vintage decorations or an area rug with a homey design. 
Nature Inspired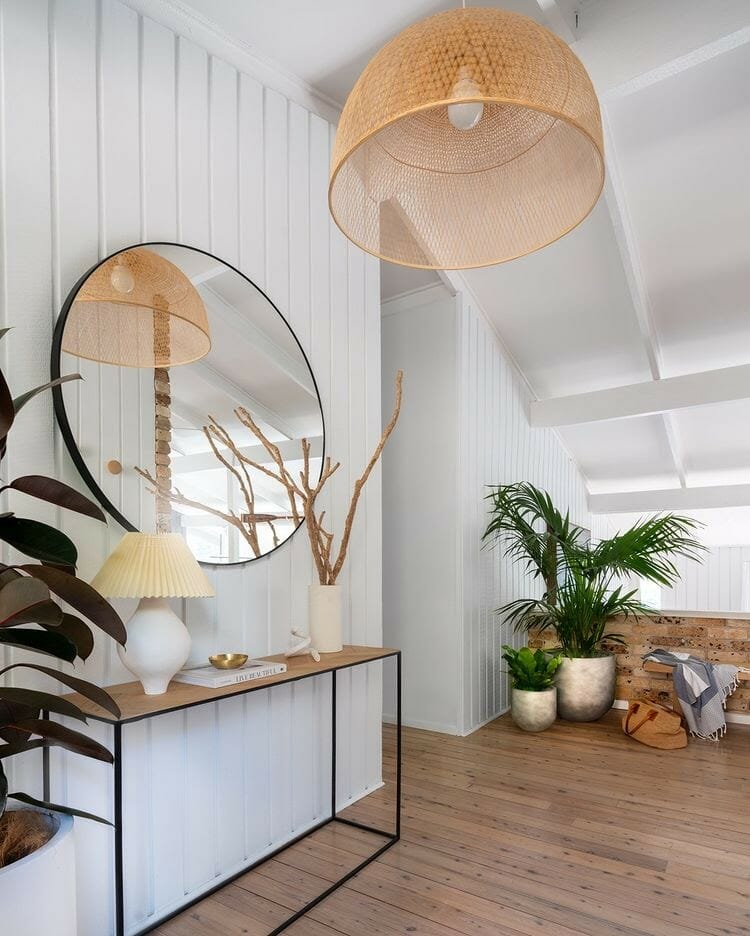 Those who have a soft spot for plants can create a nature-inspired foyer. Having plants around the house is not only good for your health, but it's also very therapeutic. Have a couple of plants in the foyer of varying sizes. If you have a narrow shelf, you can put a few potted succulents there to create a visually relaxing wall accent. 
Vintage Impression 
Combining wooden floor or interesting floor tiles with vintage furniture and accents exudes a contemporary but artistic look in any foyer. If you appreciate antique pieces, then you can opt for a vintage table instead of getting a new one. Having a framed classic art piece beside a wall-mounted lamp will give that area a nostalgic feel.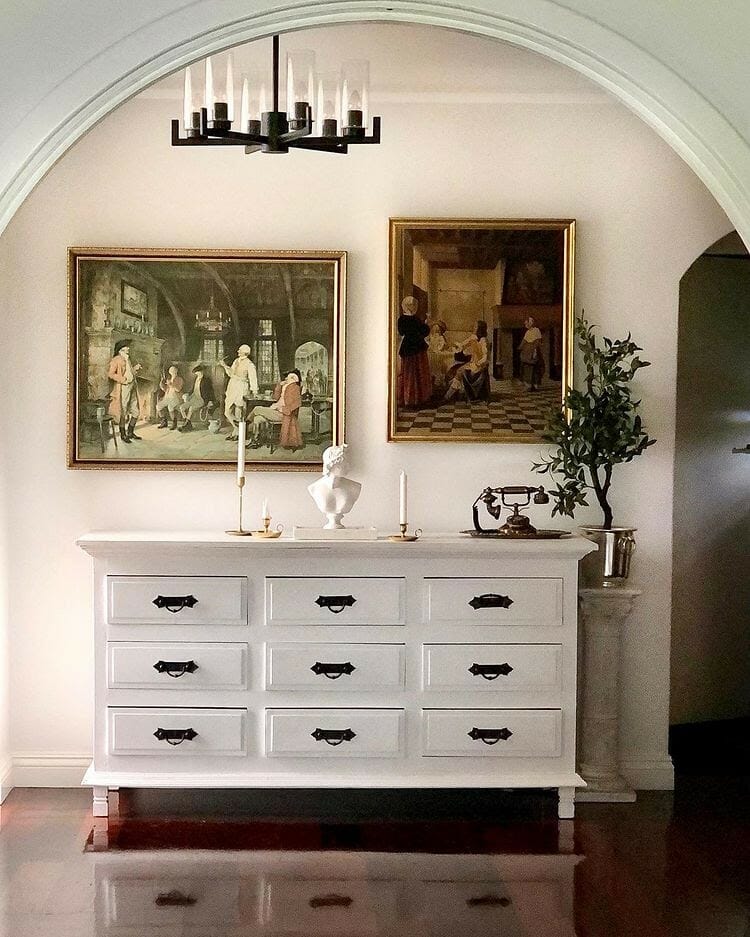 Art Couture
Bringing in a massive art piece on your foyer wall will be hard to miss, thus, creating a huge impact on your guests or visitors once they enter your home. Another alternative is to hang a couple of art pieces if you prefer to keep it a little indirect.