23 Ideas to Create The Boho Living Room You Have Always Wanted
If there's a living room style that is so universally adored, it would probably be the bohemian chic. Boho living consists of a casual and relaxed vibe paired with eccentric and warm details, all put together to make a cohesive look. Because this type of living home decor style gives you more freedom of expression, it really showcases the personality of the homeowner. 
When planning to decorate your living room with a boho theme in mind, it can be a little tricky. There are no ground rules when it comes to this style so sometimes, things can be over the top or even a little lackluster. This all depends on personal preference. But, creating a balance in order to successfully achieve a boho chic living room is important. In case you need help, listed below are some fantastic ideas to help you. 
Unique Colored Sofa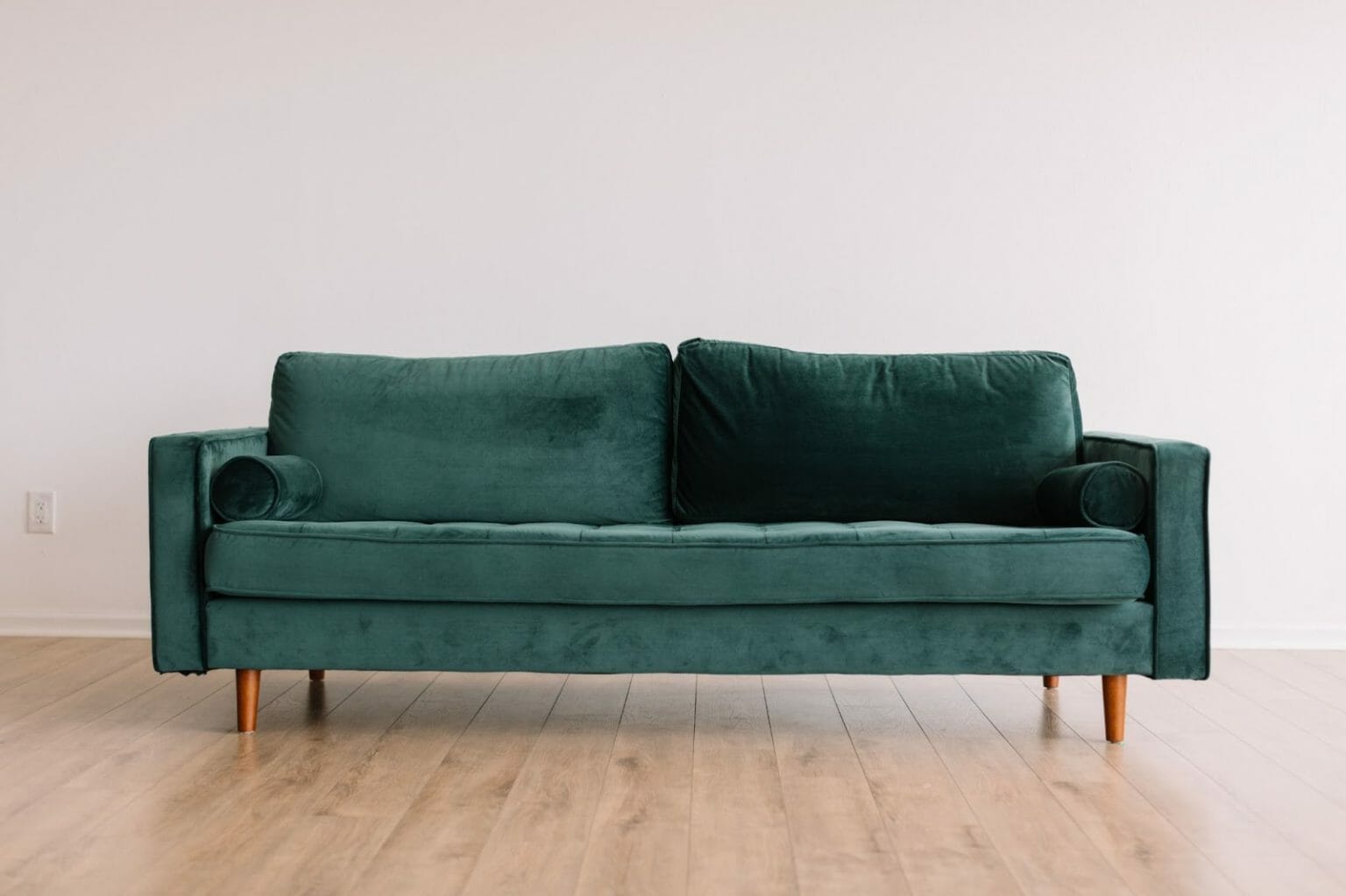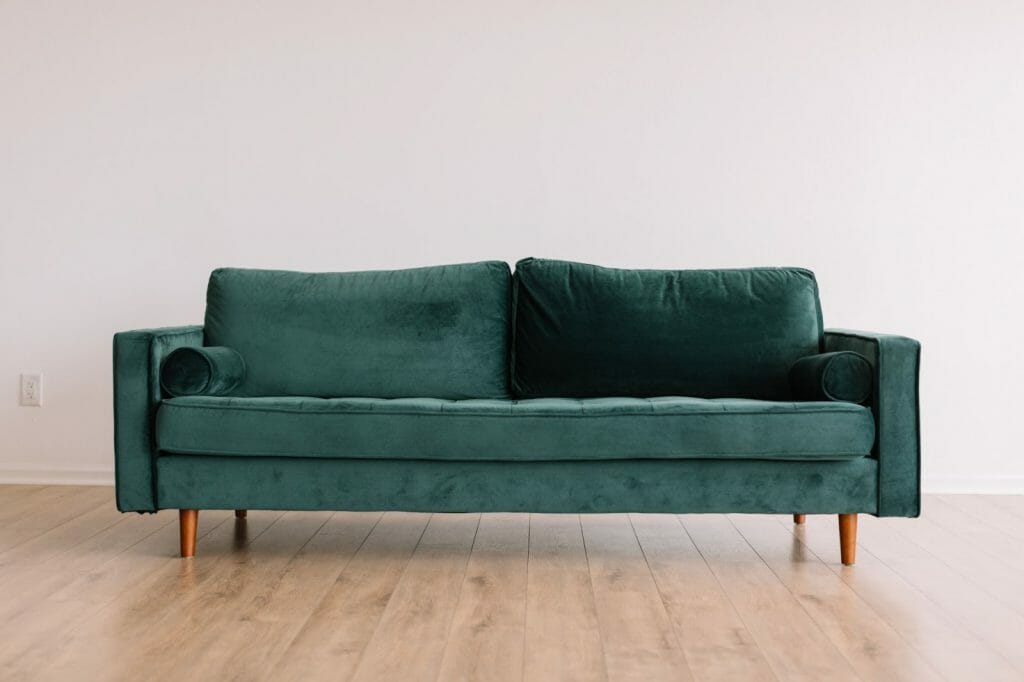 A sofa serves as the centerpiece of the living room, so making sure that you pick the right one for you could either make or break the whole style you're going for. A colored sofa that will stand out is usually a good choice. Choose warm and inviting colors like rust, emerald green, royal blue, burnt orange, deep red, etc. Textiles can also vary but common options are either velvet or leather couches.  Your sofa should look cozy and has enough space to entertain guests when you have family and friends over. 
Colorful Throw Pillows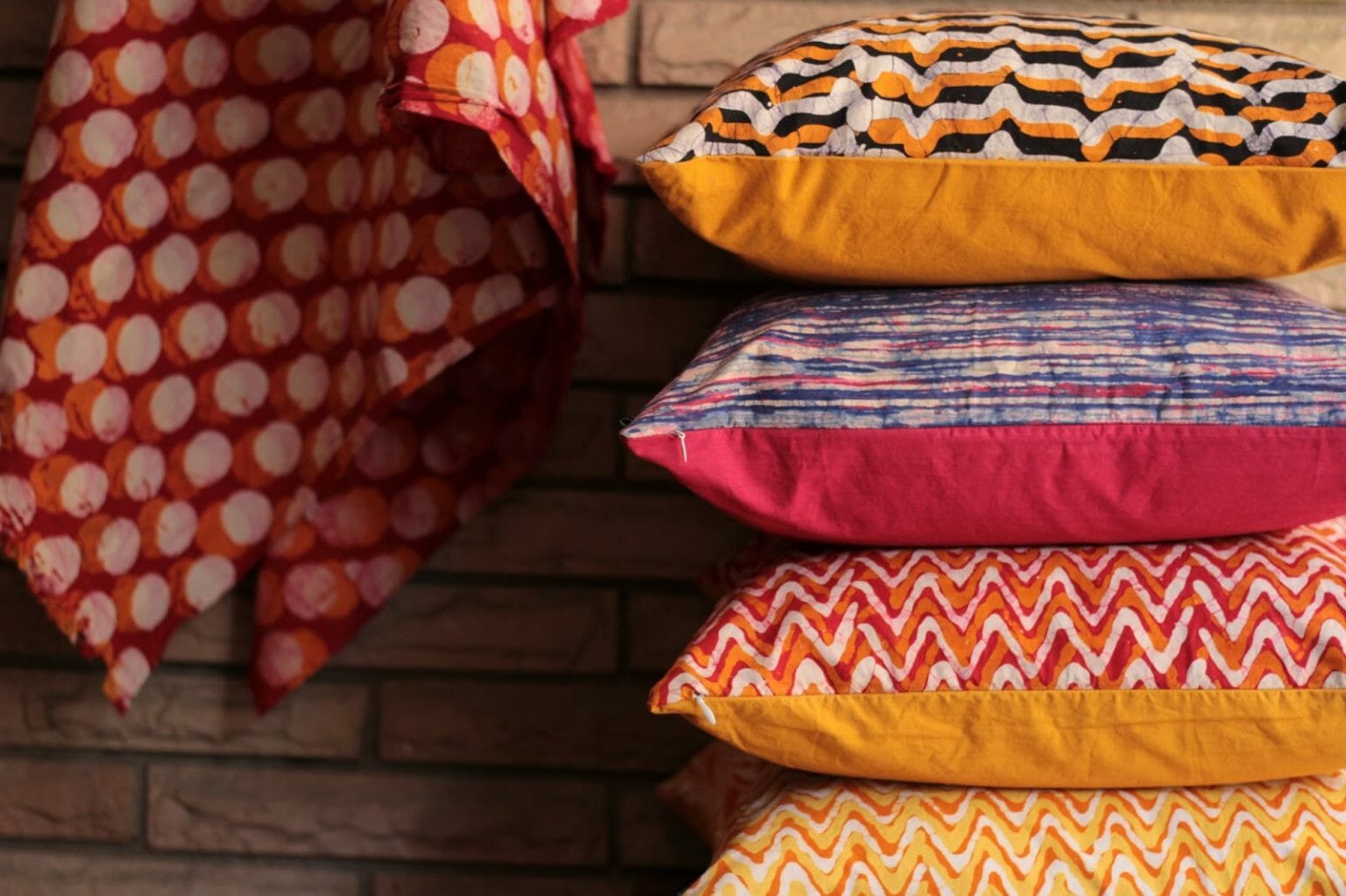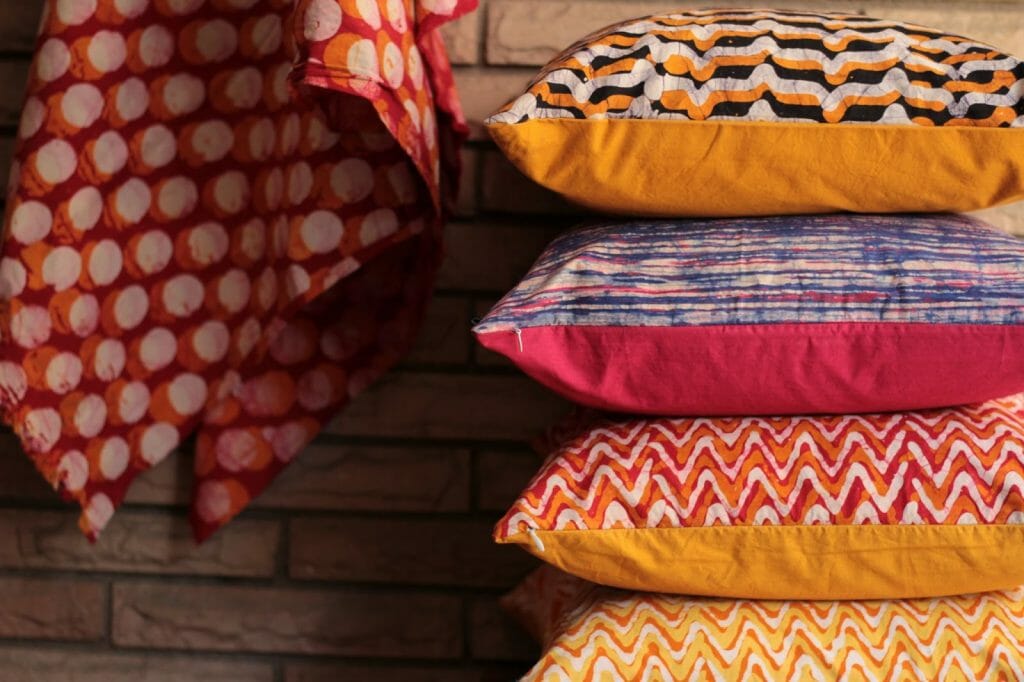 If you don't want to get a brand new couch and stick with what you already have, you can still enhance the look by adding colorful throw pillows. There are no limits to how many pillows you need, but we suggest, the more the better. With regards to throw pillow designs, lean towards floral, exotic, and oriental styles. You can have fun mixing and matching until you're happy with the results. 
Indoor House Plants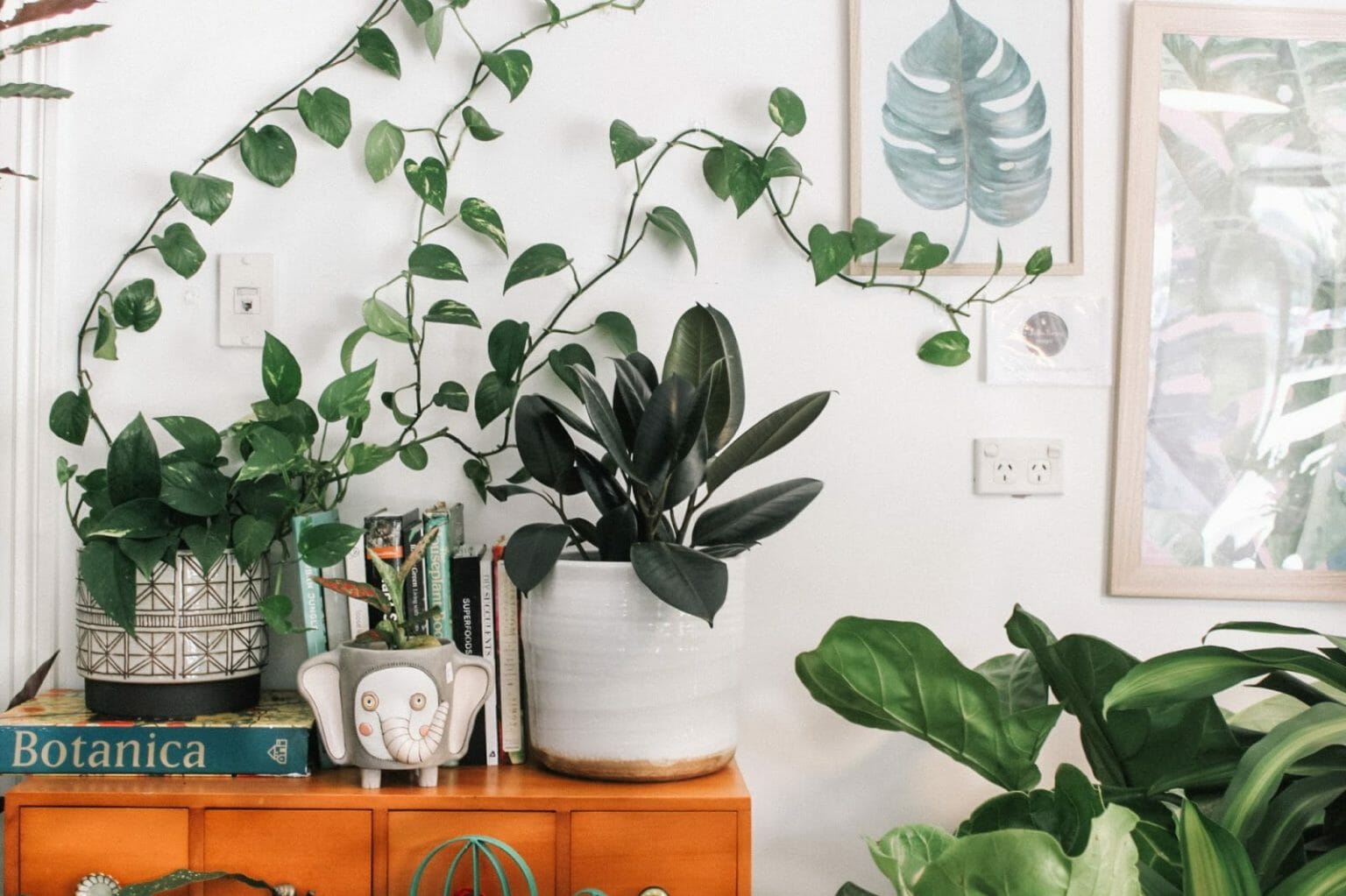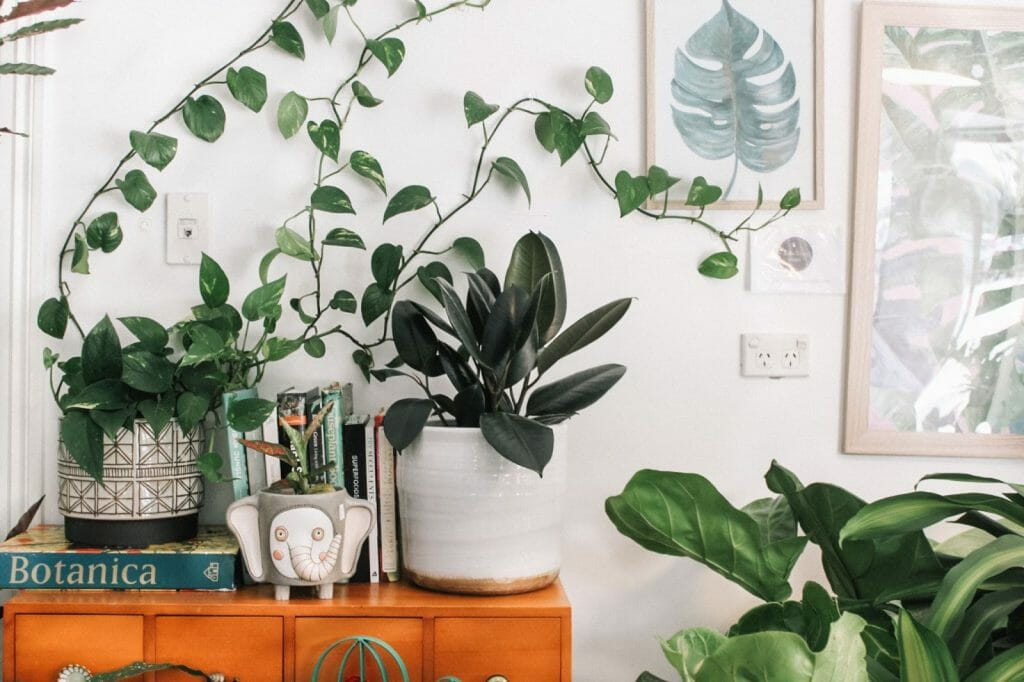 You can never have too many indoor plants when you have a boho-themed living room. Aside from being aesthetically pleasing, having plants around the living room also gives you the feeling of relaxation. Furthermore, they're also good for your physical and mental health. 
But before you go crazy shopping at the plant market, keep in mind that not all plants can survive indoors. When choosing a plant for your home, make sure that you're getting one that is suited for indoor conditions. You can also choose to have a giant floor plant which sometimes serves as a focal point of the room, a few hanging plants or table plants that you can put on tables, mantles, and near the windows. 
Statement Rug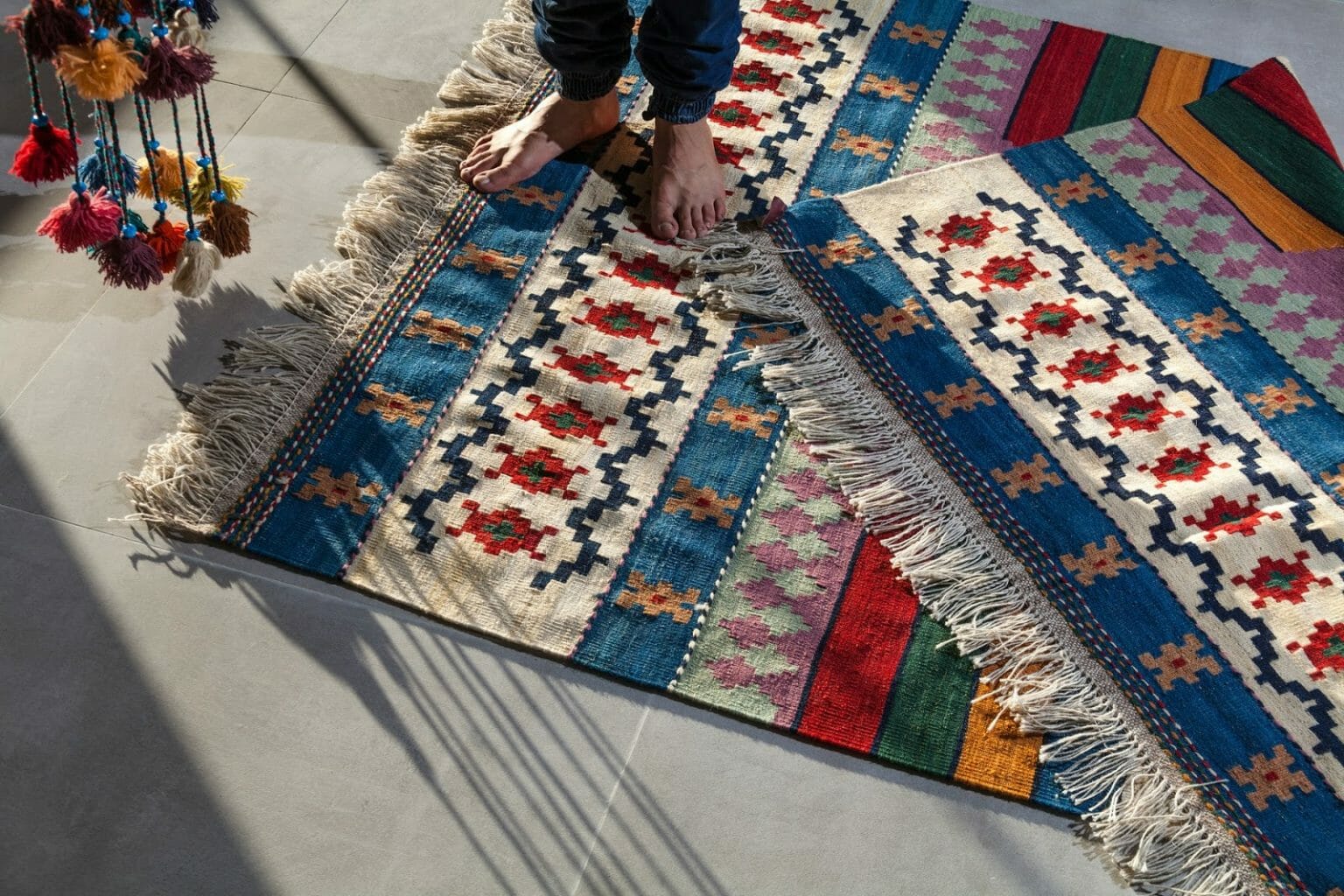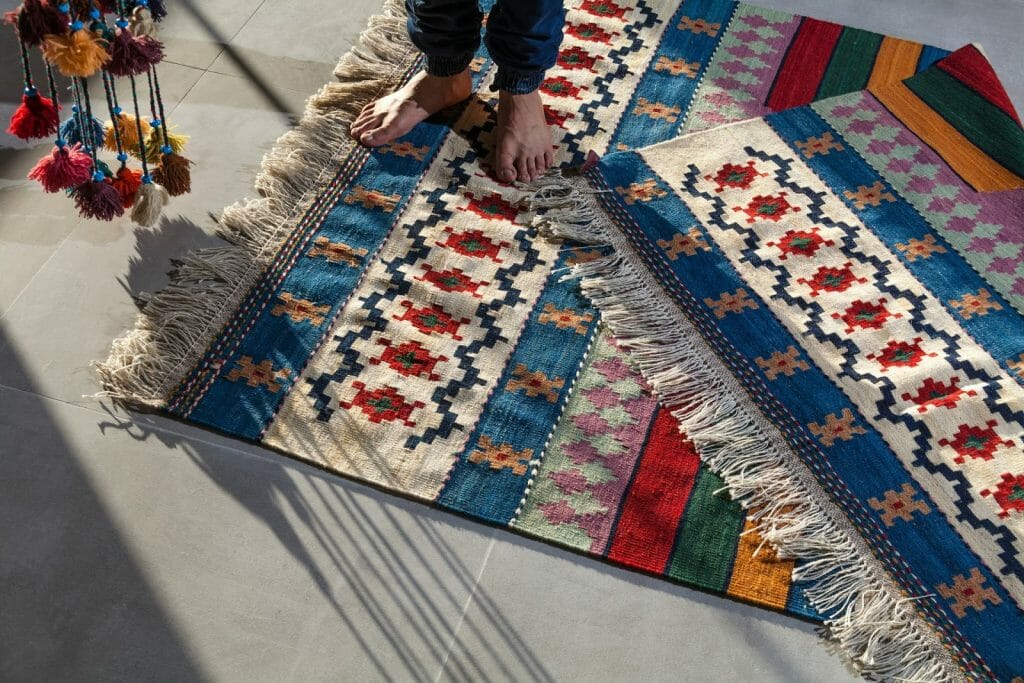 To add more life and character to your boho living room, pick up fun and eccentric rugs. You might already have one from your trips abroad and this will be the perfect time to use it. If not, you can always source them at thrift shops and flea markets. You can choose something that has a tribal pattern or one that looks oriental. 
Wall Art Piece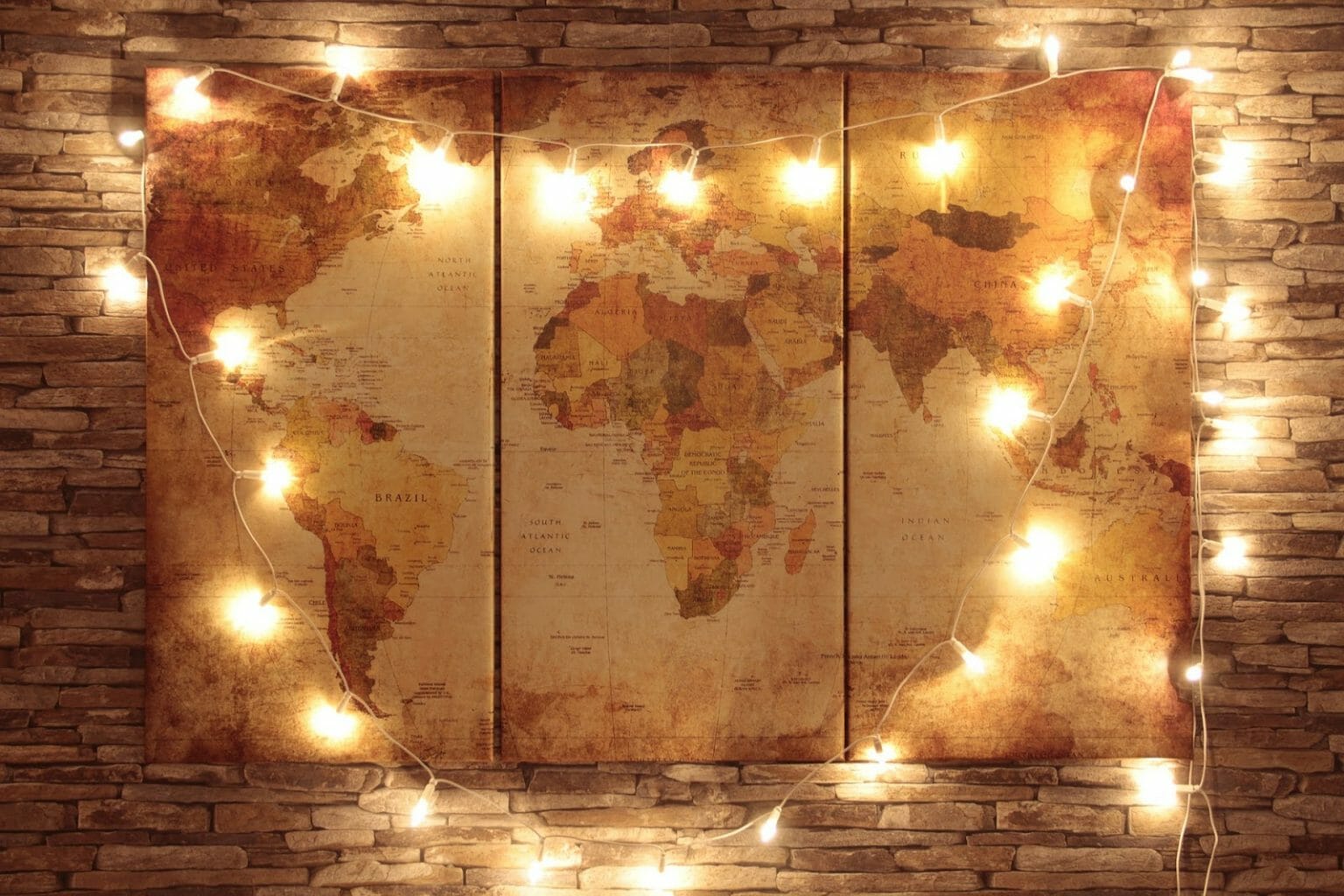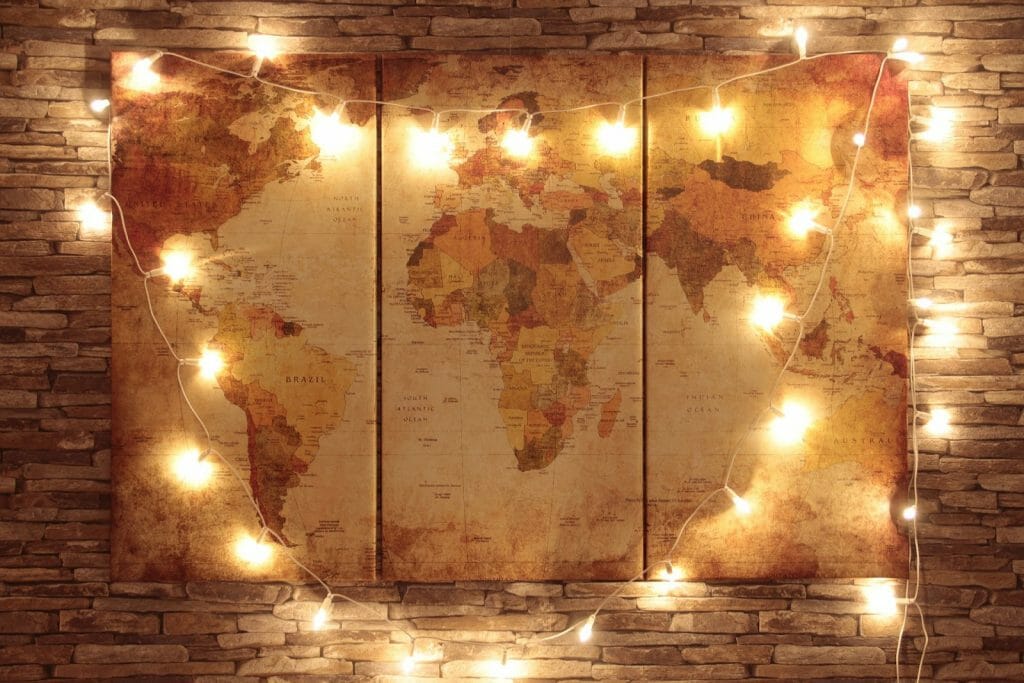 When choosing wall art for your boho living room choose something that illustrates nature, artists, people, places, or anything quirky to you. If you're an artist or someone who enjoys painting, you can even make your wall decor yourself. You can even source art pieces made by local artists. Not only are you able to support independent artists and their art but also get your hands on their masterpieces to display in your home. 
Quirky or Bold Colored Wallpaper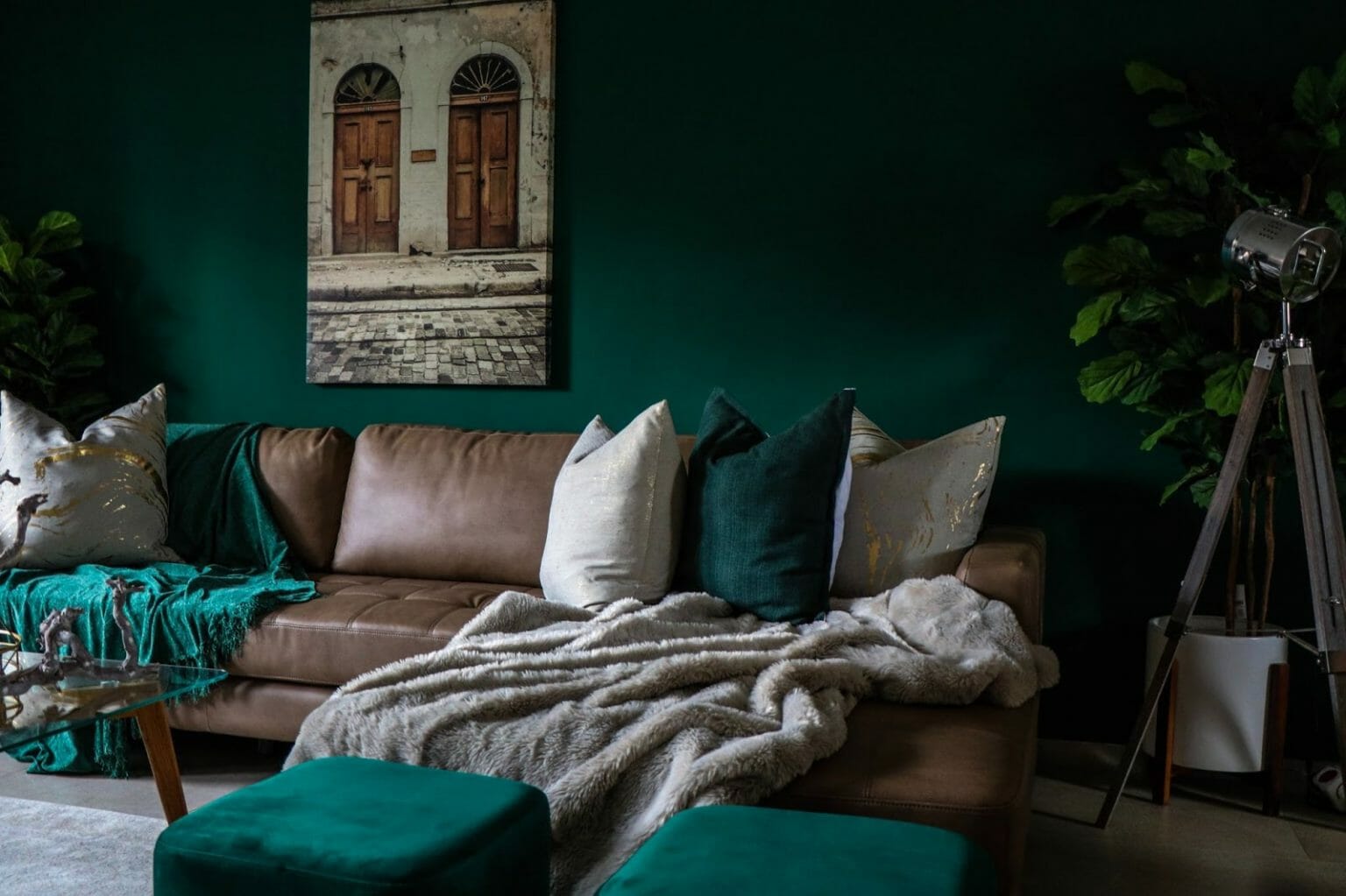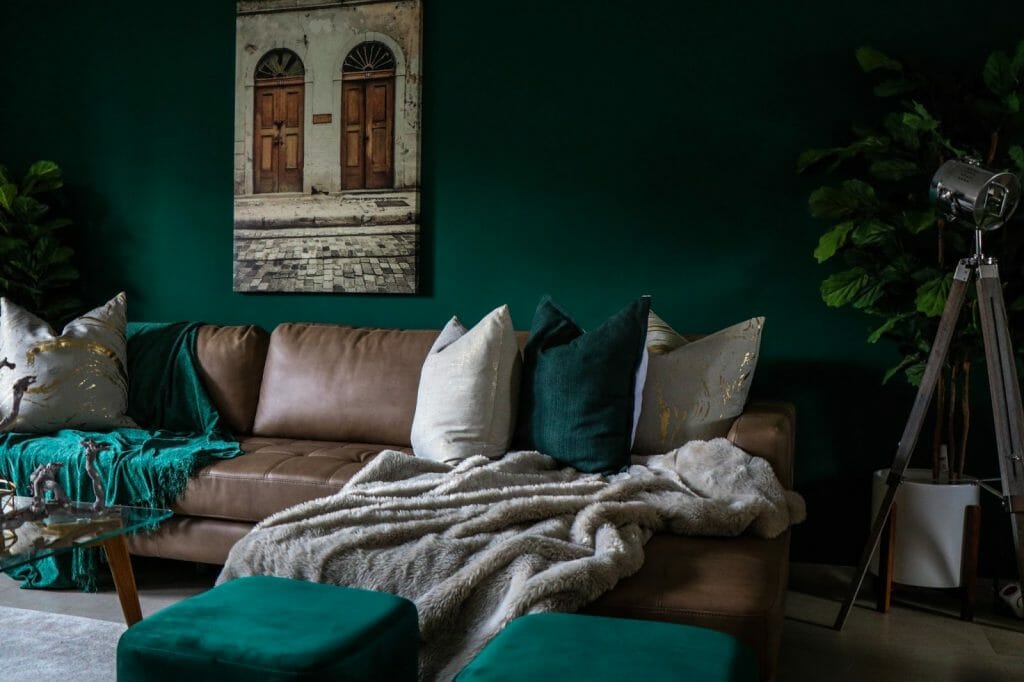 One of the surest ways to redesign your living room is to change the wall color. Most of the time, the color and the wall design ultimately change the feel of the whole space. You can choose bold colors like emerald green which can make the room cozier or a sepia-colored wall if you want something that pops but is still easy on the eyes. If you're feeling a little braver, you can choose a wallpaper that can serve as your accent wall. However, the tricky part is installing the wallpaper because a little crease might ruin the whole look. 
Wood Accents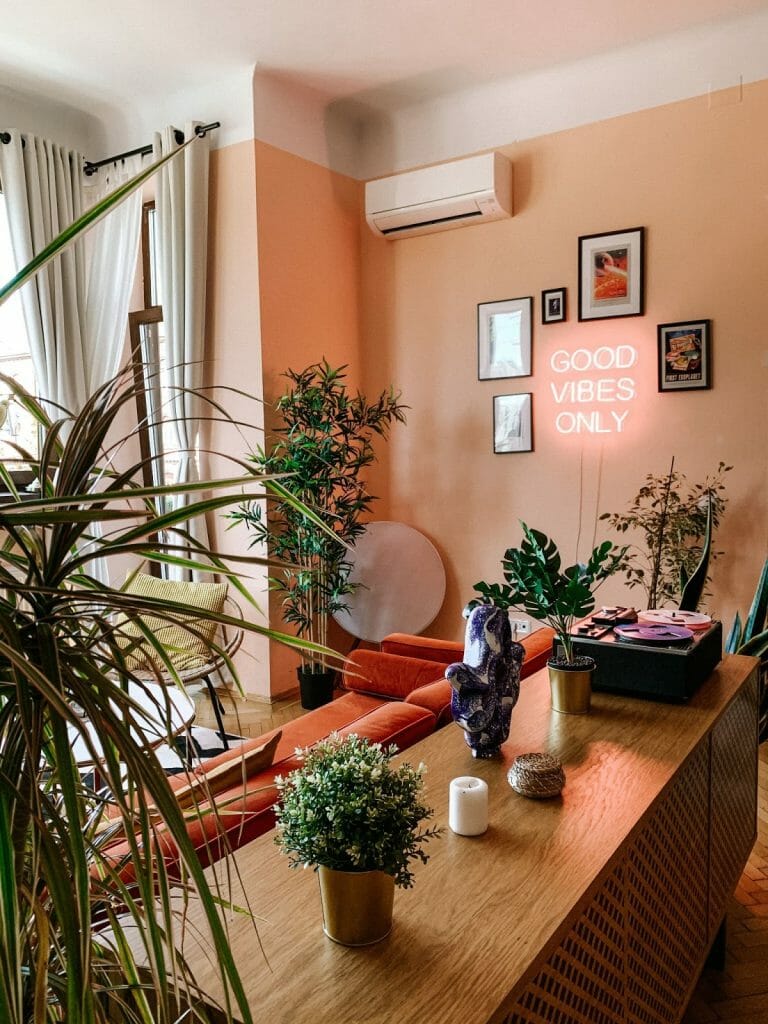 Bohemian designs often incorporate wood pieces to add a little bit of warmth to the space. Perhaps, if you're deciding what TV rack to choose, pick the wooden one that will most likely last better than a glass stand. If you already have plants in the living room, the wood and the greens would complement each other really well. 
Allow More Light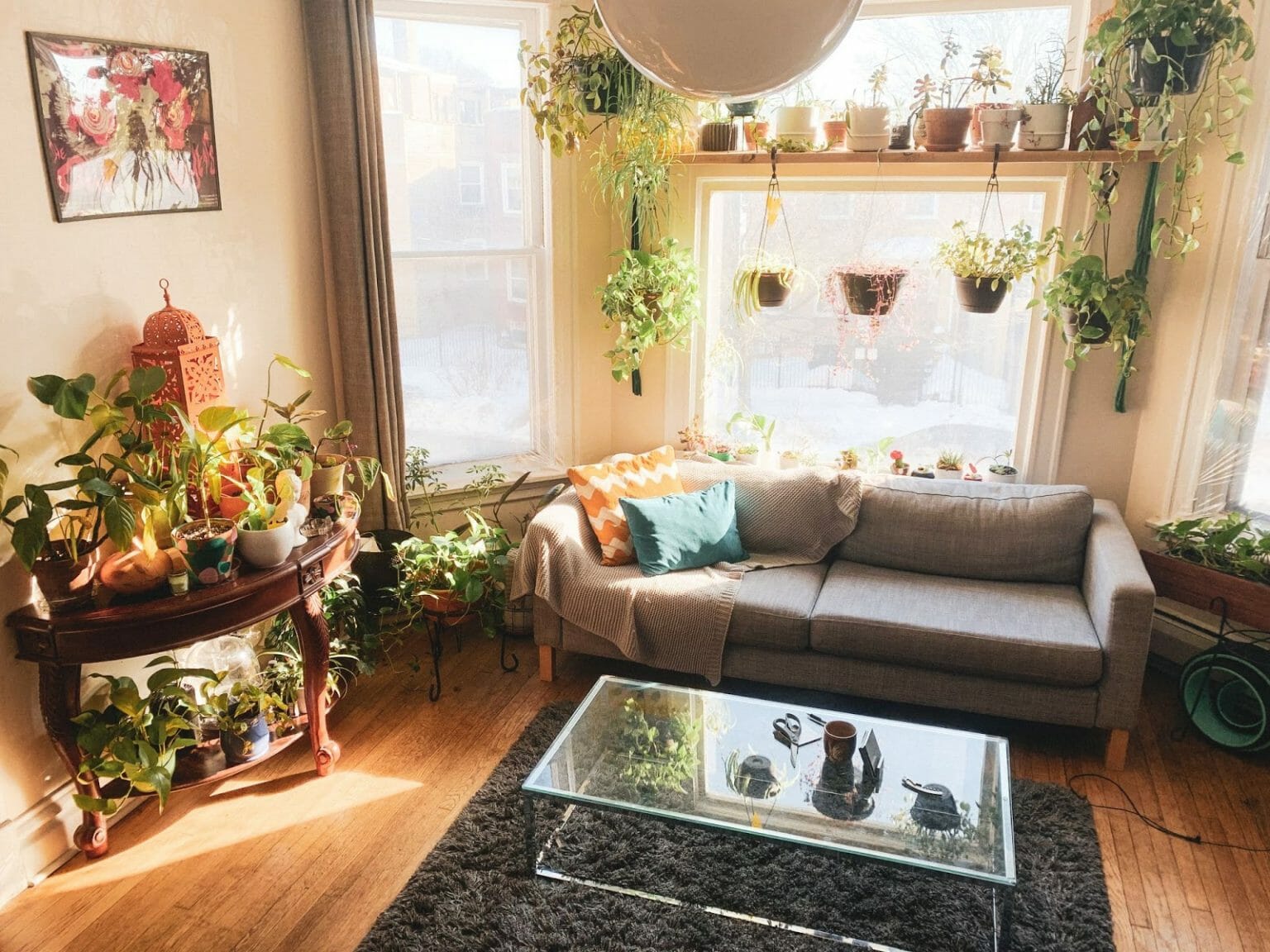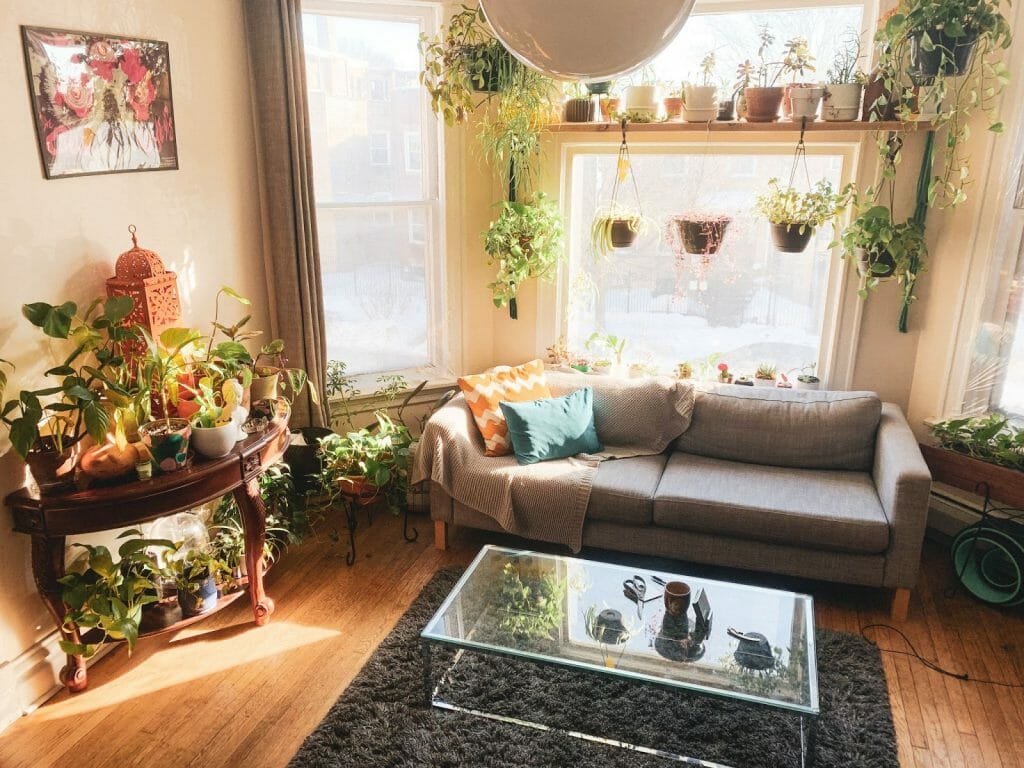 If you have a small space, having a boho-themed living room can feel a little crammed. Especially with all the bits and pieces that serve as decor. To balance this out, keep the windows open and clear to let the light in. It will not only make the room more homey but the bright light also tricks the eye into thinking that the space is bigger than it actually is. 
Full-Length Mirror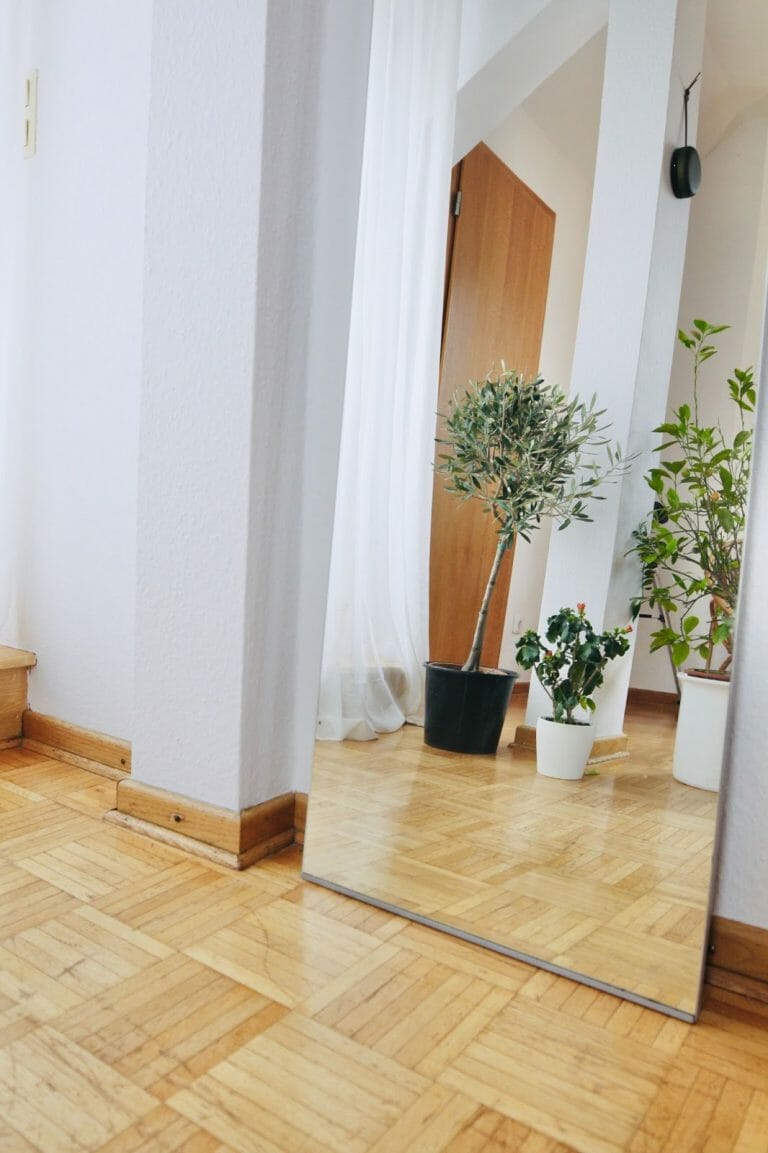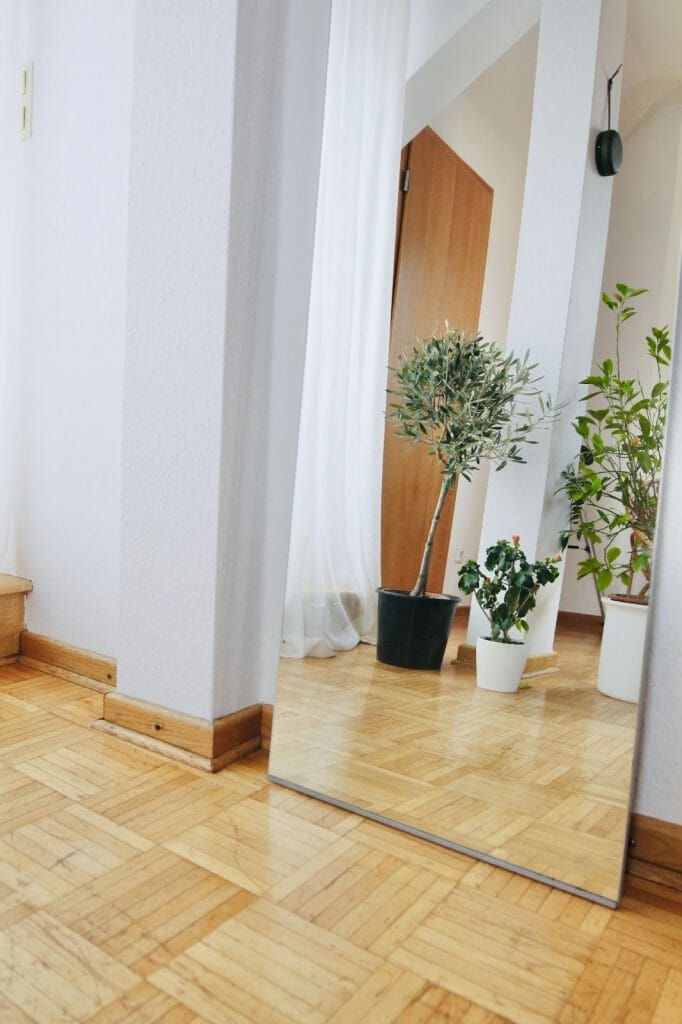 Another trick to make any room appear bigger is adding a full-length mirror. Some may opt to keep their mirrors in the bedroom but adding one in the living room creates more depth and dimension. You can visit a weekend flea market to look for antique mirrors that will look perfect if you're trying to do a boho theme. Vintage pieces certainly have a little bit more character and personality than the ones you can get at home furniture stores. 
Mix and Match Furnitures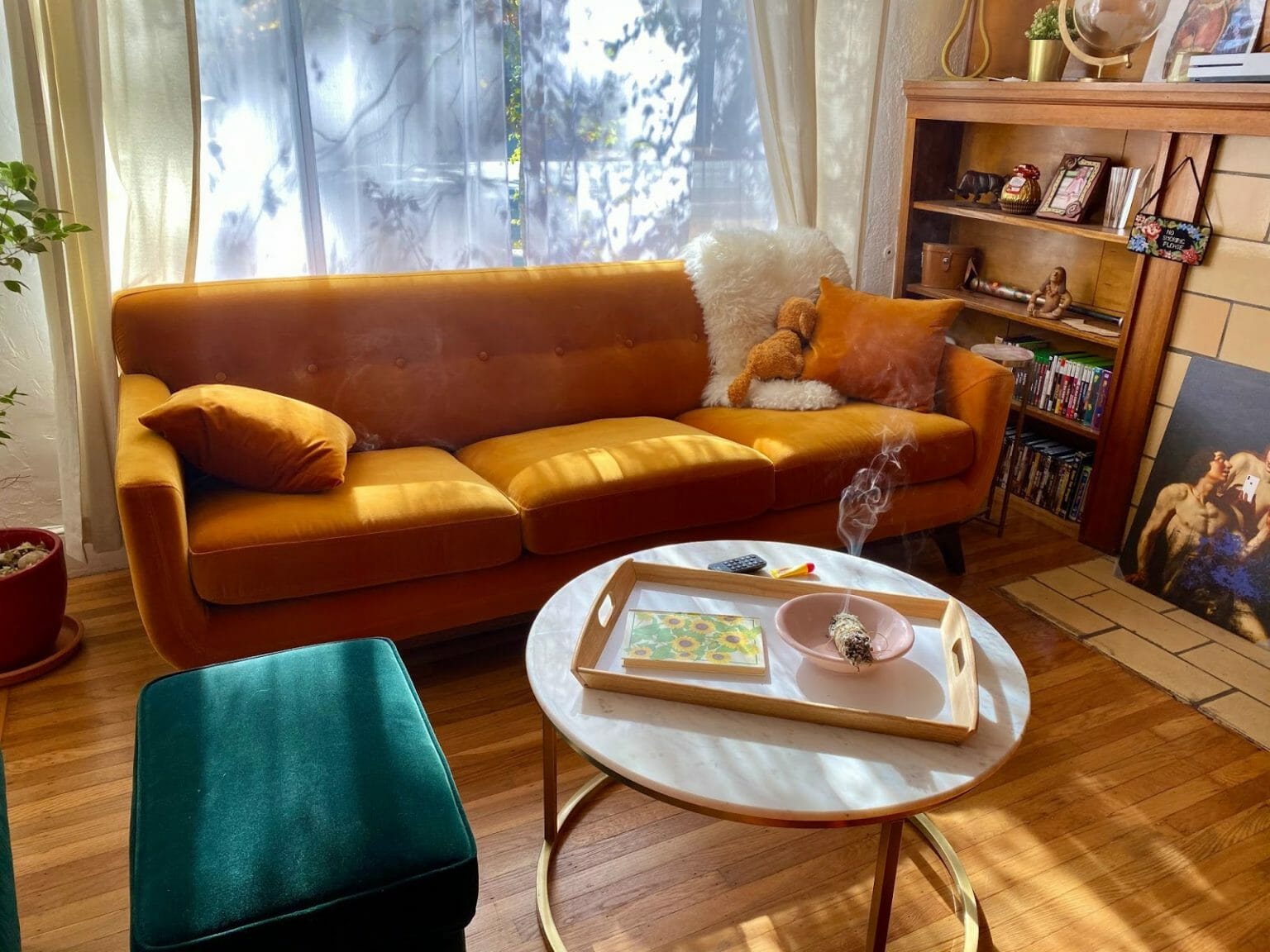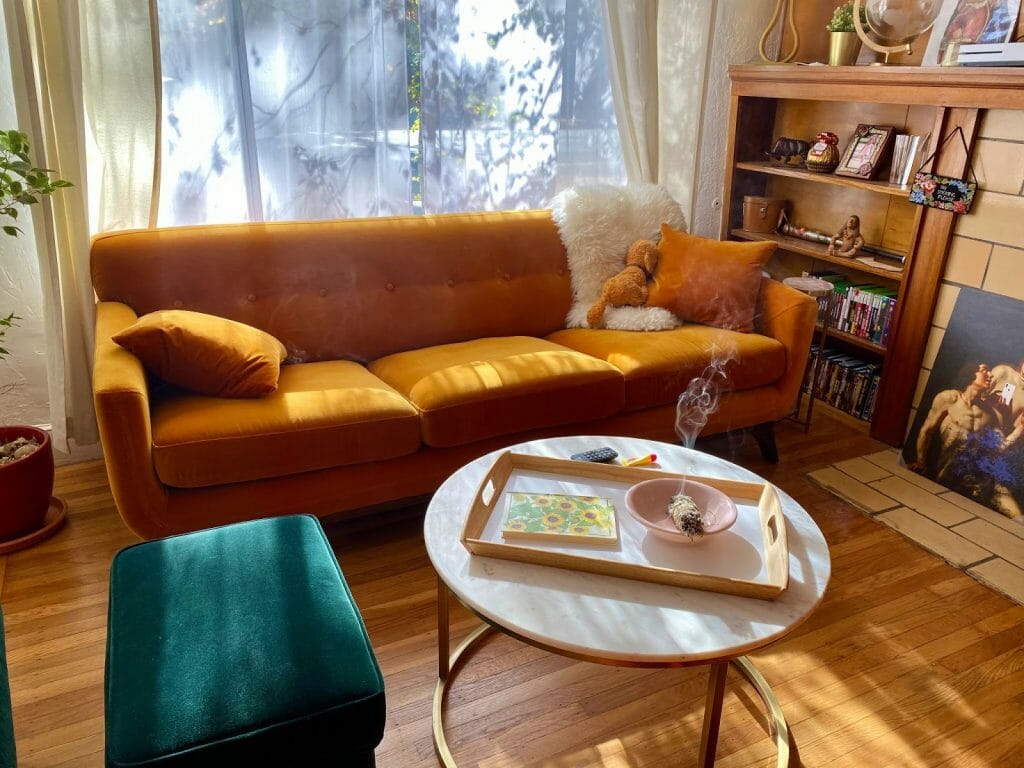 The beauty of creating a boho-inspired living room is that you don't have to be too strict about it. It's a free-flowing design concept that has no set of rules. A budget-friendly way to achieve a boho living room is to mix and match furniture that you already have. Don't worry if things look a little mismatched because sometimes it's truly the intention of this type of design. It's all supposed to be exciting and a representation of your personality. 
Living Room Swing 
If you want to amp up your boho decor, try getting a living room chair that's not only a statement piece in itself but also fun to have in the living room. Your guests will be so pleased when they see it and it will likely be the most used furniture in the room. This can also be your hang-out area in the morning right after you wake up where you can do your journaling or an afternoon spot for some relaxing.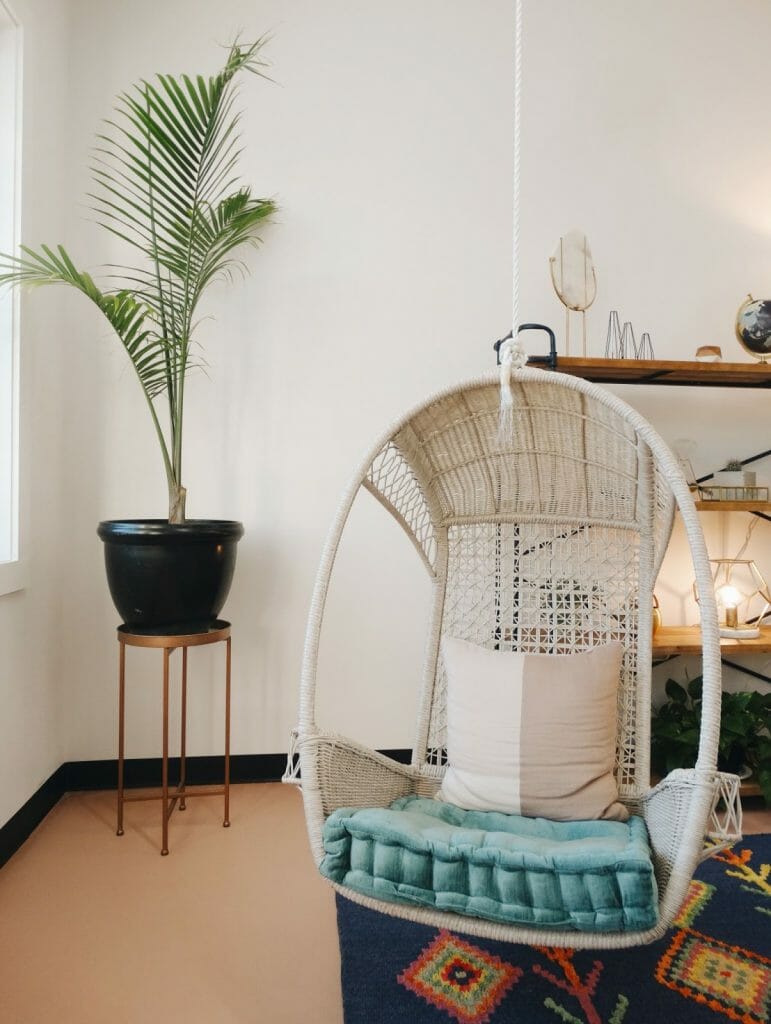 Macrame Wall Hanging 
These wall decorations are popular in boho decorating style. Unless you can make one with the help of a lot of practice and Youtube, then it's better to get them at handmade shops you can find on the internet or boho retailers. Choose from different designs and hang them on a blank wall that needs a little bit of updating. You can also place it just above where the couch is. So, instead of putting up a wall painting, you can just hang a macrame.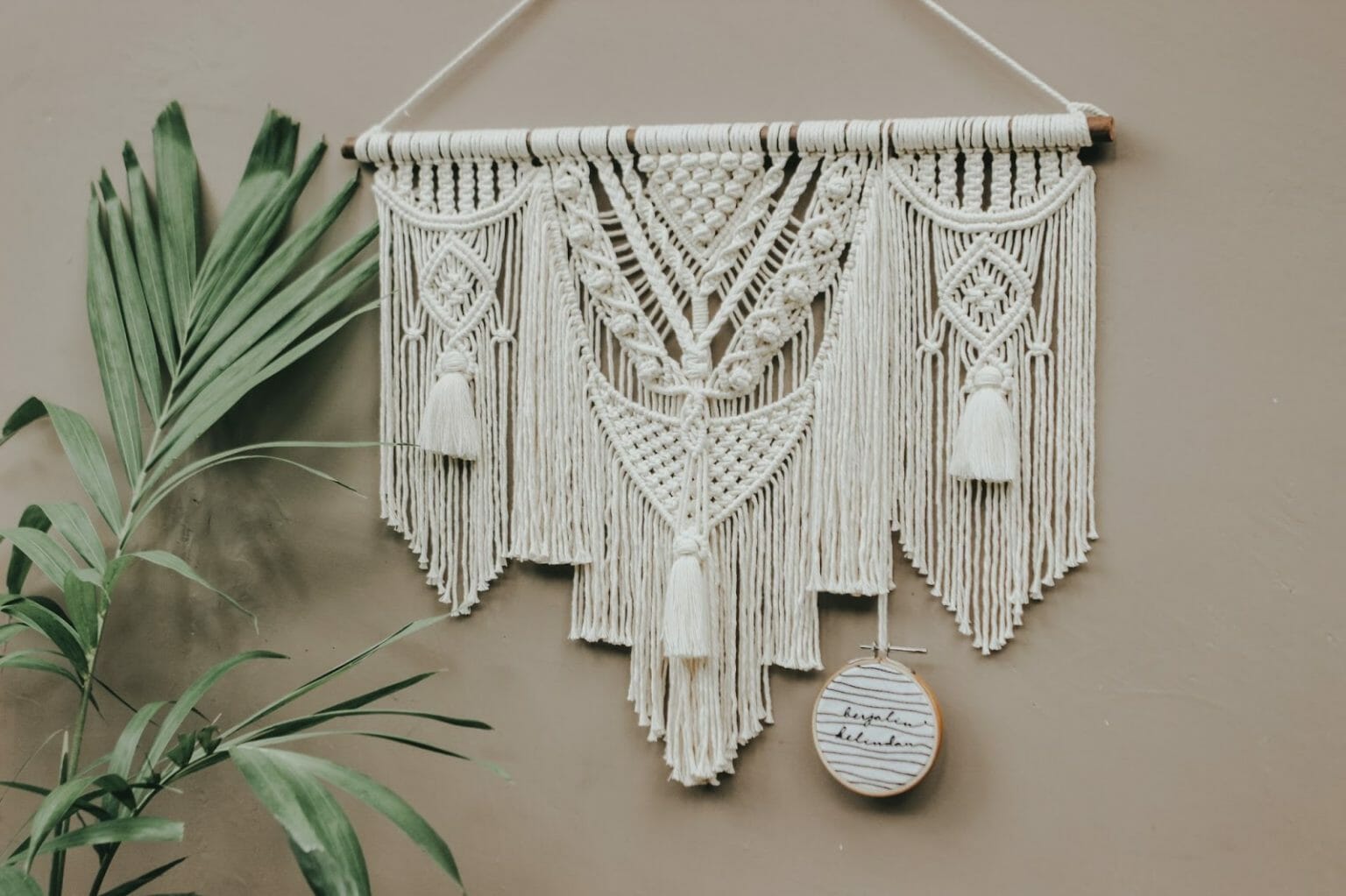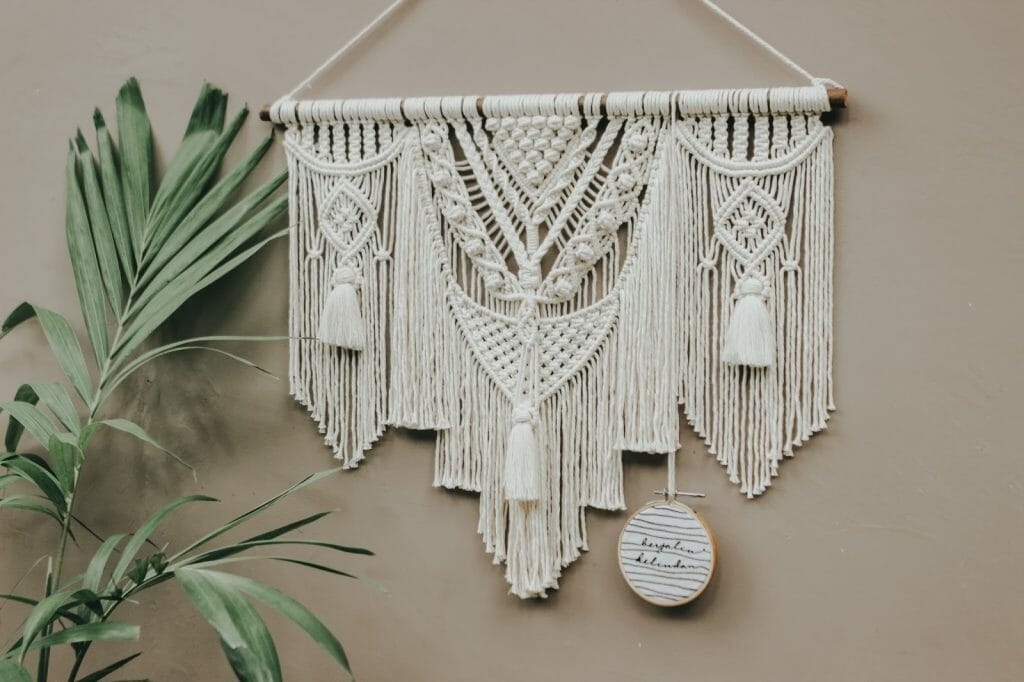 Statement Coffee Table 
When it comes to choosing a coffee table, pick something that could also make a statement. It doesn't have to match perfectly with the couch or the color of the walls, it just has to look well all together. When you take a step back and get the whole view, it should look as if it really belongs in the room. Most designers choose a wood center table because you can't go wrong with it. Others repurpose already existing furniture like a vintage chest box or an upcycled giant chessboard.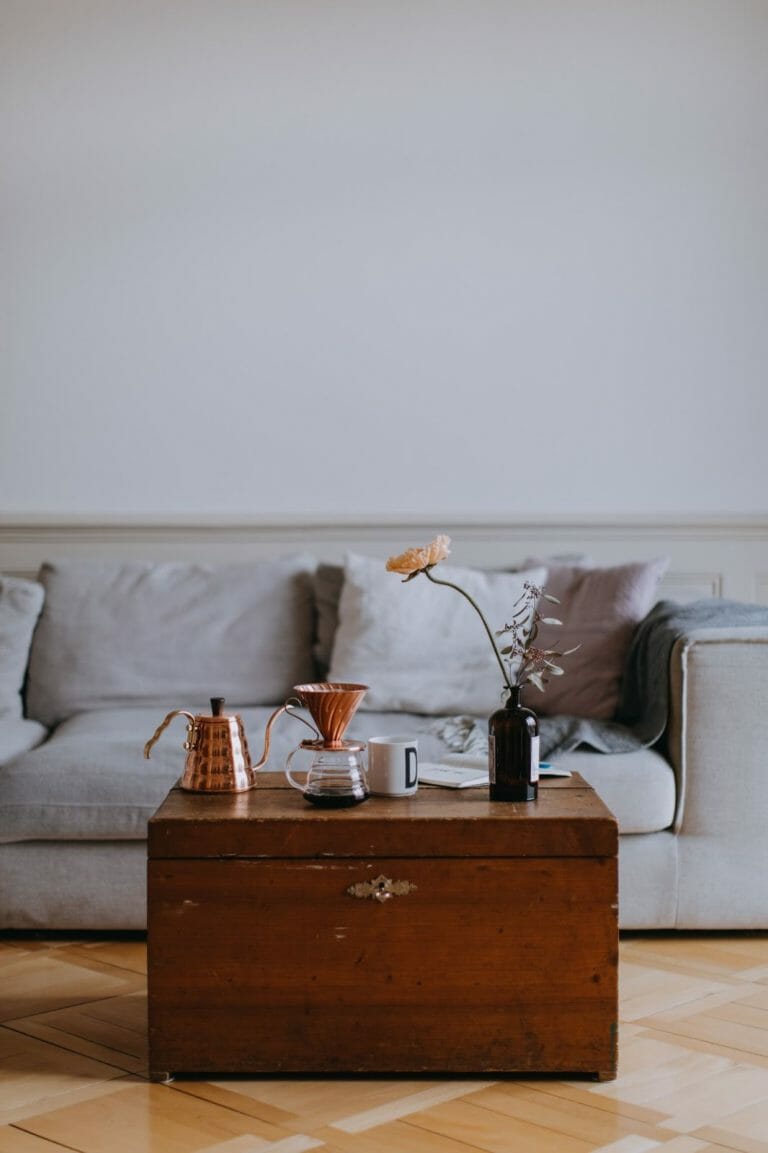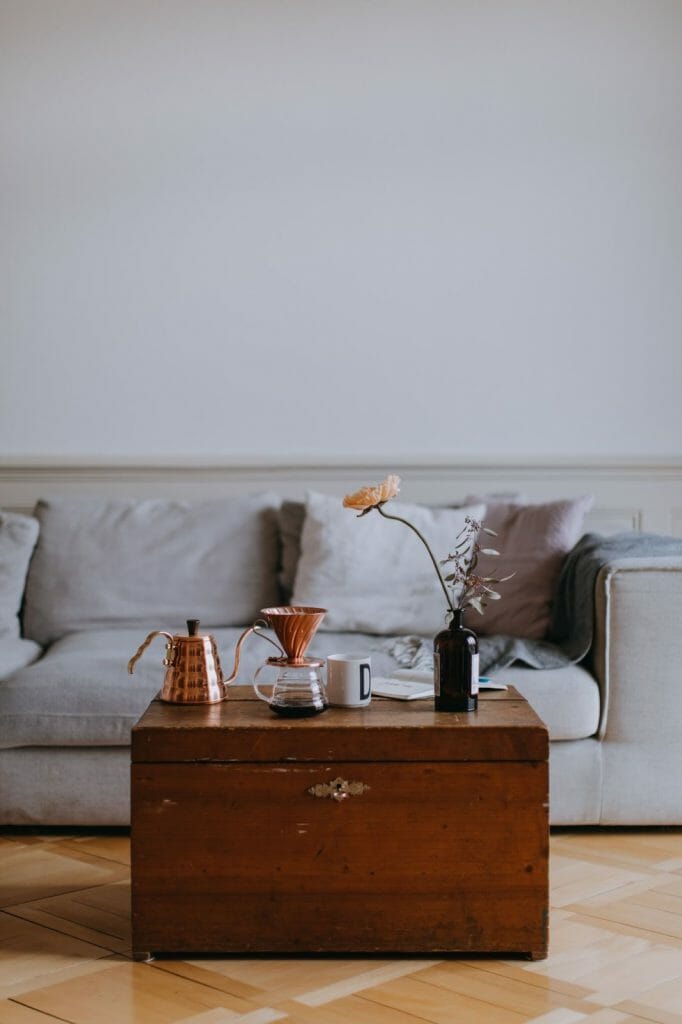 String Lights
Who said that you can only use string lights outdoors? Well, you can also use them indoors to create that magical boho feels inside the living room. They do add a unique touch to the living room and serve as a warm accent especially at night. Invite some friends over for a movie and snacks and turn your living room into an outdoor cinema with the help of these string lights.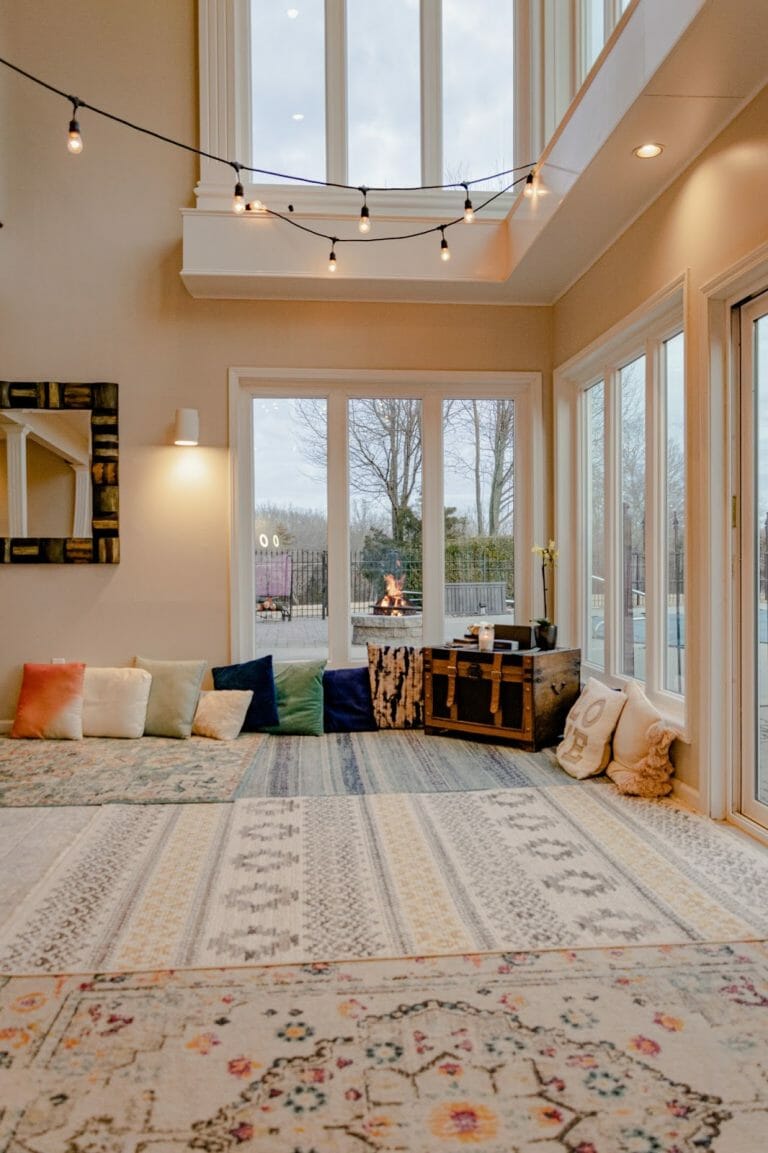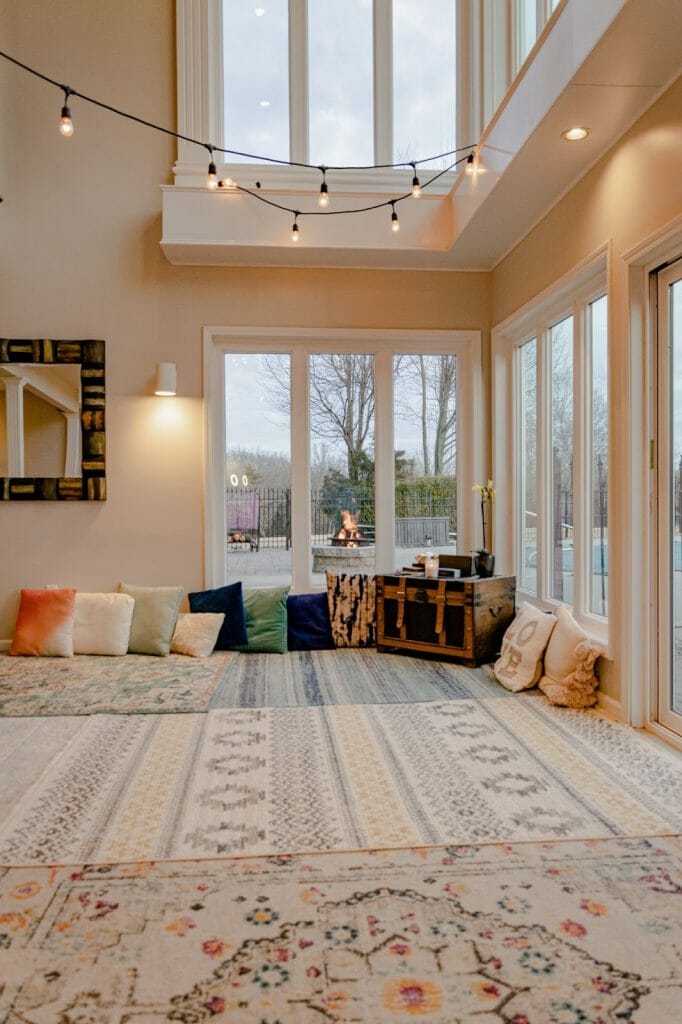 Accent Chair 
If you have more space in the room, consider getting an accent chair. You can either buy one from second-hand stores, go to the furniture shop, or reupholster an old chair. Aside from having another sitting area for guests, accent chairs also add more personality to the room. Choose something bold or bright. It could either be a solid color or something that has unique patterns.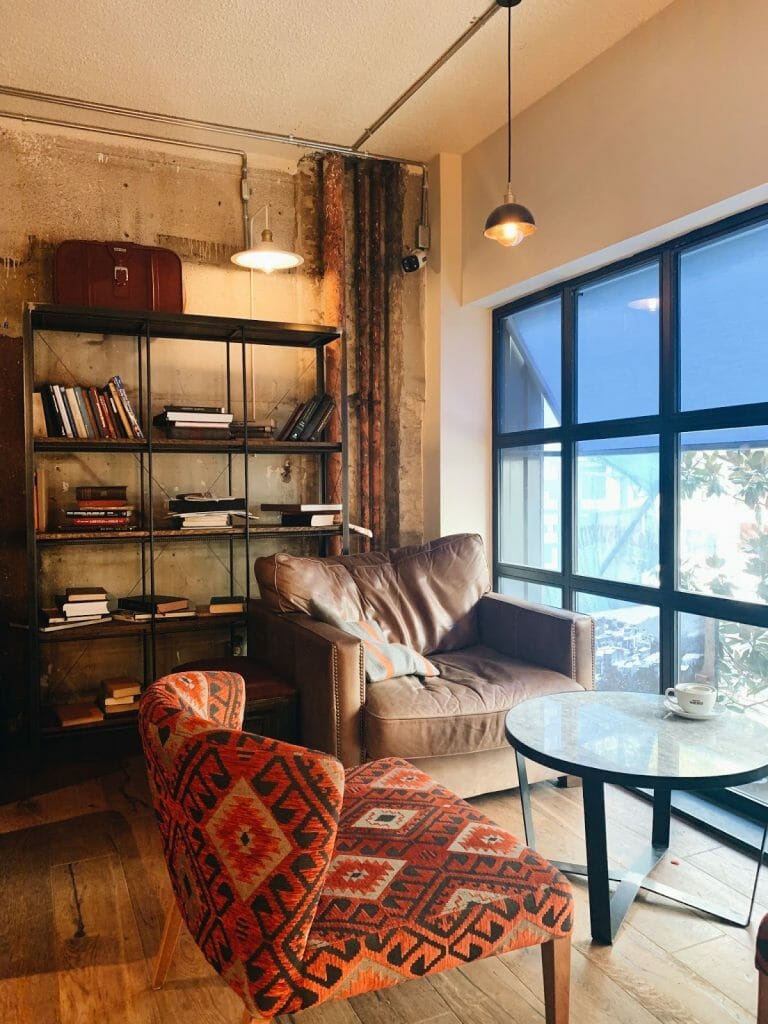 Lamps and Chandeliers 
Lamps are fine, but one might think that chandeliers would be an outrageous idea if you're thinking of a style like bohemian. Well, that's not exactly true. In fact, chandeliers really pair well with other boho furniture. If you think that your space might be lacking something then this might be your call to get that vintage chandelier that you've always had your eyes on. However, keep in mind that because they hang low from the ceiling you might want to check the proportions first. You don't want your chandelier to hang too low or too high.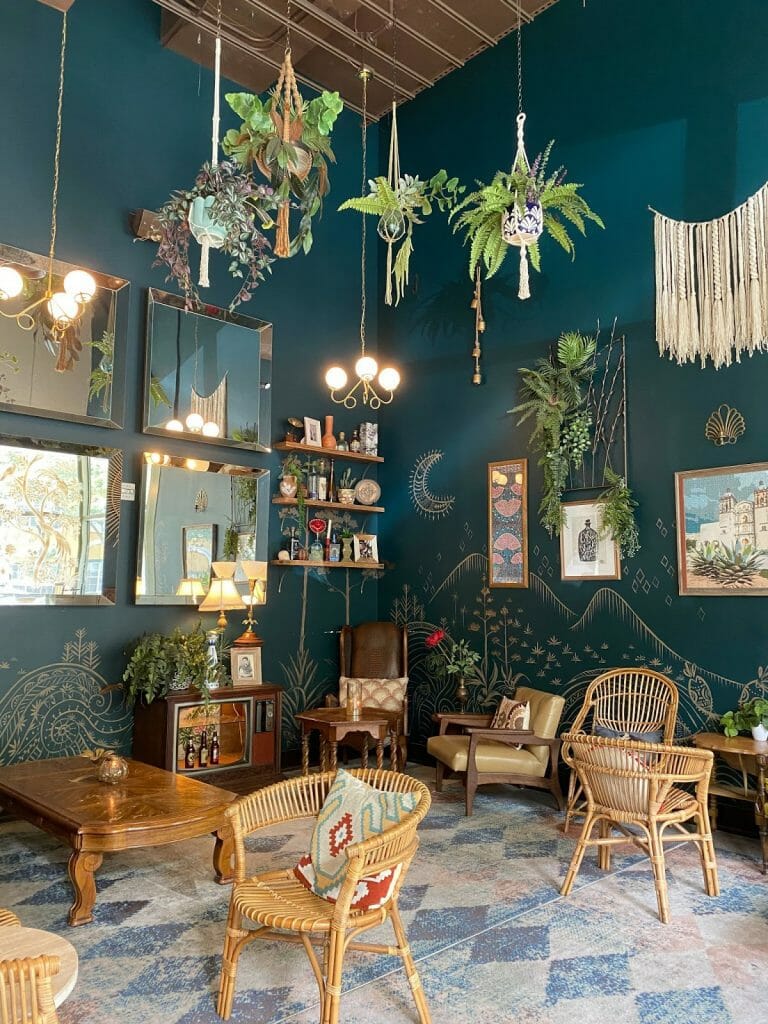 Little Trinkets 
Have you always been wondering where you could put the little trinkets and decorations that you've collected from your travels or perhaps have passed down to you by loved ones? Well, they'll come in handy now. If you have a display cabinet, you can put them there to make sure that they are secured. You can also place them around the living room together with plants and other items, if you'd like.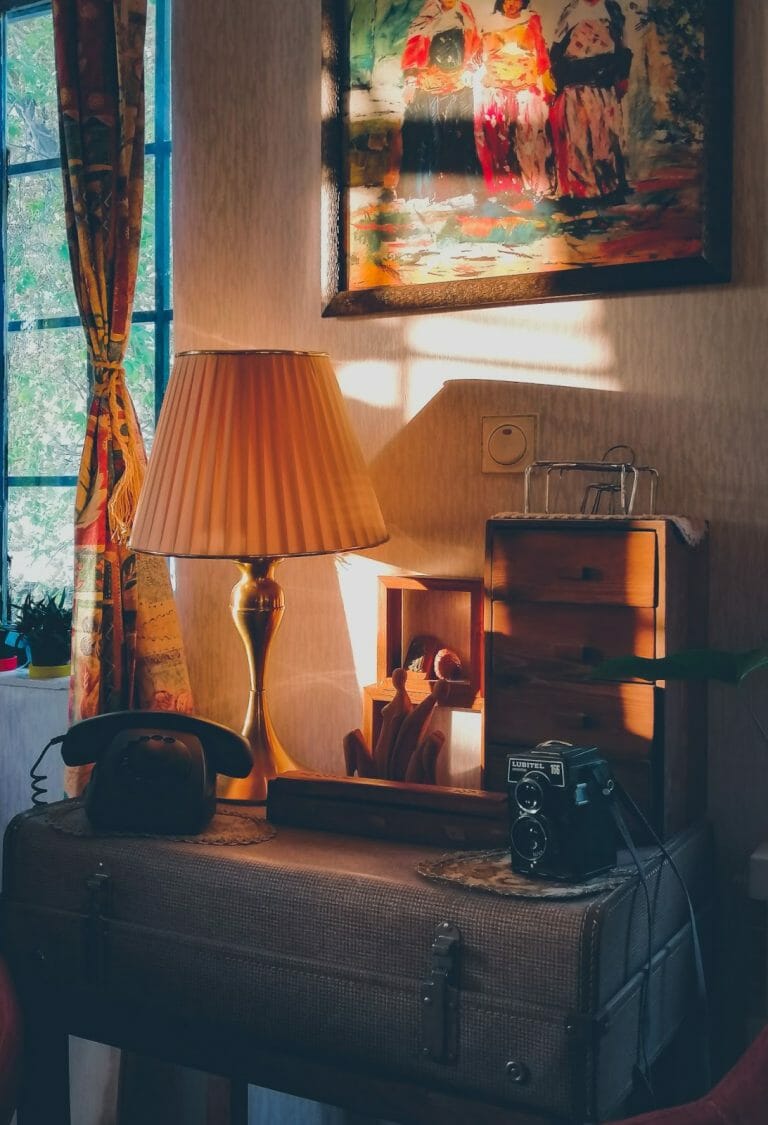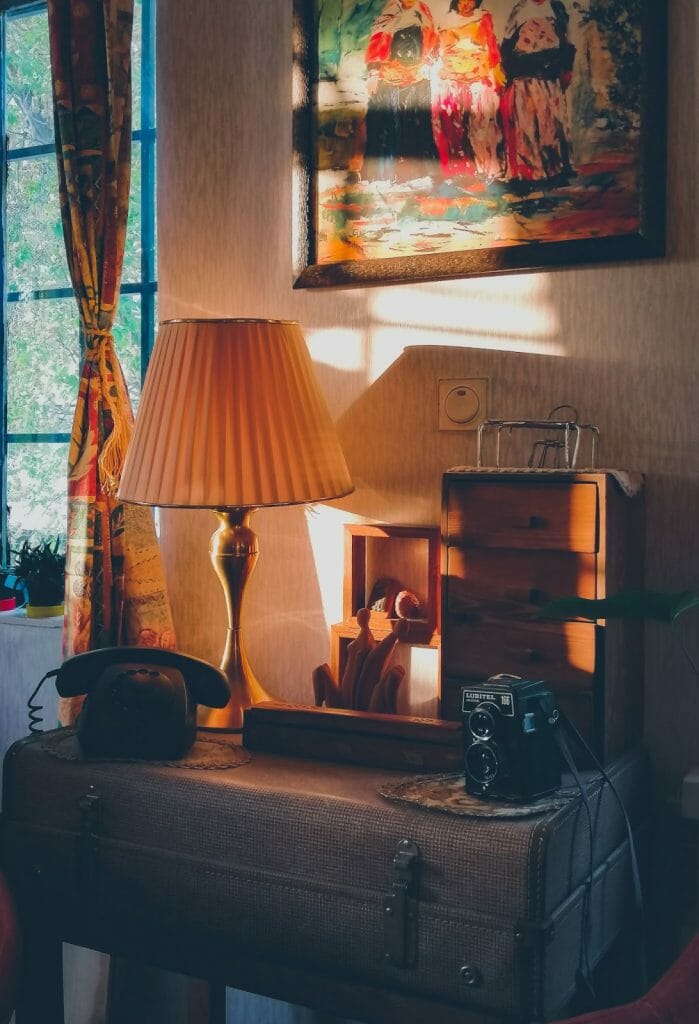 Get Poufs 
A boho living room should feel relaxed and comfortable, with that said, it should focus on furniture and accents that will make anyone feel right at home. Another great addition and one that's always included in any bohemian-themed living room are poufs. Instead of angular, stiff chairs, go for soft floor poufs. Not only are they added decorations but they're also additional seating for family and friends when they come over.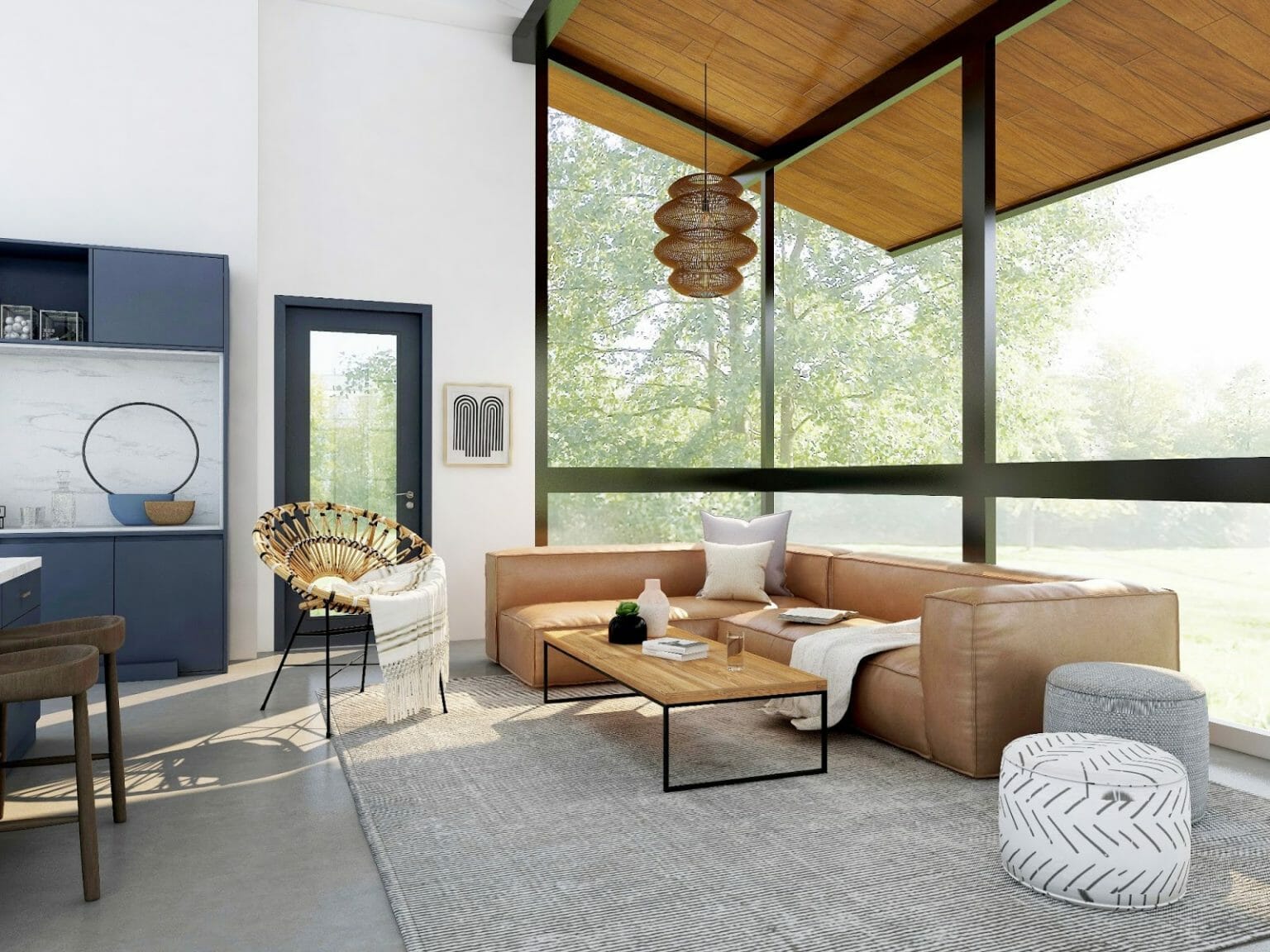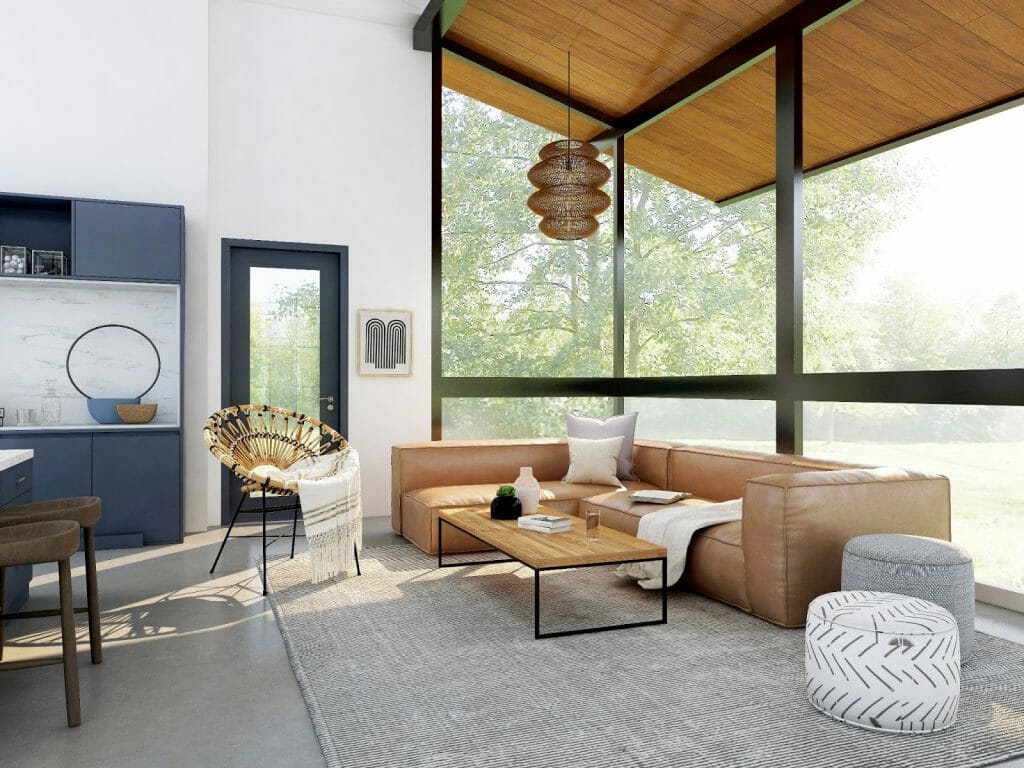 Botanical Prints 
If you can't take care of real plants for some reason, you can still bring this aspect of nature into your living room through prints. Adding some framed botanical prints in the room gives any space such a relaxing vibe. There are online stores that offer good-quality prints that are ready to frame and hang. But if you want to save some money, you can find some free downloadable prints and do it yourself.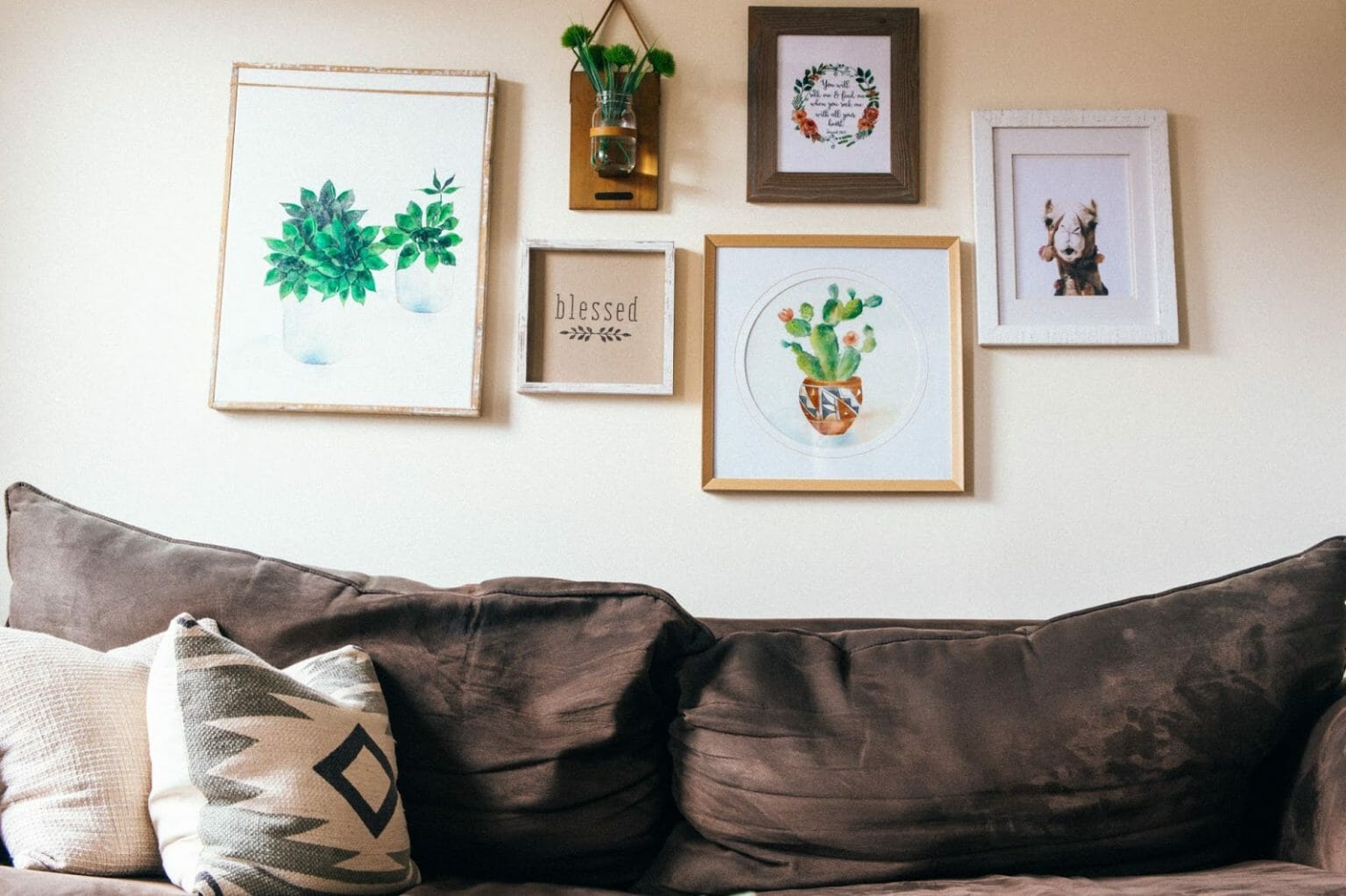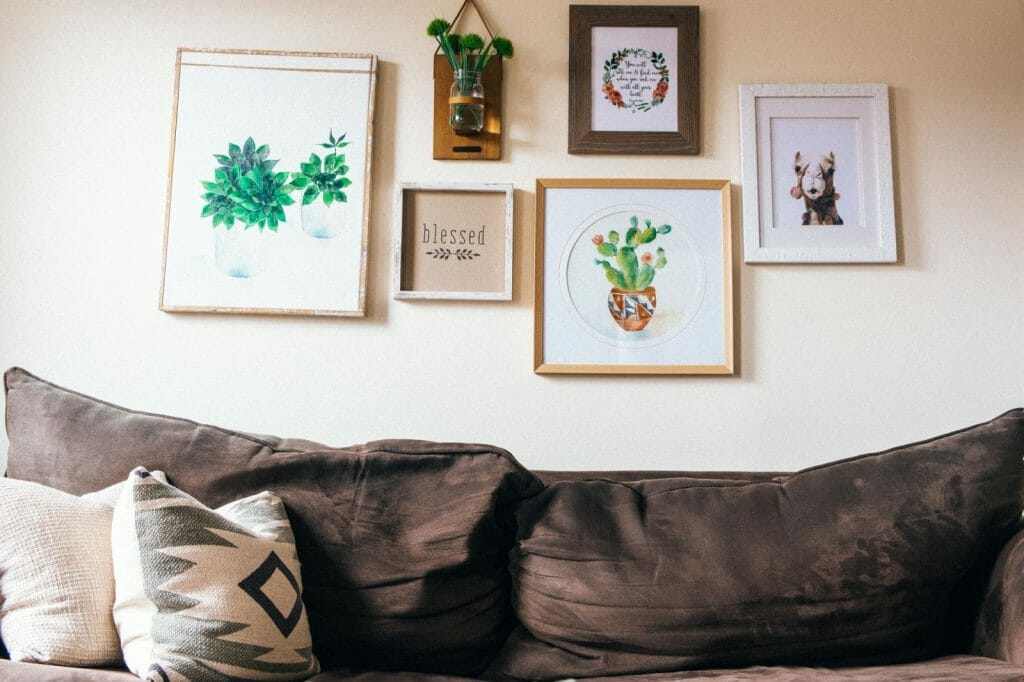 Shelves on Display 
Don't throw away that old bookshelf that's been with you for ages. If you think it doesn't match your boho living room vibe, you can still reuse it by sanding it down to its original color and painting it with a shiny finish. You can also choose a fun color like a bright-colored blue or yellow. Put your book collection or the little decoration items that you already have.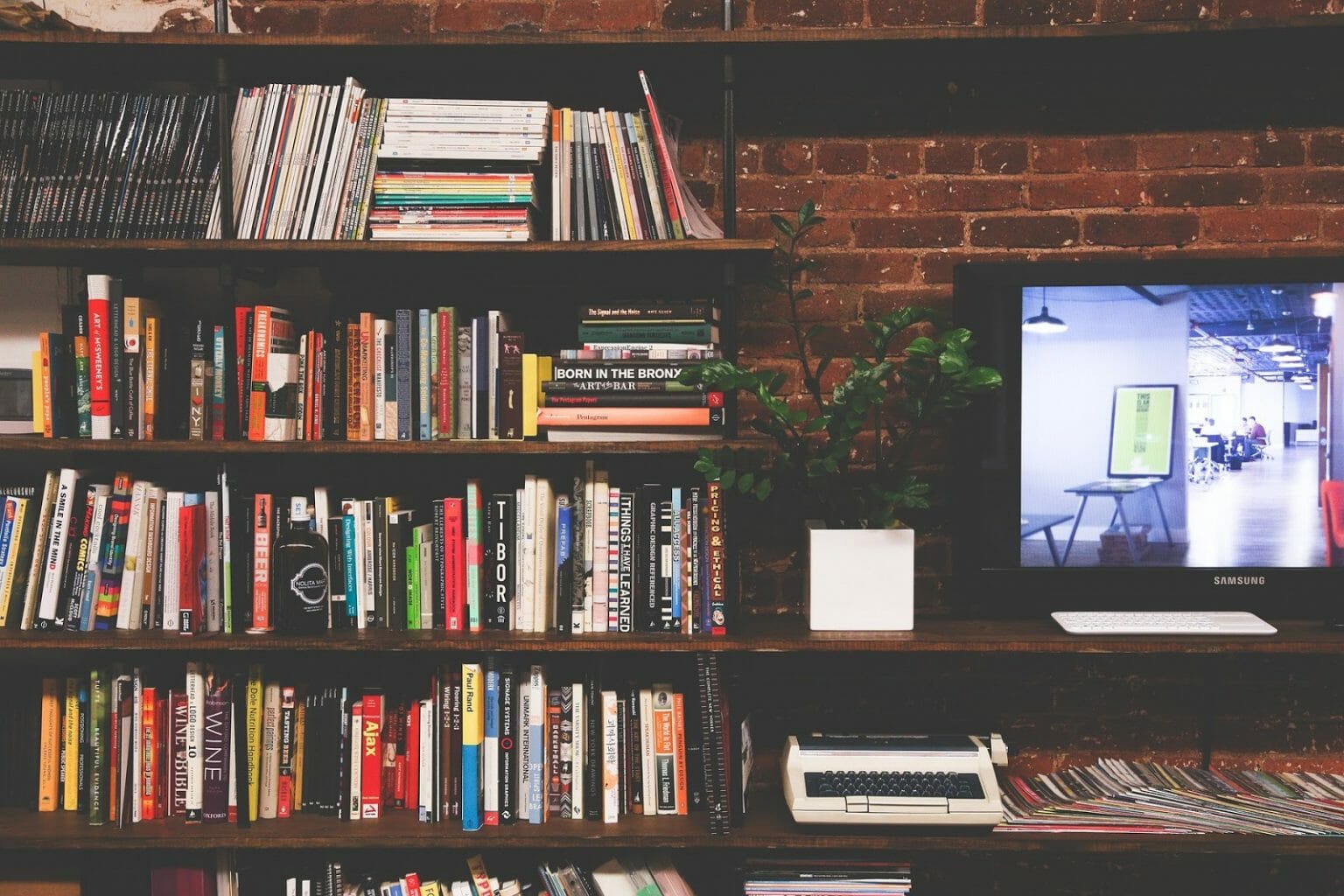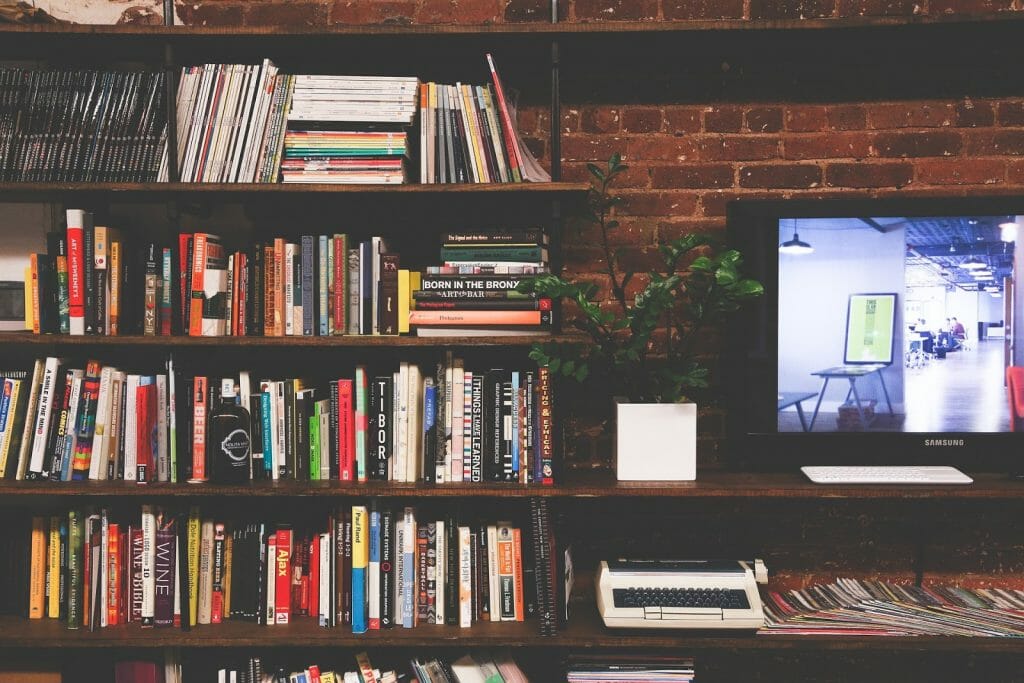 Accentuate Brick or Textured Walls 
Brick and textured walls always add undeniable character to a home. If you're someone who is looking to buy a home or on the lookout to rent a place, you might want to add a "brick wall" to your checklist as it never fails to make any home feel more homey.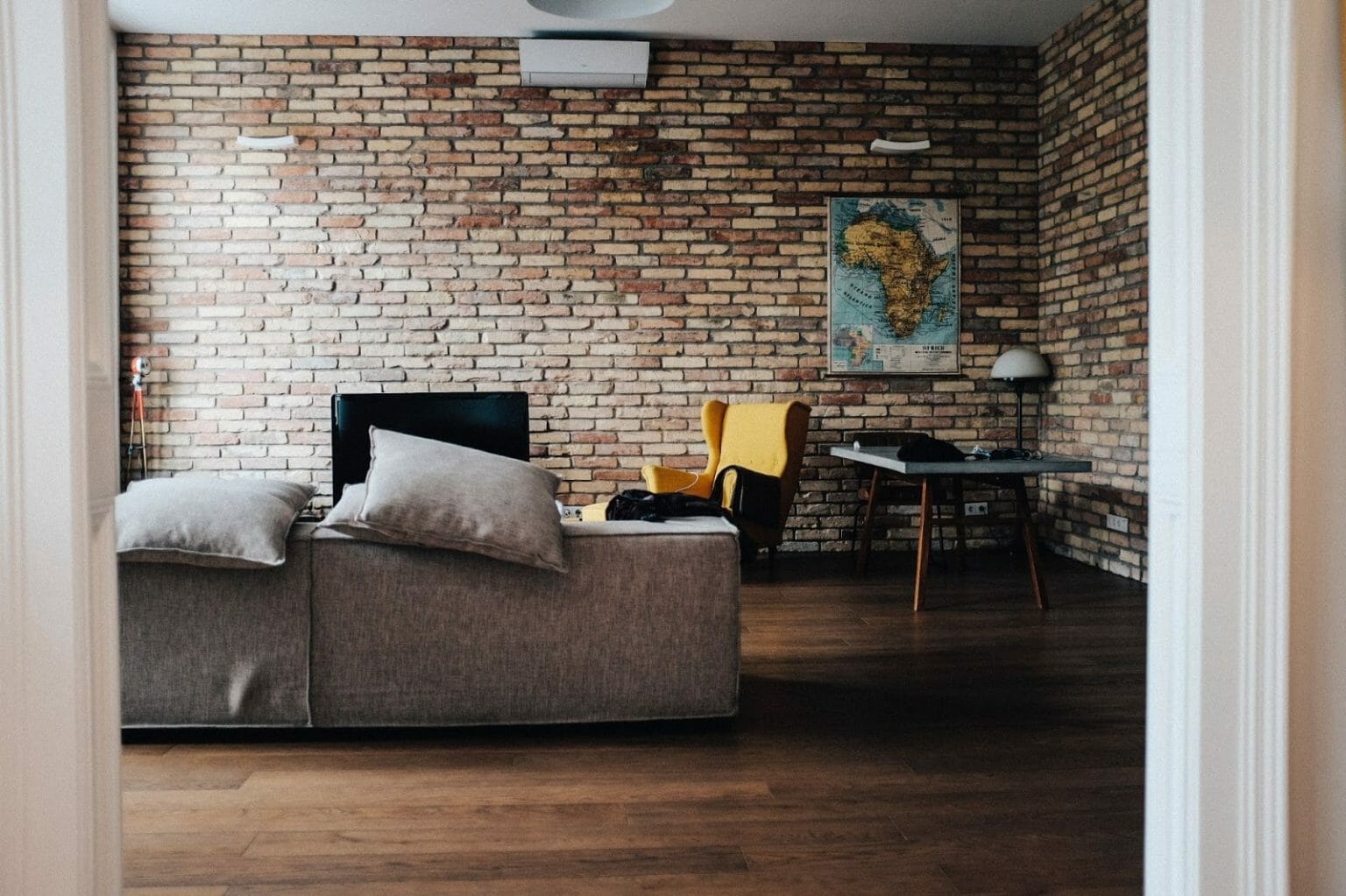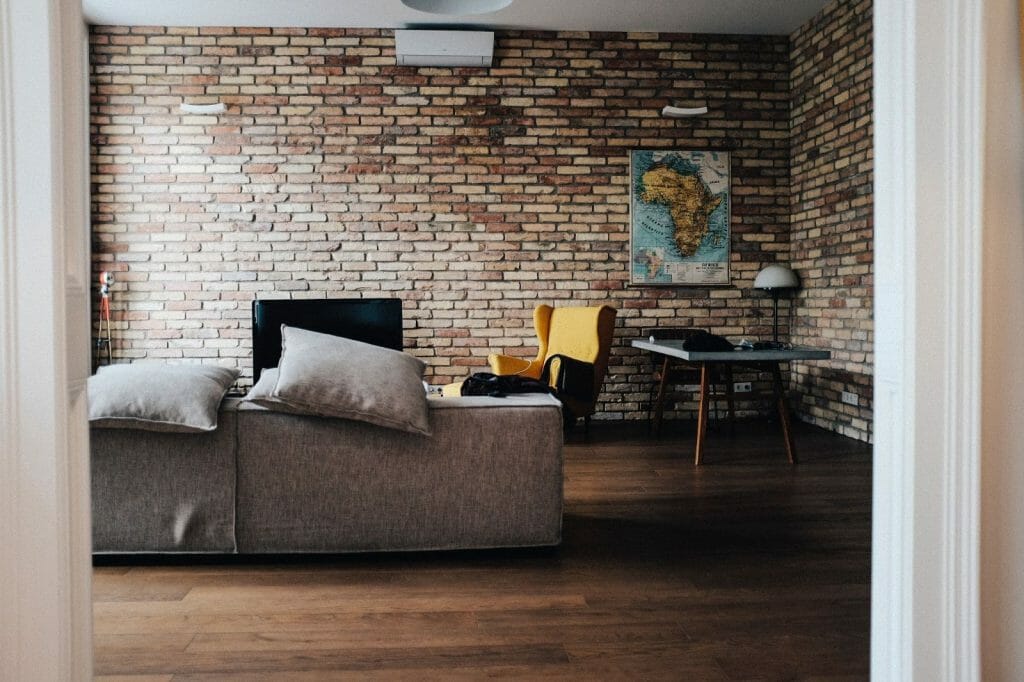 Fun Throw Blankets 
Throw blankets are necessary to keep you warm during the colder months, especially if you like hanging around in the living room a lot. But they can also be decorations for the living area especially if you want to liven up your good old plain couch. Go for bold colors to bring more life to the space or pick some neutral patterned ones if you want something subtle.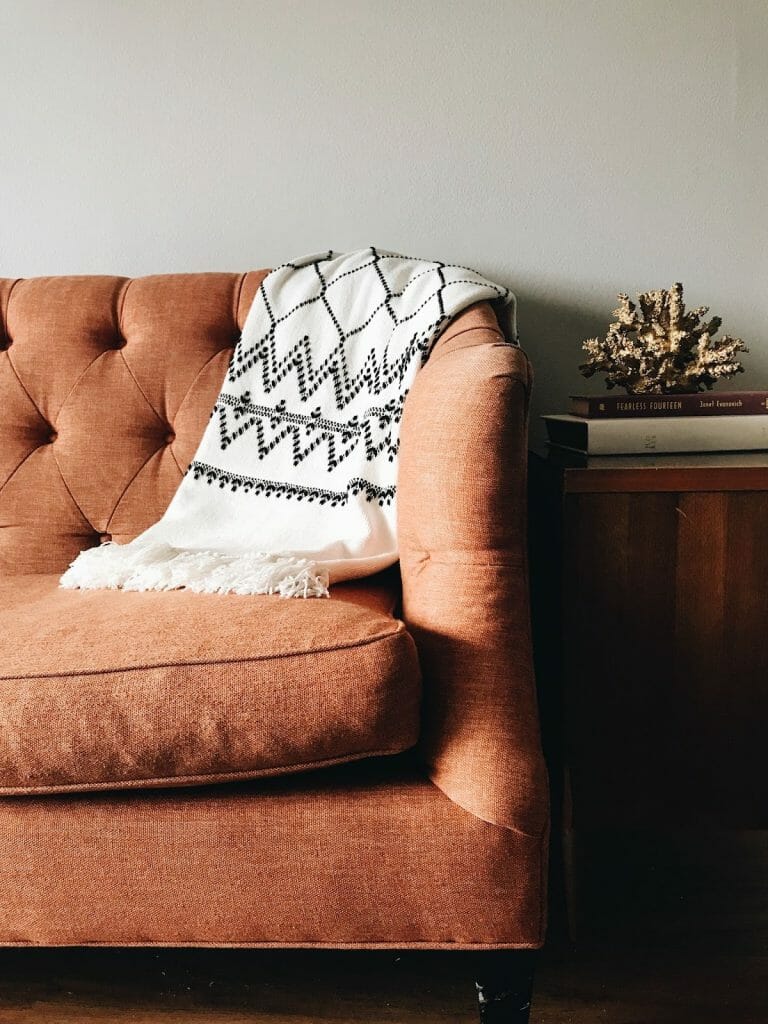 More Fun, Less Serious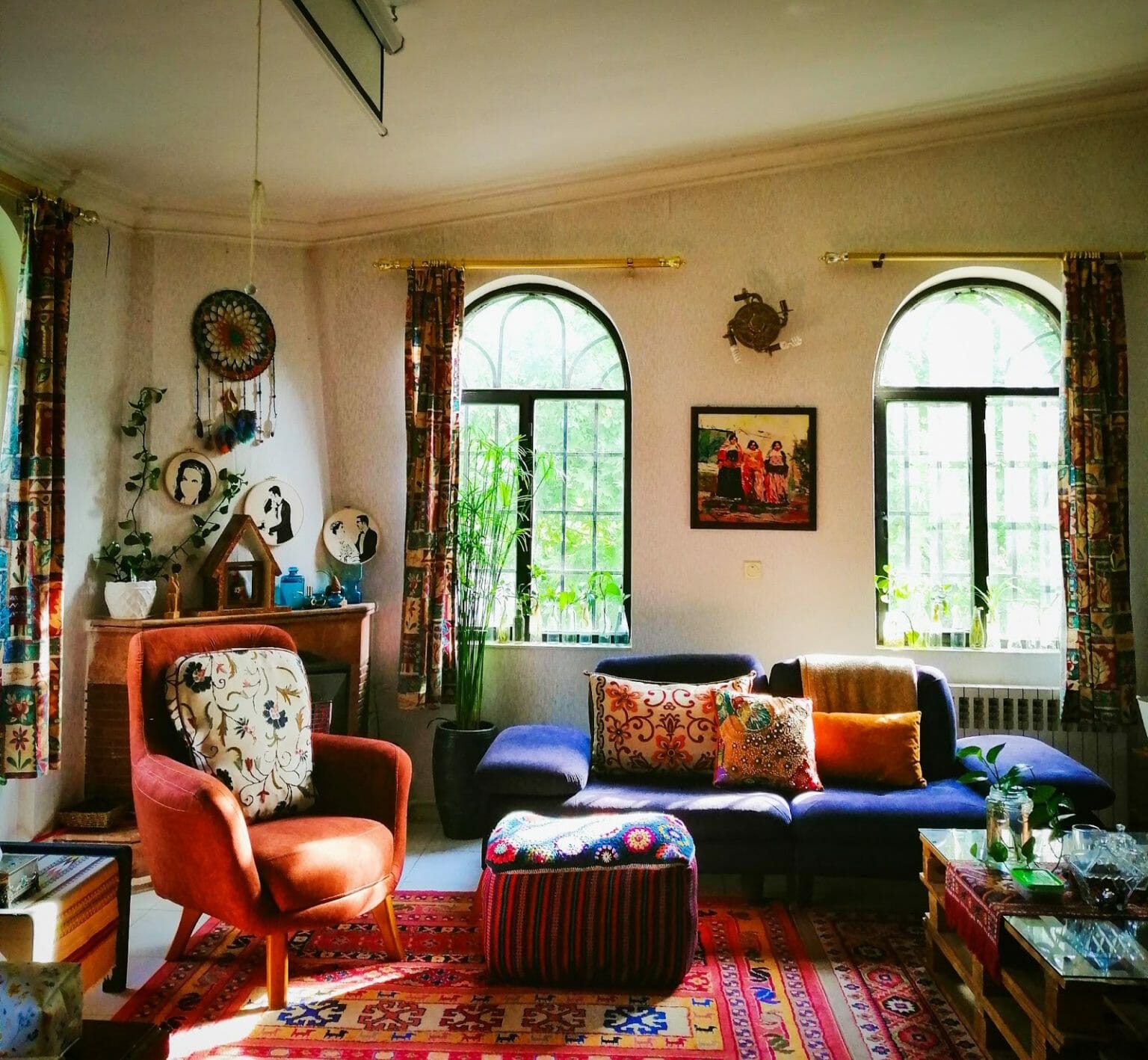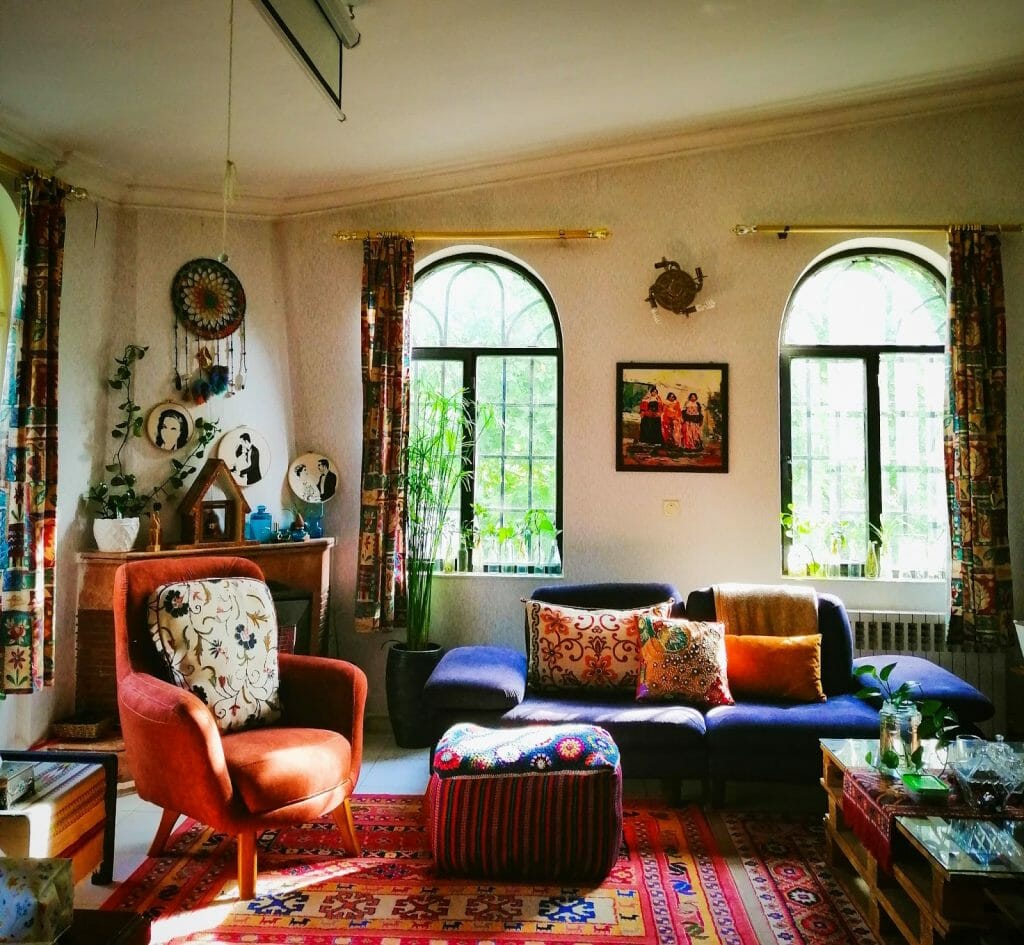 When you're thinking of a boho living room, it should make you smile. So don't stress too much trying to perfect it because it's not about perfection. It's a personal preference for each homeowner. You can either go all-in with bright bold colors or hold back a little and go more subtle. You can even get design inspiration from the internet and compile everything until you're decided on the decoration and style you want to go for. But in the end, it's all about creating a space that provides a cozy, warm, relaxed, and inviting atmosphere.