15 Blue Couch Living Room Ideas: Make Your Living Space True Blue Swoon-Worthy
Lounging in the comfort of your home while catching up with family or friends is one of the easiest yet truly enjoyable things you can do after a long day. If you are living solo, Netflix and chill or video games is probably your thing. And all these happen in the anchor of every home– the living room. 
This shared space is often what most homeowners and interior designers spend most time and budget on. The furniture, fixtures, small pieces, and accents in the living area usually dictate the overall theme of your home. The couch, which is the focal point in any living room, should be given much attention so it is important to consider the style, comfort, and durability when selecting one. 
One of the top picks and hottest trends at the moment is the blue sofa as there's just so many ways to make this a design piece in your living room. It is a timeless color that generally gives off that cool and relaxing vibe no matter the shade. Blue usually reminds us of both the clear sky and the pristine waters. It is associated with tranquility, openness, and freedom. It has that calming effect on the mind and body. It is a great choice as it flows well into different seasons. It is mellow and can be easily matched with different colors and shades. We have handpicked some inspirations to style your blue sofa and make it stand out.
Modern and Minimalist
This clutter-free, bright and well-lit space with the warm blue sofa in the center is very welcoming in both summer and winter. Props to interior designer Stephanie Kraus for putting together this look, combining the organic and natural elements like the natural woods and woven trinkets that add warmth to the modern and minimalist vibe. The white and textured throw pillows completes that fresh and clean feel. 
Industrial Blue
The velvet, deep blue upholstery coupled with sturdy and shapely legs of this couch is a perfect match to the streamlined and understated look of this industrial living room. The overall theme showcases metal, wood, and marble surfaces and pieces. The raw-look finish of the wall and flooring exemplifies what true blue industrial is all about.
Chic With Pastels
Such a pretty and dainty sight here, right? The blend of pastel colors in this living room is definitely eye-candy. A unique combination, the light blue sofa subtly contrasts with the chic pink wall and throw pillows. The matte gold lamp and stylish legs of the center table add glamour to this spot. This would be a dream living room for a young, fine lady. 
Blue with Sunny Orange
Showcasing a blue velvet chesterfield couch with a mix of patterns in orange, white, and blue, this living room absolutely stands out. Nicely furnished and matched with sunny orange accent chairs and orange leather ottoman cum coffee table, this living area is an art piece in itself. The pieces here may not be from one single theme but they are brilliantly put together to create a gorgeous contemporary living space.
Classic With Beige
Deep blue couch paired with a beige ottoman, lamp, window blinds and wall is classic yet sophisticated. You will never go wrong with these neutrals. You can easily throw in relatively any piece of furniture or decor to create a whole new style, suitable for each season. 
Bright and Color-Blocked
It is quite rare to see a space this bright, bold, and colorful as most will always go with neutrals, earth tones or the safe colors. Interestingly, the blue, comfy couch accentuated with almost all the bright patterns and colors such as red, orange, and yellow came out pretty rad and still well put together. It may not be for everyone but the certified cool ones will wing this.
Sail Away With Blue
There's nothing quite cooler than this nautical-inspired living room. The couch has that perfect shade of nautical blue. Topped with accent pillows and matched with striped red and white cushioned, winged chairs, you would not need to guess about the theme this room is going for. The huge wall decor even makes it a give away!
Dreamy White
It is a fact that anything goes well with white, and this blue, velvet sofa is proof. The white shelves decorated with white classic pieces, white upholstered chairs, and white center table create a clean and crisp look. It is a great symphony of both the classic and the modern.
Blue on Blue
The monochromatic scheme of this living area will instantly give you that beach vibe. There's undeniably a sense of tranquility found in this space, like you are transported to the pristine waters of the Carribean. The printed throw pillows and center table break the monotony yet still creates a unified look. 
Natural Wood Accents
All the natural, solid wood elements you can find in this living space perfectly complement the inviting blue couch. The wooden center table with black metal legs looks very minimalist and brings artistry to the overall style of this spot. Perfect for those who want a straightforward, no-frills yet functional look. 
Patterned Accent Wall
The art deco geometric wallpaper here is a stunning background to the equally gorgeous blue couch, styled with printed throw pillows and blanket. The shelf in natural wood finish adds to the vintage yet homey feel of this living space. It makes a perfect spot for enjoying your coffee while reading a good book or having good conversations with your loved ones. 
Pretty Art Pieces
While blue is a gender-neutral color, it is still known to be a masculine color in most cases. To strike a balance and make your space suitable for his and hers, you can add pretty artworks and accent pieces which evoke femininity, such as the framed, beautiful paintings and chic lavender ottoman in this living room.
Blue Oversized Artwork
In this living room, the spotlight is on the oversized blue artwork. It gives that oomph to the lowkey, light blue couch. While there is an explosion of colors, patterns and textures in here, everything still looks harmonious and definitely a sight to behold. 
Glitter With Gold
There's no denying that a few pieces of gold instantly add sophistication and glamour in any space. The gold details in this living room complement the royal blue couch which gives that remarkable flair. It is also a perfect blend of retro and mid-century styles.
Burst of Colors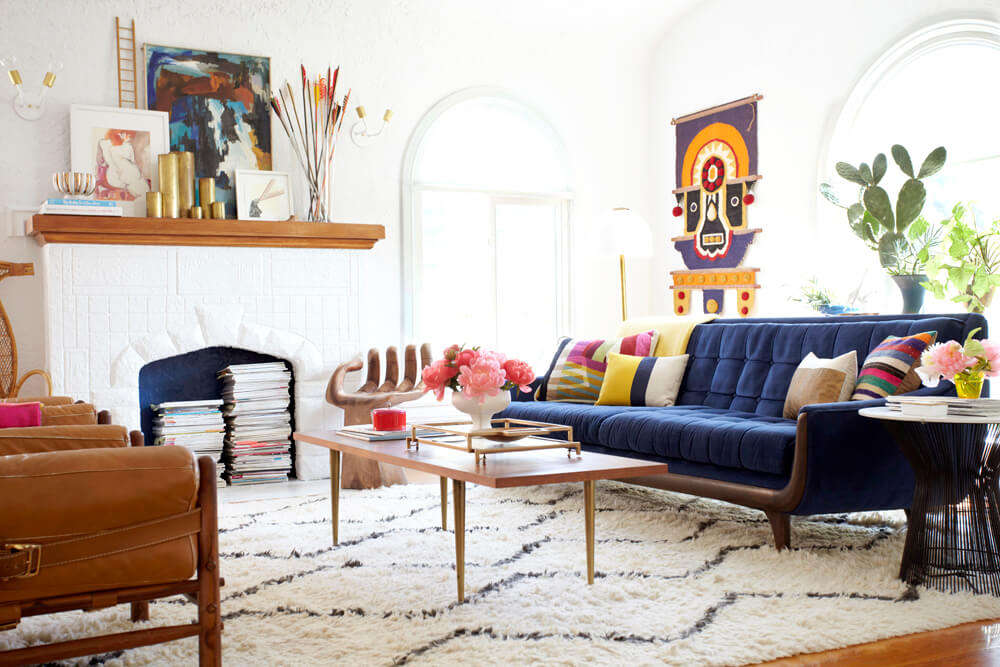 The burst of colors in this Bohemian Eclectic-inspired living room gives life to the dark blue couch. The play of different patterns and styles are harmoniously put together creating that fun and welcoming space.
The blue couch is a good alternative to the more common gray couch. There are a variety of colors and styles that perfectly complement it. With a little creativity, you can definitely make your living room a true blue relaxing place.