How to Decorate Black and White Living Room: 3 Easy Tips
No living room color scheme makes a more dramatic and elegant appeal than black and white. 
Leonardo Da Vince said it well that "simplicity is the highest form of sophistication". In the interior design world of unlimited color shades and pantones, there's a distinct charm to choosing black and white for your living room space. Combining these two powerful shades is an art form that will wow any guest who visits your home.
Undertaking this color scheme may seem overwhelming but don't worry because we'll break it down so you can design your own B&W living room yourself. If you've been meaning to go for black and white and not sure how to start, we'll give you three easy tips to pull off this uberly chic and timeless color scheme in your home. 
1. Black and White in All the Right Places
While there is no definite rule when it comes to decorating black and white, we'll throw in design inspirations so you know where to start in your living room. The secret to making black and white work is to make sure that the bulk of the elements in the room contrast with each other.
This color scheme is usually seen in Nordic or Scandinavian interior design but it's adaptable to whatever your style preference is. One of the best things about contrasting neutrals is that it works in any room size and shape. The monotone hues will make your living room more spacious. 
Here are some of the best Black and White living room ideas you can try at home.
Walls
Imagine welcoming your guests to a black wall, why not? It may be an unpopular color choice for homeowners for fear that it makes a room look drab. However, choosing a black wall is actually a bold choice in living room design, bringing out the best of your living room space.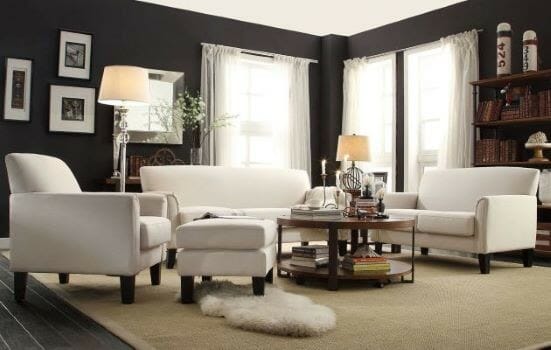 If you go for black living room walls, do intersperse your vertical view with white shade. It can be white curtains, window frames, matting on a frame, or a shelf. The easiest way to tone down a solid black wall is by lining it with white from the ceiling, molding, baseboard, and accessories.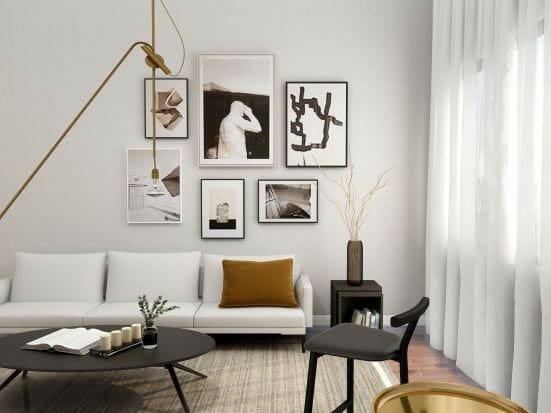 A white wall gives an airy feel and gives instant brightness to your room. If you don't want your living room to look too pristine and make it appear less homey, apply a contrast with a black accent wall, moldings, or furniture.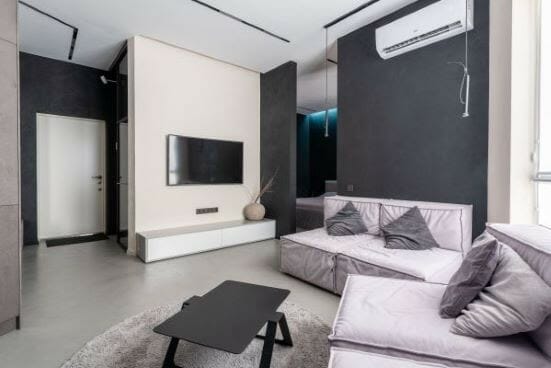 Having an accent wall is a great first step if you're not yet ready to go all black and if you want to see the initial impact on your living room. If you have a black accent wall, make the adjacent walls white. You can also choose white as the accent wall against a black-walled living room. If you have a smaller space, only paint one wall black as an accent piece.
Since black absorbs natural light, it's best to paint the wall black that's closest to the window. If you don't have a lot of windows, add mirrors to expand the space. Make sure there's ample lighting in your living room. Chandeliers would look great against a black wall backdrop.
Decorate your wall with framed portraits or artwork with black frames. Change the frame mats to gold or any color choice for a fresh shade.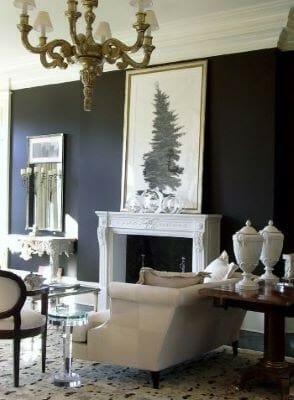 Adding an oversized art piece or family photo will soften the look of your accent wall. Feel free to add colors to your B&W palette with colorful decorative pieces.
If you want a playful and modern living room, you can try an accent wall with black and white stripes. Try it with big horizontal stripes so it doesn't look too cluttered when you add decor pieces. 
Floors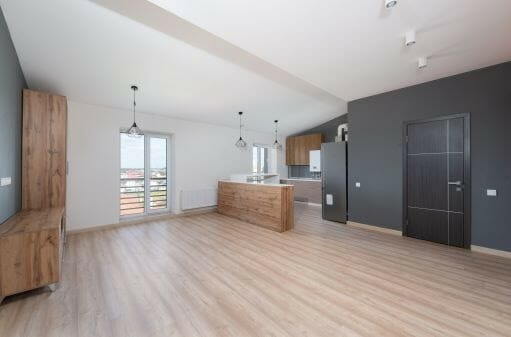 Most black and white living room designs you'll see are complemented by dark and light wooden floors or gray tiles.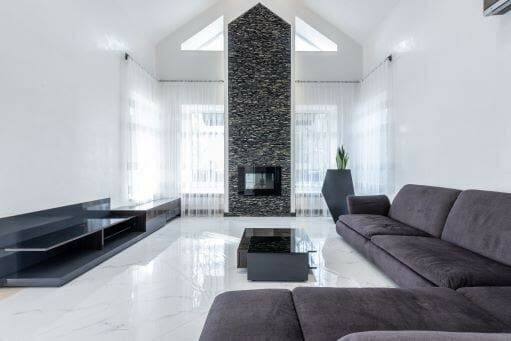 Modern living rooms make use of sleek black or white tiles for a polished look. If you want to go all out in your monochrome theme, you can use black wooden floors connecting to a black accent wall with dominantly white walls and furnishings. Or vice versa for white floors and white walls plus black furniture.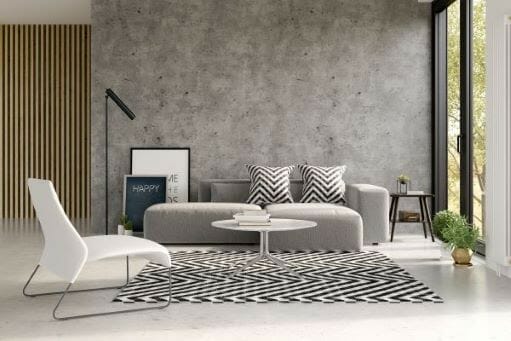 If you're having second thoughts on your floors, try it first with your living room rug. Whether it's black or white or both colors, you'll have lots of style combinations to choose from.
Furnishings
There's a decoration rule that every room can use a touch of black. You can incorporate black in your living room accessories, light fixtures, furniture, rugs, or other decorative items. We can't emphasize it enough that it's all about contrast. Balance your living room decor arrangement without being too calculated.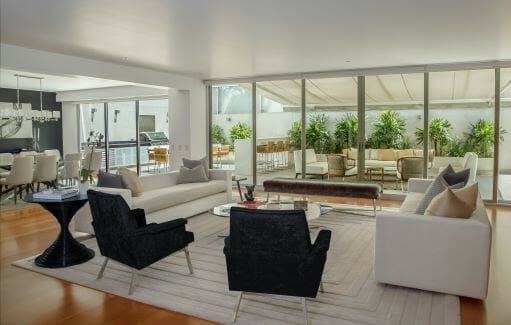 Creating a sea of black and white in the room entails planning and style direction. You can start by determining your accent piece like a chair and place it against a focal wall in the opposite color. So it can be a black couch against a white wall or the other way around. Then add bits of black with your armchairs, frames, shelf, or wall decor. 
Some ways to mix and match your furniture pieces is to have a white couch with your black entertainment center or a black sofa with white tables. Most living room pieces come in these two neutral colors so you have endless style options. You will even find striped black and white furniture which you could also experiment on.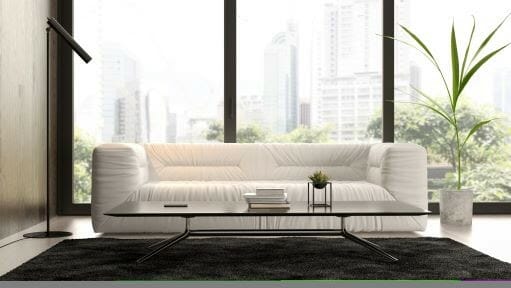 To coordinate all the pieces, choose the area rug color that will balance your monochromatic scheme or create a contrast to accent furniture.  
You can also create a nice black and white set-up by creating contrasts through living room furnishings like frames, lighting, lamps, or throw pillows. When buying these pieces, look for touches of black or white to blend with the walls, floors, or furniture. 
2. Texture and Accent Pieces
To add depth and break the monochromatic feel of your living room, use different textures. The opposing colors can appear flat so don't limit yourself to black and white paint. Play with surfaces and patterns. 
To achieve a warm and welcoming living room despite the neutrality of black and white, embed contrasting design elements to your space. We'll share with you tried and tested accent pieces for your monochrome color scheme.
Patterns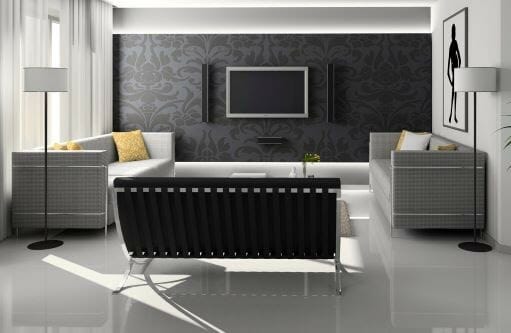 Instead of a painted accent wall, go for a black or white brick wall if you can. To add depth to your wall, place frames of the same color or total opposite for contrast. Try wallpaper patterns with the dominant color of your chosen shade. 
Fabrics
If you're still a bit worried that this design comes off as too clean and sterile, soften your living room with fabrics. Drapes on your walls create a nice flow to an otherwise two-toned room. Add that extra color depth and texture with your furniture, a throw pillow, a blanket over the chair, and rugs. These are actual soft decor that provides warmth and encourages relaxation.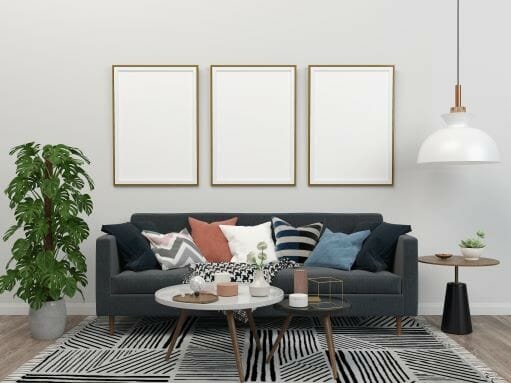 With light and dark interiors, use striking shapes and distinctive forms to add attention. If your living room area has borders of black and white, add furniture and decor items of different dimensions or figures to create some fluidity and vibrant feel to your space. 
Wood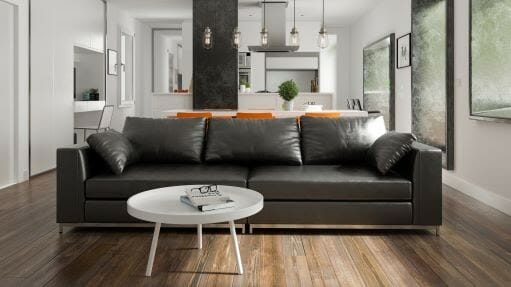 Black, white, and wood are a perfect combination. The contemporary contrasts of the two colors blend well with any shade of wood. You can keep the walls and furniture B&W while toning down the overall look with a wooden floor. You can also add wood panels on the walls for depth. Add touches of wood with the rest of the decor like furniture legs, picture frames, or woven baskets. 
Metal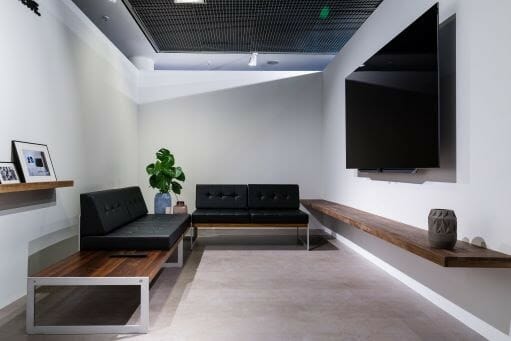 For a modern living room, B&W looks sophisticated with touches of metal in the design. Source out brass, silver, bronze, and gold to complement your B&W room. It can be in bookends, candleholders, centerpieces, chandeliers, and other decors. Place it sparingly for that luxe look.   
Plants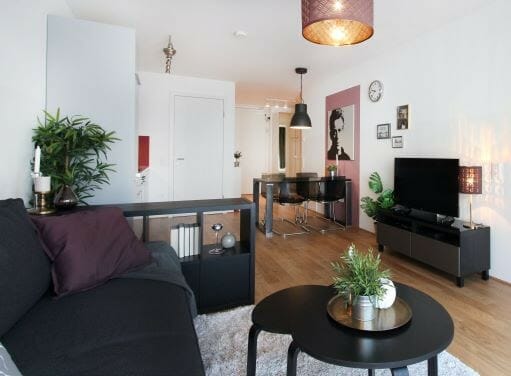 If you're still thinking twice and afraid that your B&W interior will look dull, the easiest design fix is to add plants and the right amount of flora in your living room. It doesn't even have to be an actual plant as you can place nature-inspired elements in your artwork or other living room decor. 
You can choose among the different ways to soften your black and white wall by adding any of the textures we've shown. Take caution against overdoing it. Choose one to two textures that you can tie in well to your monochrome interior design.
3. Colors to Soften Your Monochrome
Two tones don't mean you are limited to two choices. Black and white are not simple colors, they come in many shades too. The shades of black include ebony, charcoal, onyx, and jet among many others. There are even more shades of white in the form of snow, ivory, cream, beige, vanilla, and many more. Use the different shades of your B&W in your living room to arrive at a dynamic yet cohesive interior design. 
A black and white color scheme is the ideal canvas for adding other colors. If you have a favorite color but don't want to overwhelm your living room, choose a B&W style and add your desired color as accents all over the place. You'd be surprised how additional colors pop up against this monochrome backdrop.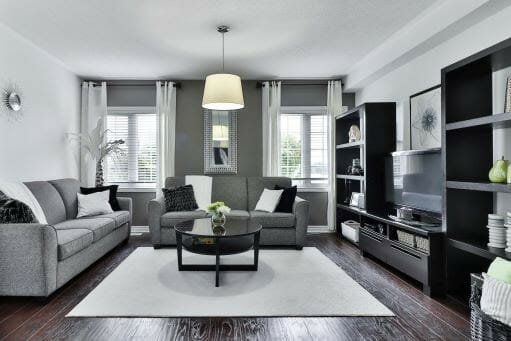 A neutral color that is in the top combination list is gray. It enhances the monochrome aesthetic as it can appear as a shade close to black but does not beg for attention. Instead, it connects the two contrasts achieving a refined living room space.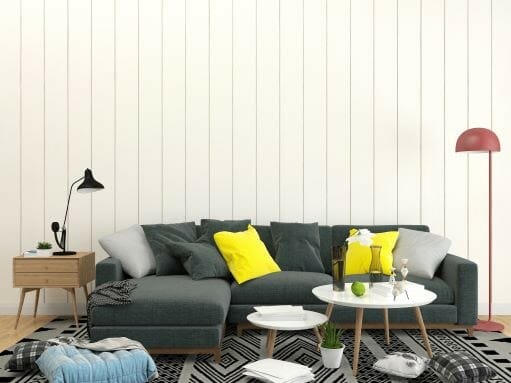 Stark colors that create a vibrant contrast and look great for accent pieces are red, orange, blue, and yellow. Add a few pieces or choose one piece of  furniture with any of these colors and that creates instant vitality in your neutral-themed room.  
If you want a more feminine touch to your living room, add pastel color tones. As a subdued contrast to the black and complementing shade to white, this will be eye candy and make your living room feel warm and cozy.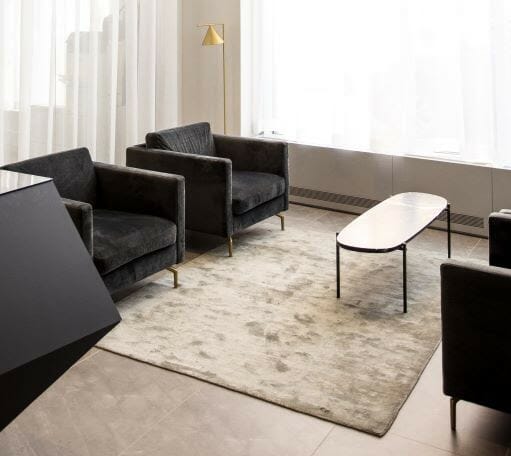 A classic combination that works every single time is black, white, and gold. It creates a feeling of luxury in your living room area. Add a few gold accents in your decorative borders, wall frames, lighting fixtures, furniture legs, and other trinkets for that subtle level of sophistication.
Final Thoughts
Decorating your living room black and white may seem overwhelming at first but we hope that with the three tips we've shown here, you're more confident to design this part of your home.
Start with where you want to place the monochrome design, decide which accent pieces you will use to add texture and add another color to soften the neutral mood. Black and white is the perfect color contrast. With that alone, it is less likely for you to make mistakes in blending because apart from each other, they complement any shade. 
The understated elegance will fit in any living room. All it takes is for you to take the leap and redesign your home with the brilliance that only black and white can bring.