Black Living Room Ideas: 12 Tips to Design Black Easier
The black color was always associated with mystery, yet this classic hue stands for wealth, elegance, and power in modern times. Black is a color that can give sophistication to your surroundings. And if you think that this accent is only for bachelor men living alone, then you are wrong, for black can bring a touch of drama to your living room. 
In general, the black-colored wall can play with different decorations suited to achieve your living room goals, now if you are so sure to change your living room design into a dark color. Then, compiled in here black living room ideas to give you the motivation to take the leap.
1. Vintage Style
The color black living room can be added with a brown mid-century type sofa because these sofas have a retro style and a vintage vibe that goes along your black accent wall.
As shown in the picture, having many lights in your living room can enhance the aura of the place and give a chic light to brighten the mood. Furthermore, a vintage fireplace is a sleek addition to your living room remodel. You can have it colored black and have a corinthian design to match the classic look of the place. Adding black paintings and tables is a good choice too.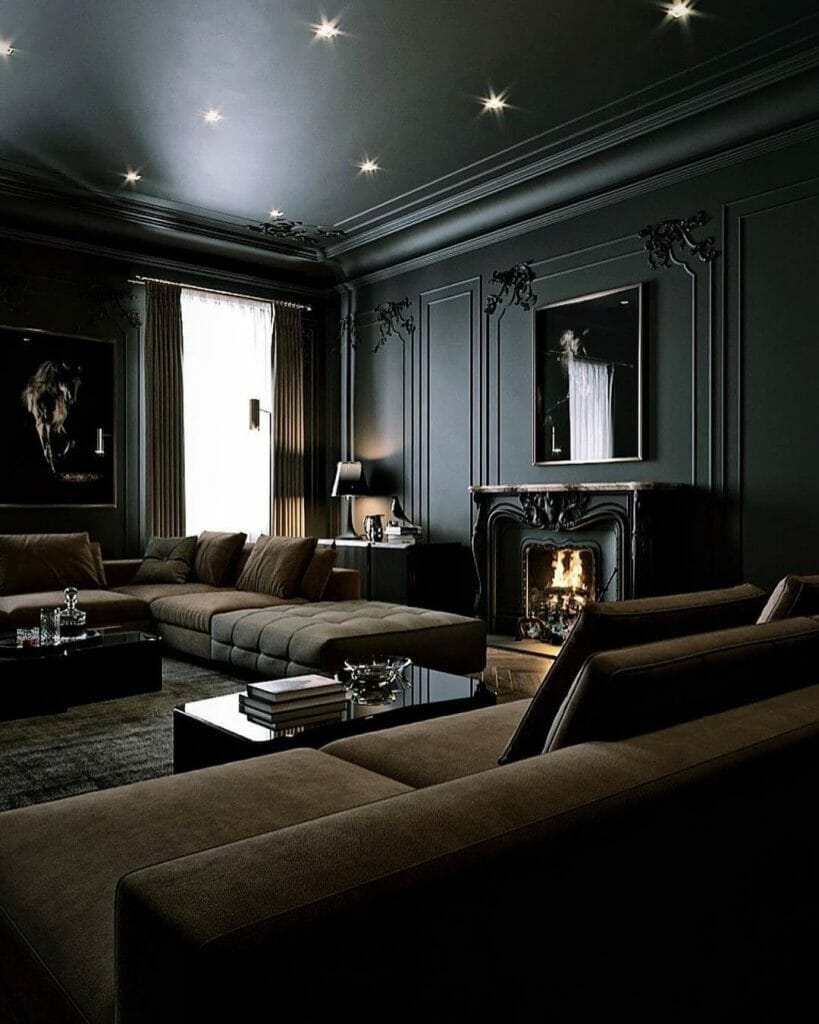 2. Modern Black Style
Make an added twist to your wall by having striped wall panels to avoid a smooth black wall. In addition, you can have a wood floor living room and add any furniture that goes alongside your floor color tones. Because you have the wall black, it's safe to choose a lighter black for your sofa, and you can go an all-black to tables and vases. 
Having the right type of light and color is also essential because you need to have a light to brighten the place in black wall paint. Make use of lamps and ceiling strips, and recessed wall lights to give light to the place further.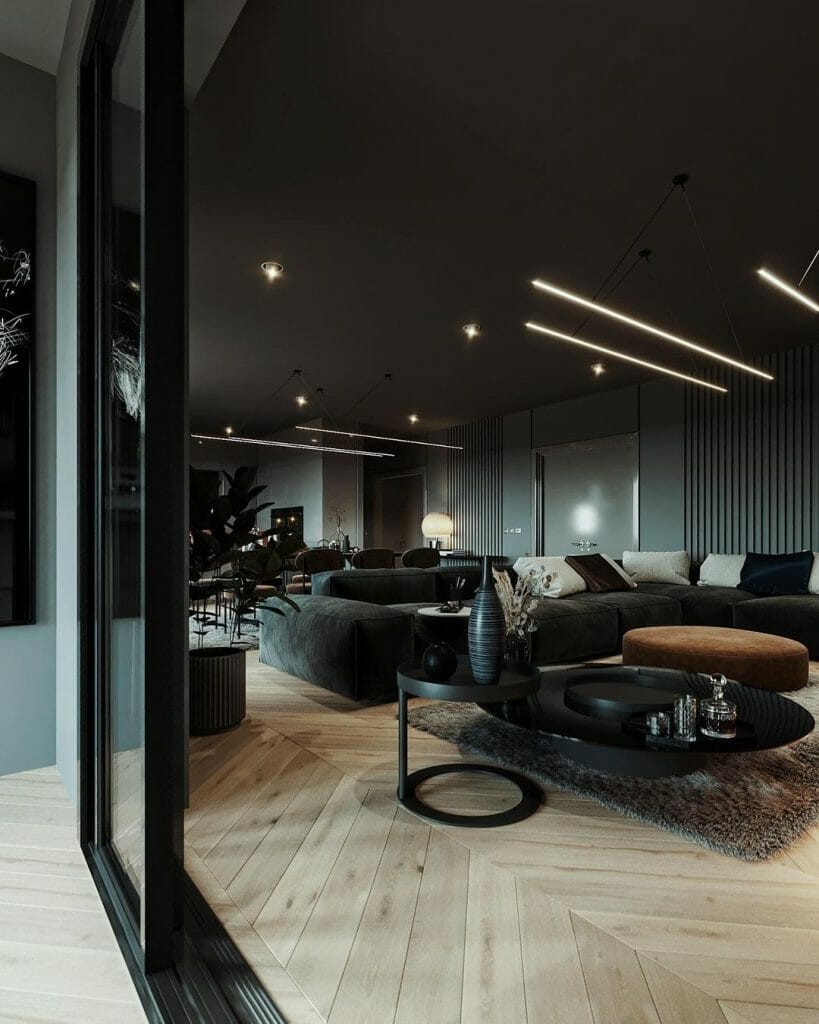 3. Bohemian Style
You can be unique and get your living room bohemian style. This design idea is perfect for people that want to have a lot of texture and liveliness in their home.
Wouldn't it be nice that as you enter your house, you are greeted with approachable interiors and cozy vibes. Most importantly, it can match your black paint, just as long as you play with the colors and patterns correctly.
First, provide a lot of texture in your living room space, add that basket, decorative artwork, books, furniture, Persian and Turkish rugs. Second, choose a light and low-level seating sofa for your living room. The light blue table does wonders in your living room as well. Add throw pillows, colorful paintings, and don't forget indoor plants. Make sure you have many plants in all corners of your living space and add a fun touch to your vases. Add lots of artwork.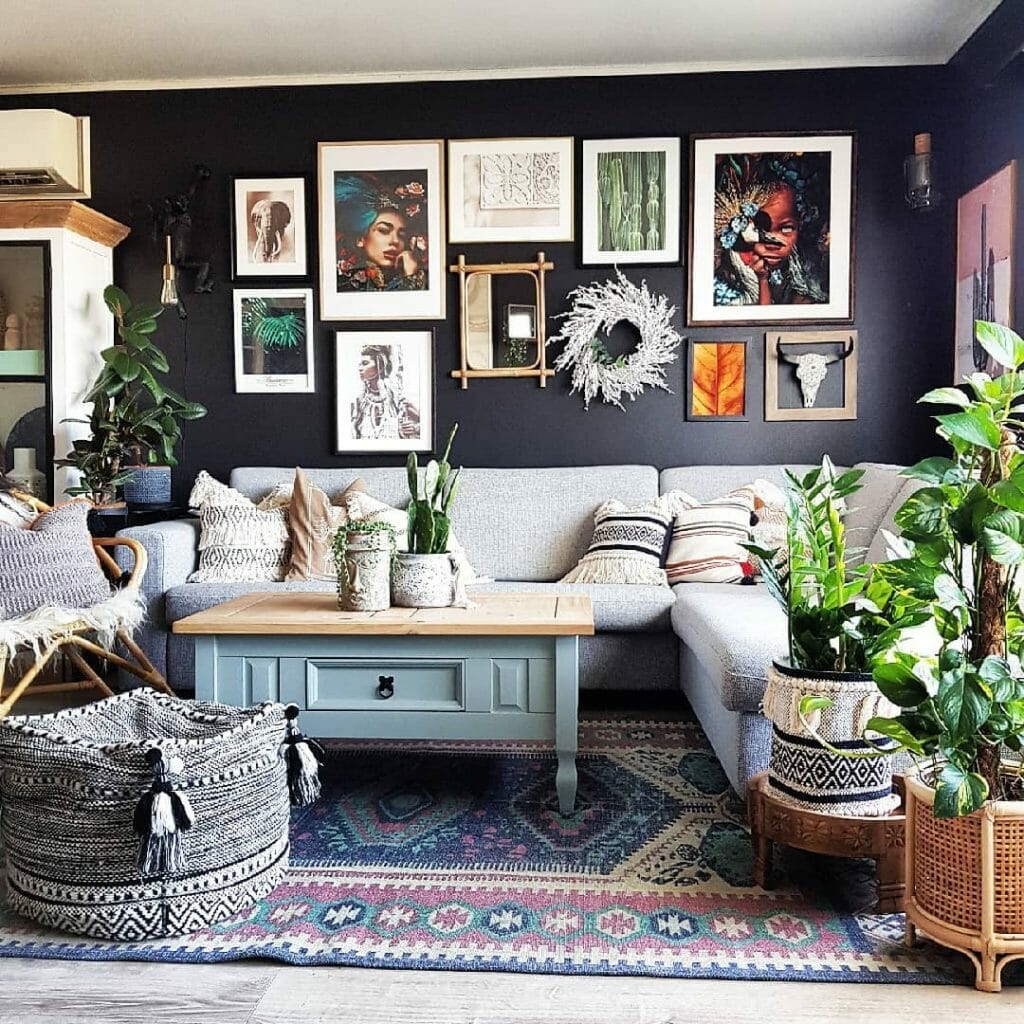 4. Traditional Style
Mix modern and traditional living rooms. You can add a modern fireplace to the center of your black room and add a light rug to make the place warmer and connected to your focal point.
Like the design, it has a mirror above that fireplace that will reflect the ambient light to the room. In addition, having darker decorations will make your items with color pop up and be the center of attention.
You can also use window blinds in the living room to have in on brown or more neutral colors to balance out the tone of the place. Be big on elegance as well as choose wooden furniture for your living space as well.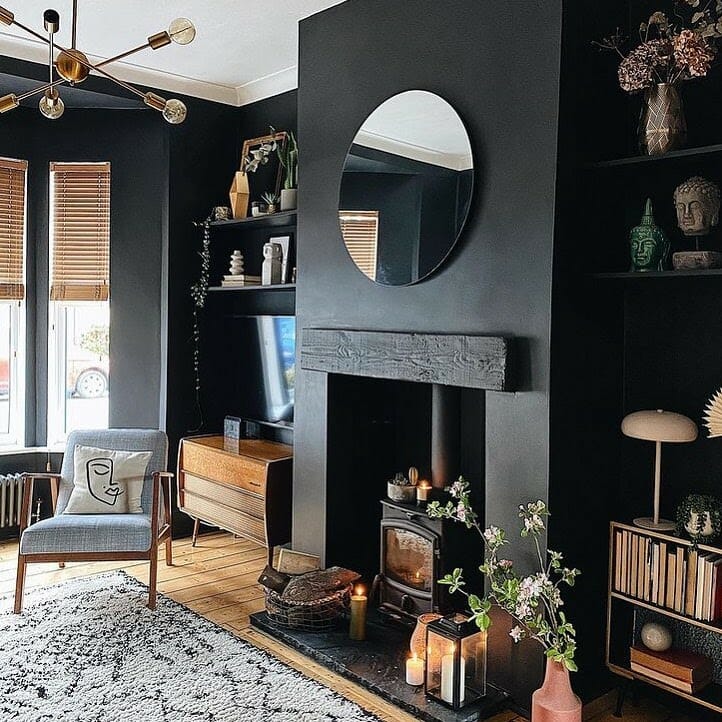 5. Classic Style
The Black Living Area can be simple yet elegant. You can maximize the place by adding modern white furniture, white lamps, or candles on the center of a wooden table. 
To brighten your mood, you can have a white ceiling to open a larger space to your perspective. Having a ceiling on white can make the lights brighter, and you don't need too many lights to brighten up the place. 
Add a touch of indoor plants to make the place warmer and for the plants to enhance your living.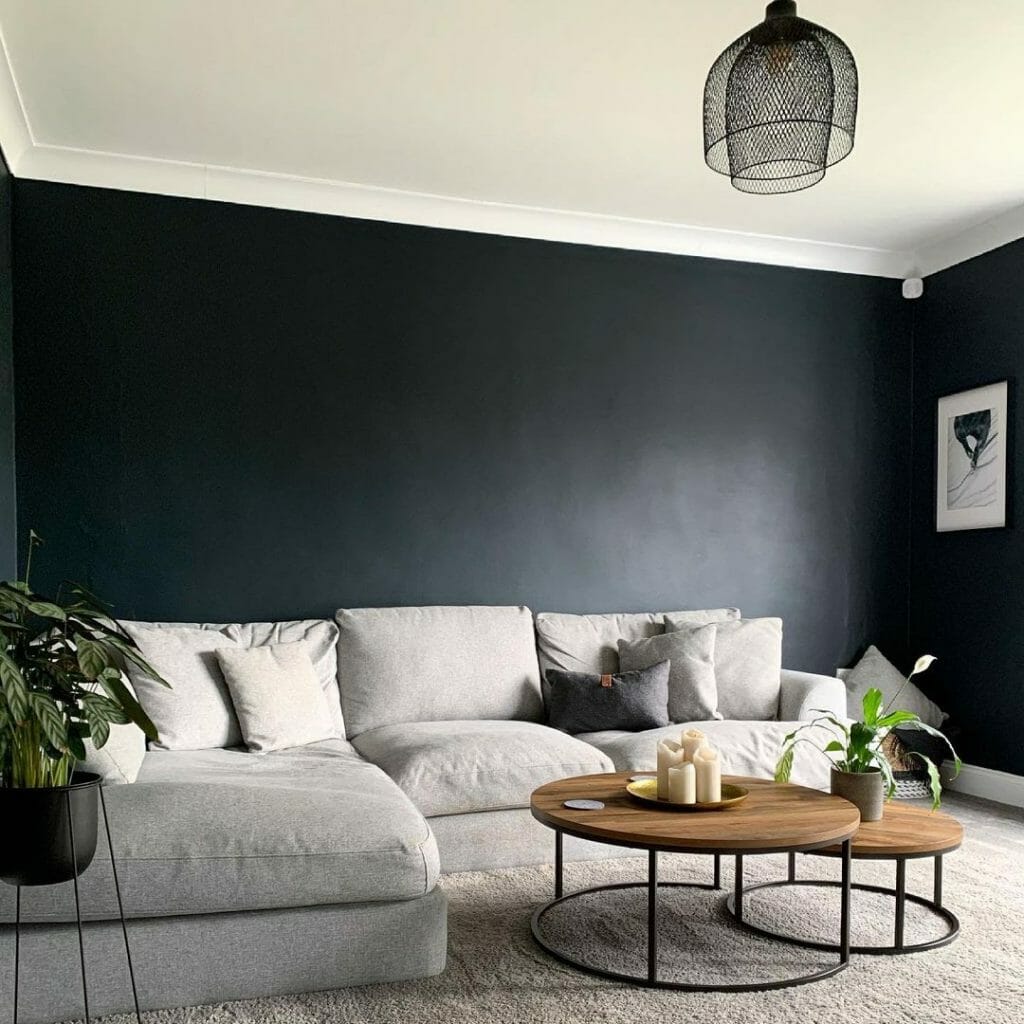 6.  Minimalist Style
Black is also a fantastic color for your minimalist living. Nowadays, many people switch to a simpler, no chaos, minimal stuff living, and one way to make your living room look full is to color it black. 
Incorporate a white curtain and a classic native chandelier for the place. The home's aura is fresh and so calming that it makes your living room a place to vanish all the stress from work.
The walls are also paneled on the background that provides added design to the place.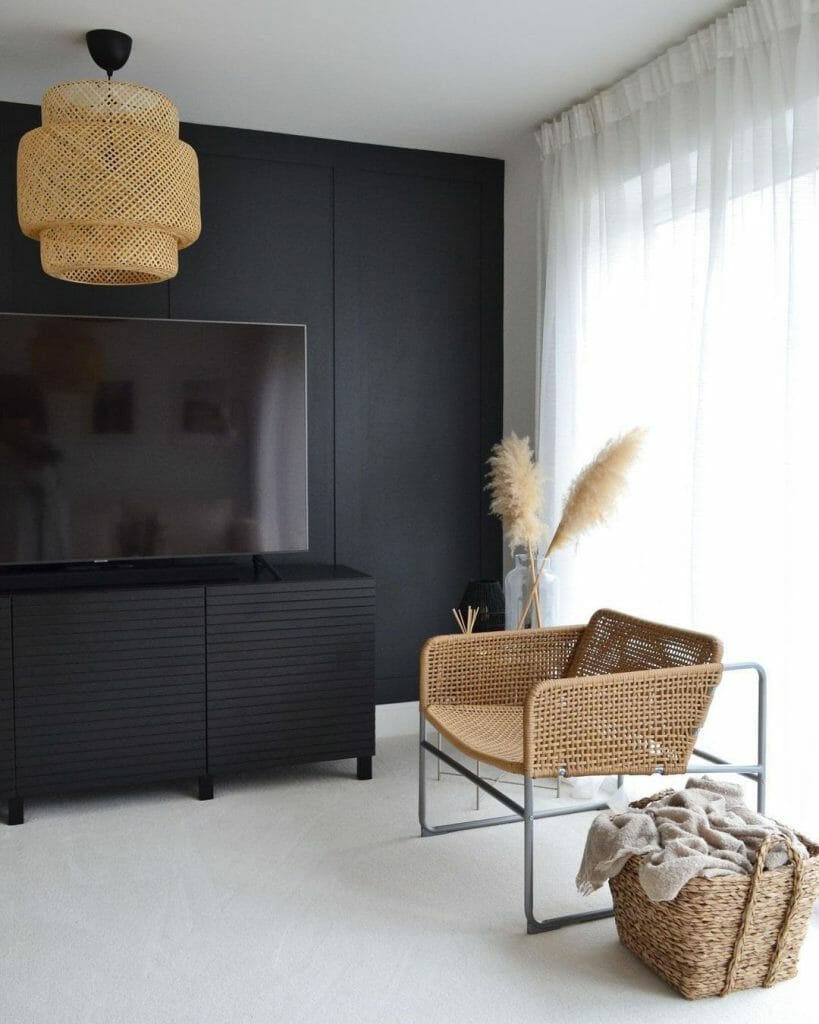 12 Tips to Design Black Easier
Listed in here are some tips to make it easier for you to decorate and give a more excellent feel to your place. 
1. Accent Black Wall
The Living Room is a place where all your friends, family, and officemates gather around, and if you are hesitant to make the change, you can have a Black Wall on the center while still, the surrounding walls remain light or white. The bold color will make a statement piece to your friends that you are not dull, you can handle dark colors, and you are full of power. 
2. All-out Black
Generally, some people love to design and are too busy to be bothered by these things. Now, if you are the latter type, then yes! You can go all out in black. Black does not mean that you are gothic, but you can get that black L-shaped Sectional sofa with your black table, black decorations, black chairs, and black lamp. However, you can add adorable pillows to avoid the place being too scary.
3. Monochromatic Accent
It's pretty easy to design your living room space if you follow a monochromatic scheme. In this case, black is your main hue; then, you can choose a color related to black, get a gray couch, a lighter shade of black for a piece of furniture, and grayish stuff.
4. Wooden Style
If you are having a dilemma in choosing the right furniture, then go for a wooden one. A wooden accent can soften and lighten your black colors. Thus, having wooden furniture and decorations can make your living room inviting and warmer to the eyes as woods also correlate with trees in nature.
5. Black Floorboards
You want an added style to your place, but you are on a budget? Then paint your floorboards black. Of course, it is easier if you have wooden floors. But in any case, if you can manage to achieve it, then go for it. Further, add a lighter tone for the rugs. Also, by having the floor black, you will not be stressed out by constantly cleaning your floors.
6. Vibrants Tones
Incorporate your place with vibrant tones that will ultimately pop up because of the black background. Be artistic and colorful in your living room. You will be amazed how having a black color on the background will make your colored furniture and items more pleasing to the eyes.
7. Pair Black with Brown 
Black is not just for white, but it can be a loyal partner to brown hue. Like wooden furniture balances out the place and an additional brown sofa, brown decorations can create a warm vibe and a sense of neutrality to your home.
8. Dark Gray
If you are hesitant about a black living room, you can always settle for a lighter shade of dark gray. Dark Gray works fine in a living room and gives you an elegant, formal, and classy office look.
9. Animal-Prints 
Be quirky and fun as you play patterns in your black living room. Animal prints are such a bold statement in your place. It is retro and vintage to the eyes that is a combination of modern and traditional style.
10. Floral Wallpapers
Floral wallpaper is a great design to add to your living room. The Black background can enhance the colors and the design of the floral decorations. You can add a silver or a metallic feel to make the floral wallpaper more elegant and suited to the place. 
11. Elegant Chandeliers 
You can never fail if you have an elegant Chandelier in your Black Living room; it will provide you with a wonderful refracted light and serve as a center design of the place. The Chandelier will give perfect symmetry to the dark surroundings.
12. Gold Accent
Gold is such an excellent combination for your black room. The variety of the two hues will make the room richer and modern. The Black background will enhance the gold color of your place. You can either choose a golden couch or an item of golden metallic furniture. A golden lamp is an excellent idea to have in your living room space as well.
Any choice for the color of your living room is a good and valid choice as long as you make an effort to style and make it an attractive and loving place. A Black Living room can either make a bold statement or transform the home into a cozy one. Help yourself design by mixing all the tips stated above to achieve a black living room for yourself and your family.