15 Tips on How to Decorate a Minimalist Living Room
When it comes to what's hot and what's not in interior design, a minimalist living room has always been included in the charts. Usually, one would expect that trends like this would eventually fade out, but minimalism is still one of the top choices when it comes to home design.
Minimalism in itself is a dream for those who wish to live a clutter-free life. Because it's heavily focused on getting rid of unnecessary things in your home and promoting simple living, this type of style has become so in demand. 
If you want to live a minimalist kind of life and adapt it in your home, you can start with one room after the other. For this instance, listed are some simple hacks for a minimalist aesthetic living room.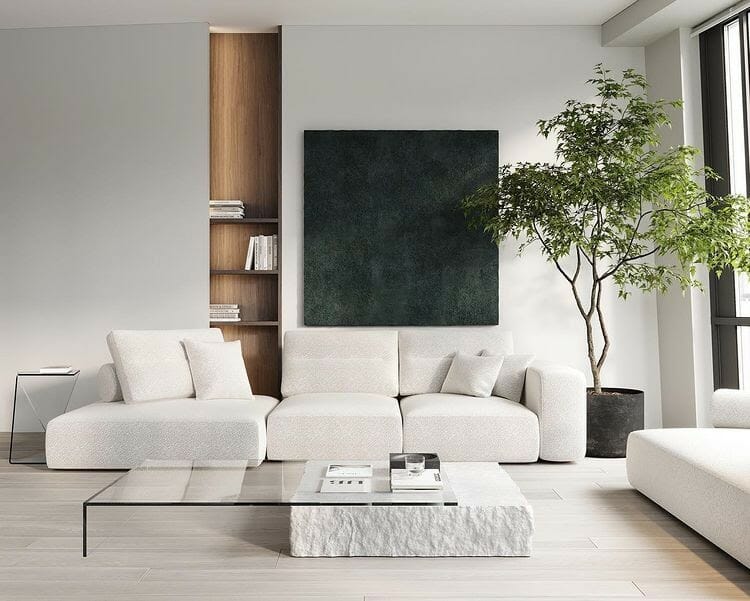 Begin Purging 
If you've been watching home renovation shows that focus on minimalism, you will notice that the first order of business is always to declutter. To completely transform your living area, you need to start with a blank canvas. 
When you start decluttering, evaluate every piece of furniture and decor in the room and determine what you need to keep and what you need to store or throw away. After you're finished with that, you can start the process of examining the space that you're left with to start with your makeover. 
Plan the Living Room Layout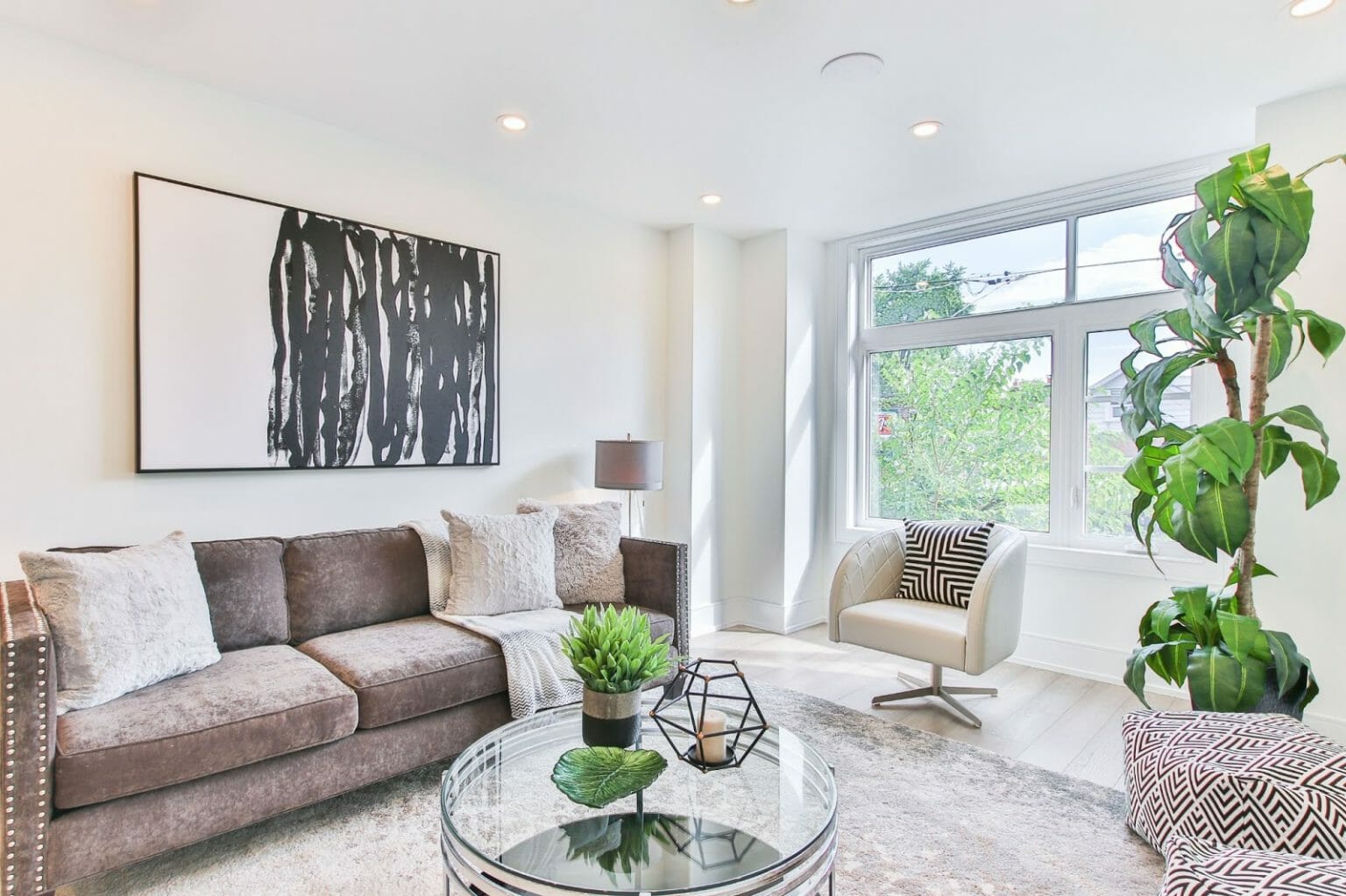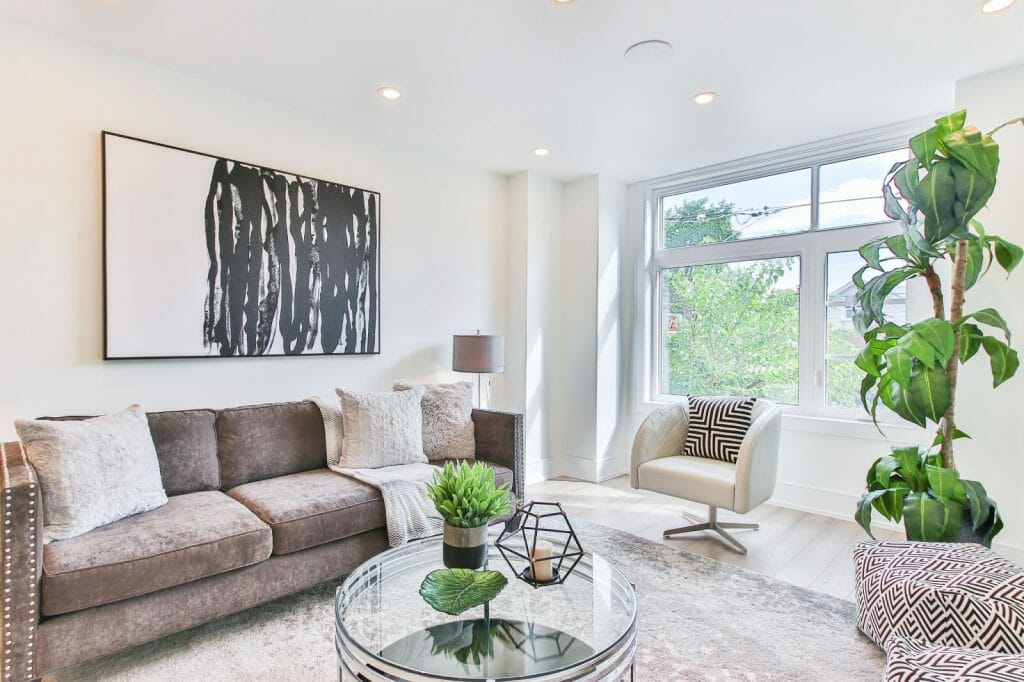 Overhauling a room can be tiring especially with all the cleaning, storing, and moving of furniture. To make sure that you don't waste precious time and effort, it's best to have a living room design already prepared. For example, if you have a small floor space, then it's better to get a smaller couch. If you already have a big sofa, then you might want to downsize the coffee table. 
If you've carefully assessed the living room space and have your furniture and decor ready, envision where each piece of item goes. This way, you won't be moving around in circles when you start your redecorating process.
Pick Neutral Tones for Walls
When it comes to wall paint, it's recommended that you stick to a neutral color palette to keep everything light and clean. Light-colored walls also reflect light more effectively, giving the illusion that the room is bigger and brighter. 
If you want to use wallpaper instead, you can do so but make sure to pick something with clean lines. Moreover, you can also use it for an accent wall in your minimalist living room. 
Bring in Natural Light
There's something about natural light that makes a space feel more alive and homey. So, if you have large windows in the living room, allow the light to come in.  Aside from saving money from your electric bill, getting a daily dose of vitamin D is also good for your health.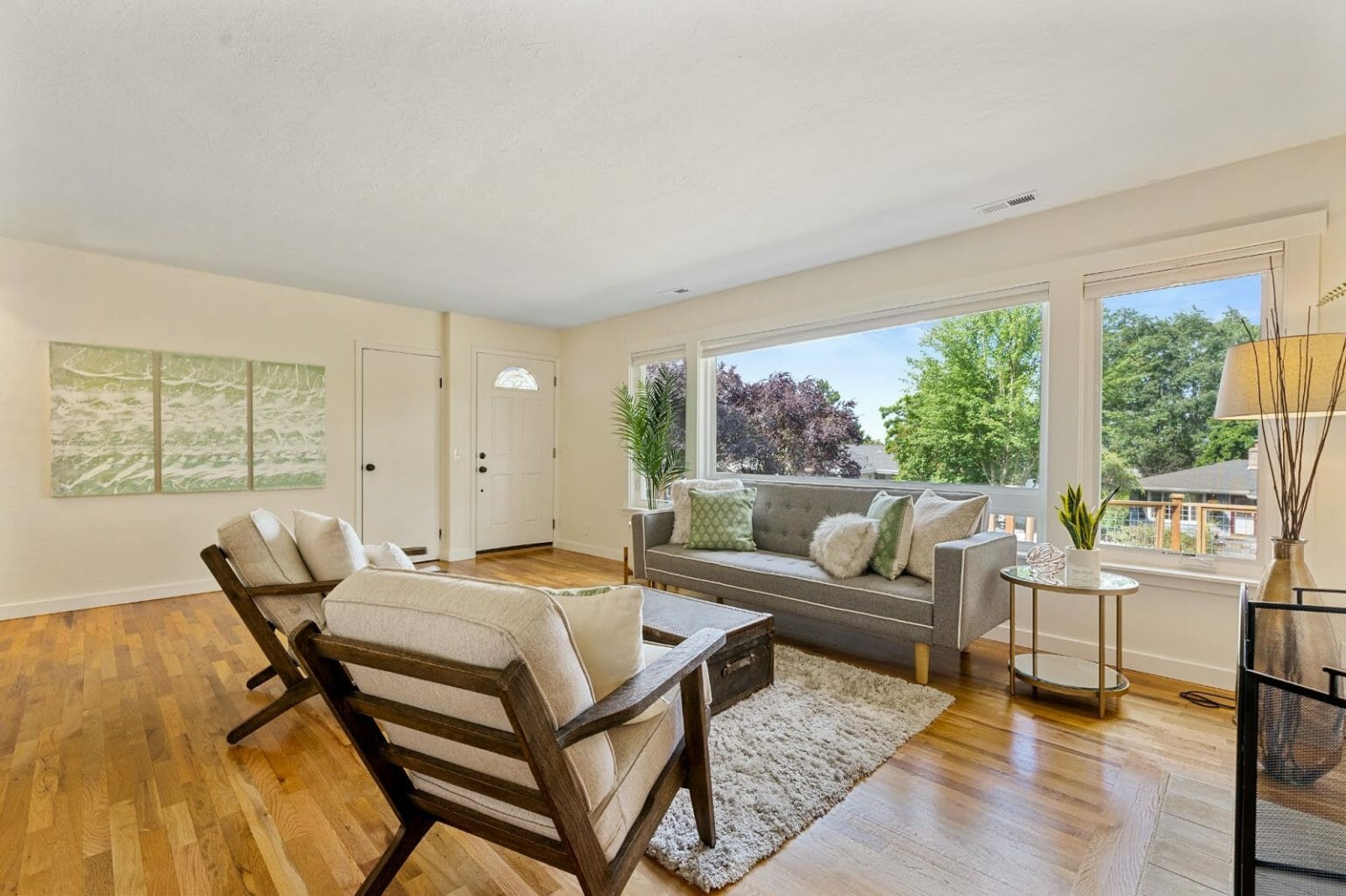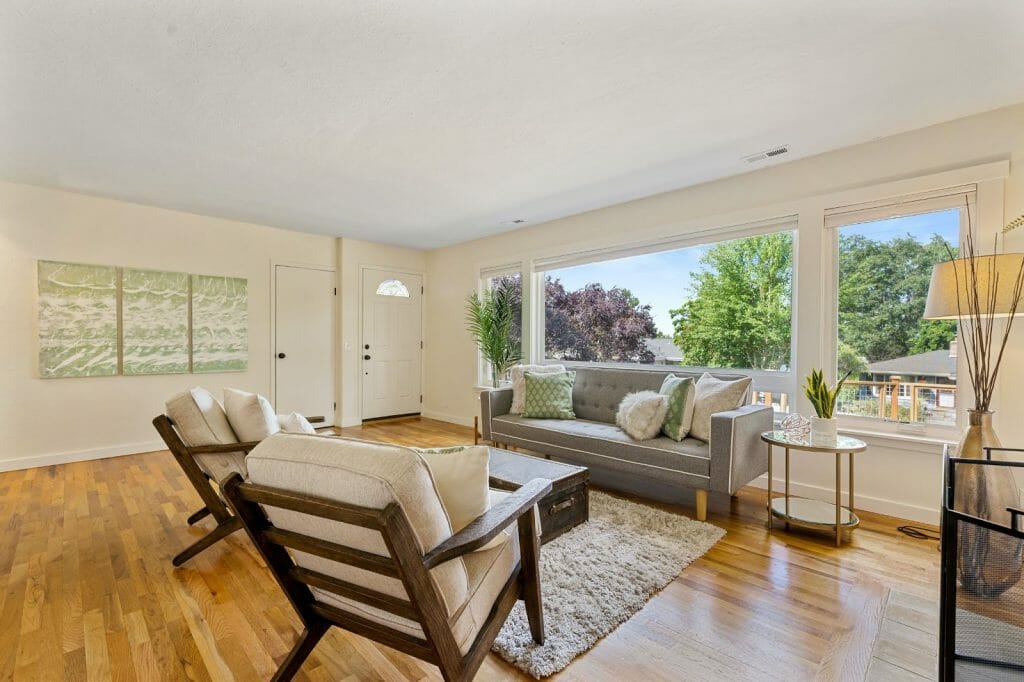 If you have a small living room space, take advantage of your windows. Also, pairing natural light with walls of neutral colors in the living room is always a staple in any minimalist interior design. The walls will reflect the light coming through which then provides additional brightness to the room. 
Organizers Are Your Friend 
Ideally for any home, every item should have its designated spot. This is one of the most important rules in any minimalist design book. To keep everything organized, make organizers your best friend. 
Store furniture, decors, magazines, and other items where they need to be. Get organizer cabinets, racks, or drawers to keep things away if they're not being used. Not only will the living room look tidier, you'll also be able to keep track of where to look for things in case you need them. 
Opt for Multipurpose Furniture 
Minimalist living rooms often have multipurpose furniture because of their clear advantage. Since living minimally focuses on simplicity and functionality, it's good to purchase items for the living room that can serve a dual purpose. 
For example, sofas that turn into beds come in handy when you have guests over or stools that can be used as storage. In particular, if you live in a small space, picking out multipurpose furniture will help you maximize your space.
Decorate With Plants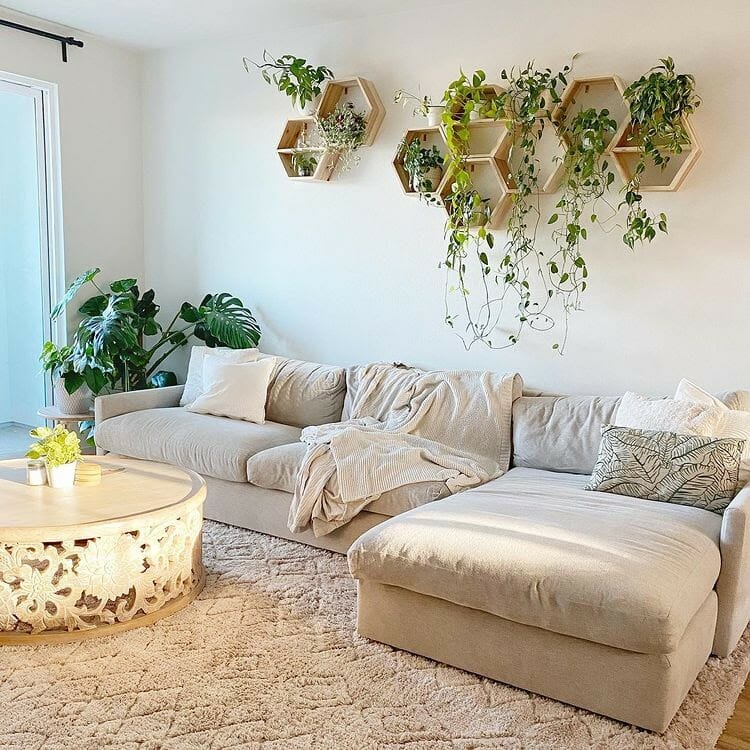 You can never go wrong by bringing in plants in the living room. Whatever your chosen style may be, having plants around the house is always a good idea. It's one of the best and most effective ways to effectively add a pop of color in your living space. 
For instance, if you're going for an all-neutral-colored living room, adding a floor plant on the corner will instantly brighten up the area. Go for something big, like a big rubber plant placed near the window or a few succulents on the coffee table or side table. 
Decide on a Focal Point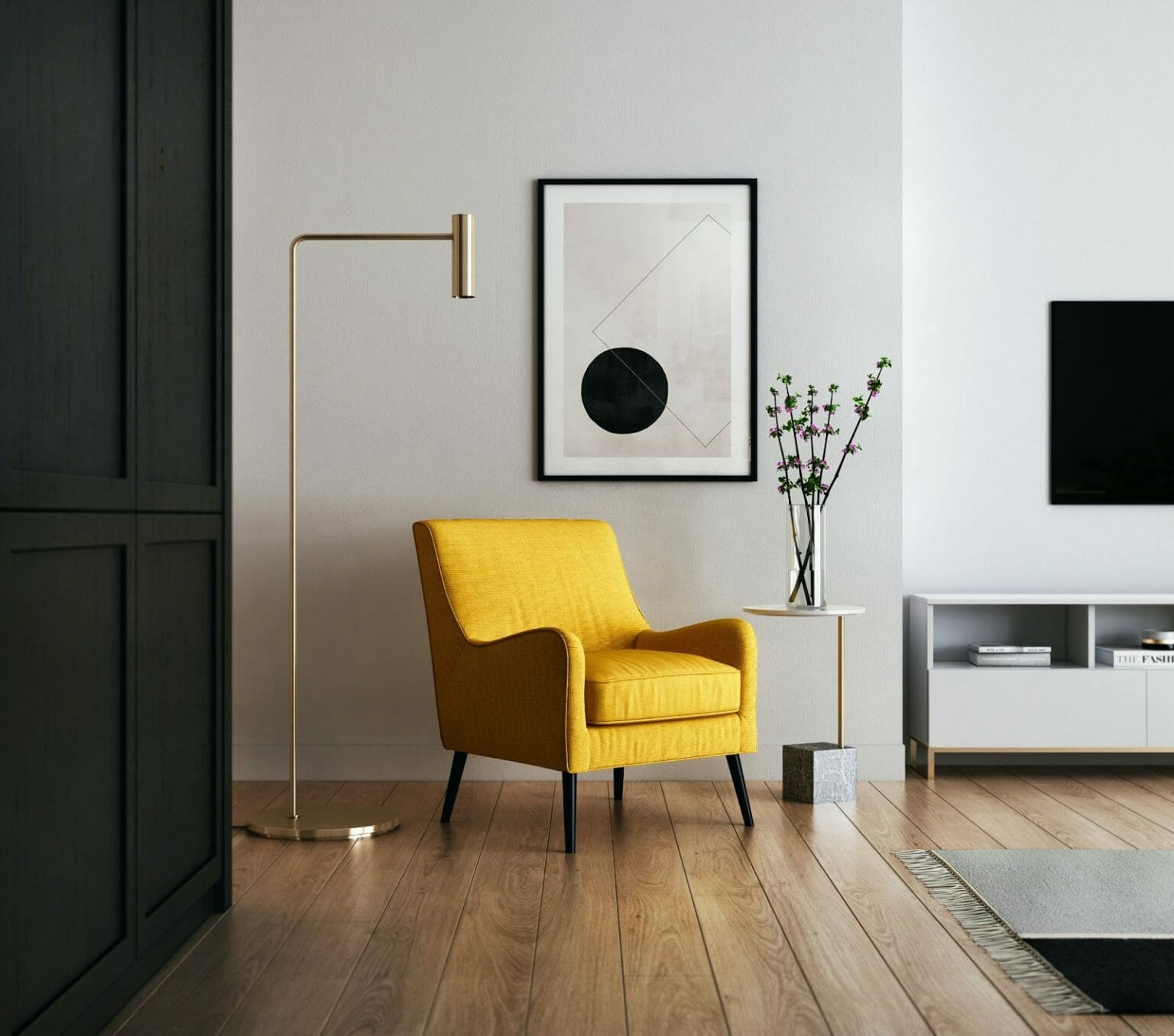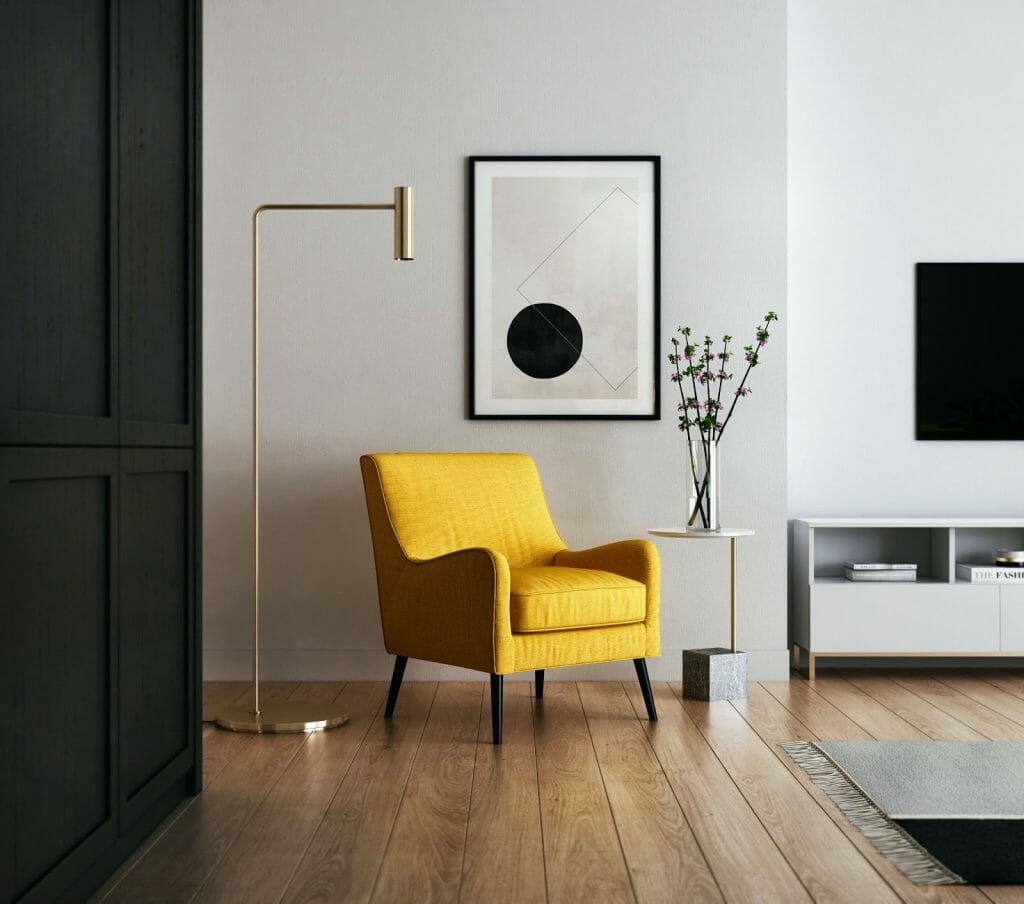 When decorating the living room, use a focal point that will serve as a balance for all other furniture and items around. Whether it's a large mirror, a wall painting, an accent chair that you got from a thrift store, or the uniquely shaped coffee table that you just had to buy – creating a focal point makes sure that there's harmony among all the pieces that you combined. 
Invest in Good Quality Items 
Minimalist living room ideas often highlight the concept of "less is more". So, when choosing to get furniture and items to use, make sure that you are getting something of good quality that will last for a long time. Because you won't really need to buy a lot of things, why not invest more money on the important pieces in the living room like a study sectional sofa or a hardwood coffee table? 
In the end, it's much more worthwhile to buy items that are a little more expensive but are made from superior materials than cheaper ones that might not even last for a couple of months. 
Maintain Clean Walls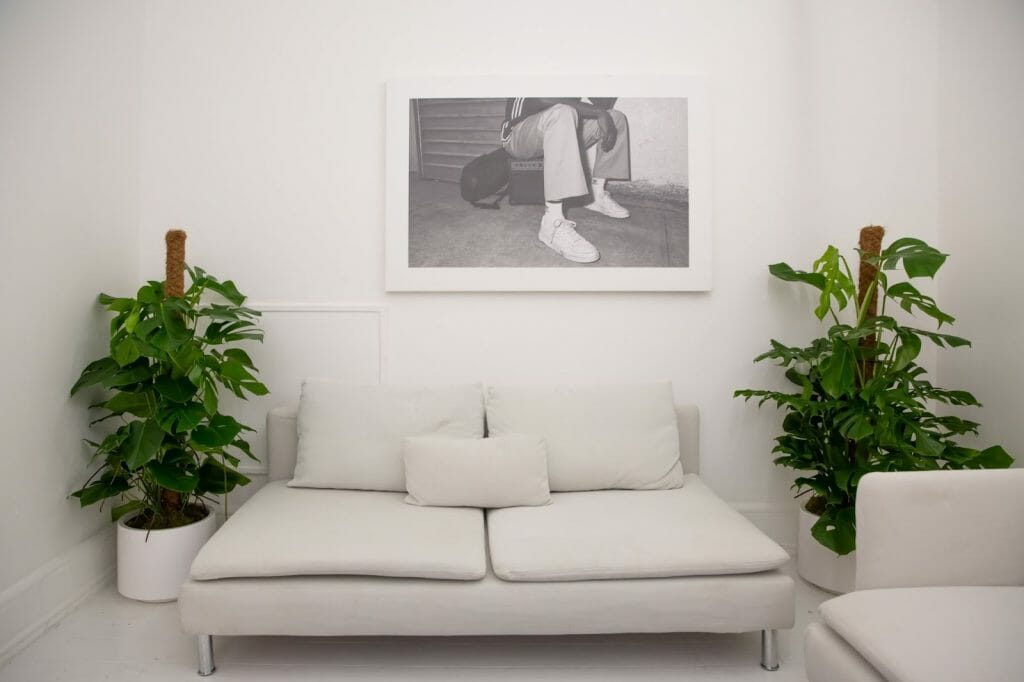 This does not entirely mean that you have to keep the living room walls bare. But if you plan to put up wall art or portraits, make sure that it matches with the whole design. To give you an idea, one large framed piece of artwork will look nicer in a minimalist home rather than a few art pieces hung irregularly on the wall. 
Use Shelving Units 
Instead of buying a very big cabinet, why not install shelving units or floating shelves that are more modern and a little more stylish? Aside from getting more space for your books, decors, plants, and other knick-knacks, they could also serve as decoration especially when the space is too bare.
Use Mirrors to Create an Illusion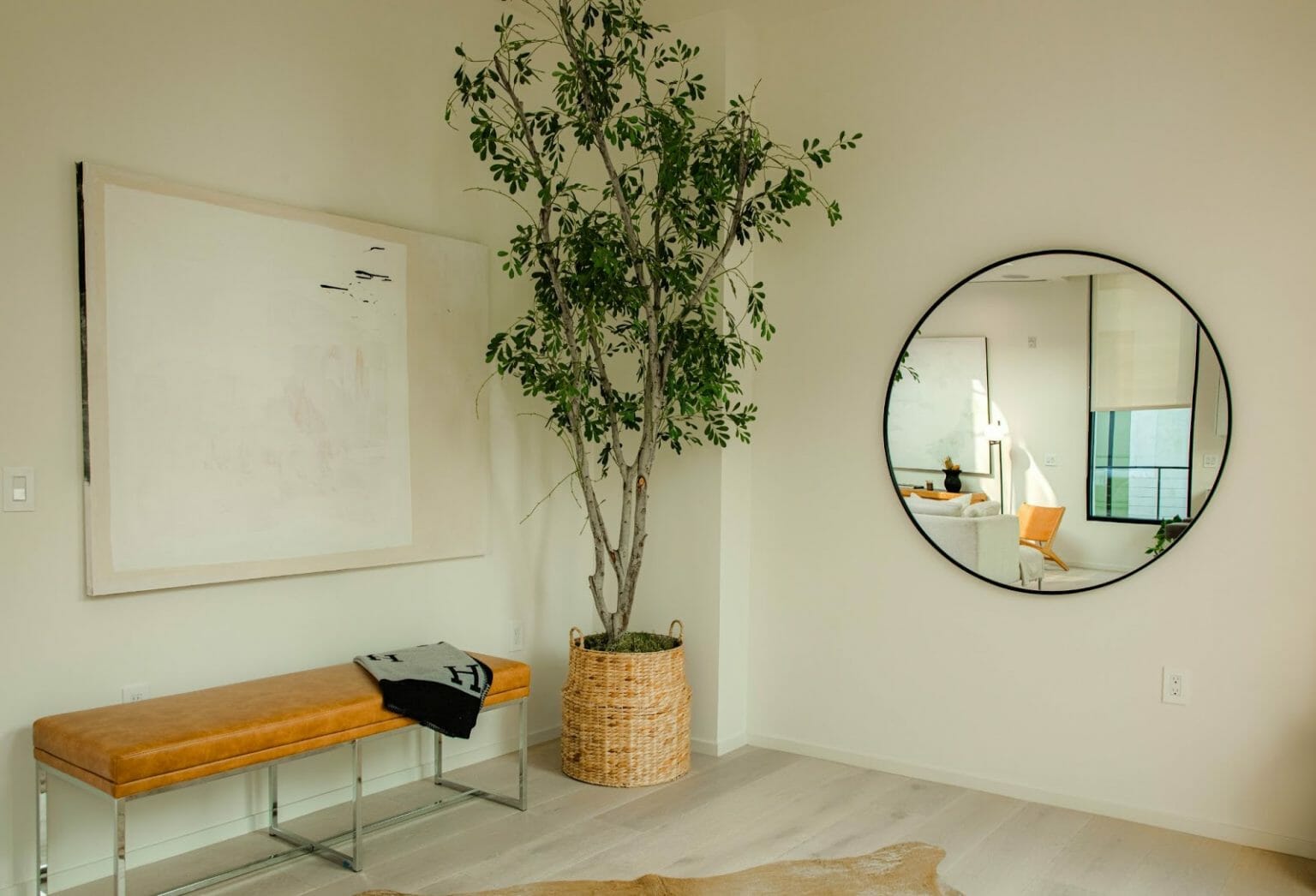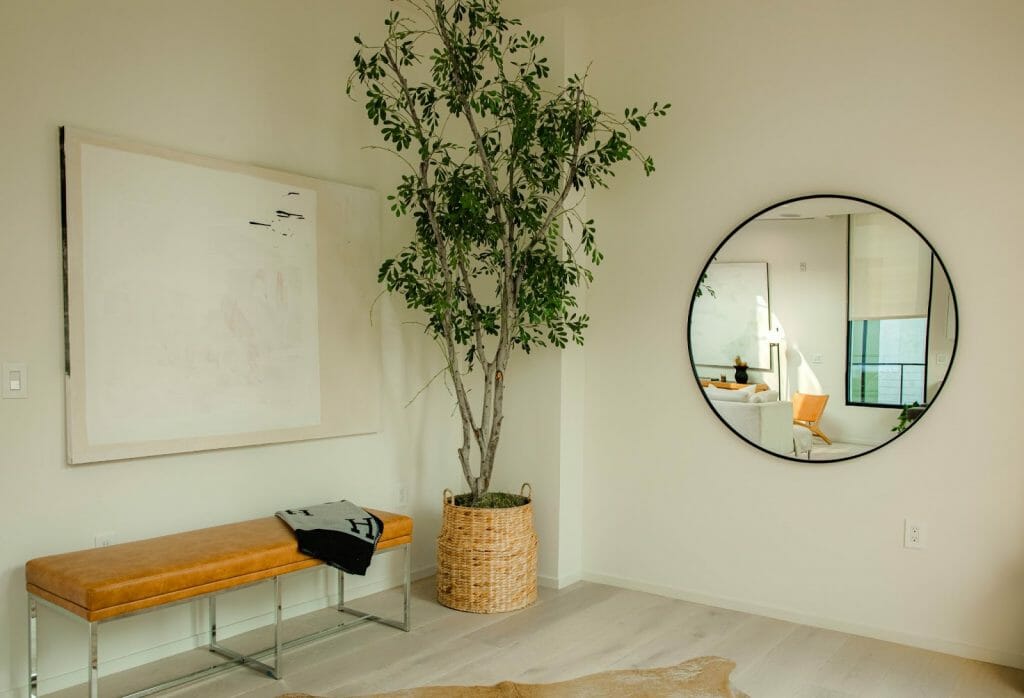 It's an old trick but it's tried and true. If you have a small area in your house that you want to appear a little bigger, then adding mirrors will do the trick. Because mirrors reflect light, they can add depth and create an illusion of a bigger space. You can add a full-length mirror on the corner of the living room or a large one just above where the couch is. 
Don't Be Afraid of Textures 
You shouldn't be afraid to use different textures when it comes to giving your living room a minimalist makeover. Sometimes it could be a little challenging to choose the right pair, but with the help of some minimalist living room ideas on PInterest, then it shouldn't be that hard. 
For instance, a white wall would work really well with natural colored wood. A fuzzy carpet can be paired with a leather sofa. You can also mix and match throw pillows on the couch to have a little more variation. 
Get a Sectional Sofa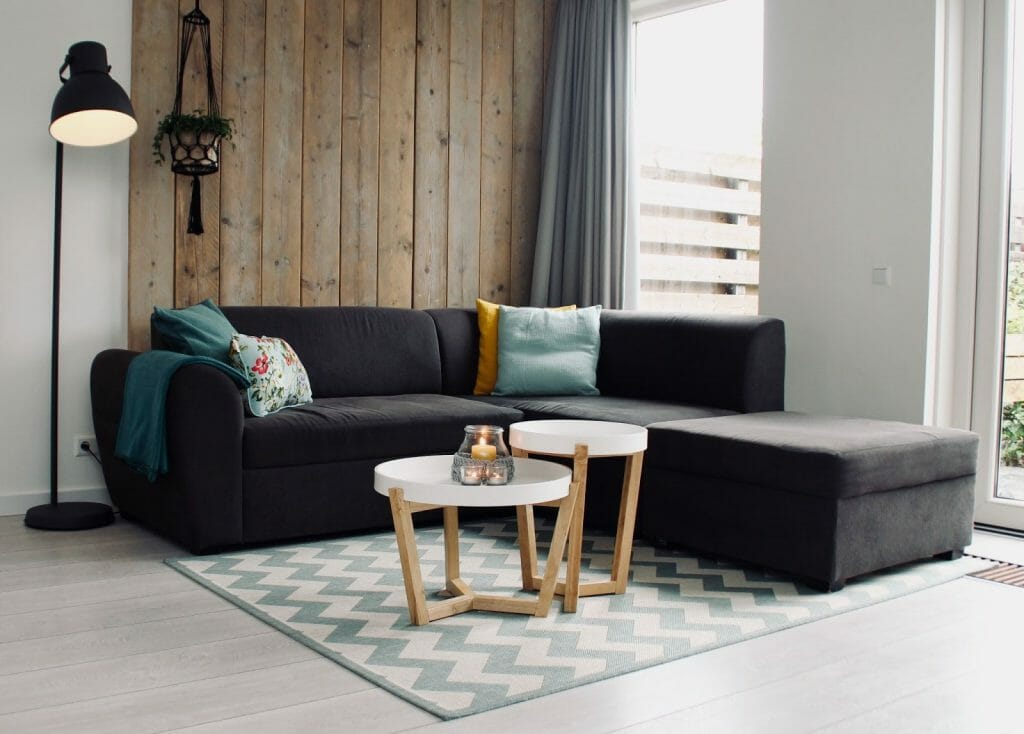 Sometimes, the traditional three-piece sofa style doesn't work anymore. When thinking of minimalism, a more modern and sleek approach would be a sectional sofa. Not only does it look chic, but it also provides more seating capacity for guests especially if your living room is a little on the small side. 
You can choose a neutral one which would be perfect for any kind of interior design or opt for something darker that can camouflage any accidental staining. 
Open Floor Divider 
If you have an open floor plan which usually combines the living room and the dining room in one area, it would be best to have some type of divider to maximize square footage and to create some sort of division. 
You could either place two different rugs to create some distinction between the living room and dining room. The sofa could also serve as an informal divider just so the two spaces are categorized. 
Additional Tips to Maintain Your Minimalist Living Room 
Keeping away all the unnecessary distractions and having things basic and simple really helps in maintaining a peaceful atmosphere in your home. Now that you've achieved a minimalist style, you now have to keep it clutter-free. To help you further, here are some useful tips to keep things neat and organized.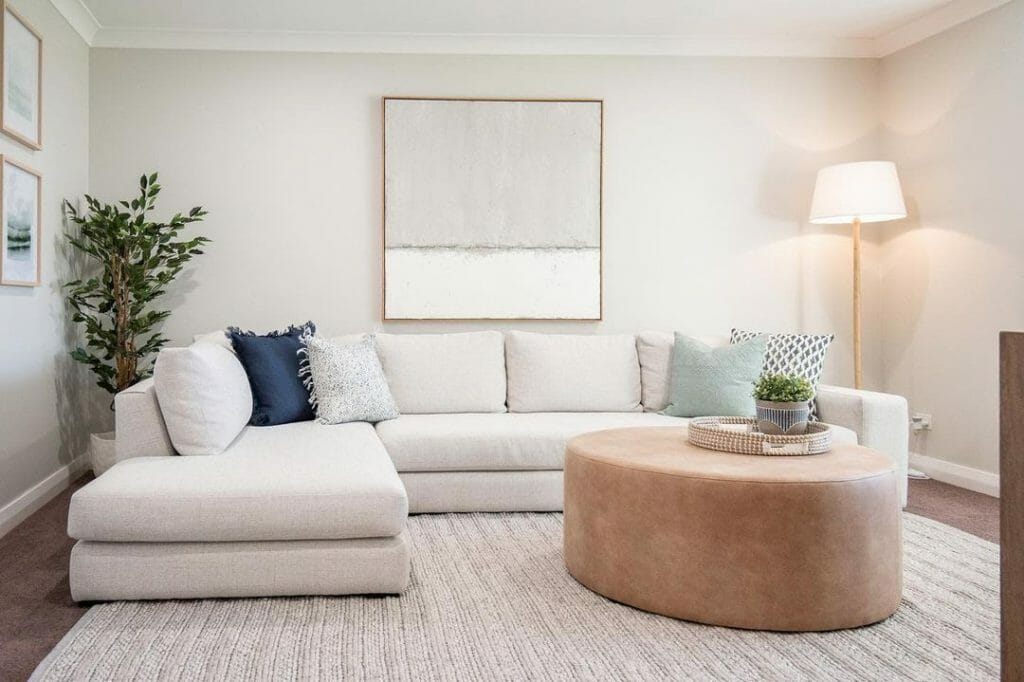 Clean As You Go
The most effective way to keep your living room area minimal is to clean as you go. This means that if it's time for bed, fold the blanket nicely and put it in the storage bin where it used to be. Arrange the throw pillow neatly. Put back the remote control on the correct spot. Vacuum the carpet for the food crumbs that fell when you ate some chips while watching TV. 
If you practice the habit of constantly cleaning right after, then you won't feel burdened to have to spend all day cleaning the living room on a weekend. 
Replace Big Furniture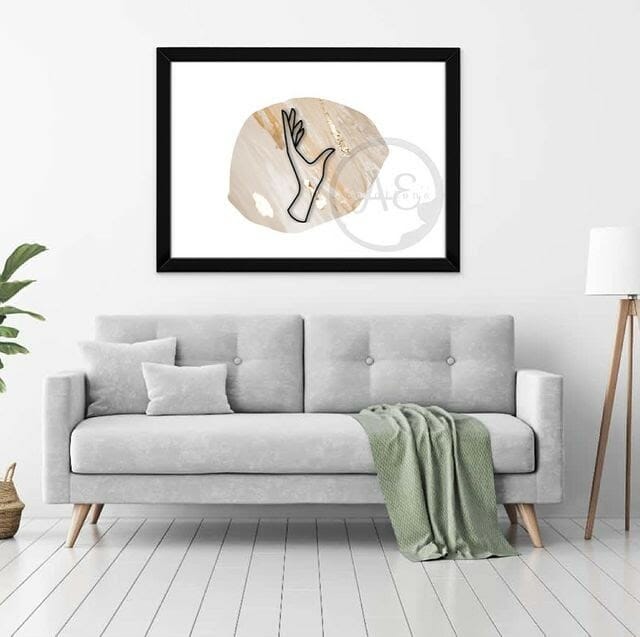 Get rid of big bulky furniture that makes the living room look crowded. Pick a smaller furniture that is simple, straightforward, and one that does its purpose. Instead of getting a big cabinet shelf for your books, consider floating shelves that are not only modern but also great space savers. Choose minimalist decor instead of flashy ones. 
Out With The Old, In With The New 
If you're planning to edit your furniture and decorations, you need to let go of old ones to make room for new ones. That's just one of the cardinal rules of minimalism. 
If you're planning to get a simpler coffee table, then it might be best to edit out your old side tables that serve no purpose anymore. Similar to decors, if you want to display a few but bigger statement pieces, then it's best to store away the little trinkets. 
Knock Down Walls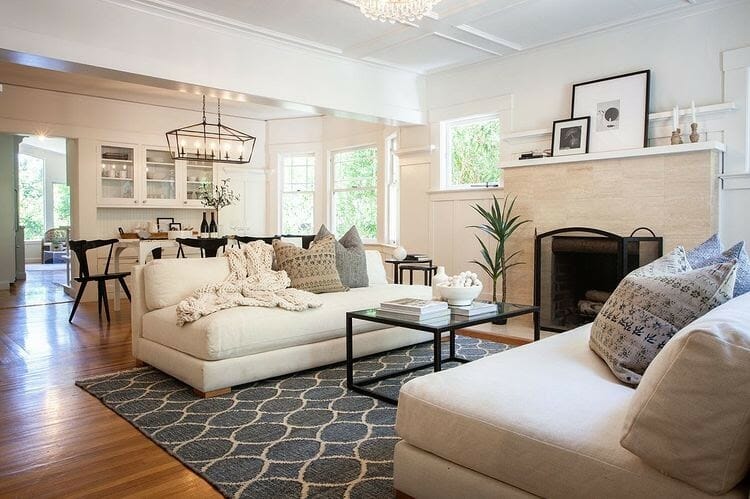 To create an open floor plan which is popular in minimalist design, then knocking down some unneeded walls will be necessary. Perhaps, you have an existing wall divider that doesn't make much sense. Then, getting rid of it will not only make the space more open but will also add square footage to the living room. 
Get Rid of Anything Extra 
Take a step back and examine your living room. Does it need anything else to balance it out? Or perhaps, there's too much going on and you need to remove some things already on display. 
Sometimes, people don't realize when to stop decorating when it comes to minimalist design. So, if you find yourself in this position, reexamine your design concept and get rid of anything that shouldn't be there. 
Think Before You Buy 
It can really be tempting to hoard decorative items and home essentials, especially when they're in the clearance section. However, if you already have a big glass vase, then you don't need another one. Likewise, if you already have a floor lamp, then there's no need for any additional table lamps. Before you go on a shopping spree, make a list of what you already have in order to avoid overspending. 
Constantly Edit Your Space 
Find ways to edit your living room every once in a while. For example, switch the layout of your furniture or replace old photos. It doesn't have to be a major overhaul but changing up little bits and bobs might just be the answer to keep your living room space fresh and rejuvenated.