15 Tips on How To Decorate Your Living Room Red
When Audrey Hepburn said there's a shade of red to every woman, we also believe there's a touch of red to every home. 
What better place to display this warm color than your living room? Red evokes different emotions with its myriad of shades and varying intensity. Red is the color of passion, excitement, and warmth. It can be that radical pop of color that complements your subdued neutral living room design or take unapologetically center stage and extend that intimate welcome to your home. Not many people realize the flexibility of this shade to welcome and wow your guests.
Since you landed here, it means you already have the seed thought, "what about red?". We say, go for it! If you believe in feng shui, it can make everyone happier and more sociable so it's perfect for the living room. For designers, red is a positive, stimulating color that can cheer you up and liven up gatherings in your home.
To get you started, we'll give you our curated list of 15 ways to decorate your living room red that you can apply to any room size. We compiled the best designs and hottest tips to stylishly add the red color to your living room space and give that warmest of welcomes to your home. 
1. Feel the Red in Your Fabric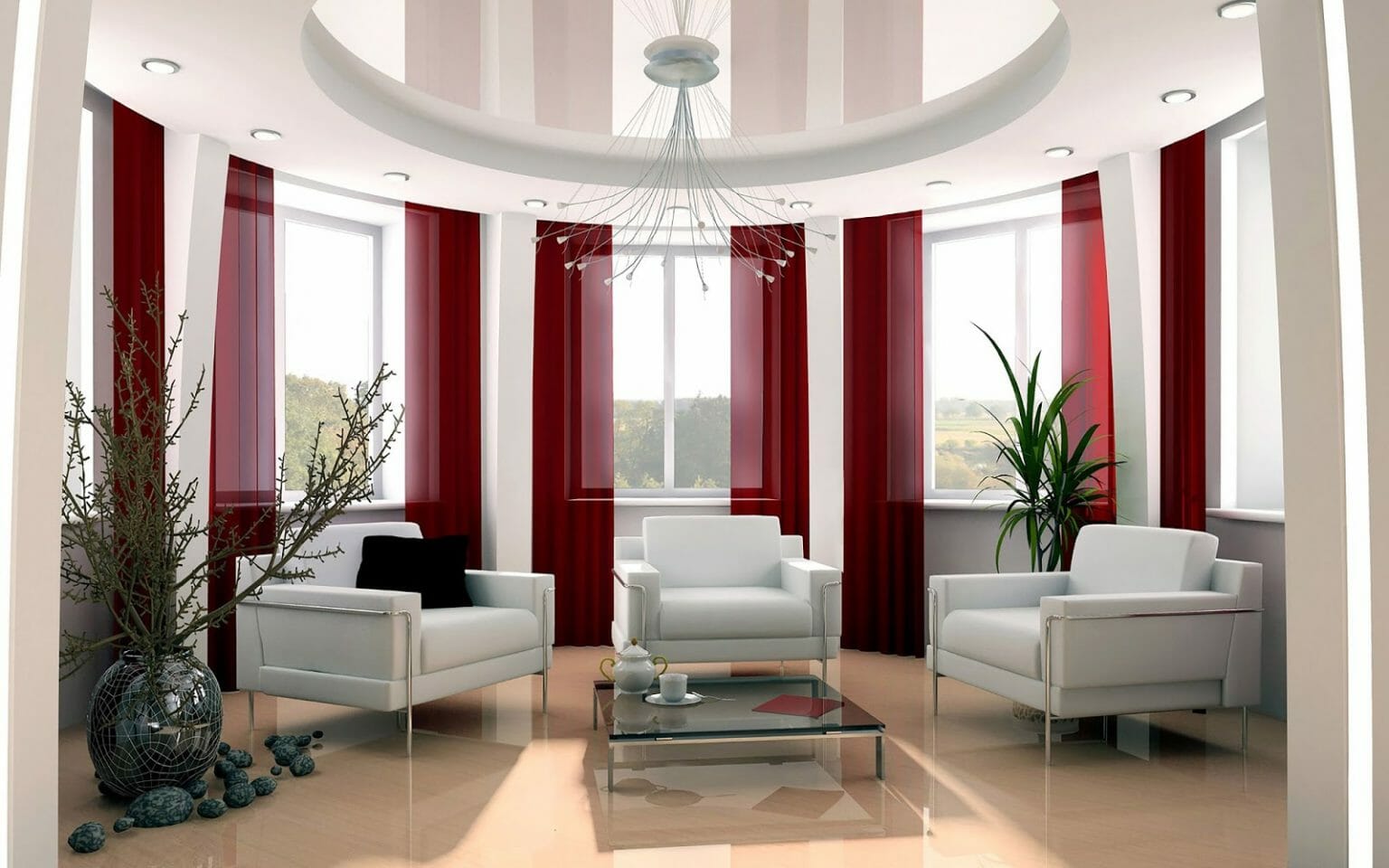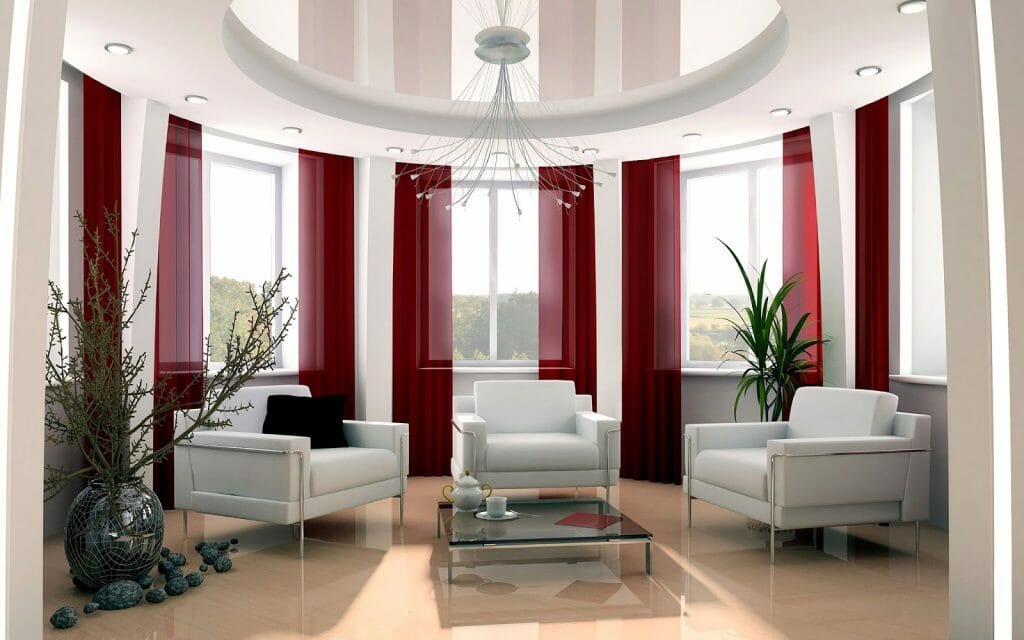 Red Curtains can bring vitality to a neutral-colored space. For elegance and drama, try velvet floor-length drapes. Red, one of the classic royal hues, has a dominating presence that increases the appeal of any room.
2. Red Pillow Is Mine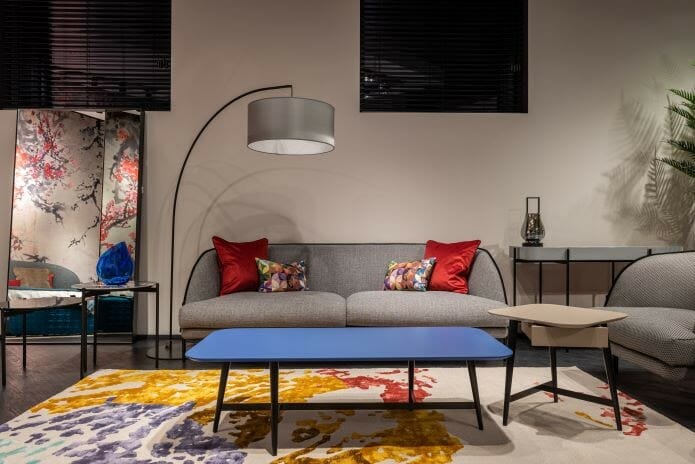 Notice how your guests beeline for the throw pillow whenever they're in your living room? People get drawn to the red color, you don't even think about it, it's like an automatic response.  Having a red pillow is magnetic to the eye, making your guests feel at home and paving the way for lasting conversations in your living room.
3. Stark Art for the Win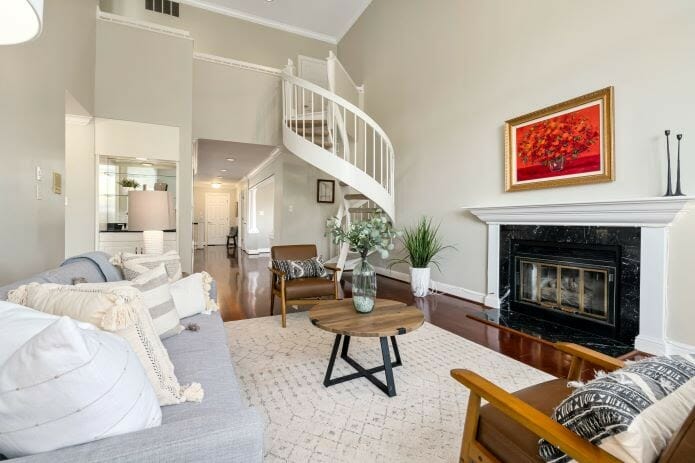 We buy art to display and to appreciate. Double the effect of artwork by getting it in stark red. This living room inspiration in neutrals is revitalized by the gold-framed red painting. It's the perfect contrast to the subdued ambiance as the perfect statement piece above the fireplace. 
4. Red Rug Brings People Together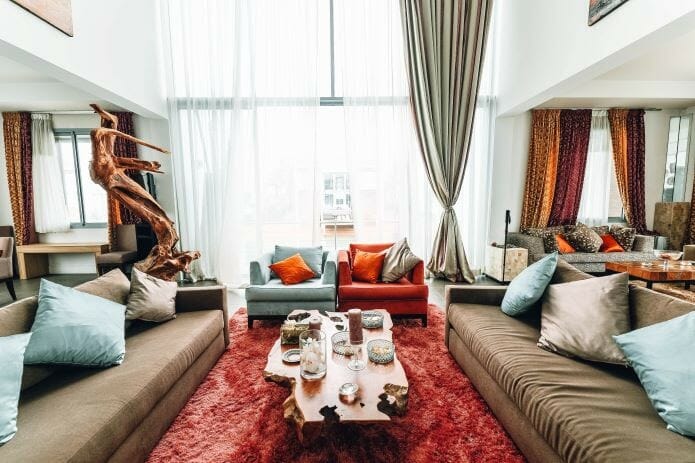 There's a certain kind of coziness you feel with a rug under your feet. Bring family and friends together in your living room setup with this grounding color that says come here. Use the powerful color to bind a wide area together. This large living room is made more intimate by the placement of two sofas around a vivid red rug. To pull the appearance together, there's an orange armchair and pillows close to the shade. 
5. Spotlight Your furniture With Red Lining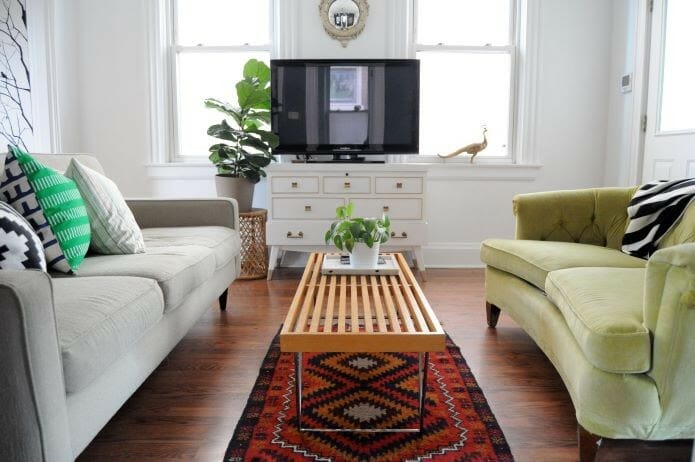 If you only plan to put one small rug in your living room, red is your best bet to get that rug noticed. It's perfect for framing any area and the space around it makes the space bigger. This small living room adds a touch of red to the patterned rug and gives the floor and room more character. 
6. Red in Different Levels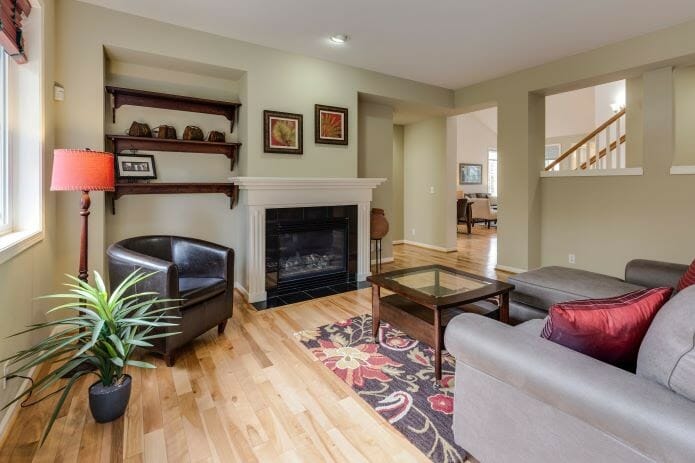 Look around your living room and choose a few pieces for your red tint. Use few and far accents spread across the room vertically. In this living room interior, the framed decor has red matting, and next to it in height is the tall floor lamp, a few pieces of red glossy throw pillows, and splashes of red in the floral carpet. It does not draw your guest to one big item but spreads the vibrancy around.
7. Go Big on That Accent Piece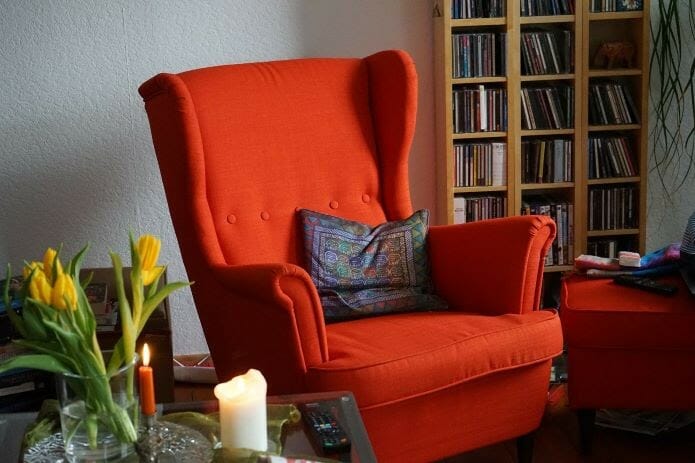 Forgive the analogy but like a cherry on top, sometimes the only red you need is a red accent chair. Accent furniture that is huge and vivid works well in modern living spaces. The flash of color makes it the focal piece in your living room. This is perfect for small to medium room sizes. This armchair has a patterned throw pillow colored violet which is next to red in the color wheel.
8. Sectionalize With Two Red Couches
If you're ready to purchase or change the upholstery of your sofa, consider having it in red. A great way to define your living room space is with big furniture. The outline of your red couch sets the area apart from the rest of an open-spaced house. This captivating color provides effortless styling for homeowners. Just choose the room layout, position your furniture, and you're all set. 
9. Light a Fireplace With Red Shade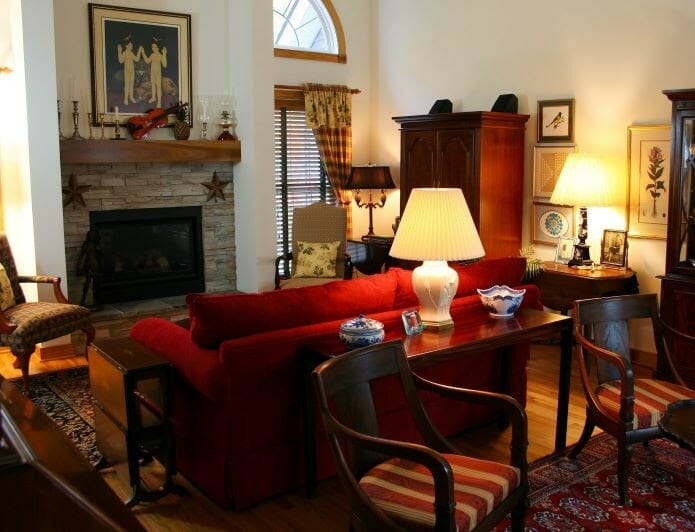 Incorporate shades of red into the colors of a living room to complement a brick fireplace. The vibrant hue is balanced by earth-colored bricks and natural wood elements. There's an undeniable comfort in sitting on a red couch in front of the fireplace with a nice rug under your feet. 
10. Play With Prints and Patterns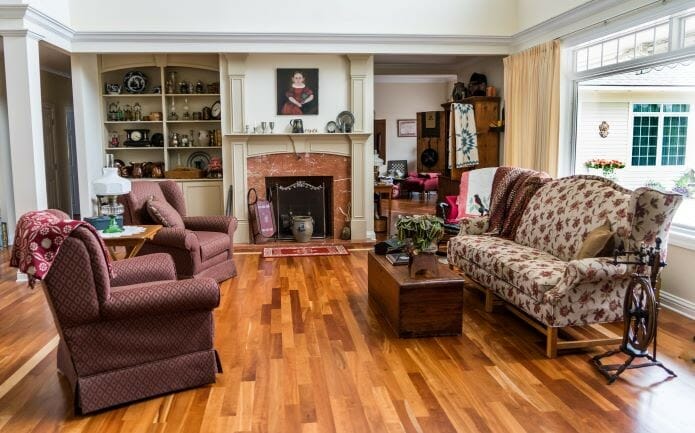 Even though the red shade is already eye-catching, it doesn't mean it has to be plain. To add visual texture choose patterns in paler or darker red tones. The hominess of this living room is brought about by the red prints complementing wood flooring.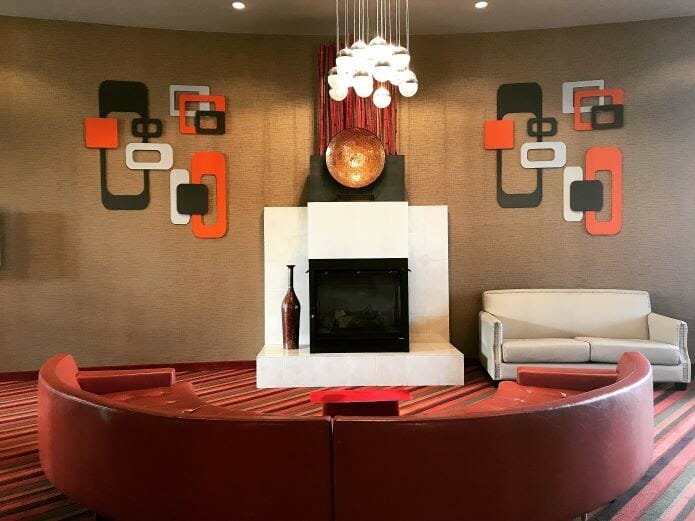 In this interior, a dominant curved sectional takes center stage in the room. To tie in the color scheme, splashes of red are on the wall in varying geometric patterns and the carpet has multiple striped colors. This room itself is a talking piece when you have guests around.
11. Red and Wood Combo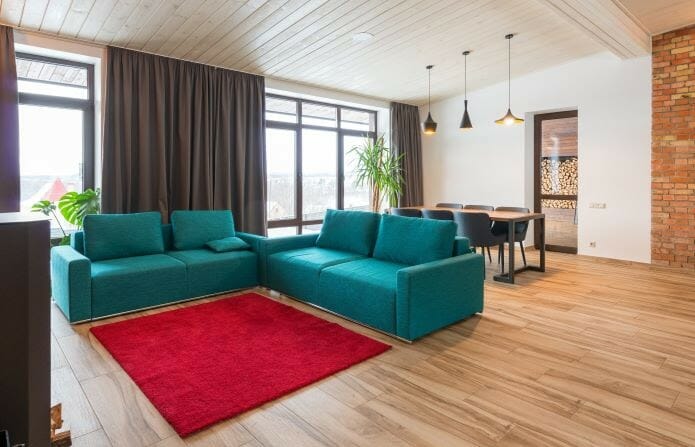 If you're fond of wood in your living room interior whether in your floor, ceiling, or furniture legs, red should be on top of your color choices. Wooden floors give a homey vibe and the addition of red adds up to the coziness especially of a large living room. The red shade radiates an energetic contrast to the wood to break the stillness of the room.
12. Red Is Not the Brightest Color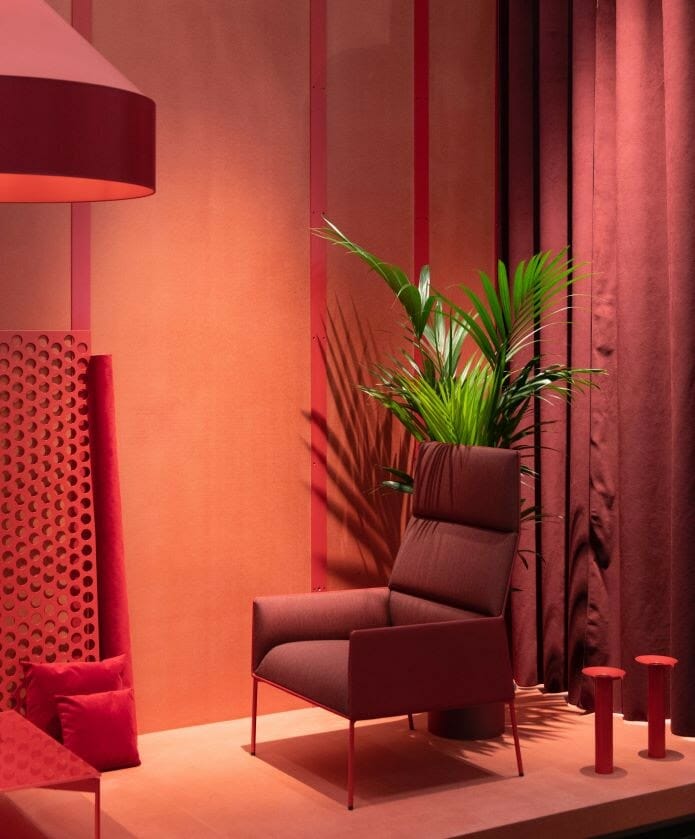 Contrary to how most people envision a red living room, it does not always have to be that signature Ferrari red or a head-turning traffic stoplight. Different shades of red can comprise many shades from rusty, maroon, chili red, fire brick, tomato, and many more. Check out this spectrum of reds in one corner, it speaks ultimate chic and drama. Think lipstick, in what shade would you like your living room to be?
13. Blend With Orange or Violet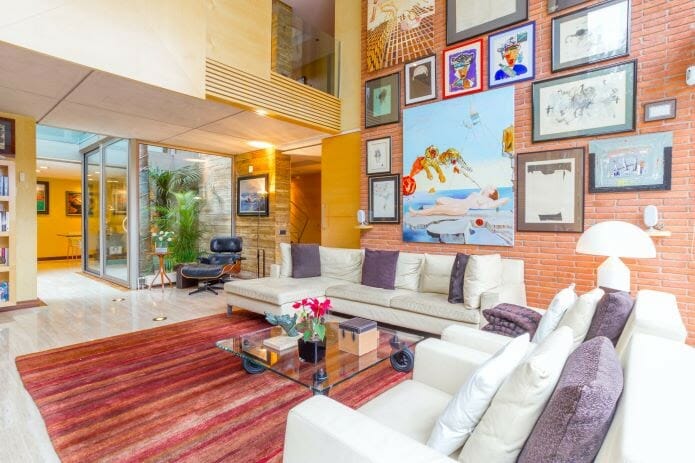 To blend colors, go to your trusty color wheel. Beside red is orange and violet. You can't go wrong with combining this color palette with red due to that closeness in the shade. Because they're neighboring colors, it gives an extra layer of warmth when used in a living room. In this living room space, the orange brick wall and violet throw pillows make this an intimate setting.
14. Primary Colors Complement Well Too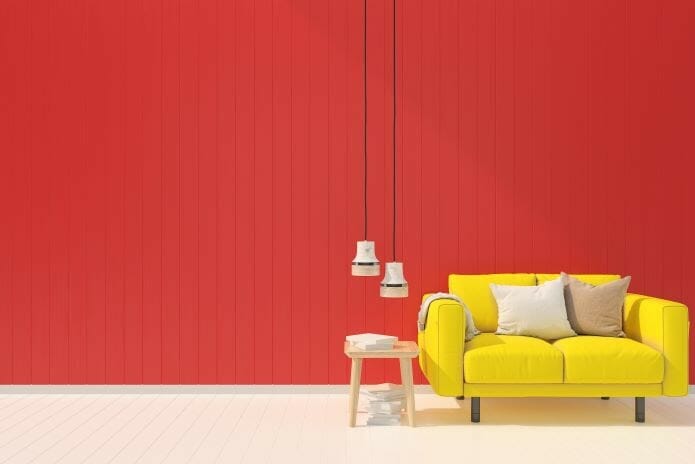 Working with primary colors adds a fresh dimension to your living room. In the color wheel, green, yellow, blue are on opposite ends of red. Red and yellow together are an appetizing force. It's unusual to see it in living rooms however with minimal furniture and fixtures, these two bold colors can create a happy place in your home. You can make this your accent wall to kick off some fun and enjoyment in your living room.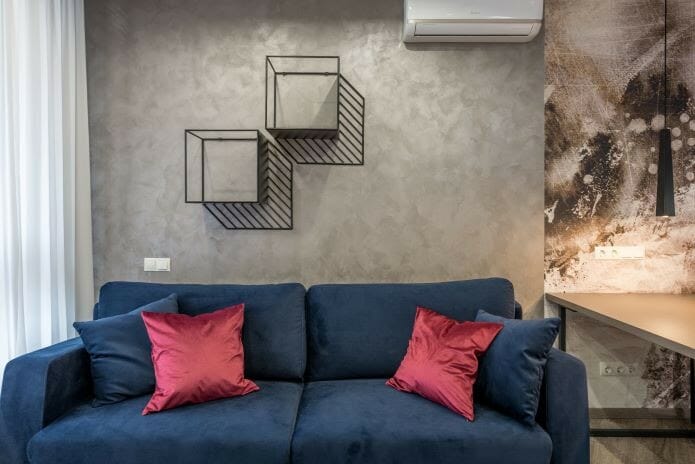 Here's a blue couch with a red throw pillow. The red is dark and glossy which is perfect for bringing out the color in a big dark blue couch. Although in small amounts, it's the red that will draw you to sit on this blue couch.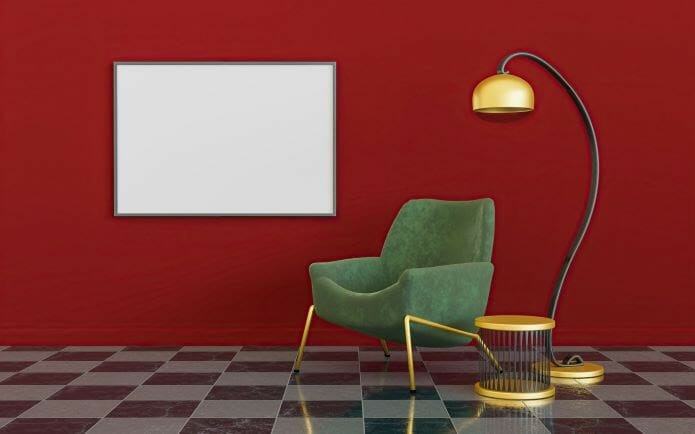 Red and green are on both ends of the color wheel making this color duo click. Of course, you would have to be careful not to make it look Christmassy. Most homes choose plants to represent green when paired with red.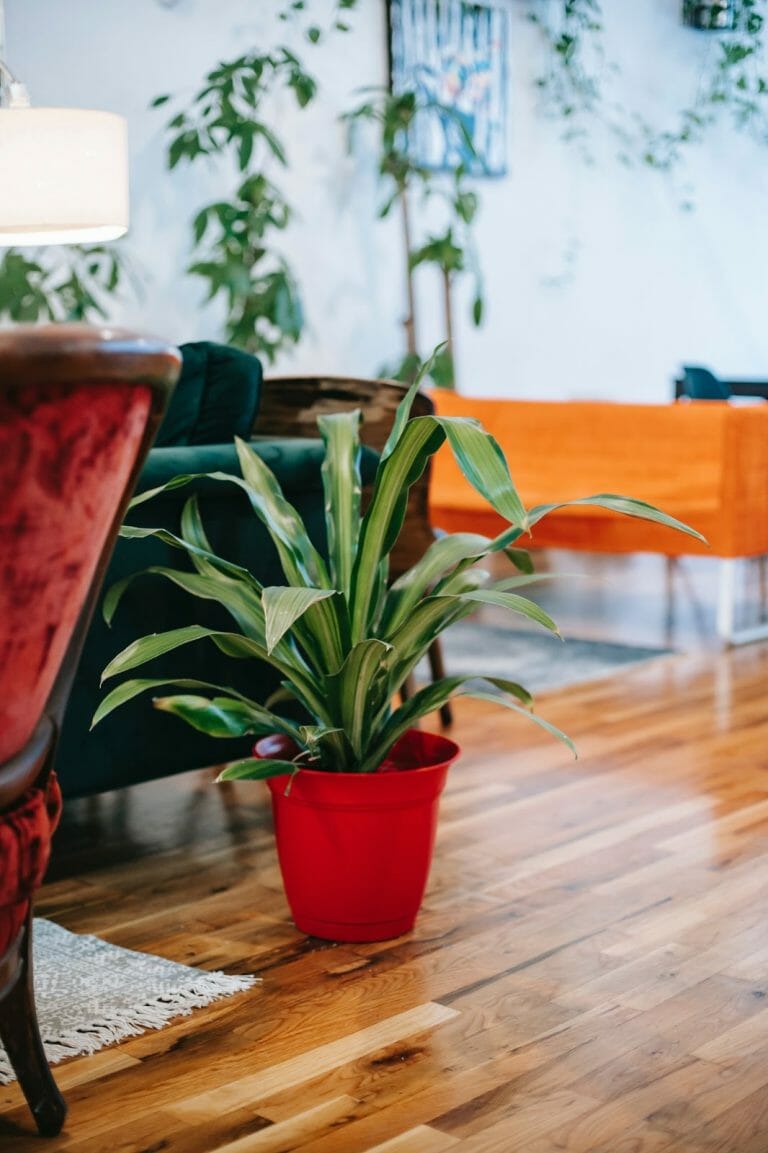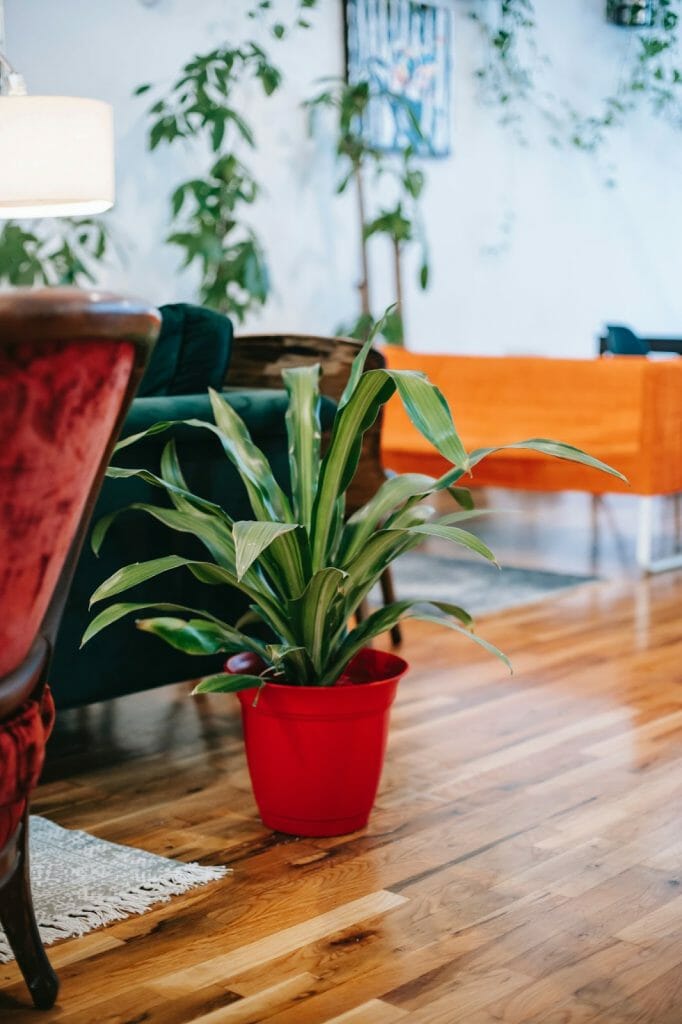 15. Contrast With Neutrals
The presence of white lessens the impact of brilliant red, making white and red a lovely combination. It also gives the room a contemporary feel and draws attention to the bright red accents. The color combination is one of the most classic in interior design. This design inspiration also shows how grey tempers the vibrant red.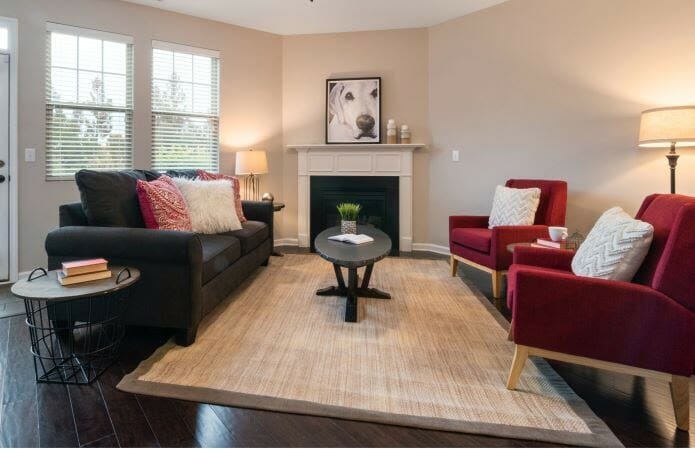 Black, white, and red is also another popular choice. This color palette achieves the perfect blend of vivid brilliance and sleek refinement in living rooms. Black is an excellent choice for highlighting specific elements which create a balance to the red living room.
Final Thoughts
These are just some living room design ideas so you can start adding that extra oomph to your home. You can start small with splashes of red in the accessories and trinkets or go bold with an accent wall or furniture. As you go along in designing your living room, try not to go overboard by striking a balance when it comes to the intensity of the shade when paired with other pieces and by deciding how much red you will display. 
The warmth of welcoming people over won't just be a product of the vibrancy that red brings but your sense of pride in designing your home.