12 Brilliant Ideas to Spruce Up Your Gray Couch
Considered the center in every home, the living room is a place where the members of the household gather to have good conversations and chill after a long day. It is also where we welcome family and friends for an intimate gathering. It is a haven for relaxation and entertainment.
In any living room, the couch serves as the anchor piece. The style of the couch sets the overall tone and feel of this spot. When picking one, it is a no-brainer to always consider comfort, style, and functionality.
Among the plethora of options, a gray couch is one of the top choices when picking the living room's main attraction. Its incredible versatility makes incorporating and matching pieces within this space a breeze. Gray evokes a warm, chic and cozy ambiance. There are limitless ways to spruce up your gray couch and living room so we have curated some looks to give you inspiration.
Colors That Perfectly Match The Gray Couch
There's a slew of options available when creating a color scheme with a gray couch. You have to bear in mind though that this neutral color comes in a range of hues and color temperatures so it is important to consider the undertones when picking your accessories, wall colors and designs, and furnishings.
Achieve Timeless Elegance With The Classics
There is undoubtedly a touch of timeless elegance when you pair your gray sofa with classic hues and neutral shades. This tone-on-tone scheme with the gray wall wraps this living space in an ornate and serene vibe. The beige, ivory, white, and silver tones on the throw pillows, centerpiece, and area rug create a continuous and soothing scene that spells sophistication.
Go Vibrant With a Splash of Colors
Spruce up your gray couch with bright colors and lively patterns. The colorful and mis-matched throws, yellow accent chair, and chic centerpiece create a modern and playful vibe in this spot, while keeping the gray sofa still the star of the show. You don't really have to worry about which color would work best as pretty much every color works well with this ultra-versatile piece.
Warm With Woods
The warmth of wood seamlessly complements the cool tone of this gray couch. The wooden chunky coffee table topped with natural elements is a solid statement piece. The painting's frame, mini side table, ladder, and chairs' legs furnish this space with the right amount of wooden accents, which definitely create a homey feel. 
Bejewel With Jewel Tones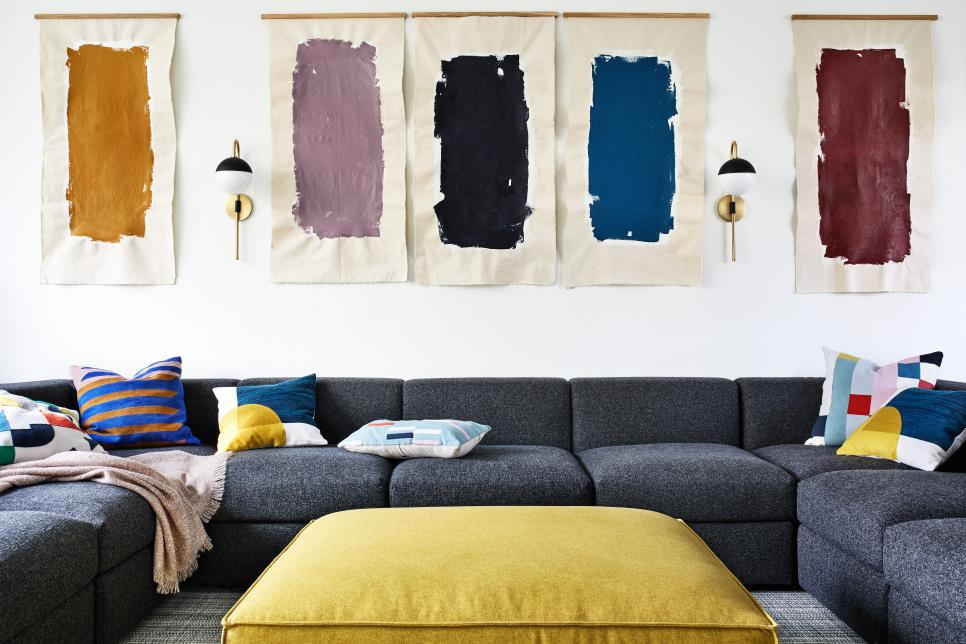 The brilliant designers at Zoe Feldman Design accessorized the sizable charcoal gray sofa with jewel tones like garnet, sapphire, and amethyst. The modern, geometric throw pillows, fringe-trimmed blanket, and fabric scroll overhead paintings infuse life to this straightforward couch. The bright yellow ottoman completes the dazzling look.
Clean With White
While it may come as a surprise, you can actually glam up your gray couch with white pieces. The white and textured throw pillows, glossy white shelves and center table adorned with white vases, and even the white wall perfectly create that clean and minimalist vibe. The milky white sphere and stem chandelier from the West Elm makes the space all the more divine. 
Pieces and Accents to Perk Up the Gray Couch
Stylize and make a statement with these pieces and accents which can complement your gray couch. Put them together and create a living space which is stylish, comfortable and functional.
Pick a Homey Rug
A little fluff underfoot can make your living space more inviting and relaxing. A plush and comfortable area rug in neutral tones like cream and white matches and offers a good contrast for dark gray couches neatly. If you want to add a quirky character to your space, you can opt for geometric and modern prints.
Glamorize With Metallic and Shiny Accents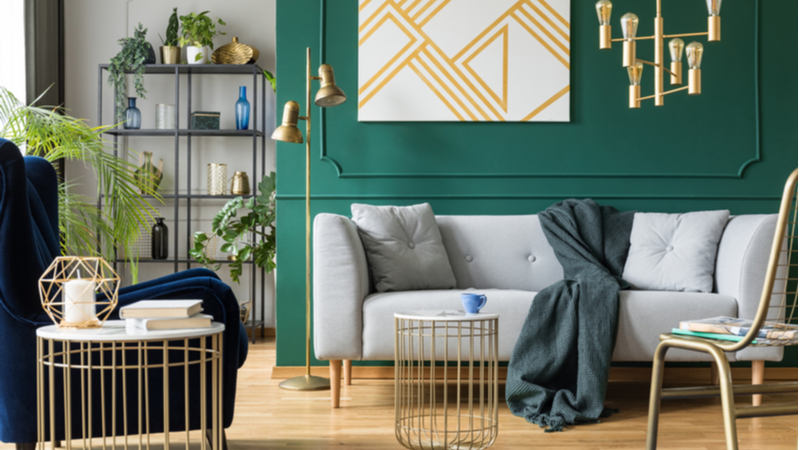 Add an instant touch of glamor to your simple gray couch with a few pieces that spark attention. The small round metal tables with glossy white top, vintage-looking floor lamp, and golden chandelier elicit a lux yet welcoming touch to the room. The tiny shiny pieces such as the candle holder and vases add to the overall flair. 
Pair Up With a Bright-Colored Ottoman
Apart from the extra seat in the house, pairing your gray couch with a bright-colored and chic ottoman creates an eye-catching and vibrant contrast to your spot. This intersect and oddly-shaped yellow and gray ottoman from CORT Furniture is such a unique piece in this quirky yet well-thought of living room.
Hang Artworks or Photo Frames Overhead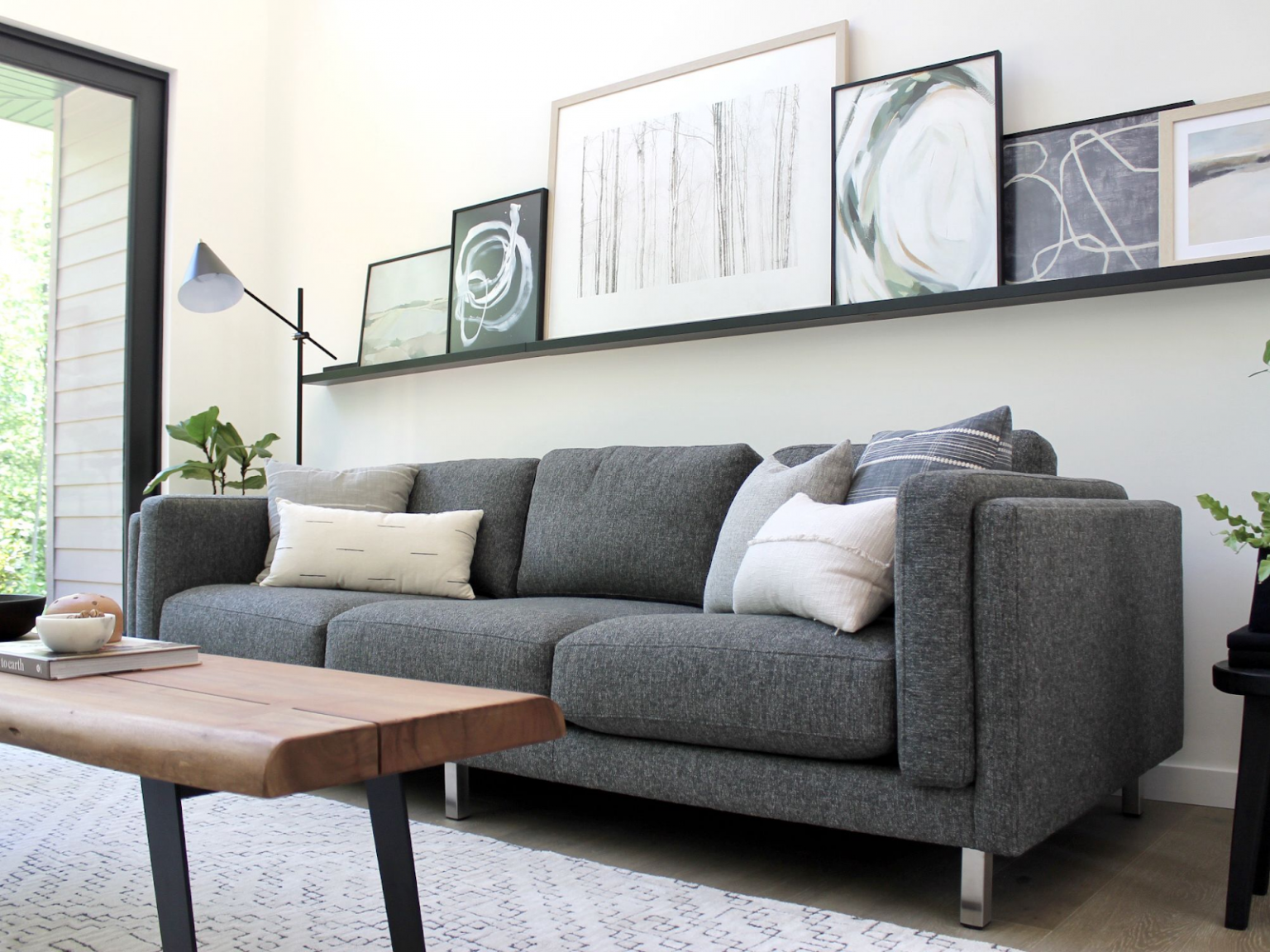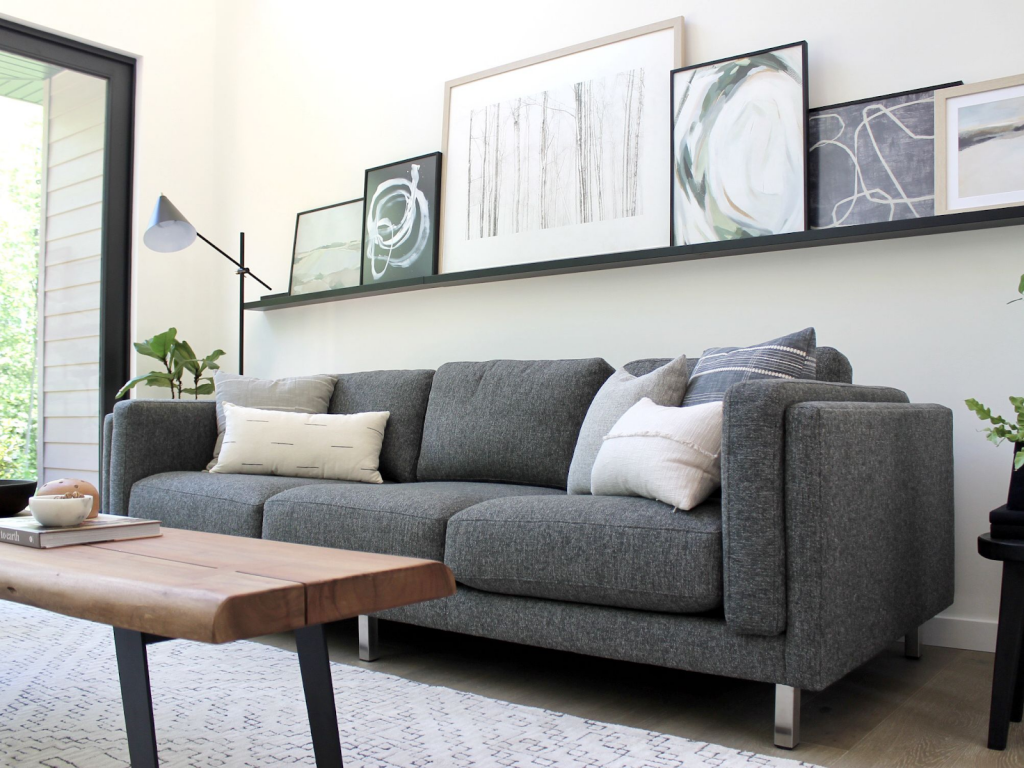 Hang a carefully created or selected masterpiece over your gray sofa that will spark conversations in your living room. Meaningful artworks are always impressive. Or, if you are into photographs, frame them and reminisce about those precious moments you had with your loved ones.
Liven It Up With Indoor Plants
Boost your mood and bring life to your gray area with gorgeous green foliage and lovely succulents. What's more, studies show that indoor plants improve productivity, enhance concentration, and relieve stress. So apart from aesthetic and environmental purposes, these babies actually do good to your health and well-being.
Roll Out a Wallpaper
Roll out distinct patterns like this Ikat wallpaper and create a fine and refreshing backdrop to your gray couch. Installing wallpaper is one of the easiest and most cost-efficient ways to decorate your space. You can also be more creative and personal by playing with custom-made murals and prints.
Mix and Match With Curtains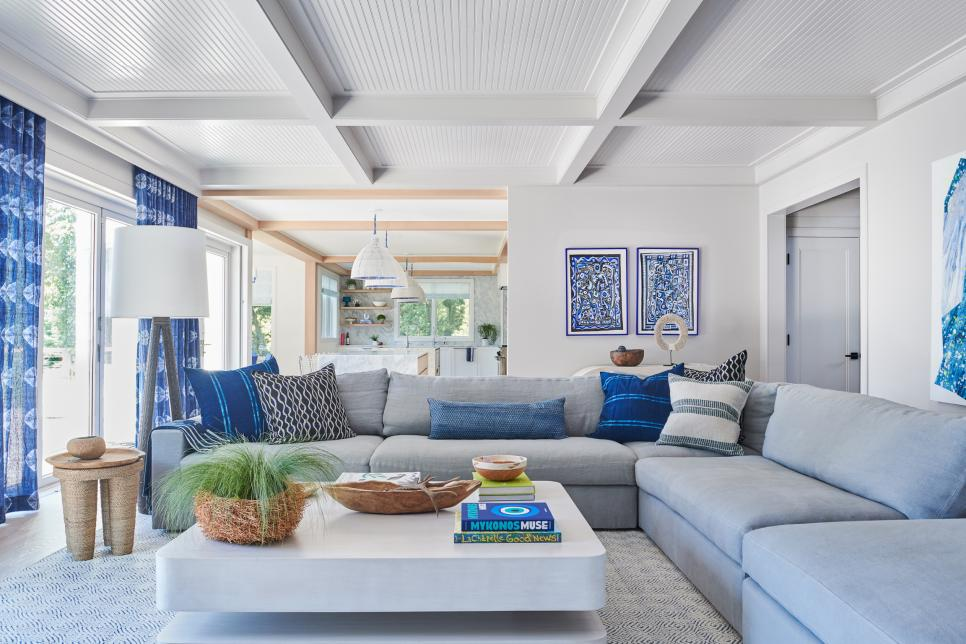 Pair your gray couch with colorful and printed curtains and transform your living room into a place you fancy. The bright blue printed curtains and accents in here give us that beach vibe– we can actually feel the ocean breeze. 
No Reason To Be Dull and Gray
A lot of interior designers and homeowners swear by gray couches. They are like jeans that fit almost anything. They undeniably make an excellent choice for the largest piece in your living room. An article in Houzz even dubbed it as "the most neutral neutral because gray is a mixture of black and white, with little or no specific colour undertone, it is the most neutral hue possible, meaning it can anchor absolutely any colour scheme."
This color also works well on both the modern minimalist sofa and classic wingback chair. And if you are living with small kids, gray is a practical choice as it saves you from the stress of constant cleaning. Pen marks and milk stains are not as noticeable as compared to having a white couch. The gray couch is also a popular office furniture as it has that professional yet welcoming touch. 
Going with a gray sofa would always be the safest bet you can make. With the plethora of decor ideas we listed above to spruce up your gray couch, there's no reason for your space to go dull and gray.