Easy 5 Step Guide on How to Make a Fort in the Living Room
There are simply some things that you can ever outgrow no matter how old you become. This is especially true when you have kids of your own and you end up reliving all the joyous activities that you used to do as a kid – like building a blanket fort right in the middle of the living room.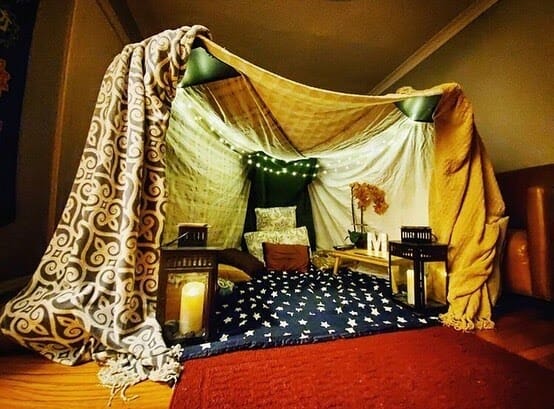 Whether you want to build one for a  sleepover, for a special date, for your kids, or just for yourself, here's a useful guide that you might find helpful. 
Get All the Supplies Ready 
In order to guarantee that there are no delays in building a fort, you have to make sure that everything you'll need is on hand. Essentially, the materials that you need in building a fort depend on the kind of fort that you want to build in the living room. But if you're just thinking of building a basic fort, all you need are some pillows, blankets, string, clothespins, scissors, and some furniture that will serve as your anchor.
After you've gathered all the things needed to make a fort, you can now follow the instruction guide below. You can always make your own version of a fort or make adjustments with some of the procedures, it all depends on your preference. 
Build Your Living Room Fort 
Before building your blanket fort or pillow fort, choose an area in the living room that's away from any tall furniture to avoid any accidents, especially if kids will be playing. You also want to put all the furniture to the side to make room for the fort. Once the area is clear, then you're ready to start building. 
Step One 
Get your string and tie one end to a doorway fixture and then tie the other end of the string on another wall hook or furniture on the opposite end of the room. Make sure that it's sturdy enough to carry the weight of the blanket and it's tightened securely so that the blanket won't droop. You can use multiple layers of strings if you like, tied and fixed in the same direction, or you can pin the blanket with clothespins, just to make sure that you have solid support. 
Step Two 
Get the blankets and drape them over the string. Make sure that you're using just enough to build a fort since putting too many layers of blanket might cause the strings to break or collapse. Place the blankets in the middle of the string, making sure that they are even on both sides. If you're already happy with it, it's time to move on to the next step. 
Step Three 
Attach a long string on every end of the blanket so that you can secure it to a piece of furniture to be able to make a tent-like shape. Then, tie the strings to a table or chair that will serve as the anchor. This is what will give the fort some structure. You want to make sure that all angled edges of the blankets are anchored down to give the fort a better shape. 
Step Four 
Once the fort is secured right in the middle of your living room, you can now have fun with decorations. Grab your pillow, blanket, throw pillows, duvet and make room inside the fort. You can arrange it however you like it or whichever your kids prefer. There are no set rules with this one. Just make sure that it's comfortable and homey. 
You can also make some origami paper birds and tie them inside the fort or you can use some twinkly to add some magical glow. To make it even cooler, you can get a rotating cosmo night lamp to put just outside the fort. It will create this really amazing display that any kid or kid at heart will love. 
To further inspire you to create an indoor fort or blanket fort in the living room, here are some do-it-yourself forts that will spark some magic and fun in your home. 
Whimsical Mesh Fort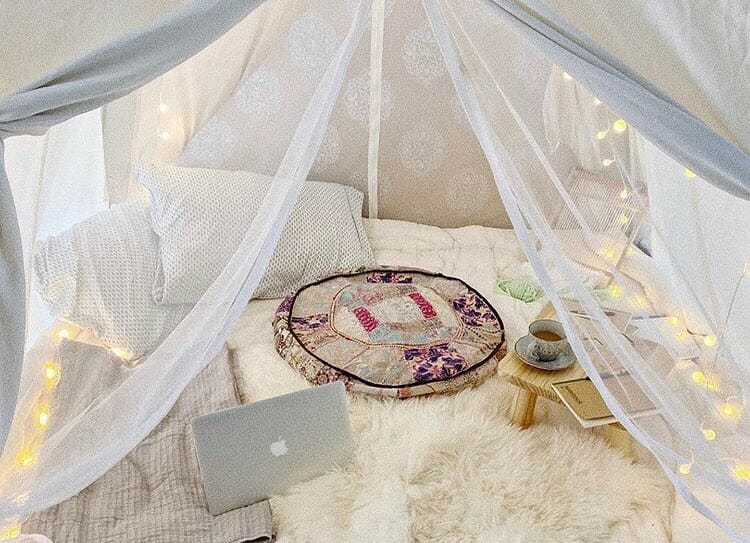 Instead of using blankets, you can opt for mesh fabric if you have one on hand or if not, you can always get a couple of yards from a hobby store. Using this kind of fabric makes the fort a little more whimsical which is perfect for a fairy themed sleepover party. You can also add a fuzzy rug and fill the area with pillows. Add some twinkly lights for a homey and cozy atmosphere. This will be perfect for girls, no matter how old they may be. 
Boho Inspired Fort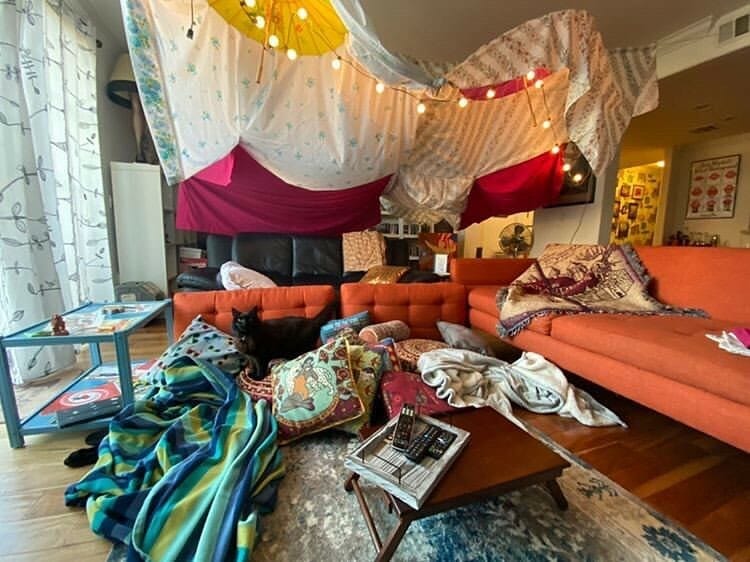 For a quirky little nook that speaks bohemian, you can mix together different colors and fabric textures to make your fort. Be bold and don't be afraid of colors. Use a bright colored and boho-inspired pillow and blanket. You can even build the fort wrapped around your couch if you feel like it. In order to secure the drape blankets, use a clothespins to hold them in place.
Simplified Fort for Adults
If you want something easy to put up, you can just try out something like this simple diy fort that doesn't need much elevation. You don't have to worry about how to tie the strings high up. Use the sofa and other furniture to anchor a light blanket. Use either bean bags or put the couch cushions from your sofa for sitting down and lounging around. This one is easier to assemble and requires only a few items to use. 
By the Fireplace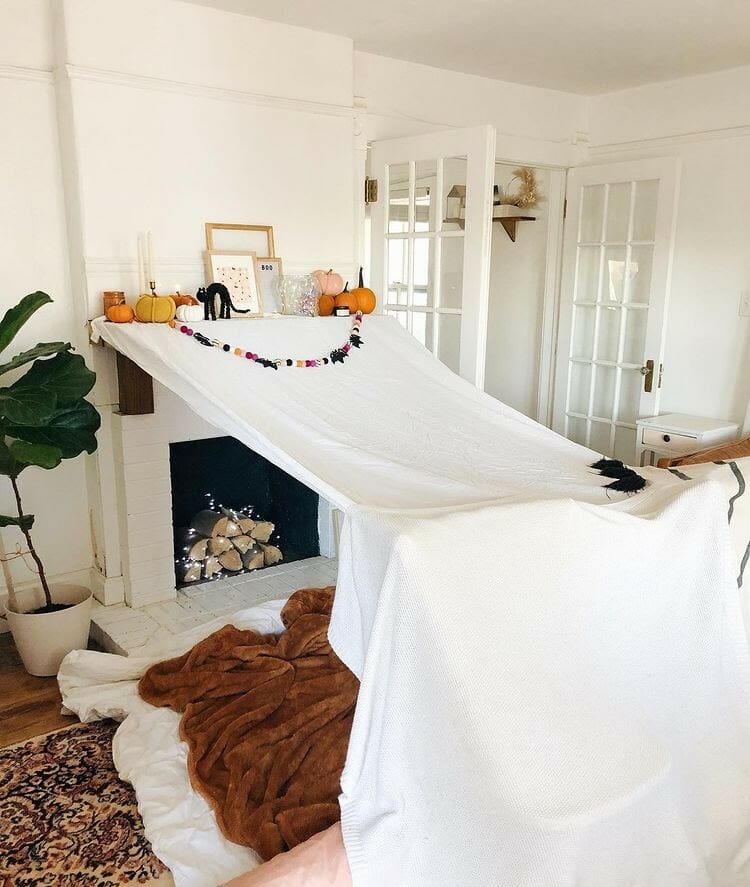 If you have a fireplace in the living room, you can make use of it to set up an indoor fort easily. Grab a blanket and place the edge of it on top of the mantle. You can use decorative items to weigh it down. Then, spread it across the other end and use a couple or chairs to hold it up. Bring a duvet, blanket, or couch cushions for you to lay down on. This could be a great solution for days when you just want to crawl in a small hole and stay there for a while. 
Private Dinner Date in a Fort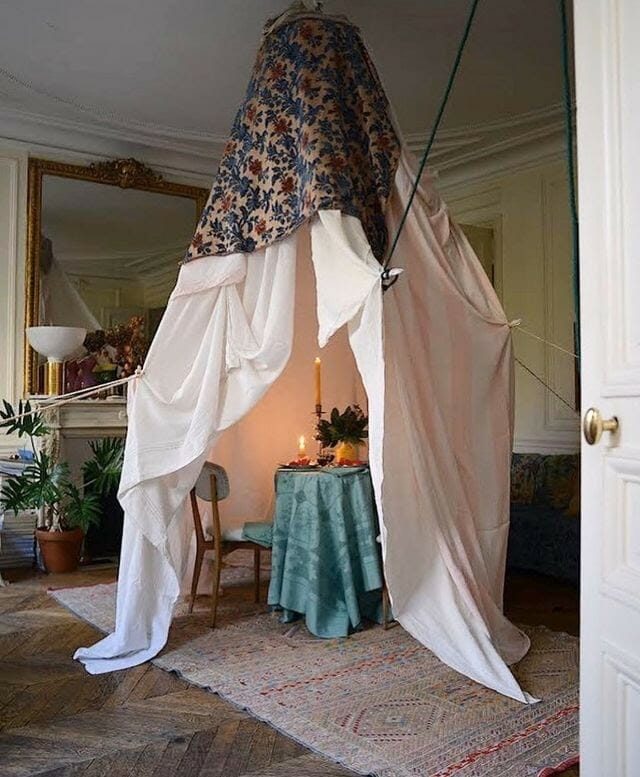 For another great indoor fort idea, turn your living room into a private dinner area for two. If you're planning for a romantic evening with your special someone, why not make a fort right in the middle of the living room? If you have a chandelier or a sturdy light fixture on the ceiling, you can work around that to build the fort. Finally, put a small table and chair inside it for you and your date. You can use candles for a candlelit dinner but in order to avoid any accidental fire, better stick with battery operated ones.