11 Living Room Carpet Ideas for Your Next Interior Redesign
We love how carpets are featured in a living room design. It is a great feature to spice up and warm up the cold floors. Whether it be plain, neat, fluffy, or bulky, they add texture and visual impact to the entire living room design. Considering the different textile preferences for a carpet, we choose from variations of patterns, colors, or even materials. Carpet is a flooring accessory that is best for the family and pets. It gives more seating capacity in cases when you want to watch movies or play games. With that in mind, we have 11 living room carpet ideas to add flavor to your floors. 
Geometric Patterns
We love a massive carpet for our living area but we love it more when it is as large as the living area. This is not exactly a wall-to-wall type of carpet yet it seems like one. What gave it away are the seams on the side. This carpet idea is perfect if you are seeking a larger floor-seating capacity. There is no need to add more chairs, instead, they can sit comfortably on the carpeted floor. This is ideal for small spaces where the carpet makes it look more compact. It is more efficient to clean and replace too. Carpet ideas will depend on the activities of the household as well as the size of the living area. 
Animal Print
Another carpet style to opt for is the animal concept. Often found in rustic designs, it actually works even for modern concepts. We love how this animalistic look added details to the sleek finishes of the furniture and the walls. Its smooth finish will make you want to rub your feet together after a long day of work. It may not cover the entire living room but it accentuates the limit in patterns and textures. Choose the carpet that you think will complete your design considering its design, shape, and material. This flat tiger-shaped carpet never goes out of style. It induces intimacy and comfort perfect for television dinners and even living room brunches. 
Fluffy Carpet
A carpet is not only used for the aesthetic value it brings to a living room. It also increases the sense of comfort for the household. Thanks to this idea from Decoholic we understand why fluffy carpets are loved by many. It may be tougher to clean in cases where a glass of wine accidentally pours. But, dust-wise, it is easier to vacuum to maintain it. Look for a carpet preference that is pet-friendly but at the same time, family-friendly. Besides, the living room is the most popular place at home. Dig into using carpets that are pretty to look at and are comfortable. But, at the same time, easy to maintain. 
Continuous Setting
A grand option for floor concepts is wall-to-wall carpets. We love the acoustic feature it brings and how it keeps our feet warm and cozy. You can walk on the entire living area without making a sound. We all know how the heels of the shoes make this distinct sound that echoes. It may be a lot to clean, but maintenance would not be a problem if you have a vacuum that will come in handy. This animal print wall-to-wall carpet introduced prints and textures to the living room lacking in details. It is a perfect alternative to a massive and movable carpet for a large living area. The floor draws more attention than the cerulean suede upholstered couch. Instead of being a supplementary element, it became the star of the living room. 
Bold Patterns
Keeping it bold and simple is one way of putting up a carpet for your living room. Some may be mistaken it to be suitable only for large living areas when in fact, they do not. It works perfectly too in small and compact living rooms. Thanks to this example from HGTV, bold colors are used for the seating furniture. Patterns are used minimally but it is the carpet that accentuated and neutralized the living room. Even on the splash of warm and cool colors, the monotonous striped rug balanced the matte and glossy finishes. In choosing your carpet, consider the existing materials of the table, couch, armchair, and even the lighting fixture. In this case, the variations of finishes and materials, are all over the place. It is the carpet's color and pattern that was kept in between the variations. 
Eclectic Style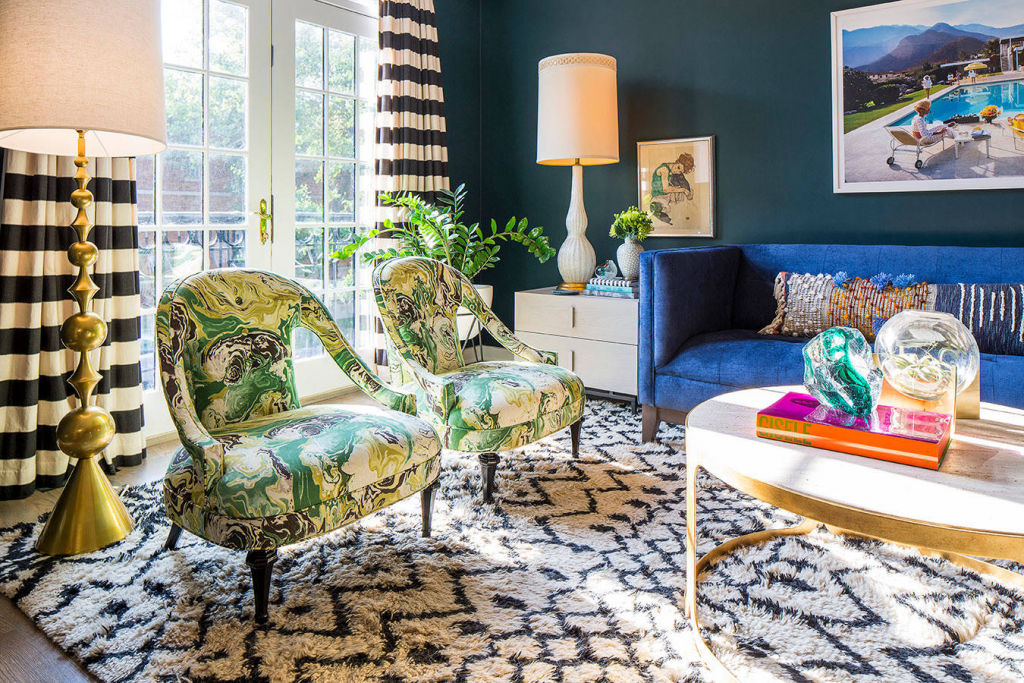 Often found in living rooms are plain yet fluffy rectangular carpets. Thanks to this inspiration from Houzz, it proves that overlayers of patterns look fancy in an eclectic design. It may seem to be an Aztec pattern that works perfectly for a boho design. Who knew it would be best paired with an eclectic concept? We love the swirls of the armchairs and the patterns of the pillows alongside. We can sense grandeur and sophistication without overdoing the design of the living room. This large carpet enclosed the entire living room which made it ideal if you are housing plenty of guests. Besides, it is comfy to lounge on a fluffy and soft carpet while watching a movie. We love the splash of colors and patterns. It is a bold move and a risk to do in terms of living room design. 
Tropical Influence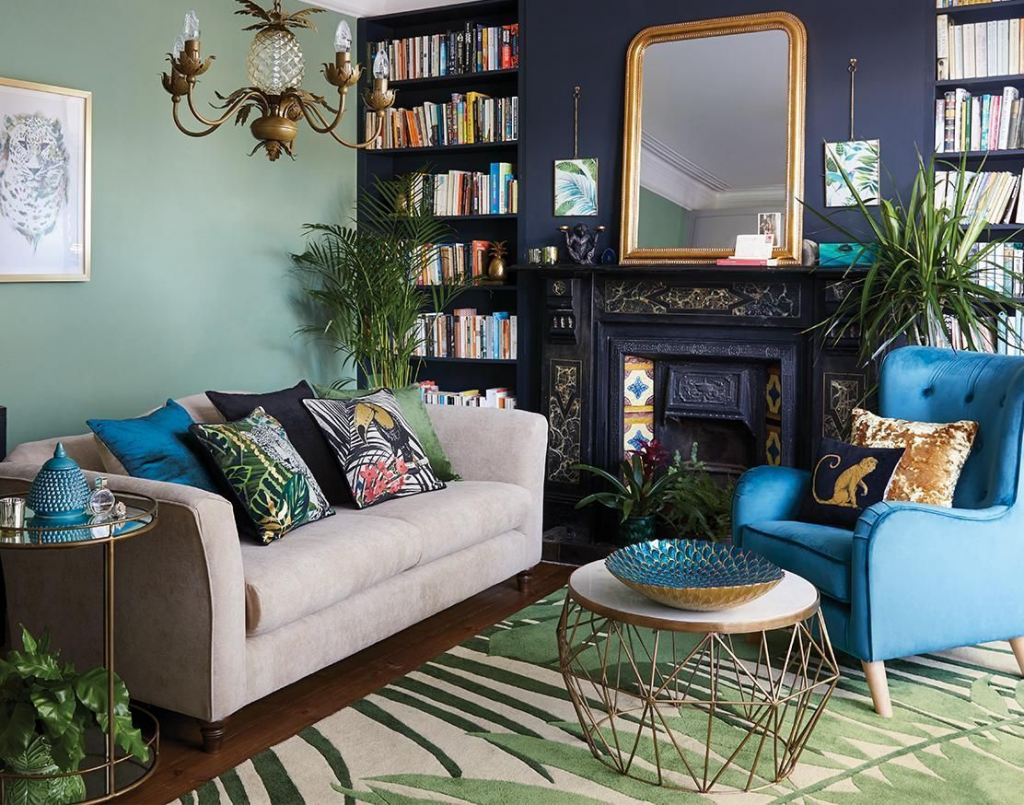 More than just bold patterns and colors, we can also consider free-flowing designs of botanical plants. This carpet design from Pinterest exhibits a tropical influence to blend in with the cool and warm colors. In this case, the use of the carpet is not to house the entire living room but to cover a mean amount of floor space. With all the shades of blues, greens, and browns, the carpet gave a little refreshing vibe to the environment. Since the living room is considered our comfort zone, it is our number one priority to choose carpet designs that exhibit character and personality. We love how subtle the color of the carpet is. But, it is how it completed the entire design that made it induce a relaxing atmosphere. 
Luxurious Output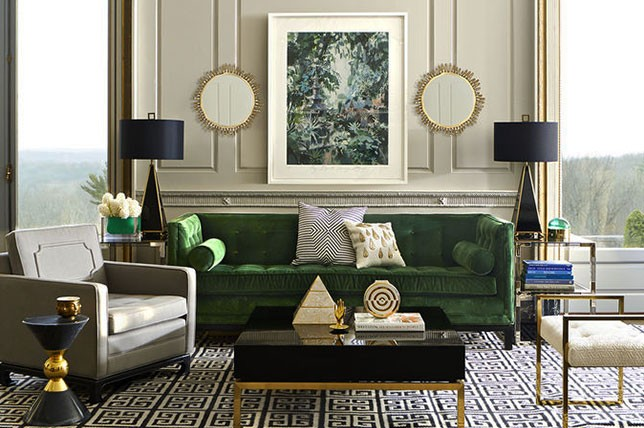 Uniform patterns in bold colors for carpets look fancy in your living room. Instead of free-flowing patterns, they tend to look neater and in order. This is a neo-classical concept for a living room inspiration from Decor Aid. The key design is the emerald suede upholstered couch. It matches the pattern on the carpet. This may not be a typical design that you can see on every living room but it is a design that can work on any living room. The carpet induced a luxurious touch to the living room without overdoing the pattern. By the looks of this inspiration, there are plenty of finishes used. It is the carpet that acted as a neutralizer from all these metallic, smooth, and glossy finishes. 
Chic Carpet Layers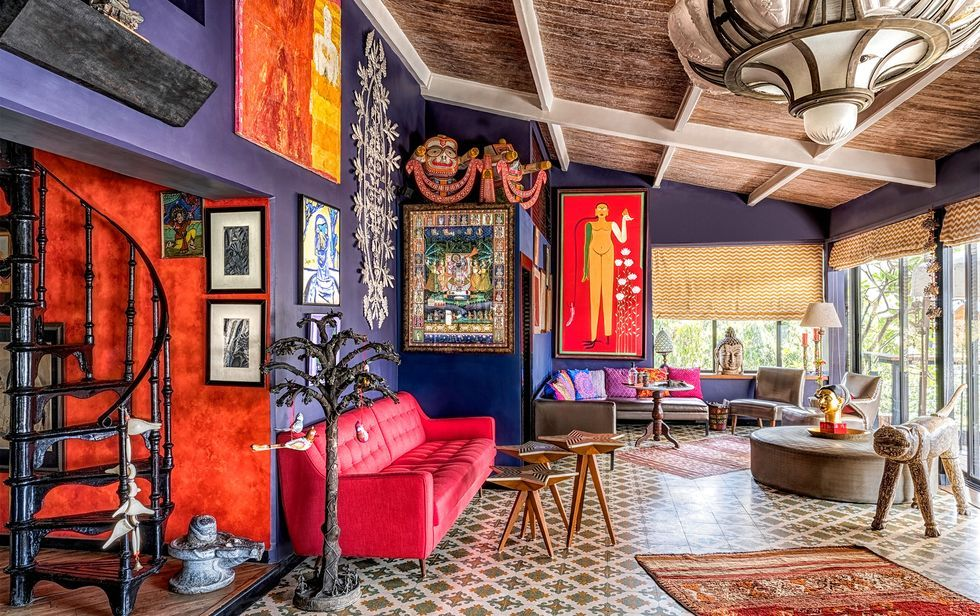 Simplicity is not always the key in every living room design. We love a little flavor to spice things around, especially in our living room. In this case, we have layers of rugged carpet warming up the Mediterranean tiles. The splash of colors, materials, and patterns increased the visual impact of the living room. Since it is a large space with two different seating areas, the carpets allowed the living room to look warmer and inviting. Imagine how cold those tiles get during the winter and the only combat we can get apart from the cozy thick sheets are the carpets. This type of design concept often comes with carpets with wonderful sceneries. Whether it be the mountains or anything that is connected to the environment, it adds a sense of character. 
Bulky Carpet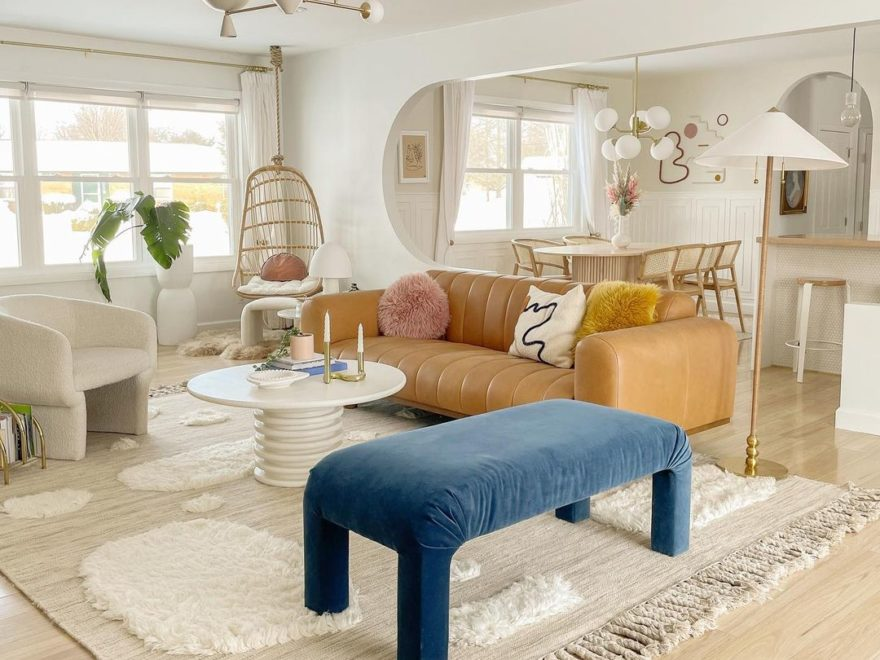 Considering the number of the household, we love a thick and bulky carpet that is kid-friendly. This is an ideal floor feature where they can play and lounge safely. Bulky carpets are weaved to be soft and fluffy. It is a perfect accessory to your living room if you fancy a day with the kids and a television date with your partner at night. Imagine how warm it would be to rub your feet together on this carpet. Besides, it envelopes the entire living room. It makes it easier to clean and maintain. All it takes is to bring out your vacuum and dust spray to maintain its color and durability.  
Cozy in Curves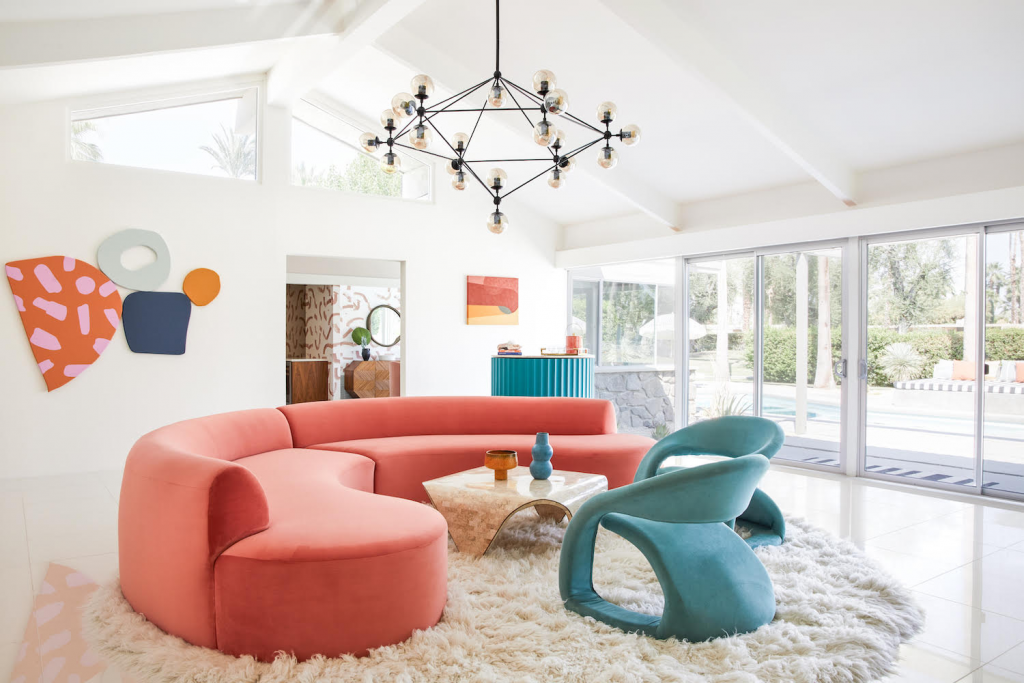 We love designing a space beyond the traditional. In this case, it is filled with curves. It looks sleek and classy for a living room design. But what gave the coziness away, it is the circle fluffy carpet in off-white. It is a carpet where you want to lay on with family and friends. It may seem to be high-maintenance but it takes a lot of effort to clean the living room alone. Look at the suede finishes of the sectional couches and armchair. We love how this inspiration from Real Simple achieved a clean and neat look. It may be a little too plain but the textures and finishes of the materials complemented one another.