12 Living Room Wallpaper Ideas for your Next Renovation
It has been a tradition over the years how painted walls fill the four corners of every room. It is not the only way to go. There are numerous ways to spice up your living room with different wallpaper ideas, using paint as the base of the walls is a great starting point. It is an easier alternative on how to fill your living room with life which is not often achieved by painting them in bold and subtle colors. You are missing the fun of the patterns, colors, and finishes wallpapers could offer. With that in mind, we have gathered 12 wallpaper ideas that will add flavor to the walls of your living room. 
Broken Pieces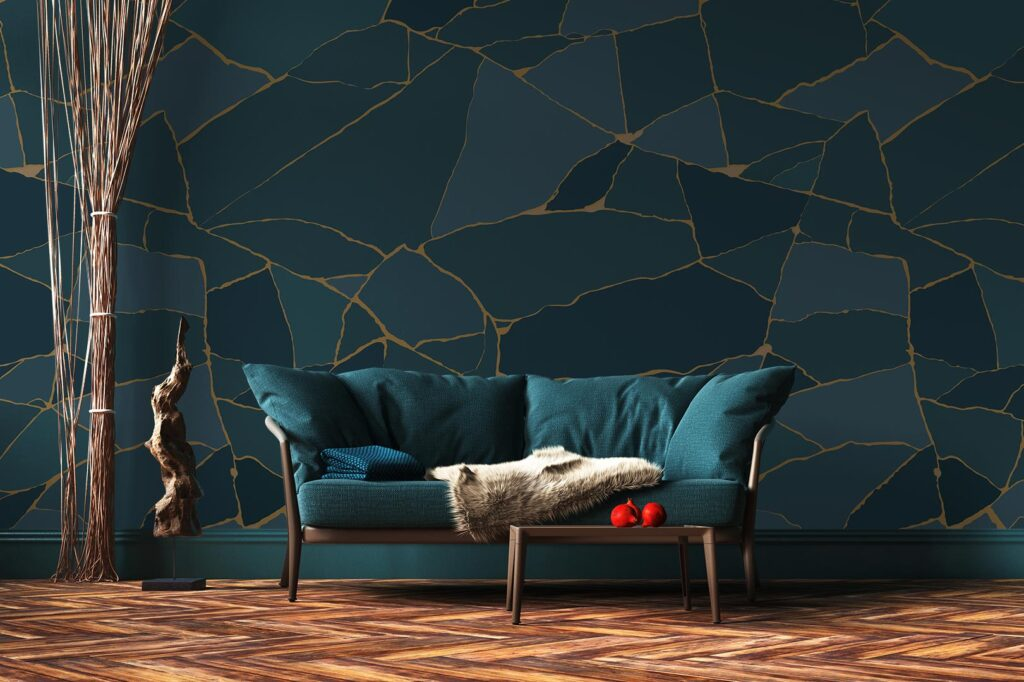 By the looks of it, you can sense the vibe similar to what mosaics bring to a room. Putting together broken pieces outlined to highlight the intricate details. Well, in this case, there is no need to exert that much effort of breaking and putting together the entire thing. You can get the mosaic vibes without the actual mosaics. Thanks to this design inspiration from Ambientha, the wallpaper made the living room look clean and elite. What made it sophisticated is the matte gold lining that highlighted each of the hues of teal. We have this combination of mermaid green and teal that brings together an environment-friendly scheme. 
Flowers & Colors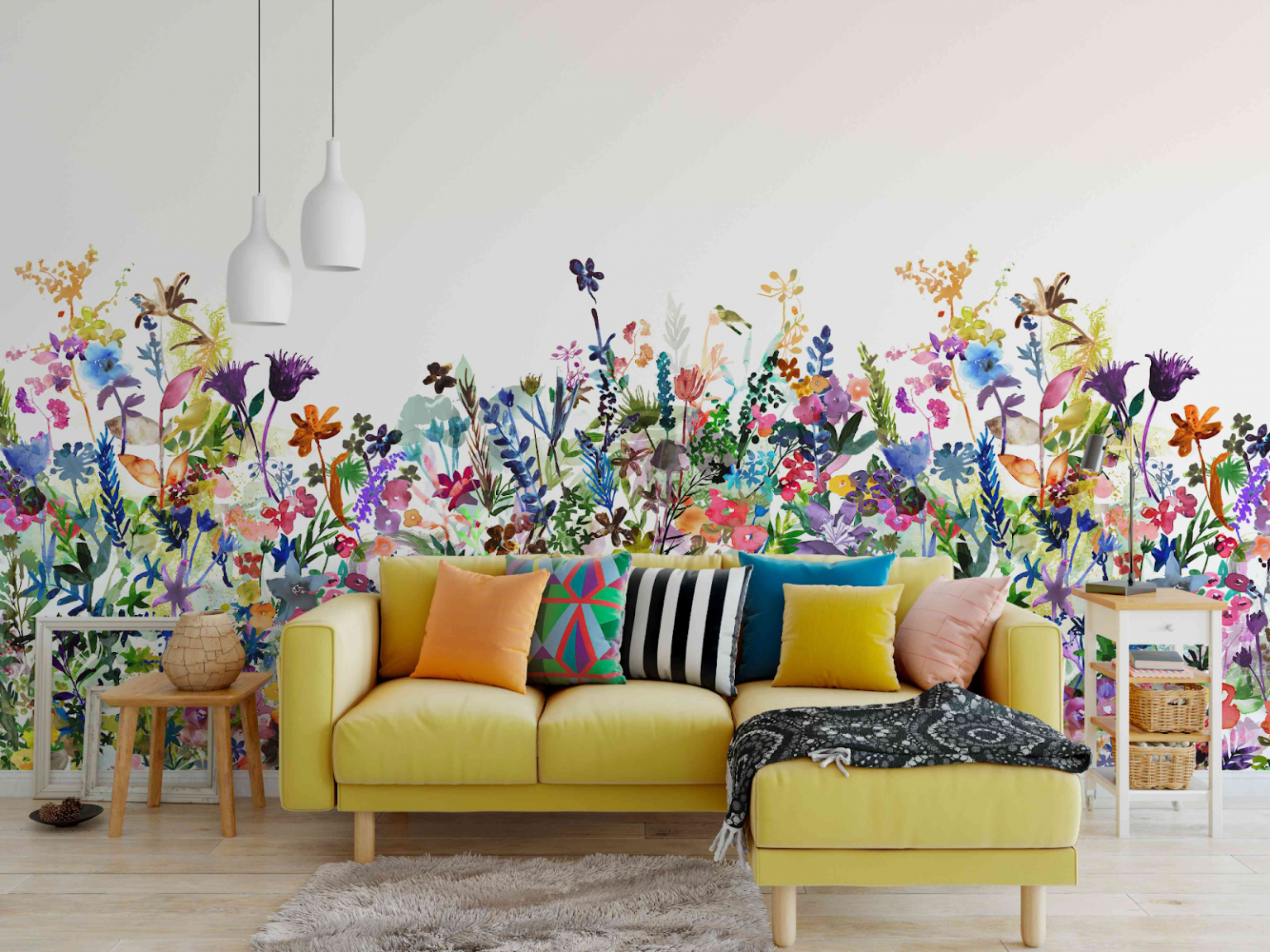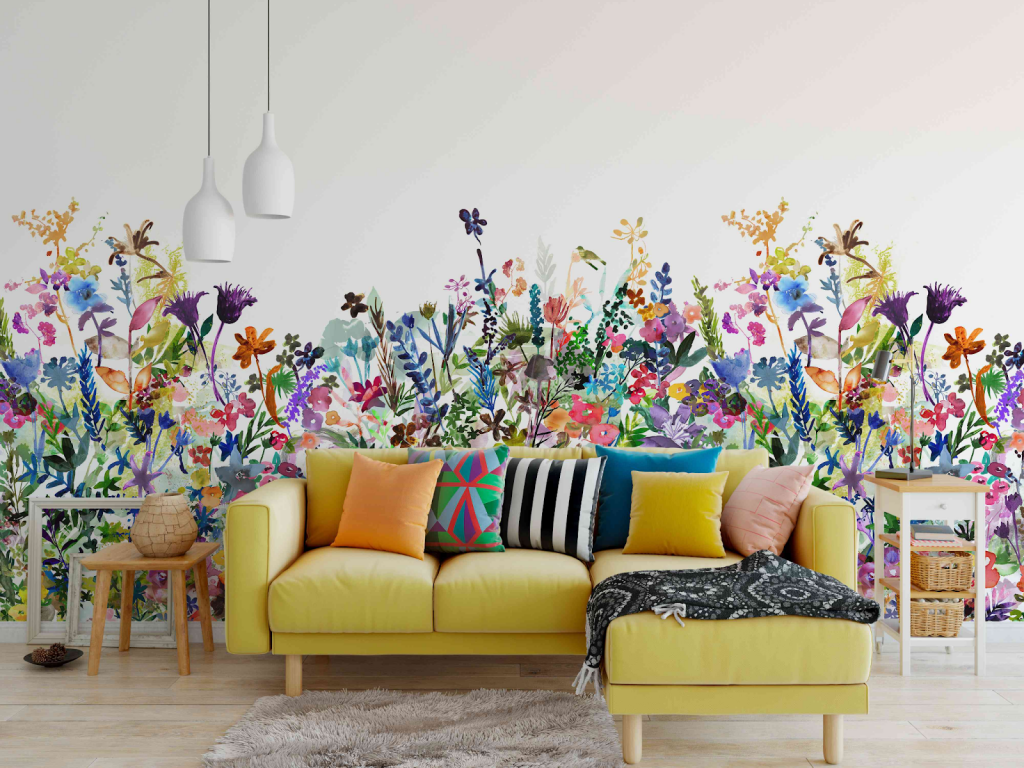 A pop of colors is what we seek amidst being in the generation of metro modernity. In this case, we are aiming for a colorful floral background. The good thing about having wallpapers instead of paint, it is not that permanent. You can have the wallpapers changed whenever you want to. As you can see here, an example from The Spruce, you can establish that the household is fond of a striking color scheme that led them to opt for floral wallpaper. Look at how the wallpaper brought the living room to life. More than just the color, it is the design that added flavor and built an enthusiastic ambiance. 
Patterned Wall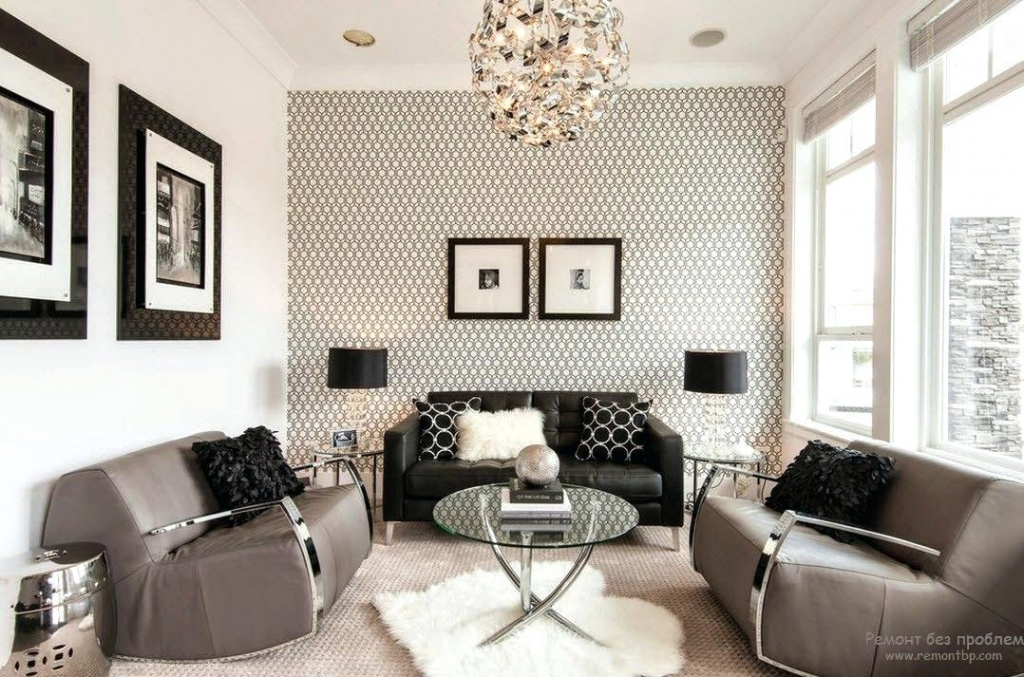 Keeping it plain and uniform works well with geometric patterns. As you can see, matte white paint is the dominant finish. The designer opts for using wallpaper for the accent wall. Roaming around the room, you can see that it is lacking in patterns and textures. Thus, the accent wall added intricate details that the entire room is lacking. The good thing about the idea for the wallpaper, there is not much commitment since they only placed it on one wall. Whether it be simple or extravagant, using wallpaper is one way to do it without manually painting or drawing. It will work whether or not a subtle or extravagant design for wallpaper. Besides, it is easier to take off than paint as a finish. 
Interior Garden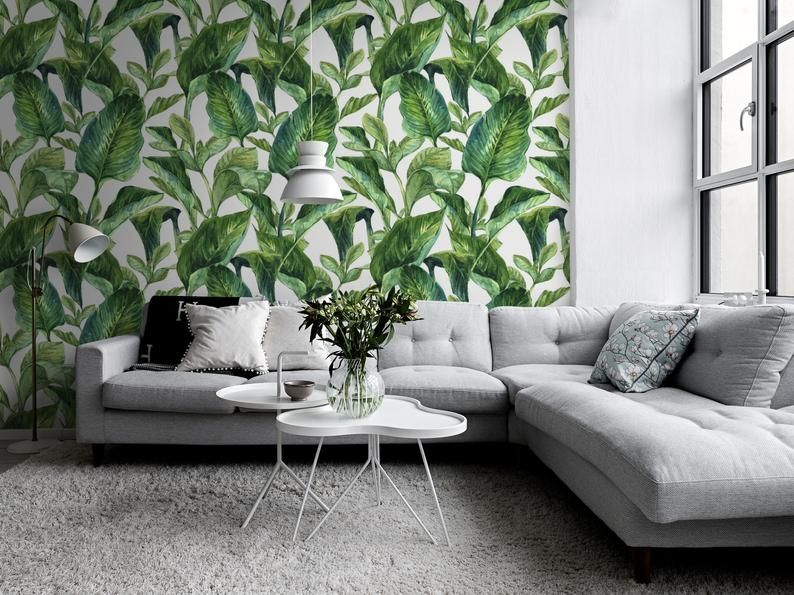 There are times when you cannot commit to indoor botanical plants due to maintenance. One way of having the same vibe within your living room is through garden concept wallpaper. As you can see from this design inspiration from Pinterest, it is the wallpaper that brought the fresh feeling plants to bring. Choosing leafy wallpapers is ideal if you want to keep the environment lighter. Even if they are not real plants, their color still brings the same vibes. These types of wallpapers are best paired with textured upholstery rather than sleek ones. By the looks of the L-shaped couch, it looks like it is just plain gray but its subtle texture added details to the living room. 
Pattern on Pattern
Do you long for something fancy but not a complicated design? Check out this design inspiration from Trendir with overlaying patterns complementing the entire look of the living room. What we love about this design is how all the patterns seem to complement one another. They are not a pain in the eye. To build the fancy vibe more, the grid design for the pastel pink wallpaper created a sense of order and organization. By the looks of it, it is the dominant material for the walls establishing intricate details in off-white. There are limitless opportunities if you choose to opt for wallpaper. In terms of design, color, and finish, one type will surely fit your taste. 
Fancy Combination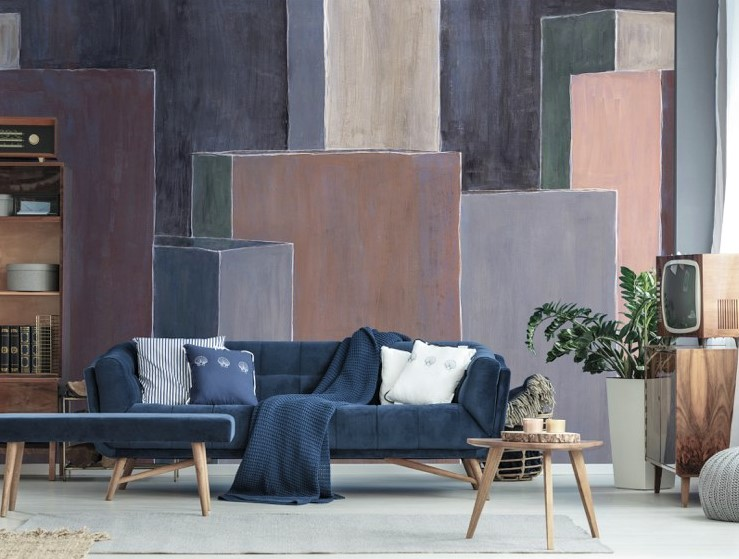 If you want to keep it simple but hyped with the current trends, the best way to go is to work with geometrical designs. The example above from Garden Center Indonesia is the best way to do it. It looks like a mural at first when it is not. It is actually an adhesive wallpaper set up to the entire wall continuously. What we love about this design is how it can be tagged as a metro modern design. This is ideal for those who want to achieve a minimalist modern vibe paired with the best upholstery of choice. Permanent or temporary, wallpapers have their way of increasing the aesthetic value of your living room. 
Animal Print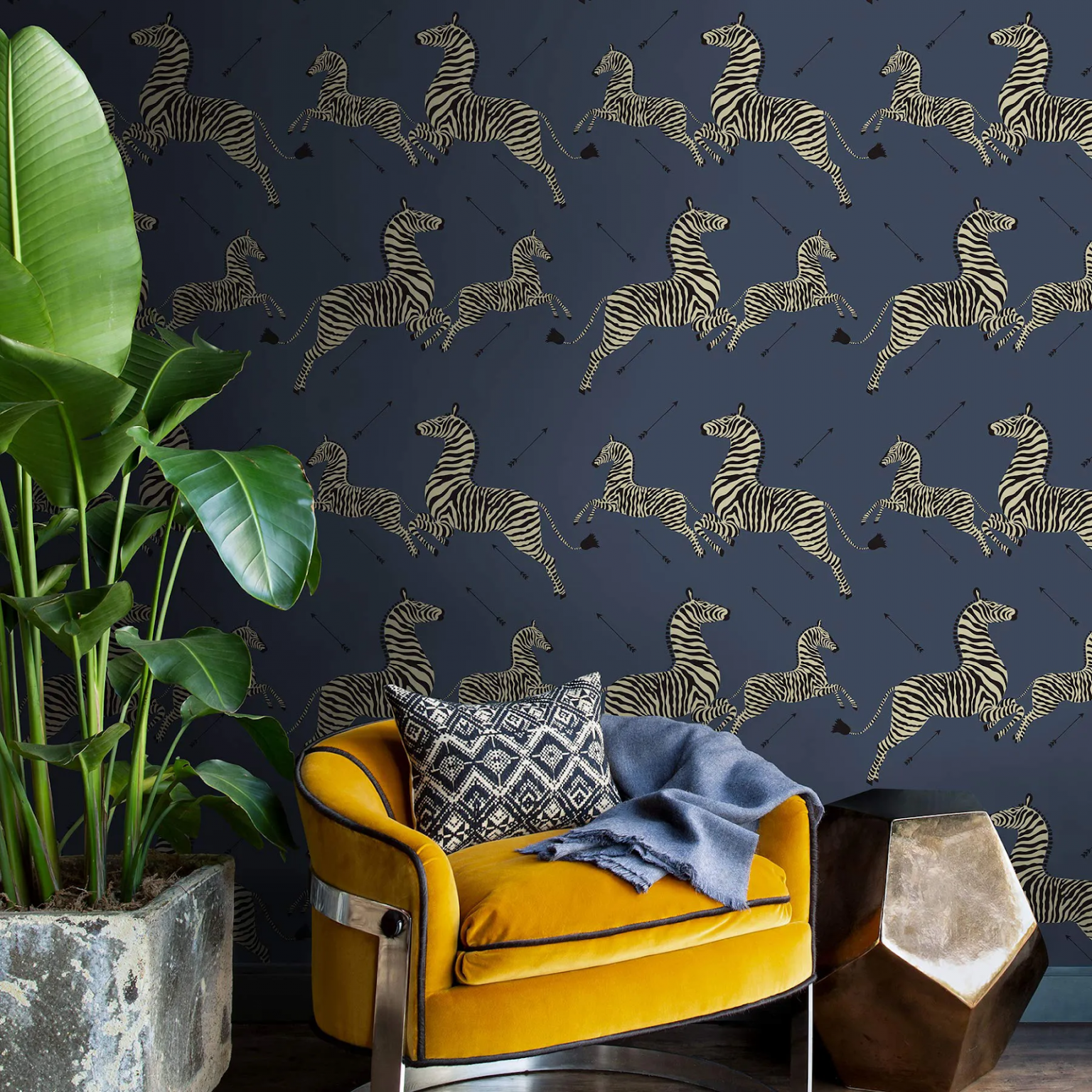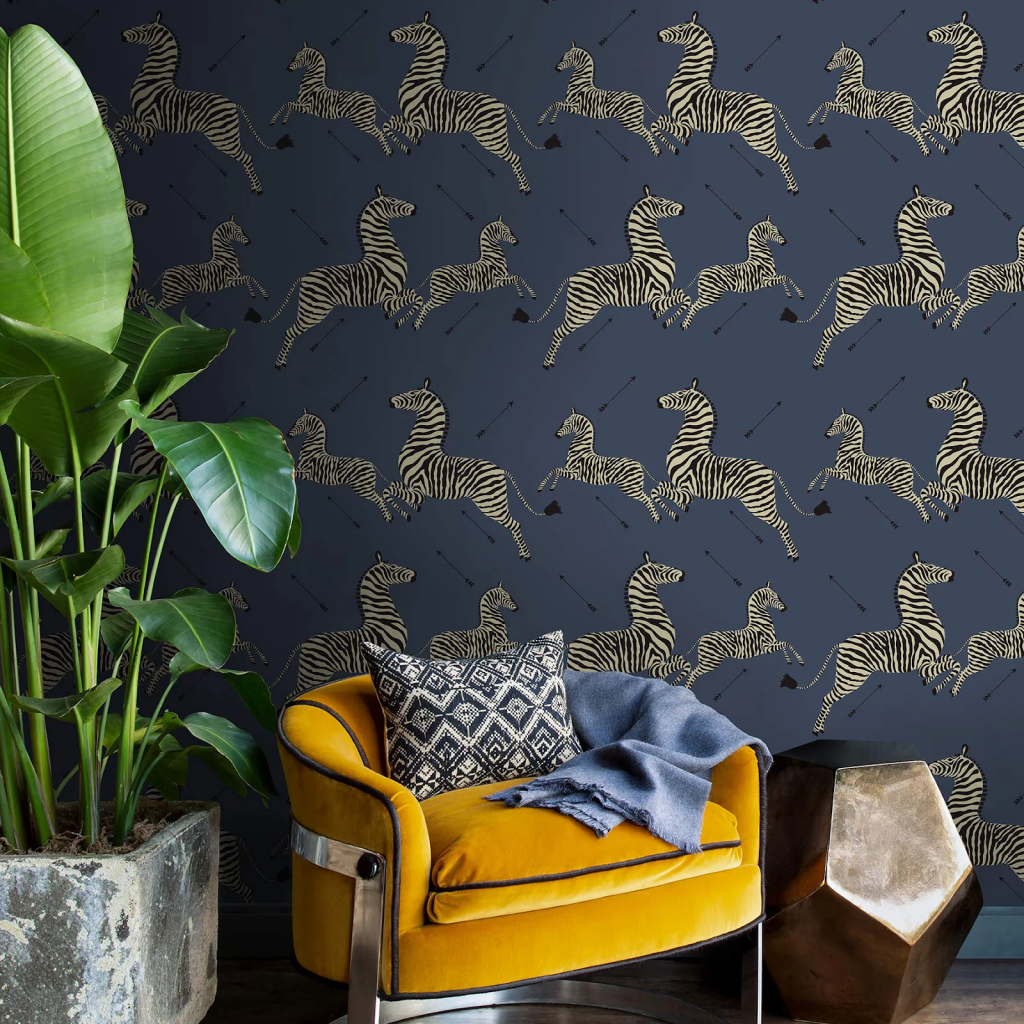 To add a little animalistic ambiance to your living room, why not opt for animal-printed wallpapers? We are not just referring to the skin prints but the animal itself. Here is an example from New York Magazine with a navy blue wallpaper with zebras printed in gold. What we love about this design concept are the metallic touches that bring sophistication to the next level. Considering how we value how our living rooms look, it is just right to pair the perfect pieces that will increase their aesthetic value. Opt for this amazing animal print wallpaper to bring some motion to your living room. 
Metallic Vibe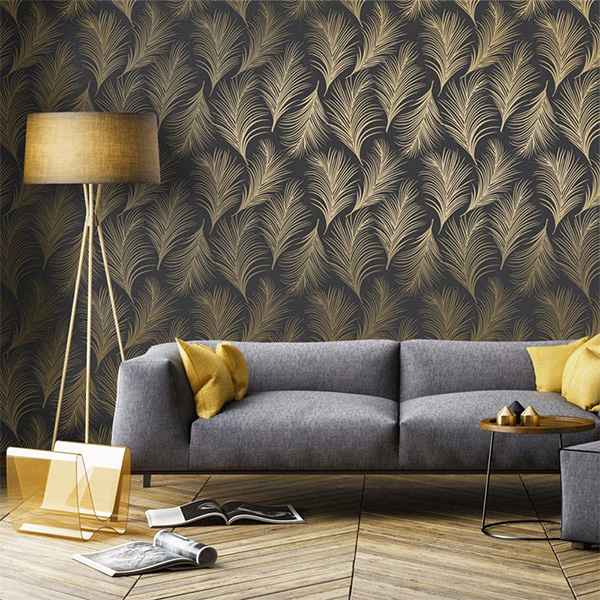 Simple is not how it works when it comes to using wallpapers. As you can see here, the layout is simple but what made it deliberately intricate is the wallpaper design. Look at the curved pines patterns for the blue-grey wallpaper. Its flowy patterns are uniform in design. It gives the entire living room something to look at since the room is lacking in patterns. These days, numerous brands offer a limitless amount of variations for wallpapers. What we love about using wallpapers is that they come in different colors of the same pattern. This gives you an option to choose which would suit the ambiance you want to build for your living room. 
Brick Wall Effect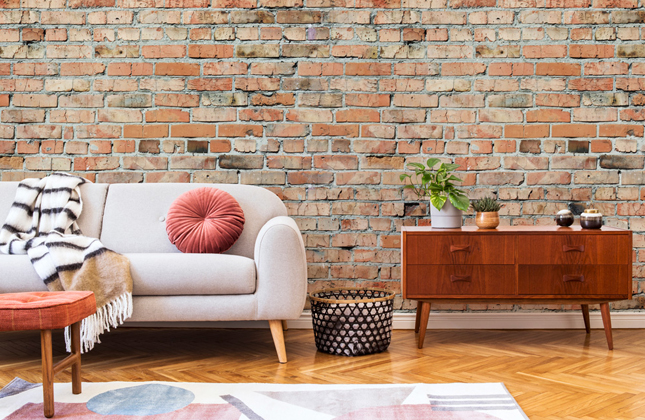 For a rough and rustic look, we can opt for stone design wallpaper. The trick here is not to position direct lighting towards the wall. This way, it would not be obvious that the surface is flat and there is no debris. This approach embraces all the architectural details. The designers were able to balance the rustic design of the walls with the sleek finish of the furniture. The wallpaper featured different tones of clay creating a feature that is not too overwhelming for the eyes. Besides, the colors of the furniture highlighted the brick wall effect of the wallpaper. 
Victorian Vibe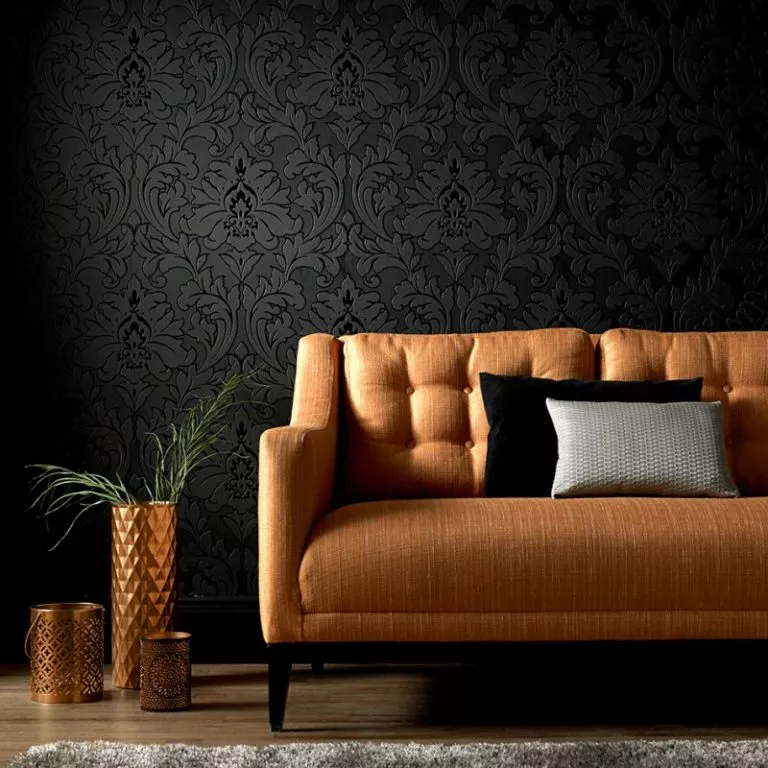 If you are rooting for a Victorian chic vibe, using wallpapers will come in handy. There are textured wallpapers that will not make your wall look like a flat surface. The easiest way to achieve a sophisticated Victorian look is to make the most out of wallpapers. Thanks to this amazing inspiration from Hackrea, you can see that even when the color of the wallpaper is dark, there are moldings that overlay. The dark wallpaper highlighted the furniture and the accessories used for this design. All it takes is a little mix and match of materials to achieve your desired design. The rusty brass color of the couch and the vases created a modern Victorian vibe without even trying. It is all about experimenting on different materials that would blend evidently. 
3D Effect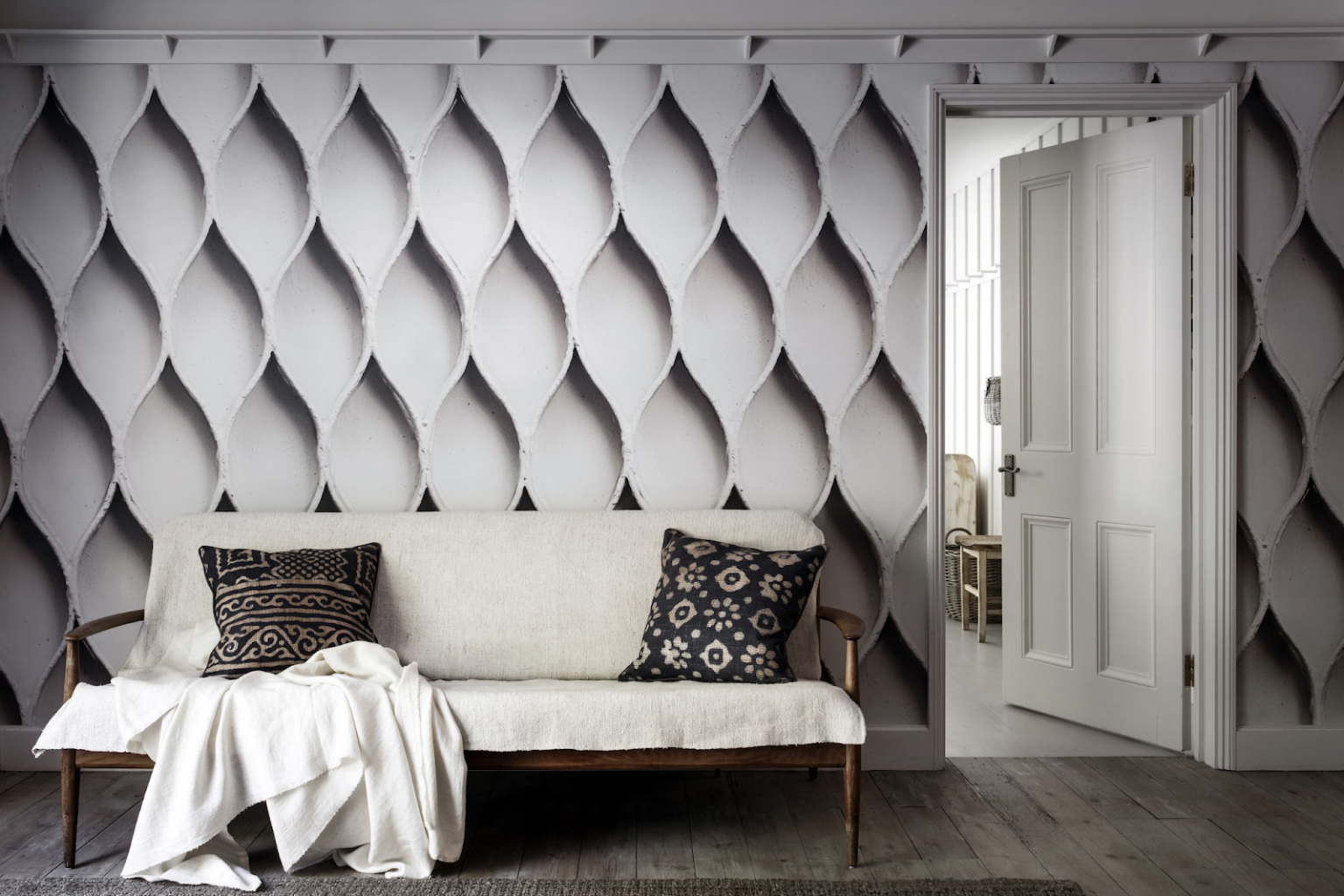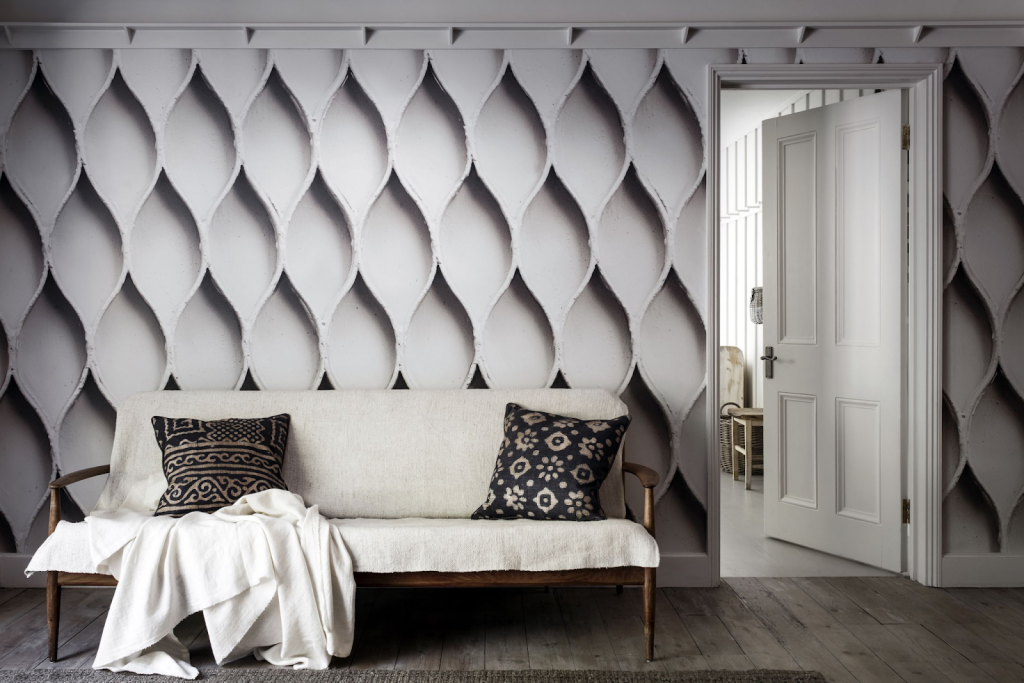 To hype up how the living room will look like, we have to think beyond the box. One way of doing so is by introducing three-dimensional wallpaper. They may not seem to be your first choice when it comes to wallpaper preferences but it does the trick in balancing the flats and textures in a room. Besides, where is the fun in plain old walls, right? Thanks to this amazing minimalist design concept from House Beautiful, we get this uniformity in pattern exhibiting shadows. The trick here is to opt for recessed lighting without direct illumination towards the wall. Another great option for 3-dimensional wallpapers is floor lamps. The lighting is directed towards the person in the room. What we love about this design concept is the predominance of the color white in different hues.
Going Retro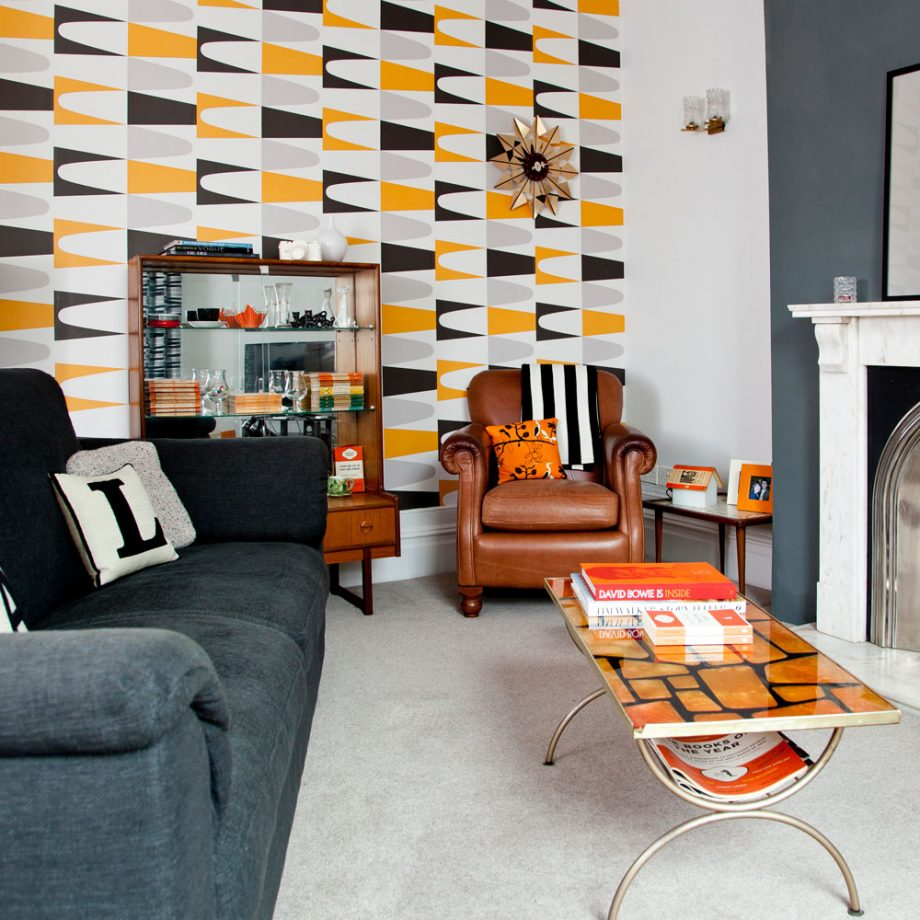 During the design phase of our living room, we must ensure that the wallpapers we use are in accordance with our taste and ideal style. In this case, we have a design inspiration from Ideal Home where they utilized a very striking wallpaper. It portrays a minimalist retro vibe that is frequently used in living room design. But when it is used, it gives this aesthetic value that no modern design could give. Wallpapers often come in patterns and textures. This is where the retro picks come first. It would take you plenty of time to manually paint this pattern but the help of wallpaper will go a long way. Besides, if you do not prefer your initial choice of wallpaper, you can always uninstall and install a new one.