12 Masculine Living Room Inspiration Ideas
When talking about masculine room ideas, people often envision a modern contemporary man cave with leather furniture and dark walls. Well, that's not always the case. There are many different ways to execute a masculine living room or living space without solely relying on traditional interior design. 
So, if you're a man who wants to impress guests whenever they come by your house, or if you're a woman who wants to surprise the man in your life with his very own man cave, here are a couple of mens living room ideas to choose from.
The Minimalist
There are many people out there that are adapting minimal living in their homes and this includes men. This kind of interior design is inspired by making the most out of life by living only on the bare necessities. 
Men are simple. Most of them do not like complicated things, which is why this kind of living space is ideal for them. If you want to have a minimalist living room, the first thing to do is to declutter. Then comes the crucial stage of deciding what pieces of furniture you want to put in your living room. But bear in mind that each item should serve a purpose, otherwise it will go against the whole idea of minimalist living. 
So, pick a couch big enough to accommodate enough people when you have guests. Choose a minimalist floor lamp that will be your lighting and also serve as decor. Go for a coffee table that has some storage space and a Nordic rug to keep everything tied together. 
Modern Living 
Those who live in the city and lead a busy life will love the idea of a modern bachelor pad. Not only will it be reflective of the city life, but it's also convenient for the modern man who is always on the run. 
To achieve a modern look in your living space, you have to keep the color palette neutral. Modern designs usually like using these colors because it goes well together with metallic accents and decors that are often associated with modern living. In terms of picking the right kind of furniture, keep it simple and sleek. A sectional sofa would work great in this kind of design, paired with a glass coffee table with a metal frame. If you want to add art, you can choose something abstract to go on your wall. 
Most importantly, don't forget to add the electronics. A giant flatscreen television in front of your couch and a Bluetooth sound system would be a fantastic addition. When it comes to choosing the right kind of lighting, you can opt for a floor lamp, or better yet, a track light installed just above your TV wall should be a nice touch. 
Neutral Contemporary
If you like the modern design but want it a little more laid-back and casual, then you will like something that is contemporary-inspired. This kind of interior design focuses more on simplicity. As may be the case, you will find subtle hints of modern and minimalism with this one. 
For this look, you will need a neutral base of colors either on the walls or your sofa. If you prefer to use wallpaper instead of wall paint, then choose something with clean lines. Pick timeless furniture and stick with classic decor. An area rug that will compliment the color of the sofa or the wall is also ideal. And if you want to add something interesting to break the mundanity, you can choose a unique coffee table, just to add an element of fun to the living space. 
Beach Inspired
Do you love anything that involves the beach? Or do you live in some coastal area? Then, why not give your living room area a nautical makeover? 
This one should be easy to follow since it's quite distinct in terms of style. A beach-inspired living room usually consists of two or three color palettes. These are white, blue, and a touch of brown. 
To start, choose a patterned rug that will serve as your focal area. You can pick a striped one or something that will go well with the whole design theme. Then, you can sort out the color of your wall and your furniture. You can either have your walls white or something beige. It's all up to your preference. You can also skip the white couch and go for something with a little more hue since having white on white will be hard to keep. 
As for decor around the living room, this is where you can be a little more experimental. Wood accents would really go well with this kind of interior design. Whether it's a wooden coffee table, table lamp, or driftwood placed on the wall, it doesn't matter. As long as you incorporate some wooden elements into it. 
Nature Theme
Someone who loves outdoor activities like camping or going up the mountains will love a nature-inspired living space. Bring what you love about the outdoors into your very own bachelor pad and you may end up not wanting to leave your living room ever again.
To be able to include nature in your living room, you need to decide which element of nature you're going to use. You can get a big indoor floor plant placed in a corner or a few potted plants spread in different areas in the living room. If you're looking for a couch, maybe a velvet green couch or a rust-colored one will do the trick. Pair it with a dark wood or stone coffee table for an interesting look. 
Industrial Design 
When talking about a masculine bachelor pad, the list is never without something that involves industrial design. An industrial living room exudes a sense of rawness that is both cool and edgy. This type of style is ideal for large open spaces preferably with exposed pipes or brick walls. 
This design concept often involves rustic pieces like old shelving units or vintage patterned rugs. It also uses furniture that is both decorative and utilitarian. For instance, you might think that the old filing cabinet in the basement is ready to retire, but you can absolutely make use of it in an industrial concept living room. 
A leather chesterfield sofa is often the top pick when it comes to seating choice. Although a brand new one might be more expensive, it's made to last for a long time with proper leather care. 
Rustic and Moody
When talking about masculine living room ideas, something rustic is always a safe bet. Something about the ruggedness of this design gives off a masculine vibe. While there are rustic designs that tend to be more feminine, there are also manly ones.
If you make the walls moodier in terms of color instead of a fresh white paint that gives off a country feel, then the space will feel more like it belongs to a man. To achieve this, pick a dark-colored wall, one with hues of blue or brown. You can also install wood beams on the ceiling to add some texture and character to the space. Add a statement leather piece in the design like a sofa or a rug. Make use of vintage decorations and indoor plants to furnish the space and make it warmer. 
Dark Colors
Another masculine living room idea is to create a living space with the use of dark-colored hues. While light-colored walls make the living room feel a little bit bigger and more illuminated, a dark wall makes the living room feel warmer and cozier. 
If you like staying at home and want your living room to be more homey for when you're there, then you might want to consider changing the colors of your walls to something deeper. While dark colors would be your theme, it doesn't necessarily mean that you have to pick every piece of furniture in the same color scheme. 
To build a nice-looking contrast, pick a sofa that is lighter in color – preferably a light gray or a light brown. If you want a subtle pop of color, you can choose a mustard or rust-colored velvet sofa. Finish the whole look with simple decorations that blend well with everything else in the room. 
Artistic Living Room 
Whether you're an artist or someone who's an art fan, the living room would be a great place to showcase art pieces. Regardless of the color of your walls or what it's made of, the best way to achieve an artistic living room is to display an array of art on the wall. It could be any kind of art, as long as you're happy to have it in your living room. 
A chesterfield sofa would also go really well with this kind of aesthetics, but if you're not keen on one, a regular black leather sofa or a velvet one would also do the trick. Furnish it with colorful throw pillows and a blanket. To bring more life to the space, you can add some colored stools or an accent chair. Aside from using them as additional seating, they're also multifunctional decors.
Black and White 
A black and white living room space can either be easy or difficult to accomplish. When it comes to playing with just two colors, you need to stick with some basic tips to make sure that you don't get overboard with the design. 
For someone who loves fashion, a black and white themed living room will look really trendy and stylish. This kind of interior design also looks fresh and clean, so if you're someone who wants to keep all his things organized, this design would be a good idea. 
To successfully execute a black and white living room, you have to choose which will be your primary color. You can choose to keep everything white except for a black couch or you can pick a white sofa and add in black decors. The styling depends on your taste, but try not to get too excited with decorating as putting too much display can ruin the whole look. 
Movie Theme
For those who love watching movies at the end of the day or over the weekend, just to wind down and chill, why not turn your living room into a movie-themed bachelor pad? This is also a great idea for those who love having friends and family over some night to bond with movies and snacks. 
To turn your living room into a mini-movie theater, get a comfortable sofa that's big enough to accommodate a few guests when they decide to visit. Instead of decorations, you can just get a big wooden shelf where you can put all your film collections and arrange them in alphabetical order or by genre. Hang some giant movie posters of your favorite movies or some old-time classics that will also serve as your wall art. 
But the most important feature and the star of the living room should be a giant TV. You can either have one mounted on the wall or you can have a pull down projector screen if you want to take movie nights more seriously. 
The Manly Cave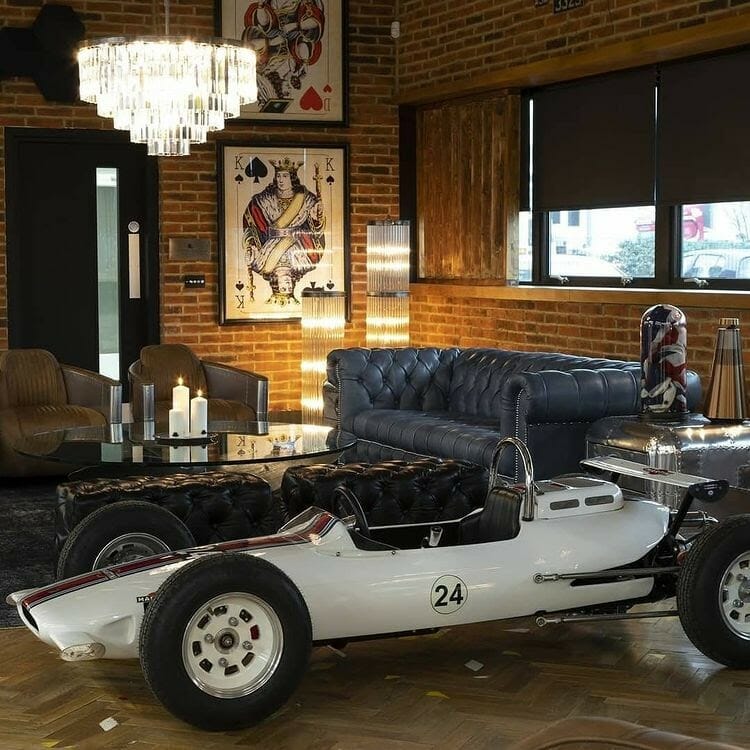 If you're thinking of the ultimate man cave, it would consist of everything you want or that certain man in your life would want – all piled together in a room. But it shouldn't look like storage space with all the manly bits and bobs crammed in the living space. It should be well organized and up-to-date to make it more habitable and cozy. 
Your living room furniture and decor would rely on what your interests are. So keep everything basic and then decorate with items that are related to your interests. Get a leather sofa and a flat-screen TV mounted on the wall. Display some sports trophies on a shelf if you have some or a turntable if you love music. Have some photos from your trips displayed or some souvenirs from places you've been. A manly inspired cave should be a representation of all things you like, so keep it comfortable and personal.