12 Bedroom Chairs to Accentuate the Personal Space 
The bedroom is the sleeping sanctuary at home in times when you need to rest, refresh, or just do your personal tasks. It houses all the different activities you feel comfortable doing all by yourself. More than just the bed, one of the most important piece of furniture in the bedroom is the bedroom chair. They are often located opposite, next to, or adjacent to the bed best for before bed routines, personal hobbies, or just relaxing. It makes the space more inviting and provides room for seats than just having the bed. Nothing beats wide, sleek, and cozy seats to relax or even read. A single or twin bedroom chair can make the difference in improving the vibe of your bedroom in the most budget-friendly way. Here are 12 bedroom chairs to accentuate your personal space. 
1. Tufted Papasan Chair
You will love a chair when it makes you feel comfortable and within your own personal space. What is not to love about this apple green circular seat? Whether it be for reading, using your laptop, or even for plain watching the television, nothing beats a cushioned seat. They are stylish and highly comfortable too. The striking apple green color will complement boho, farmhouse, and even eclectic design. If you want a safe seat for you to rest and breathe for a short while, this is the best way to do it. Throw in a blanket and a pillow and you are already good to go. The best bedroom chair is the one that will not only complement the entire bedroom design but the seat that you will find comfortable to. 
2. Wide Linen Side Chair
For a rather lowered seat with a generous seating space, you will love this wide linen side chair. It will fit perfectly on your bedroom. There is even enough room to indian sit on the chair. It is stylish but it is important that it is not that bulky enough to consume much space. Its deep green color is ideal for any room setups and will work beautifully in pre and post-modern interior designs. Deep green is indeed a striking and spontaneous color to work with. It is both relaxing and refreshing. It is similar to having a view of the environment at every point. 
3. Velvet Wingback Chair
For a classic look for a chair, this off-white velvet wingback chair will provide both comfort and relaxation to you. Its sleek and high-quality upholstered design will tweak the interior of your space a little. With its wide seating room, you will feel the comfort of even taking a nap while seating in this armchair. Reading books while on it is not bad as well. It prioritizes consistent comfort even being seated for long hours. If your bedroom is either small or spacious, you can never go wrong with this lounge seat. It makes it a perfect spot to do your personal routines. With its metallic feet for support, it highlights the details and character of the chair. 
4. Tufted Convertible Chair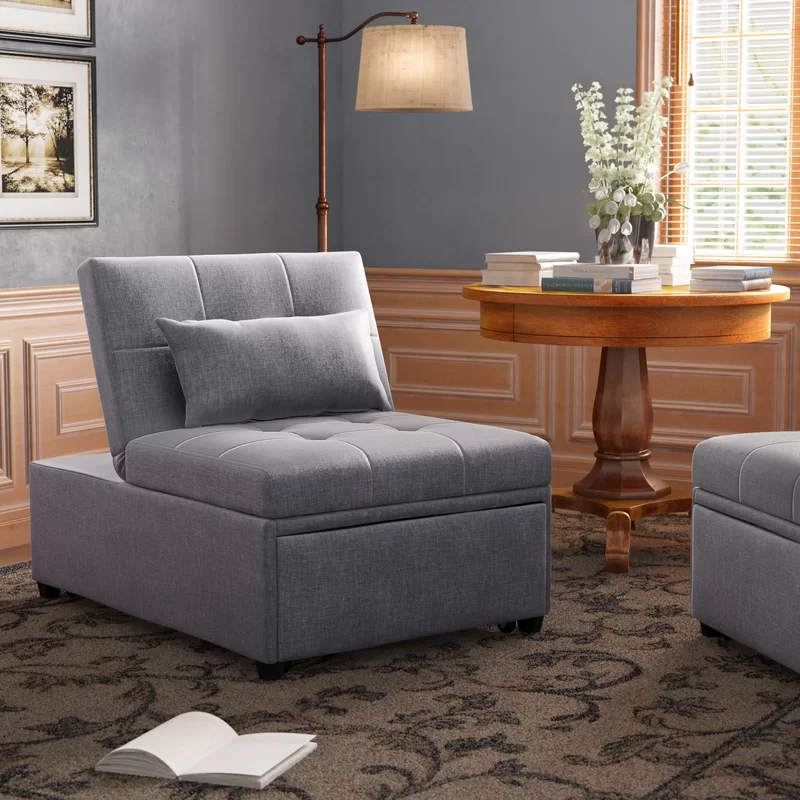 If you are rooting for a multi-purpose chair that will fit your bedroom space, you will love this convertible wide seat. It often comes in pair to put together as a single bed. This is an ideal option to those who often have friends over. Nobody needs to sleep on the cold floors anymore. What we love about it is how wide the seat is. Its comfort can withstand long hours of sitting and lounging doing whatever you feel comfortable of doing. You can even bend the back as much as you want depending on how much you want it to be. 
5. Swivel Barrel Chair
Nothing beats the classic design of armchairs. This swivel barrel chair obtains like a tub-like design that makes the lounging more gradual. As aesthetically pleasing as it looks, it is also a comfortable seat where you can conduct different bedside activities. There may not be enough room for you to recline but a throw pillow can do the trick. It is a visual representation of style meeting comfort. Whether it be nordic, classic, or eclectic, this bedroom chair will maximize the design of the bedroom. Its choral blue color magnifies a refreshing scene. It is like being close to the shore. Color is indeed important even in the pieces of furniture that surrounds the bed. 
6. Rustic Convertible Chair
If you have a generous space in the bedroom to fill, you will love this rustic convertible chair in brown leather. It is cubic in design and can even fit two people. Its size has enough room for you to lounge and even take a nap. This is ideal if you spend long hours of reading or chilling. It would be best to locate it in a spot where that allows it to acquire natural lighting. Leather is a versatile material to use in seating furniture. They are quite resilient and can withstand heat and moisture. When properly upholstered, it is something you can work with in a long-term. Always remember that material and color is important. Allow the bedroom chair to blend with the design of the bedroom in terms of color, theme, and texture. As seen from this example, this rustic seat is chunky that sits perfectly in retro-themed bedroom ideas. 
7. Mid-Century Modern Armchair
For a more classic and traditional look with a dash of sleekness, you will love this mid-century modern armchair. It may seem bulky to look at but its look will surely satisfy the design of the bedroom. If you are looking for a comfy thinking chair, this is the best way to go. The scale may seem to be off the hook but its velvet material feels warm and cozy to be surrounded with. There may not be enough room for the back which makes it not ideal for taking naps. But apart from that, all the other different activities would suffice. It is a gender-neutral seat that works for both feminine and masculine-themed rooms. It is not just about the color but as well as the entirety of the design of the bedroom chair. 
8. Cubic Wide Chair
For a more angular look, you will love this geometric bedroom chair. Veer into the modern look without compromising the elegance of the bedroom space. This velvet upholstered armchair will make your bedside routines worth while. You can even work on it at times when you want to work with comfort and coziness. Since it is a bulky design, one would be enough for a small bedroom. Having two is ideal for spacious bedrooms catering to friends during sleepovers. It may not be as multi-purpose as the other seating furniture but this one taps both comfort and aesthetic. 
9. Fuzzy Wide Side Chair
For those rooting for a plain and simple chair for the bedroom, this fuzzy wide side chair will do the trick. It is not everyday that you get to seat in an apple green chair. Its color works perfectly in different design styles at home. Its fuzzy dwells on comfort and may come in handy during the cold winter season. More than just the color, the texture is one of the most important considerations in order to tap your needs. Besides, it is not just furniture. Instead, it is something that you get to see and use on a daily basis. 
10. Puffy Convertible Chair
Another multipurpose seat is introduced in canary yellow. Its striking color will define the jolly and enthusiastic character. It does not necessarily mean to mimic the color scheme of the design. Sometimes, a little change is necessary to make a difference to the entirety of the bedroom look. Its comfortable wide seat can be converted into a lounge chair. This means it can work as a nap seat too. This is perfect after a long day of work and you want to rest for a quick while before running errands and doing chores. This would fit in perfectly as a guest bed in cases when you have your friends around. 
11. Sleek Contemporary Armchair
For a sleek and rustic design, you will love this black smooth leather upholstered armchair. It may be the perfect furniture for your living room but it works well too as a bedroom chair. Its material is way easier to clean and to maintain but taps to blend in with retro and vintage interior designs for a bedroom. 
12. Reading Nook Chair
Those gold-plated legs make the yellow cushioned seat looks grounded perfectly. Whether it be for seating or napping, this armchair would take a good amount of space in your bedroom. It gives more room for the back to prevent unwanted problems in terms of posture. The chair is reclined in the most comfortable angle to prevent spasms and sore back.