15 Decor Ideas for a Glam Living Room
Glam style is often reminiscent of old Hollywood glamour. It takes a lot of inspiration from classy and luxurious interior design. When it comes to this kind of style, you have a lot of wiggle room until you reach your preferred look. It could either be old glam, a modernized one, or a mix of the two. There are also a few current takes when it comes to glam styling your living room and you might even be surprised at some odd pairing. 
In the end, whatever type of a glamorous living room interior you want, it can be achieved through careful planning and thoughtful execution. So, if you're a fan of the glam life and are looking for ideas on how to transform your living room, then you might find the styling tips below helpful. 
Tufted Sofa and Furniture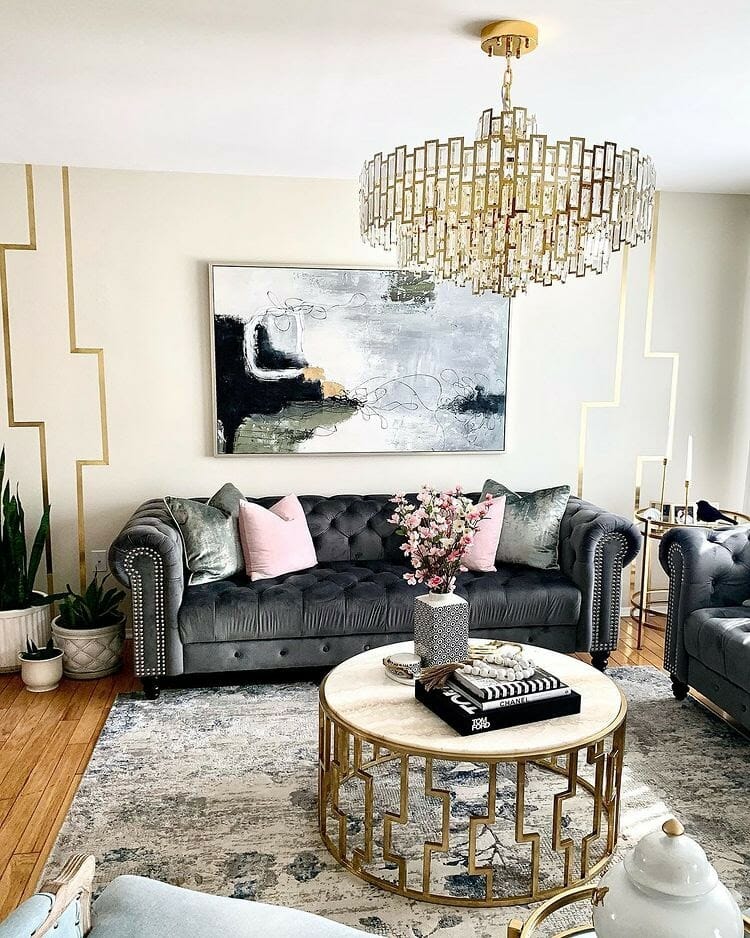 When it comes to glam living room decor, a tufted sofa is always preferred. It's a classic style that's always been used when you want to give your living room a more luxurious feel. But in case you don't want a tufted sofa, you can just pick out a tufted ottoman or coffee table. Any of these will give the kind of glam look that you need.
Brass Accent Furniture
Brass accent furniture might just be the additional piece you need to make your living room stand out. Furniture and decors with brass accents work well if you're trying to give your living room a facelift. Other smart ways to incorporate brass in your living room would be to get small furniture and decorative items such as brass side tables or lamps. 
Vintage Patterned Rugs
When it comes to glam living room ideas, having a vintage patterned rug will add uniqueness to the living room. If you prefer a more rustic glam look as opposed to a sleek and chic one, then adding a vintage rug will give your home a little bit of a rustic feel. You can choose between an oriental or a damask pattern to mix with other elements in the living room.
Animal Print Rugs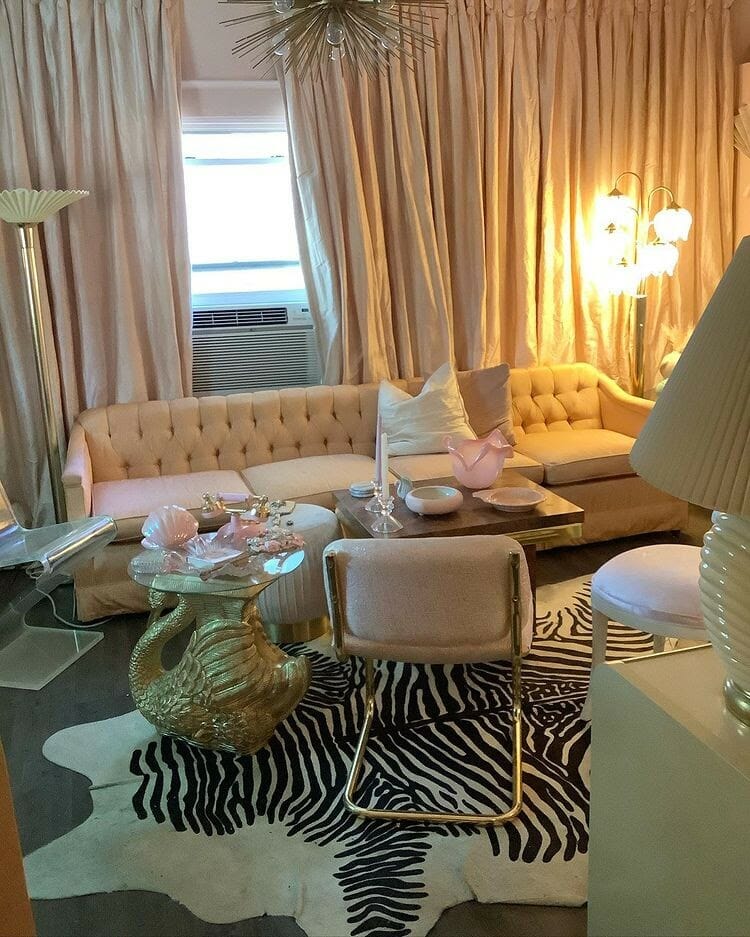 Another option when it comes to rugs is to pick out something that makes a bold statement and nothing stands out more than an animal print rug. These rugs are often used when someone is going for a more earthy and moody interior design, but it also works really well with the glam style. So don't be afraid to add animal motifs in your home especially if you're a fan of rustic glam decor.
Metallic Framed Mirrors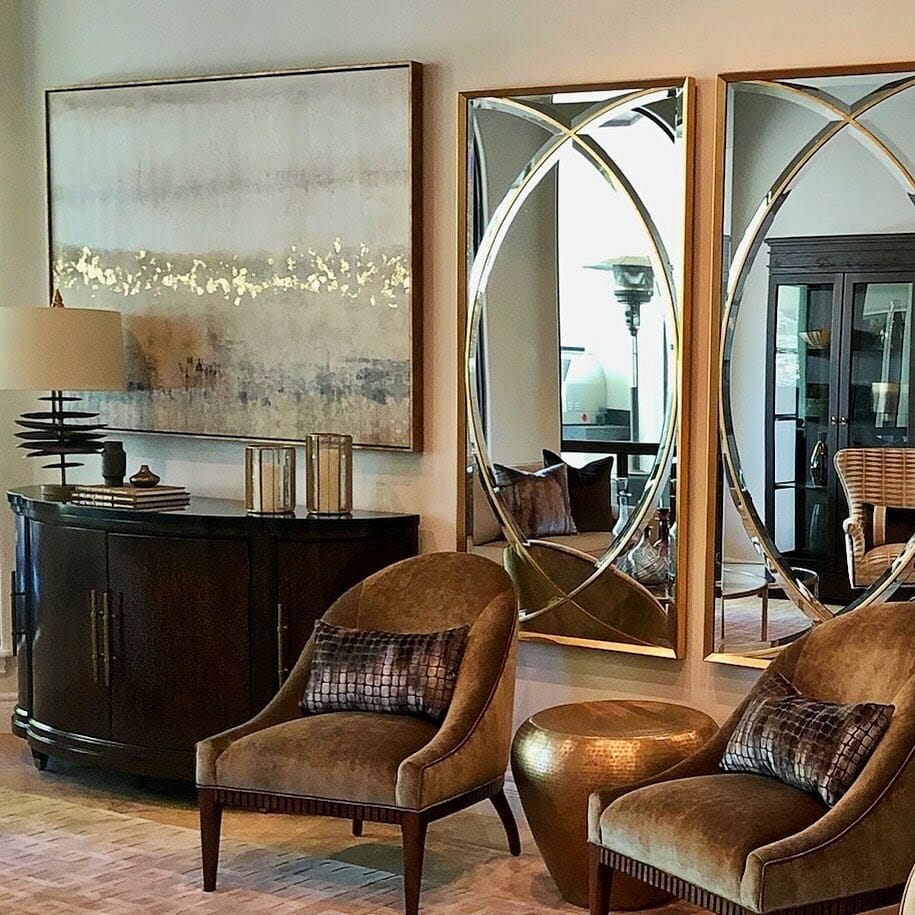 Aside from adding dimension to a room, mirrors are also a staple when it comes to glam decorating. If you want to add a mirror in your living room, go for something that looks vintage or one that has a gold frame. Put it just above the fireplace if you have one or hang it on an accent wall to add a touch of lavishness to your home.
Chaise Lounge 
They aren't necessarily a furniture requirement in a living room, but if you have enough space, you can get a chaise lounge for that Hollywood regency style. These chairs can be used as a sitting area for guests or maybe a daybed when you want to lounge around the living room. If you're looking to purchase one, get something that has gold trims on the edges or one with nailhead details.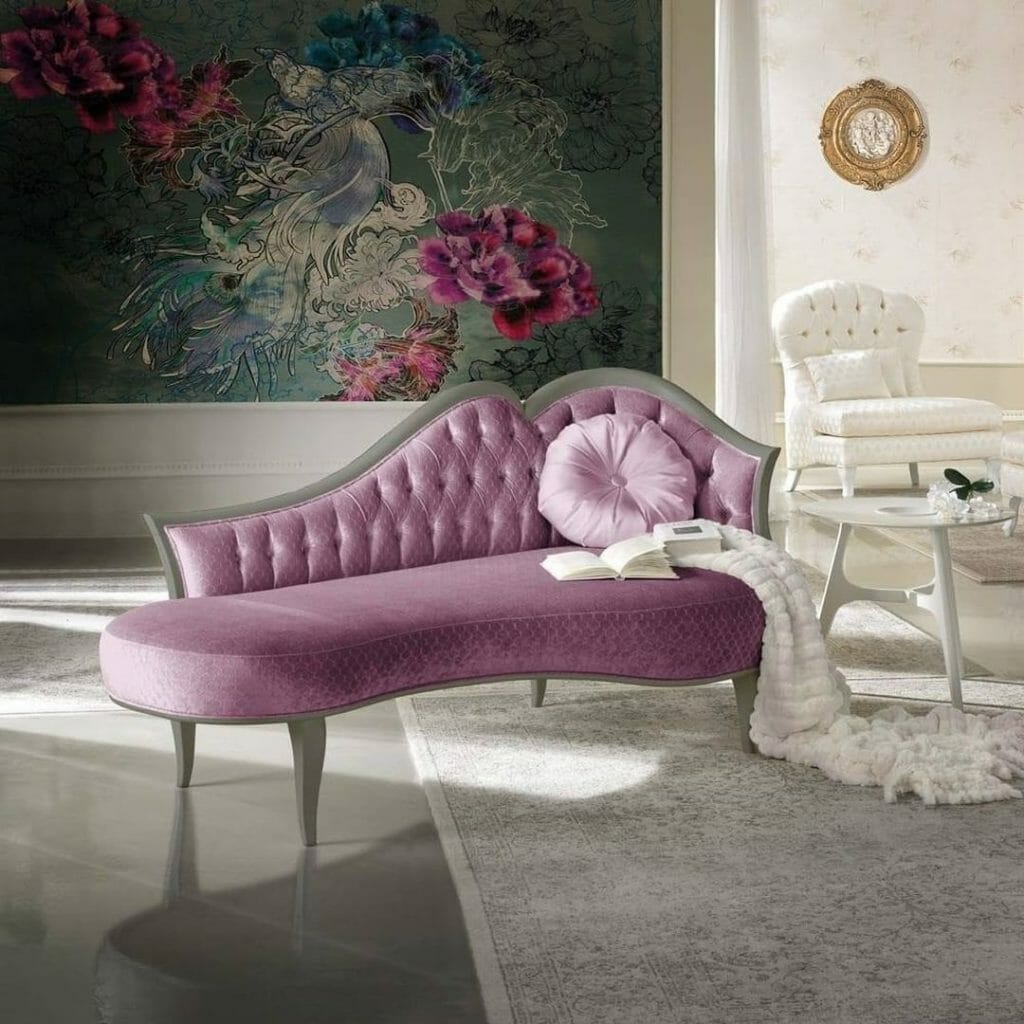 Faux Fur Throw Blanket 
Those who want to keep their sofas basic would need to rely on accessories to amp up the glam. If you want to keep your old sofa, you can just add a few items like a faux fur throw blanket or some faux fur throw pillows. It's a budget-friendly way to refashion your old couch without spending too much on brand new furniture.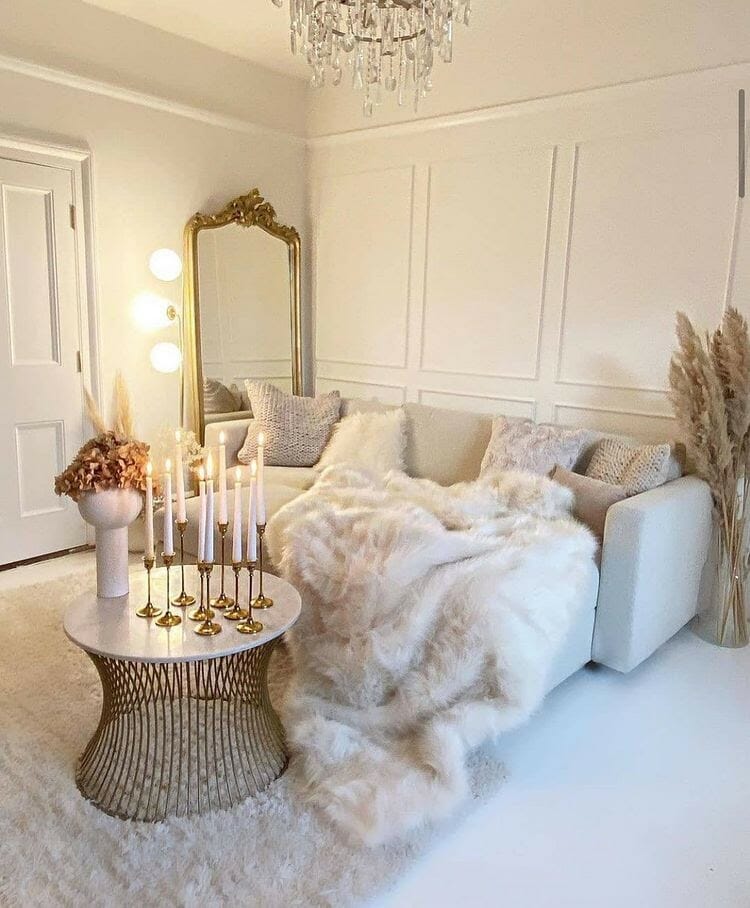 Velvet Furniture 
Velvet is the kind of fabric that simply screams elegance and grandeur. This textile is commonly used in glamourous design interiors. If you have the budget to get new furniture, why not pick out that blush-colored velvet chair or one with a distinct color? Aside from looking expensive and luxurious to touch, velvet is also easy to clean.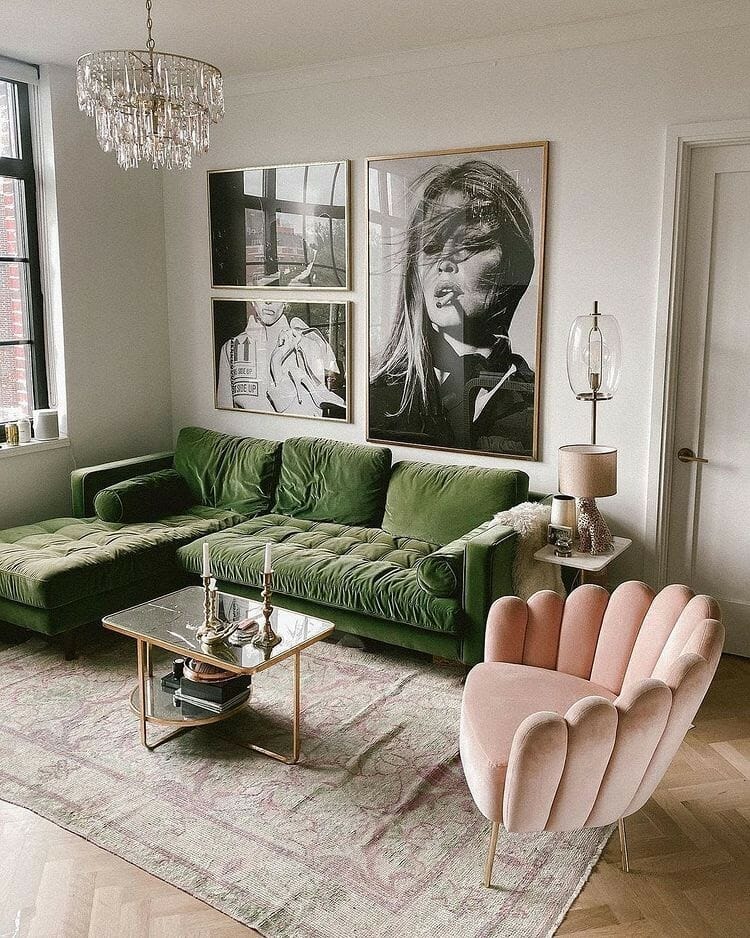 Metallic Decors
Another idea that you can add to your style board are metallic decors. Similar to getting furniture pieces that have a metallic accent, it's more cost-efficient to just pick out a couple of these items especially if you're on a budget and want something that's modern glam.
One great tip is to stick with one metal when it comes to styling. For example, if you're planning to get a couple of gold picture frames, then stick in the same color palette like rose gold or brass.
Marble Coffee Table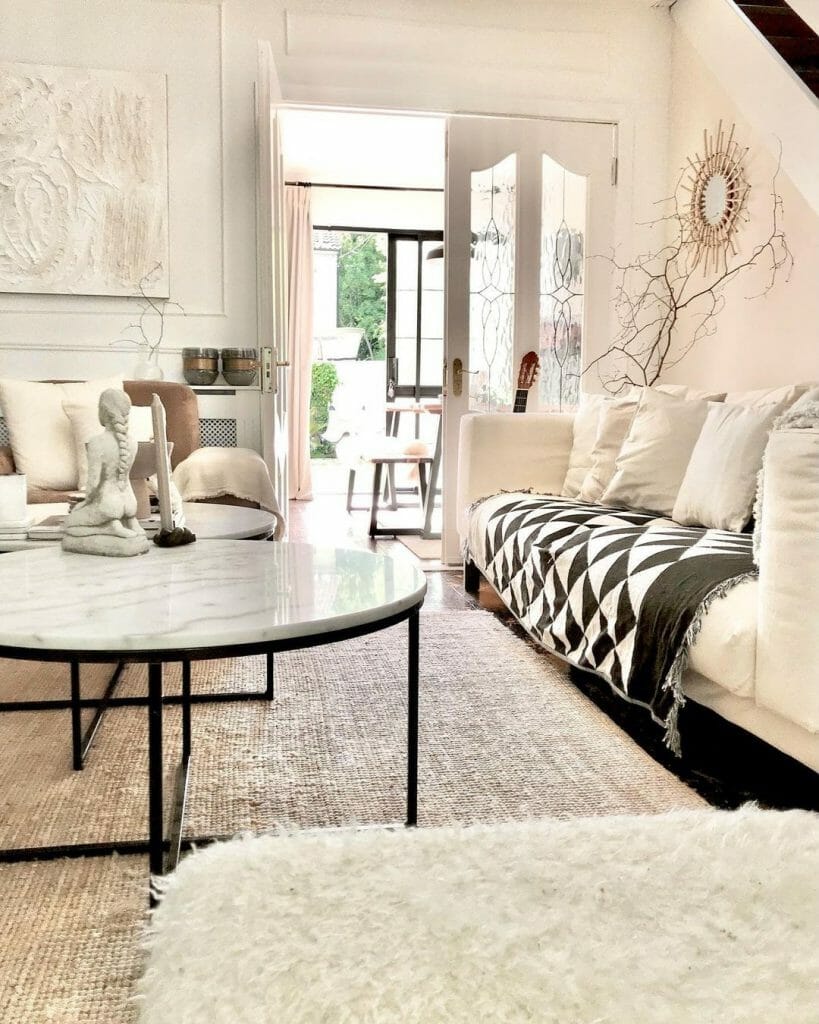 Another staple piece in any glam modern design are marble surfaces because of how easily they blend together with other existing decorations. A nice marble-top coffee table would be a nice addition to the living room. Another bonus point would be if the edges are trimmed with materials like silver, brass, gold, or chrome.
Faux Fur Stools 
They're not only cute, but they're also great to have around in case you need extra seating for guests. Faux fur stools are good accents to add in the living room if you're looking to give the area a little bit of a glam touch. 
Haute Couture Wall Art and Books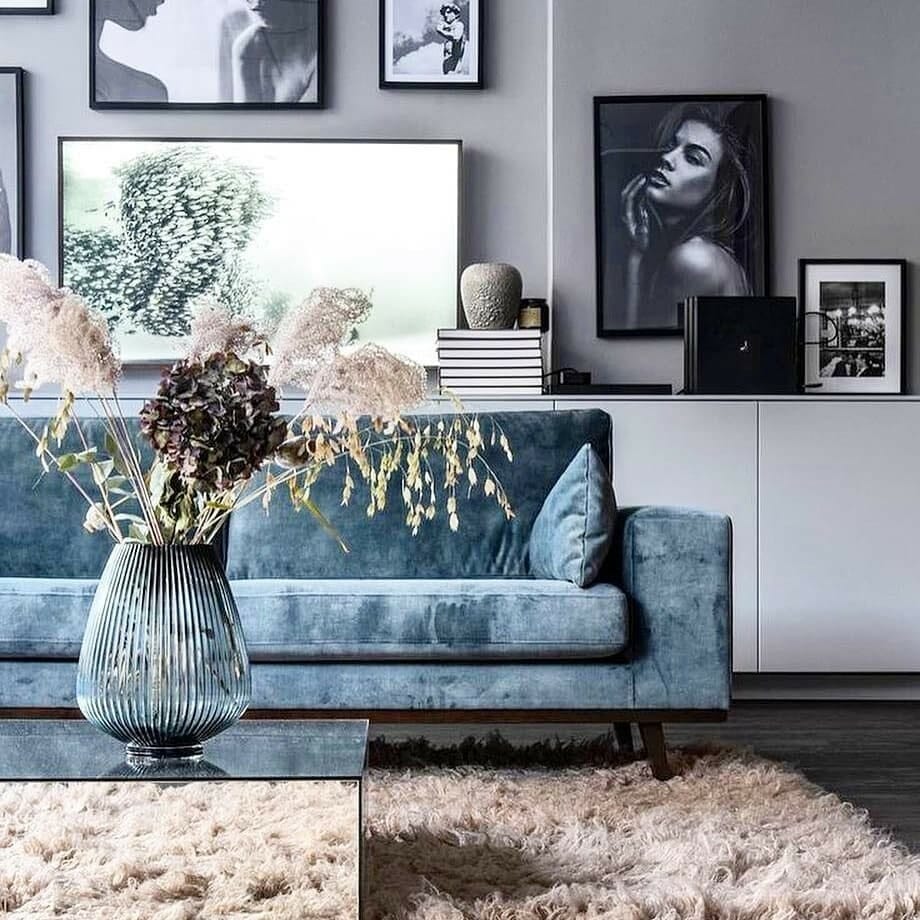 For wall art pieces and things that can be put on display on your shelves, you can never go wrong with some haute couture wall art and books. You can either source them from home decor stores or if you're lucky, you can find one at thrift shops. If you're rather confident and think that you can do it yourself, then why not make your very own wall art? 
Another tip is to frame any magazine page that you find chic and stylish and hang them on the wall or put them on display. You can also pile fashion books and neatly place them on your coffee table. 
Dramatic Lighting 
From crystal chandeliers to intricate light fixtures, you can use dramatic lighting as a focal point in your glam space. Also, having a chandelier hanging in the middle of the living room just makes you reminiscent of that old Hollywood glam vibe. 

Photo from: glamsyourday (IG)
In reality, not everyone can have a chandelier in their home and it's not mandatory to have one in a glam living room design. But, it certainly changes the mood of the entire space.
White Wall Paint 
Wall paints also play a big role in any type of interior design. The color of your walls could either make or break the whole design concept. In particular, glam designs often call for white or neutral colored walls because they go really well together with other furnishings. Also, marble surfaces, metallic decor, and faux fur look better with a white backdrop.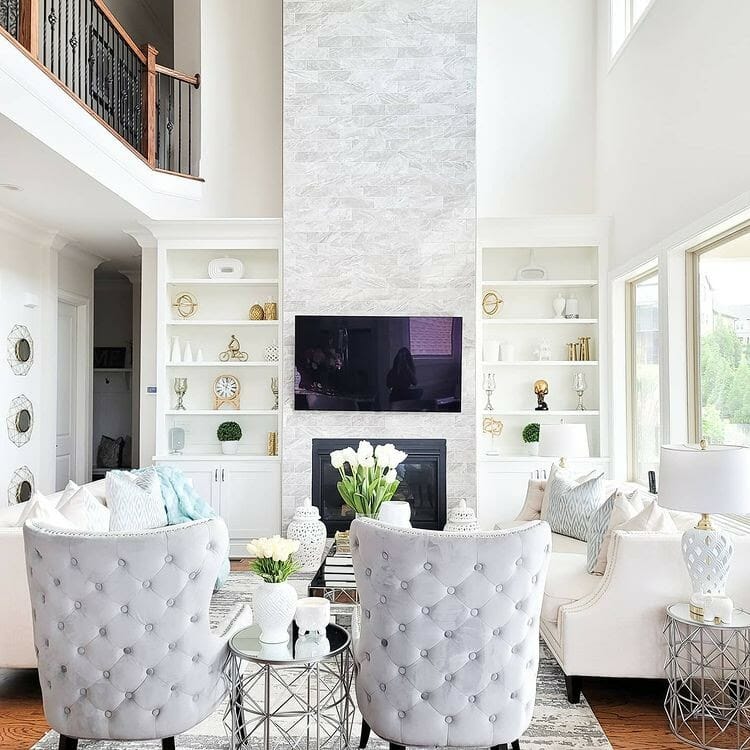 Gold Framed Furniture 
Similar to other things mentioned, having gold-framed furniture really exudes class. There are many furniture pieces as well as home decors that you can find with gold trims. But if you're a little concerned about the cost of remodeling your living room, there are several DIY glam projects on the internet and YouTube that are easy to follow. 
Different Glam Living Room Styles 
Interior design can go in a lot of different directions. There is no rule that says you have to stay strictly in one path to achieve a certain look. Similar to other styles, glam design can also be interpreted in many different ways. Below are some ideas and variations that might help you decide what kind of glam style suits you best. 
Modern Glam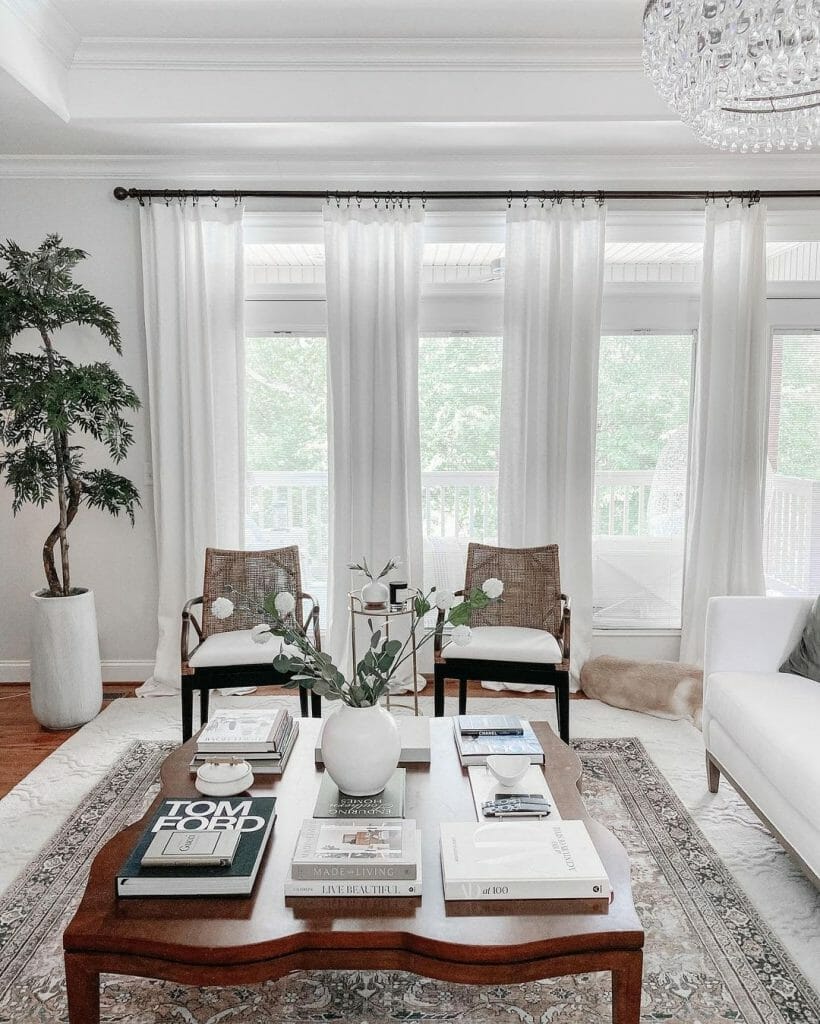 A modern glam living room will look somehow minimalistic since it will use more transitional furniture pieces. They may also include classical architectural details and Hollywood regency elements but will be a little more subtle because of their modern influence. This type of style will lean towards more neutral colors rather than deep jewel tones. The use of white, cream, beige, blush furniture, and finishing is also more obvious as well as the use of metals like gold and brass. 
Punk Glam
This type of style will be a little edgier and darker. In contrast to modern glam which exudes an airy but chic vibe, punk glam style centers more on the use of dark interior and furnishing. It definitely has a more dramatic and distinct look but will still have some traditional glam pieces like touches of gold and velvet upholstery. The use of dark walls and jewel-toned furniture is quite the usual pairing for this kind of style. Some unique decorations are also often used to give the space some character and depth.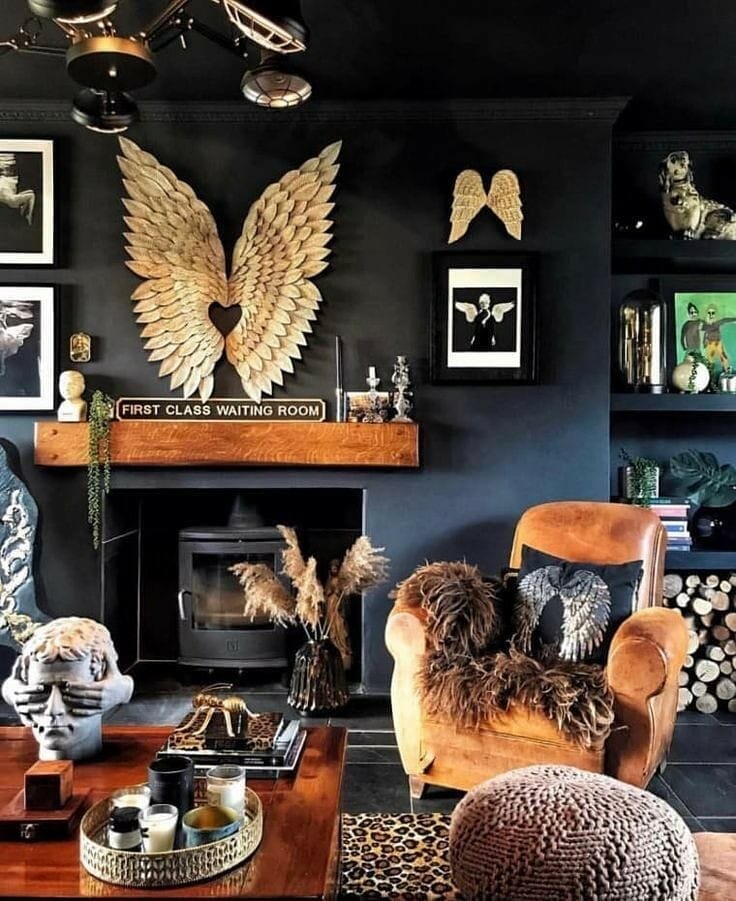 Hollywood Glam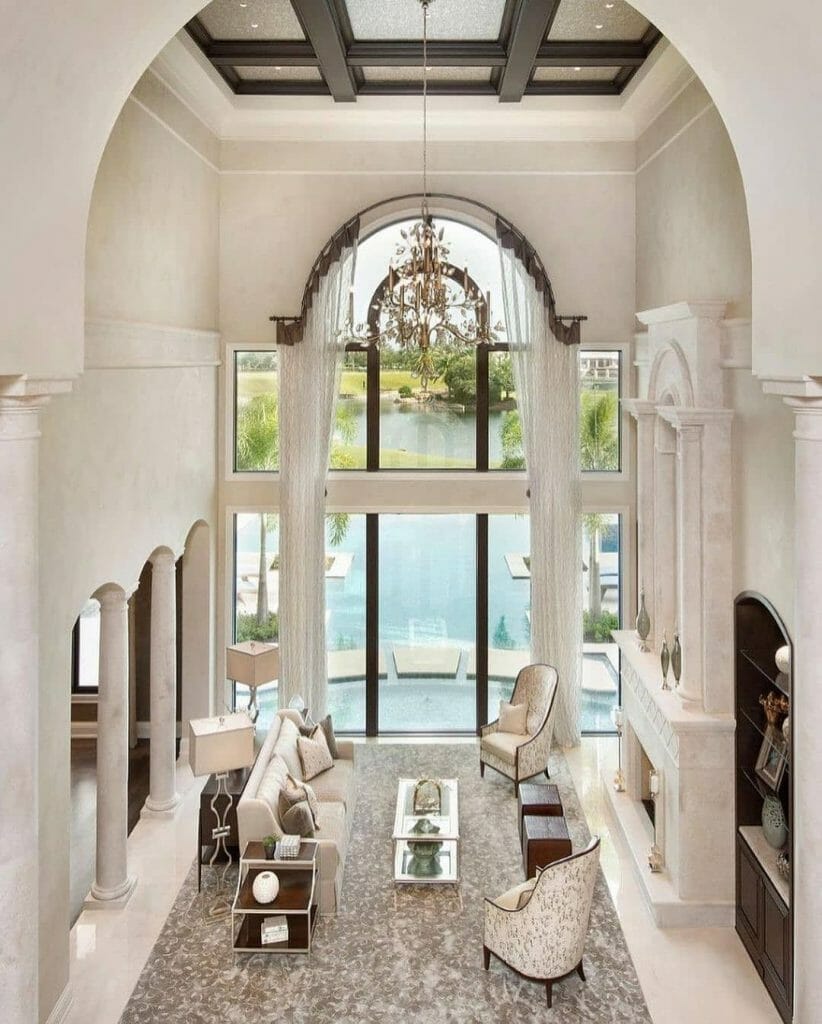 If you want opulence, then Hollywood glam would be the perfect fit for you. If you're wondering what this style is all about, the straightforward answer would be an extravagant display of glamour. This is an older and a more traditional way to look at glam. 
With this kind of interior design, you'll see many vintage forms of furniture and art deco. It loves the excessive use of velvet and tufted sofas. The presence of bold colors and patterns is also unmistakable. Since there's a sense of formality with this layout, it's more strict with symmetry. It also inspires the use of metals like brass and gold and dramatic lighting like a crystal chandelier. 
Contemporary Glam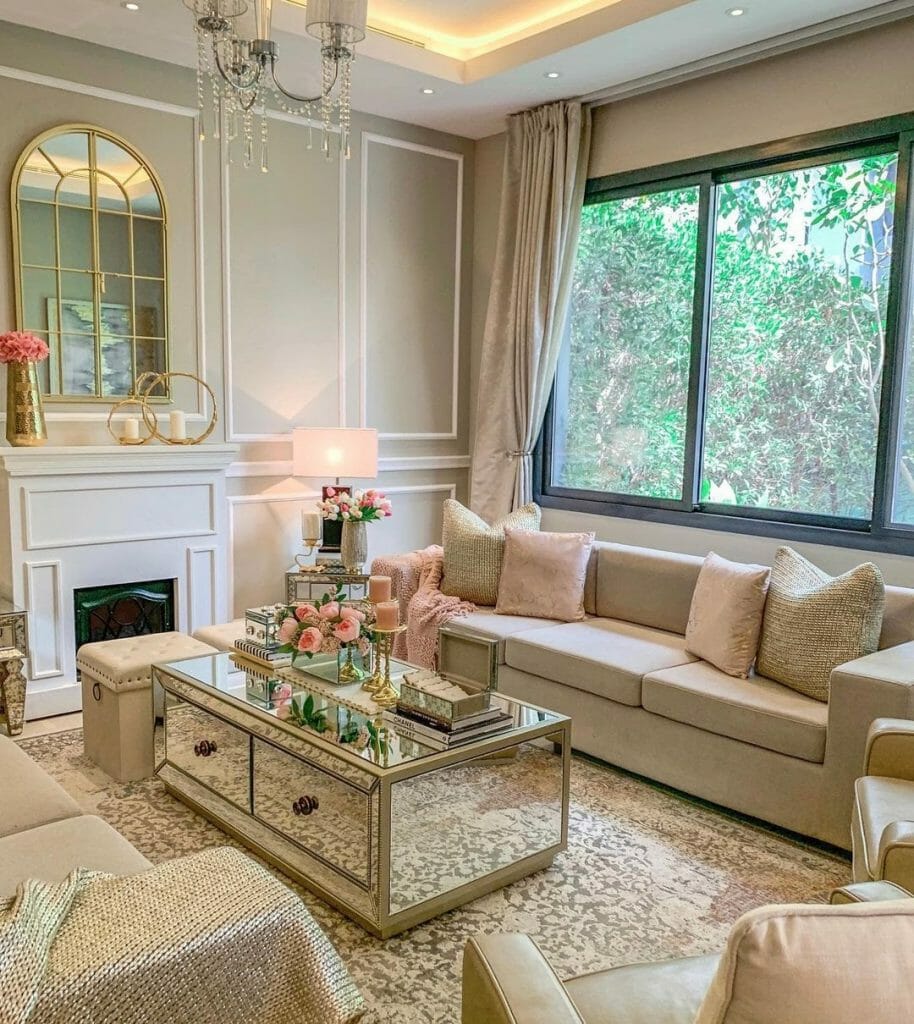 If you want to stick with traditional style, then contemporary glam is the perfect choice for you. This look takes inspiration from old and upscale interior design. It could easily be mistaken for Hollywood glam but just a little more subtle. A contemporary glam living room is usually achieved with the use of three color palettes, neutral, metallic, and accent color. This style has more classical pieces that are complemented with ornamental details to add more pizazz to the look. 
Bohemian Glam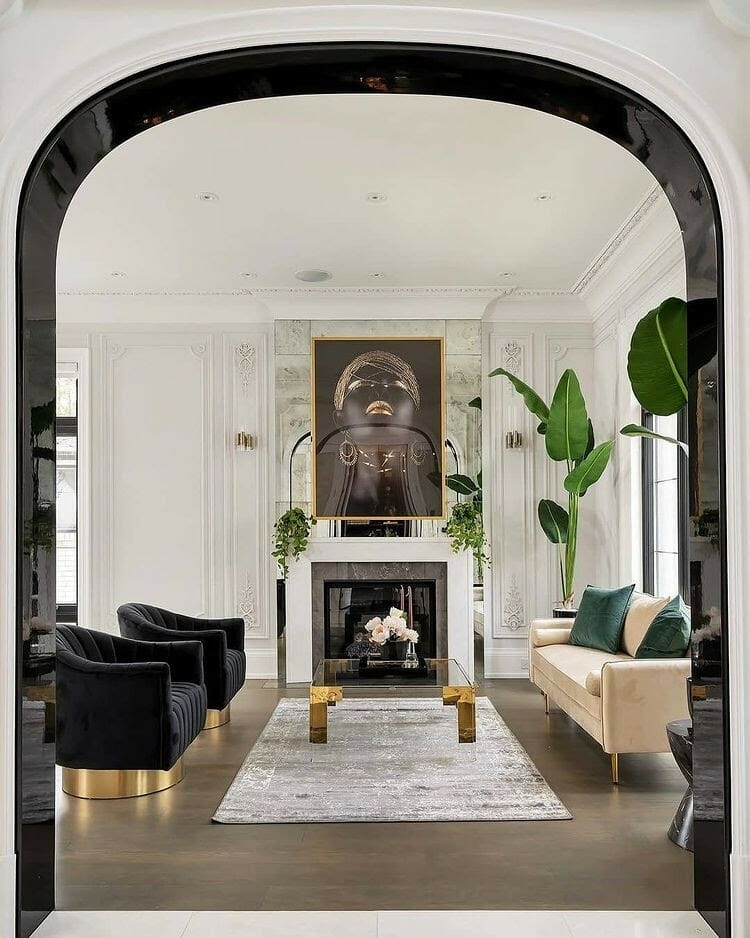 While the pairing of boho and glam seems a little unusual, these two surprisingly have a great potential when properly mixed together. Bohemian glam is a new concept in interior design but it actually makes sense. Since boho is more casual and glam tends to be more formal, the end result will likely be eclectic. Boho glam will still retain its moments of opulence but the overall style leans more casual and eclectic. So if you're looking for something glam but with a few twists and surprises then this might be the kind of living room style for you.
Rustic Glam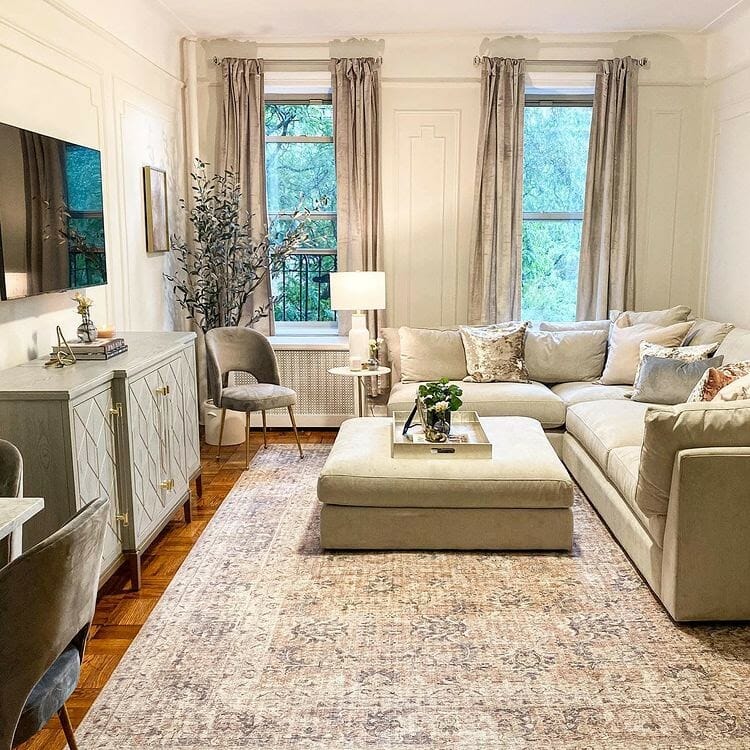 Similar to boho glam, rustic glam is a combination of two independent interior designs. Rustic often uses materials that are chippy and worn, which is the opposite of what glam living is all about. However, if properly executed, these two styles can work together perfectly. 
Rustic glam uses a lot of white so be sure to expect white walls, white furniture, and white decorations. Touches of glam are incorporated like faux fur pillows, tufted chairs, and metal accents. Even though they are both at the opposite end of the spectrum, it surely is a promising trend that will prove to be timeless. 
Happy Glam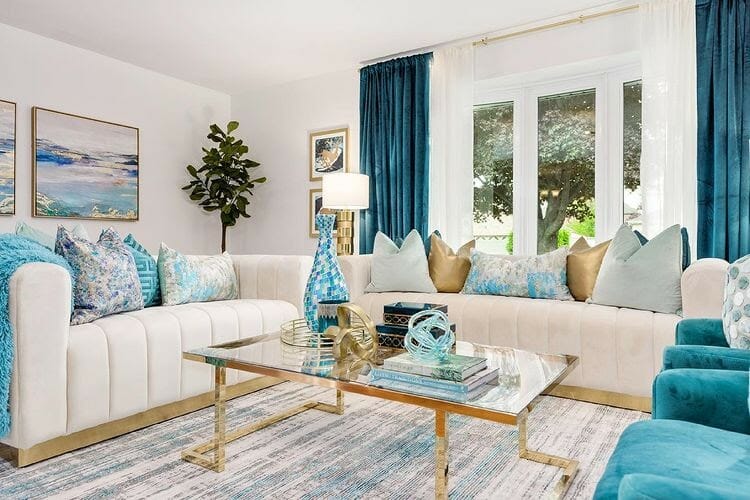 Bold and bright colors play a special role if you're looking at a happy glam living room style. If you want to have a little more fun when it comes to the color palette but still want to keep things stylish and glamorous, then you might want to consider this look. 
If you want to successfully execute a happy glam living room, you have to decide which furniture you want to highlight. You can bring in a colorful rug and keep everything else neutral or you might want to add a couple of pink-colored accent chairs. The presence of metals and other traditional glam furniture will be there but the overall look of the space will be brighter and livelier because of the burst of colors.