15 Living Room Bar Ideas That Are Perfect for Any Home
Those who love throwing parties and have people come over to their house will love the idea of a home bar. Aside from being a design statement in the living room, it's also one way to maximize and utilize the space. 
If you're someone who's looking to renovate the living room or simply wants to have a corner for your prized drinks, then these living room bar ideas might come in handy. 
 Refined and Elegant 
A home bar could be perceived in a lot of different ways, depending on how it was made and presented. If you want to have something more fun, then you're better to stick with something that looks casual. However, those who want to have some level of formality and elegance should choose a home bar that looks all class. 
For a refined home bar, you can have it custom-made and painted in a darker color. Have the wine bottles enclosed in a secure glass window with silver or gold lining along the edges. For an additional modern touch, you can have backlights installed so that you can see what's inside the shelf. 
Corner Bar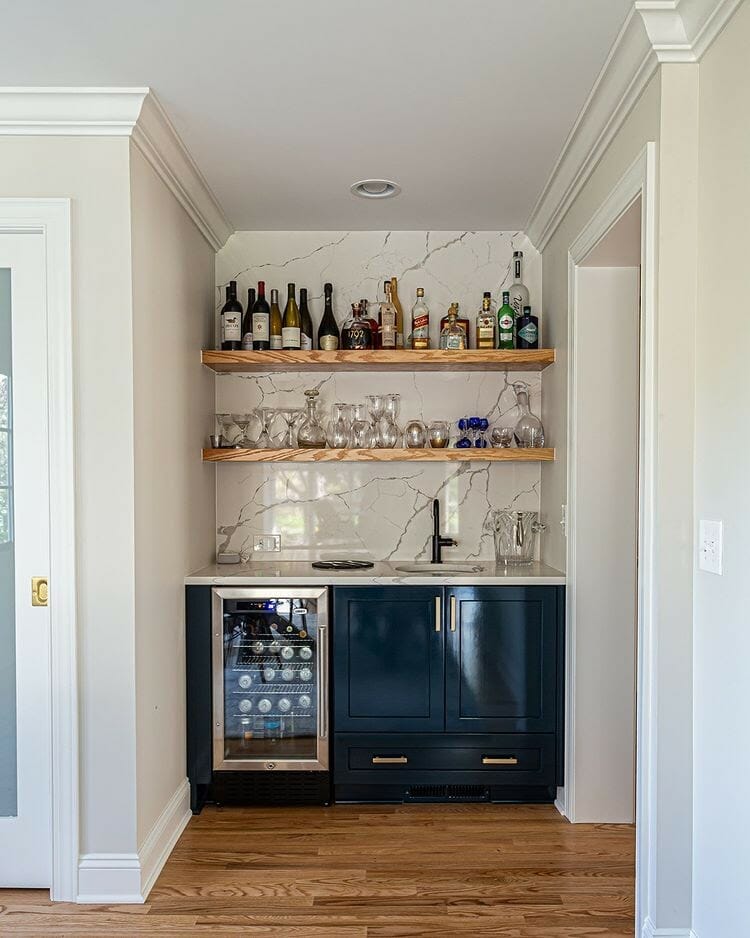 If you have a corner in your living room that serves no purpose or maybe lacks a little bit of something, well you can make use of it now! A corner home bar would be the perfect addition to bring life to your living room. 
This home bar idea would be perfect for those who have limited space in their home but love the idea of having friends and family over for some wine night. It's also a smart way to make use of an empty space in the living room while also having the benefits of your own little bar. 
Stick to the Basic 
If you're not too fussy about building a customized bar, then you can just stick to living room bar ideas that are basic and keep it simple. For those who just want a station to keep their booze or probably a small space for a coffee bar, then having a simple bar table or a bar cart would be enough. 
You can pick a bar table of your choice at any home furniture store and keep things low-key. Put in a safe spot in the living room and away from where people usually frequent. Put all your favorite alcohol, your coffee maker, and your tea canister for easy access. If you want to make it more interesting and inviting, you can add a mirror behind the bar or a chalkboard where guests can write their messages before leaving. 
Wood and Wonderful 
If what you're looking for is something rustic and country then you can never go wrong with a wet bar made out of wood. You can go in different directions depending on the kind of wood you choose. One that is made from reclaimed wood will give the living room a homey feel while something sleeker with clear cuts and lines will give the space a modern feel. 
Aside from using wood, other materials can also serve as an accent to give your wet bar a more interesting look. You incorporate a large mirror and some lighting to transform it into a stunning hang-out area. 
Matchy Matchy
Some homeowners tend to be very specific when it comes to house decorations. If you're someone who can be nitpicky and wants everything to be in sync, then your home bar should match your living room style. 
This might mean that you have to use the same materials for your bar. If the rest of your furniture is made from wood, then a bar stool made from wood would blend in really well. Perhaps you have a marble center table, then you can specify marble countertops for your bar area. If you have metallic decorations all around the living room, you might want to include metallic accents in your bar cabinet as well. Creating harmony in your living room space in terms of aesthetics shouldn't be that hard. 
Modern Home Bar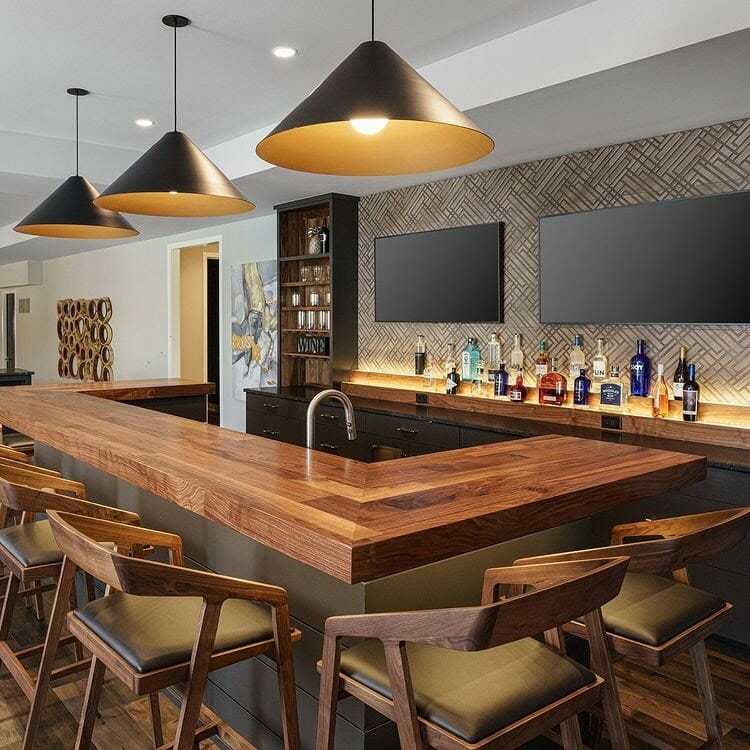 Someone who is an avid wine collector or wine aficionado might want something that's more modern and professional to look at. If you want a home bar design that will truly stand out, you can ask your builder to create wine racks and shelves diagonally, instead of vertical or horizontal. 
A bar cabinet can be placed either above or below the table to make space for wine glasses, wine bottle openers, and other necessities. Choose a dark-colored theme for your bar area for a fancy look. You can also incorporate solid wood countertops and metal hardware for the drawers for added details. Adding stylish pendant lights will also look modern and stylish.
Basement Bar 
A basement bar idea is another great thing to consider especially for those who have space. While not every home has a basement, those who are lucky to have one might want to consider making it a whole entertainment or movie room. 
If you like house parties, having a designated space for entertainment would be fun, especially if you often get visits from family and friends. You can transform part of the area into a basement bar and the other half into a game room or a sitting area for watching movies. Soon enough, your basement bar will become a favorite hang-out place for family get-togethers and when friends want to come together for a fun night. 
Bold in Black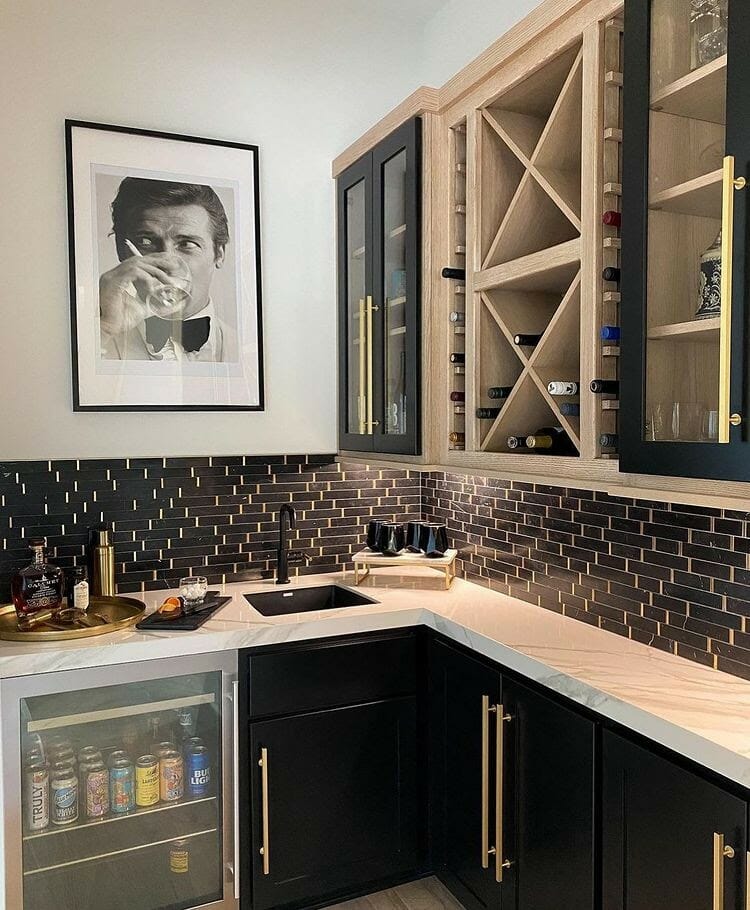 Perhaps if you want something that stands out, you should choose to paint your home bar into something striking like a deep red, a royal blue, or any vibrant color. But if you want something bold and elegant, then the top color choice would be black
Black is a great color for any home design and will go well together regardless of the color of the surrounding. It's also a classic and timeless shade and will never go out of style. So, if you're unsure of what color to choose, you'll never go wrong with a bold black color. 
Illuminated Bar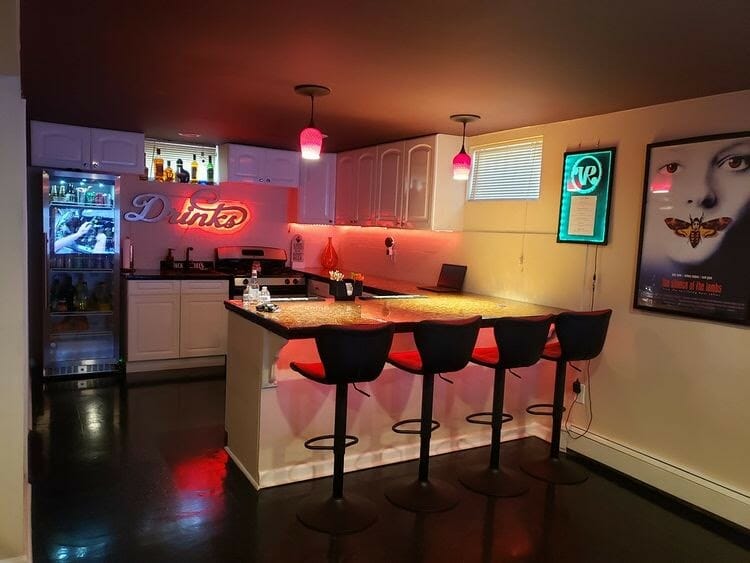 For those who already have an existing bar, there are a couple of ways to revamp it without a complete overhaul. If you're just looking for ways to upgrade your coffee station or wet bar, then one way to do it is to add some form of lighting. 
LED lights can be placed under the shelves where you keep your drinks to add a more sophisticated look. It will also help you find whatever you are looking for in case you got up in the middle of the night to get some drink. You can also use it for cool signages if you have one in your bar area. 
Pop Up Bar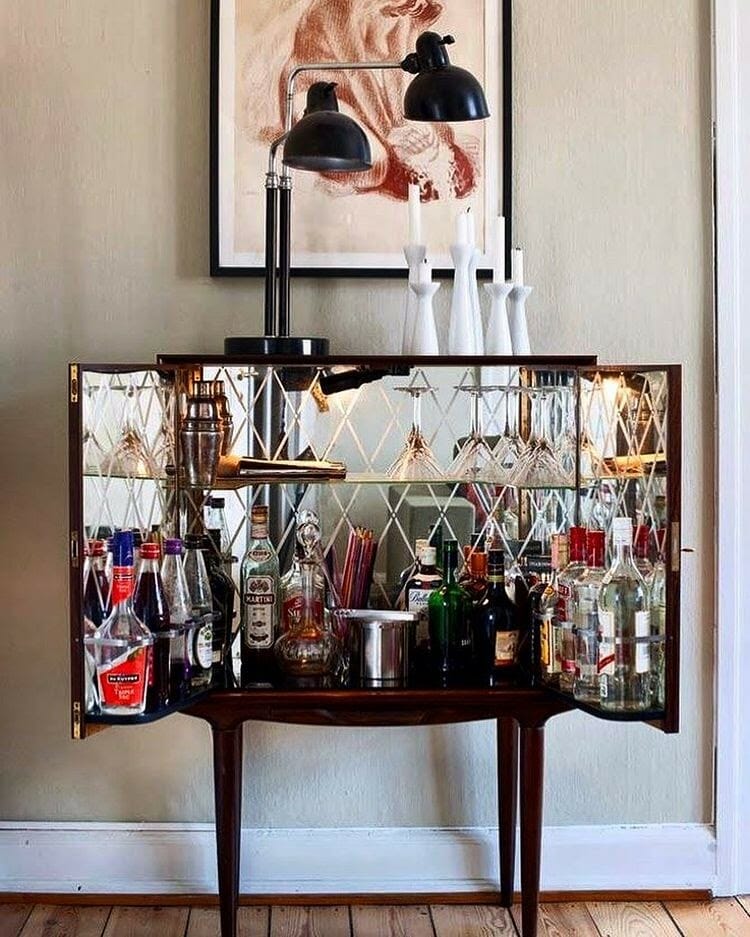 Instead of a standard home bar, some people prefer to have a pop-up bar that they can open and tuck away when they need to. Some homes simply don't have a big enough space to accommodate a large bar. So, for those people who want to keep it simple and practical, a pop-up bar is a good alternative. 
The good thing about it is, guests will never suspect that you have a bar in the living room and they'll be in for a surprise once you offer them drinks. Upon opening, it reveals shelves and drawers good for storing several drinks and glasses. 
The Classic Modern 
A contemporary home bar will be ideal for those who want to keep things classic and traditional. If you prefer simple designs and furniture then a classic modern would be the perfect fit for you. When creating a classic modern wet bar, keep things practical and uncomplicated. 
You might want to skip elaborate decorations and keep things minimal with your living room bar. When choosing the colors for the bar cabinet, stick to someone more neutral like shades of brown or black. The beauty of a classic modern design relies on its simplicity. If you do add something to make it stand out, then you can add lighting under the bar counter or the shelves. This will add a refined glow without sabotaging the modesty of the design. 
Quirky and Fun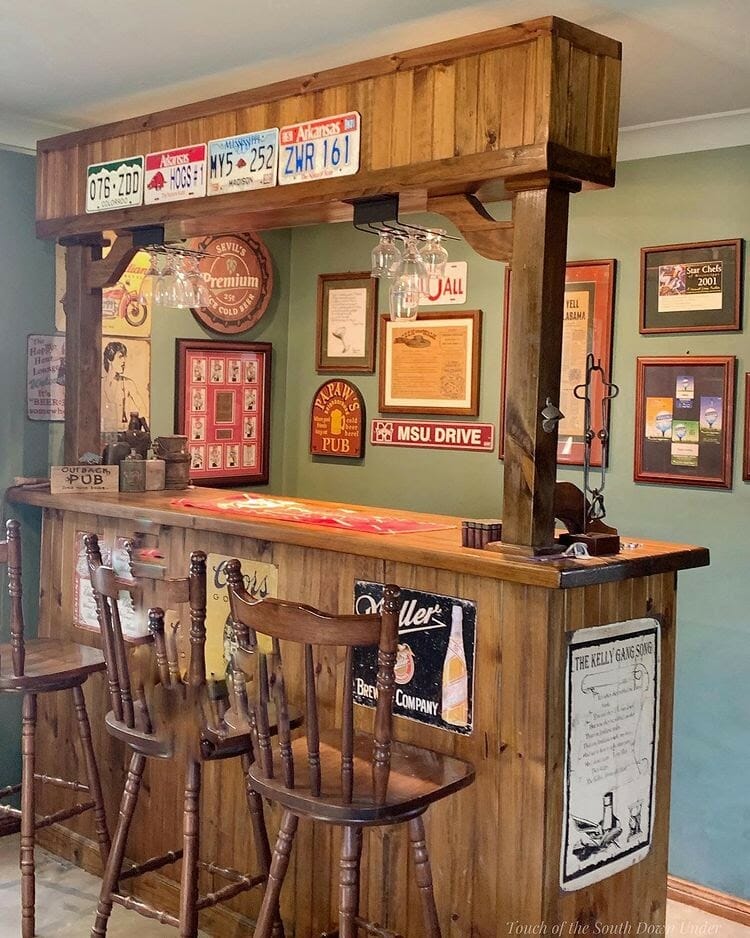 Another amazing living room bar idea for a home bar would be to put together fun and unusual objects like barrels, wooden boxes, or old vintage signs that you found in a thrift shop. The older and more interesting bar decor you put on display, the more character your home bar will have!
For example, instead of using bar furniture, you can place a board on top of two upright barrels. You can also use string lights and banners for added decor. This concept is a good idea for those who are looking for rustic or unique designs. 
Industrial Concept 
Metal and wood-inspired home bar is another good idea for those looking for a rustic design. The combination of wood and metal gives off an industrial vibe that's functional and stylish at the same time. 
If you like putting up furniture on your own, you can easily achieve a bar area with an industrial theme. Simply go to any home improvement stores and get floating shelves and iron bars to use for your very own home bar. While the wood accents provide a rough and rustic look, the iron rods will give it an edgy advantage. 
Small Alternative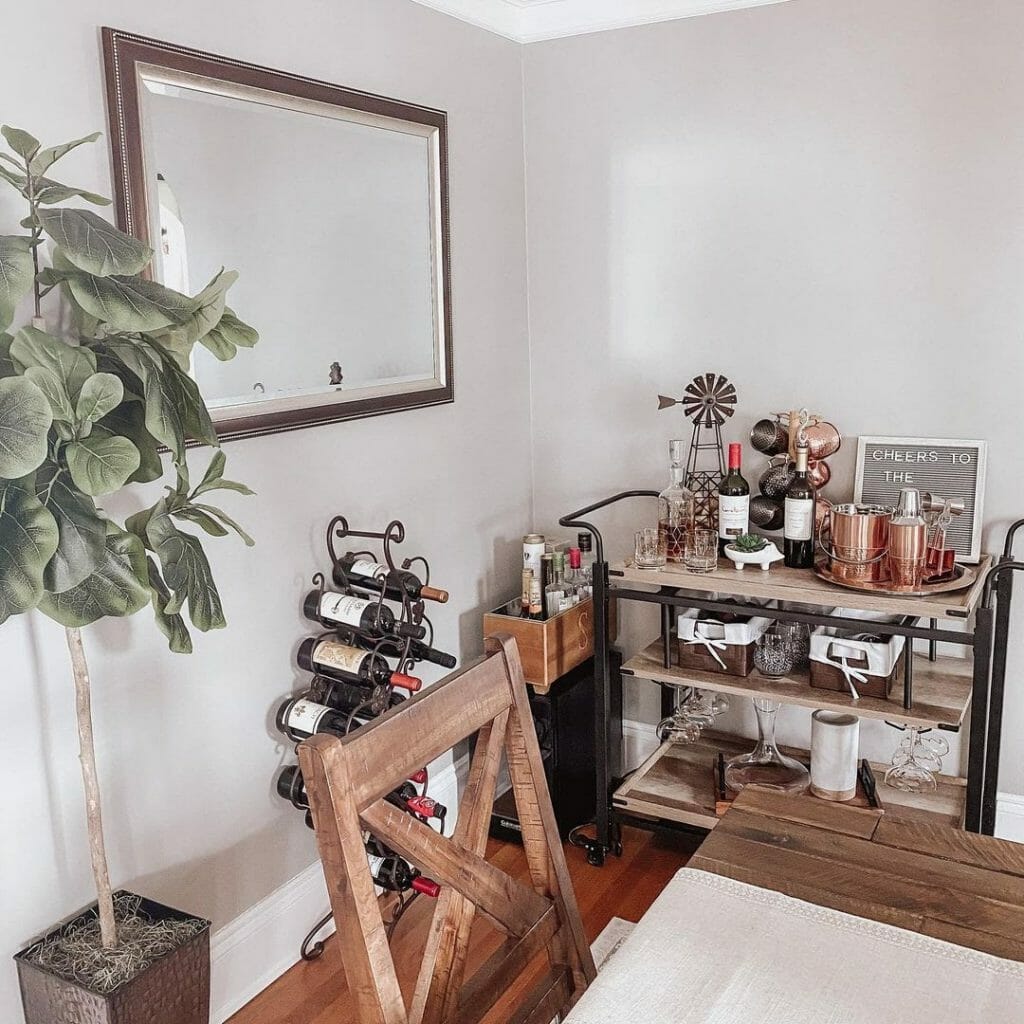 For small spaces like a studio apartment or a one-bedroom home, an alternative would be to get a bar cart to keep all your favorite downtime drinks. It's still similar to having a mini bar in your living room, the only difference would be that your bar cart would be movable. 
You can put small stools around the mini cart for the seating area or probably bean bags for guests to lounge around. You can also place it in a corner, near where you would usually sit. This is a casual and more relaxed approach as opposed to having a legitimate home bar. 
Cool and Exciting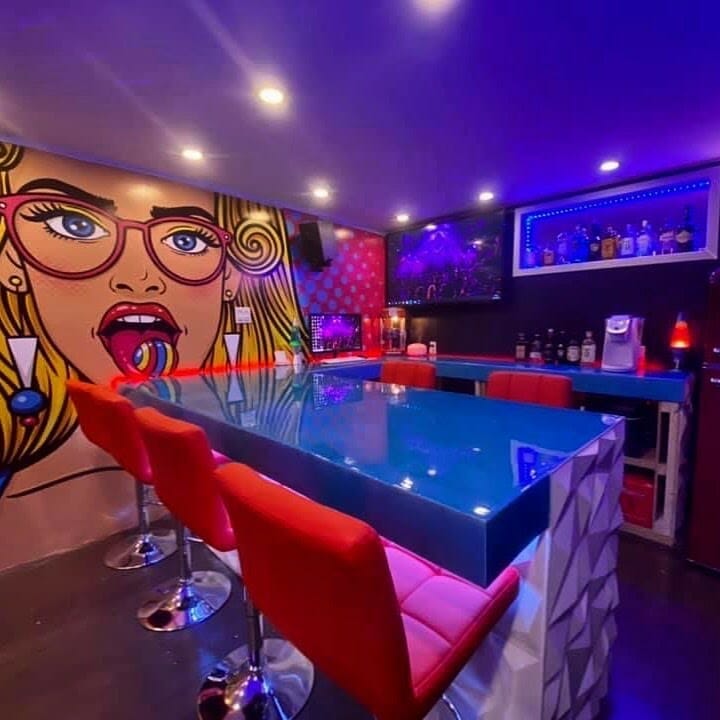 Make your home bar electric and dynamic by installing colorful LED lights. You can even get ones that change colors to make it more lively and entertaining. Put them under the countertops or inside the shelves. To turn it into the ultimate entertainment space, you can put built-in speakers to play some music while you have guests over or put up a statement wall art. Doing these little hacks could instantly modernize and change the mood of your bar setup. 
Additional Tips and Guides for Your Living Room Home Bar 
For some extra tips and guides on how to keep your home bar fun and interesting, read more from the list below: 
Match Stools and Countertop
If you plan to have bar stools, you can have them made from the same material as the countertops. Another option would be to have them in the same color as the cabinets. Doing so will make the furniture look matchy and cohesive. 
Choose Durable Bar Surface
When investing in any kind of furniture, it's better to pick one that's durable. Granite or marble top countertops might be a little more expensive but they will surely last the test of time. Dark and grained hardwood is a warmer alternative that's more in line with pub-style bars. 
Add Mini Fridge
A refrigerator is an added bonus to have in your home bar especially if you like having cold beers and wine. You can also keep lemons, fruits, and whipped cream, in case you need them to make drinks. Having a mini-fridge will be convenient for those who prefer to have a small-sized bar in their home. 
Get an Ice Maker
Another essential piece of equipment to keep on your bar countertop is an ice maker. If you don't have a mini-fridge to keep ice cubes, then consider investing in a good quality ice maker especially if you often have guests over. They are easy to use and will be a handy addition to your bar. 
Keep the Bar Stocked
Regardless of what kind of bar you have at home, it serves no purpose if it's empty. To make sure that your place is always ready in case of guests visiting, make it a point to keep your bar well-stocked. Aside from drinks, your bar should also come complete with utensils such as different glassware, bottle openers, cocktail shakers, spoons, and knives.