How to Design a Scandinavian Living Room?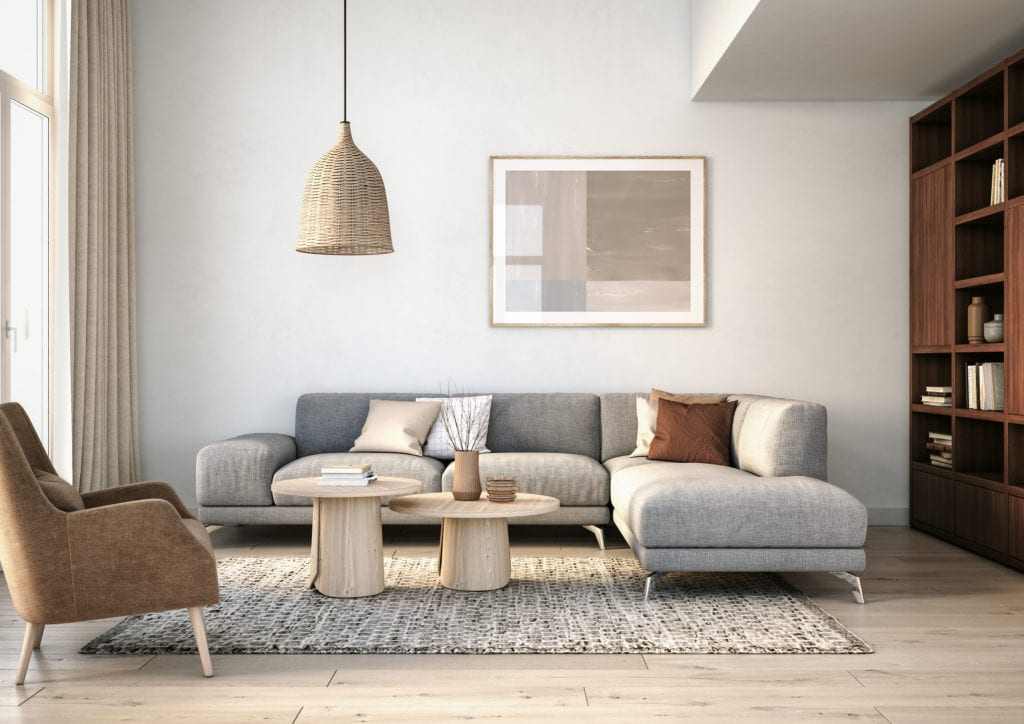 In Scandinavian living rooms, the neutral and light ambiance is the common denominator. As it is a place for housing guests, the coziness is something to look forward to. It may be a tricky trend to build the sparks within the communal area within your home but it's a design that works. Scandinavian design defines the character of the household. If you're a fan of simple yet impactful design ideas, Scandinavian design for living areas is the next big thing for your home. 
Commonly mistaken as minimalism, the Scandinavian design delivers attention to detail, inducing a sleek visual impact. With its cozy vibe, it is a design classification that works in residential interiors. Comparing Scandinavian with the other design types, its characteristics are direct when it comes to the materials, colors, and textures used. It is ideal for communal spaces where you just want to light up and enlarge the space. To give you an idea of how to design your living room in Scandinavian design, check out these tips below to spice up your living room. 
Keep the Accessories Simple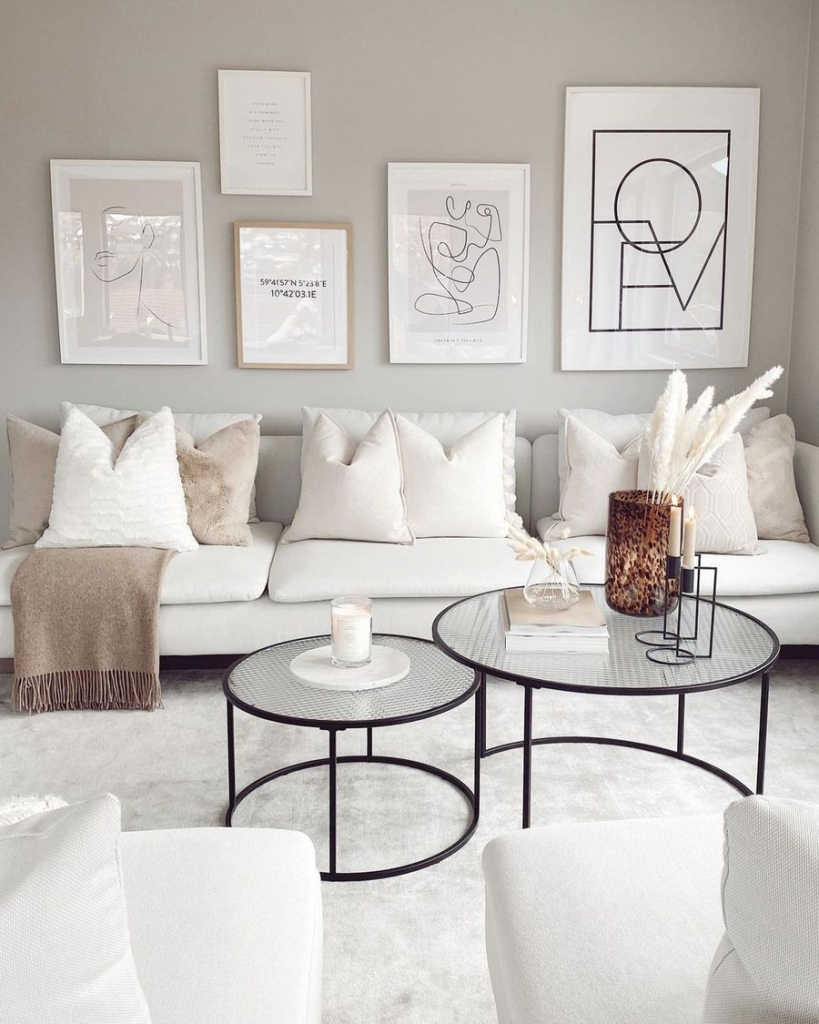 Simplicity is the signature of Scandinavian interiors defined by detail-oriented elements. The accessories to be used are lighting fixtures, fragile displays, wall art, and other eye-catching pieces. It is all about the sense of direction of each piece. In Scandinavian interiors, accessories should be put to a minimum. It's not that bad to experiment on different pieces but choose a few that will define the Scandinavian theme. Pick the ones with your preferred textures, colors, and even materials. 
In Scandinavian homes, it is not often to see oversized and eye-catching artworks. It does not mean that the interior remains plain and dull. It's all about focusing on the must-haves. This will keep the entire living space looking lovely and cozy for the household to enjoy. Invest in the interior features such as furniture and accessories but not to the point of overdoing the design. Ensure that the accessories serve their purpose more than just being visually appealing. That is how Scandi design in interior spaces work. 
Add Botanical Plants on the Side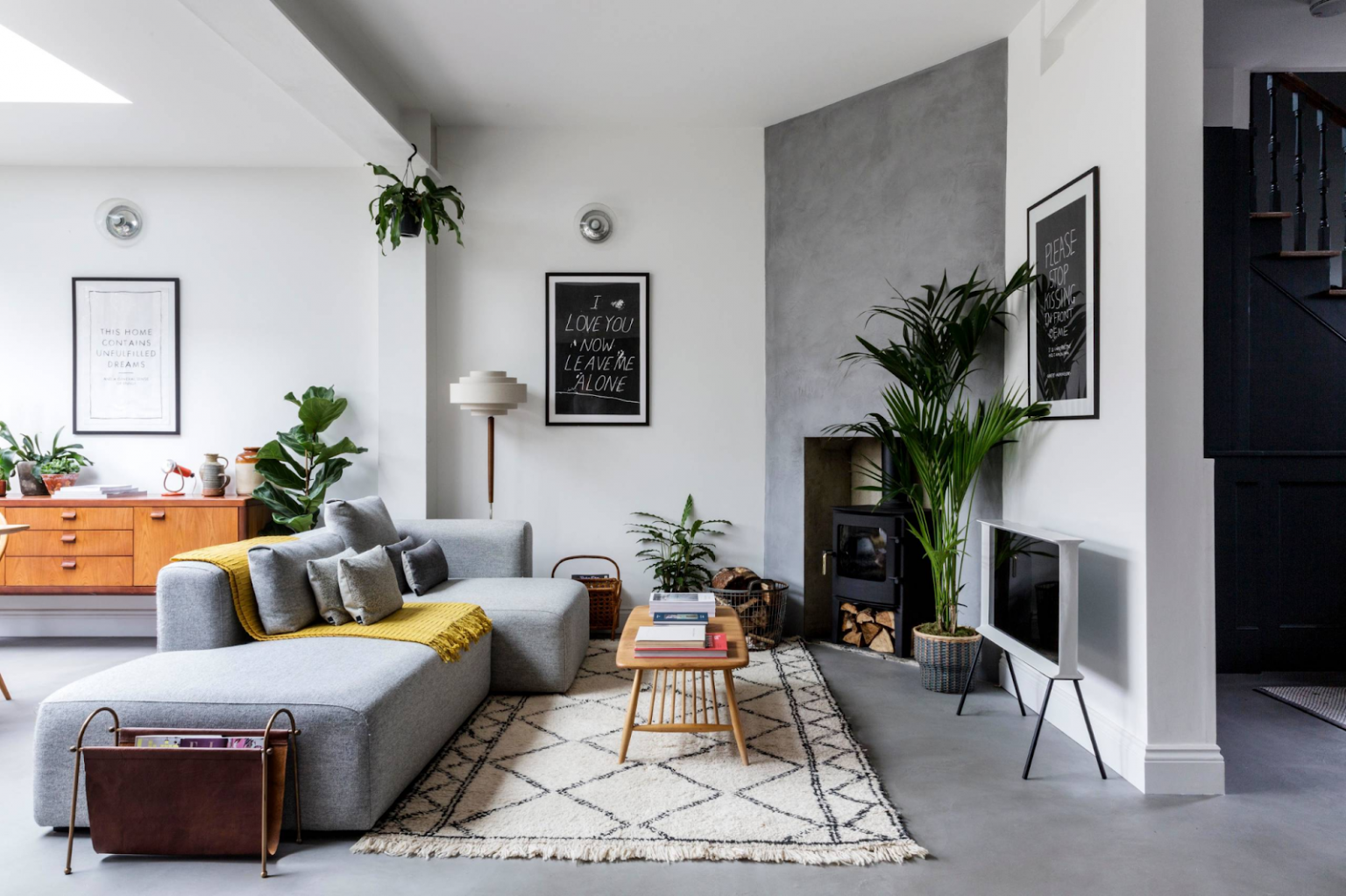 To spice up the neutral and light colors of the living area, add botanical plants on the side to add a little earth color to the room. Apart from the refreshing ambiance plants exhibit, it also helps manage air circulation, especially in small living areas. Hence, it helps in establishing a vertical impact on the viewers. Besides, different types of plants and flowers to choose from that best suit an interior atmosphere. 
Considering that Scandinavian nature, it is all about balancing the earthy and cool tones. When you think there are too many nude tones, all it takes is a few botanical pieces to highlight and channel an outdoor relaxing ambiance. We love natural elements that utilize living elements because they spice up the beauty of your living area. Most designers add botanical plants and flowers to the living room and consider it a necessity in every house in Scandinavian style. 
Free the Space from Clutter 
When starting a DIY project for the interior designs of houses, we tend to overdo the design because of the inspirations seen online. When a design is overdone, it looks messy and unorganized, with all the accessories everywhere. It lacks a sense of direction and is too much to handle visually. In any space designed with a Scandi theme, it is close to minimalism. What makes it different is how the elements are put together. 
Scandinavian is all about light and straightforward designs, and this will not be achieved if the entire space looks cluttered. Free the space from clutter and unnecessary accessories. As much as possible, place the ones with a specific function and limit the ones which are just visually appealing. Clean design is what we are rooting for since it never goes out of style. Keeping it tidy will not just establish neatness, but it builds an inviting and comfortable space to lounge in. 
Pick Light-colored Flooring Materials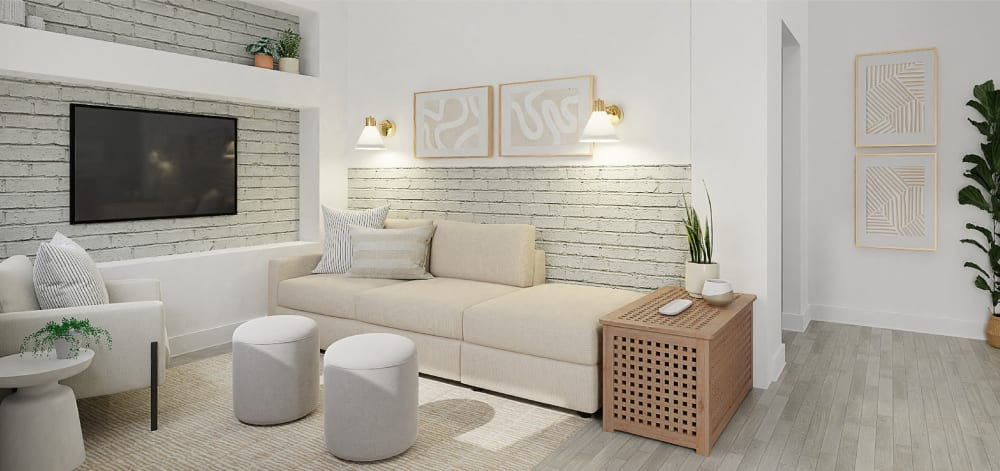 In Scandi design, the strength is focused on light-colored flooring materials. With the different hardwood materials to choose from, the ones finished in light tones often make a clean and sophisticated look. With the advanced technological innovations, plenty of laminated flooring establishes both aesthetic factors and durability. Light-colored flooring materials will show a brighter space that will widen the dimensions of the living area. Besides, nothing beats the thermal properties of hardwood during the cold season. 
Work on the Orientation of the Living Area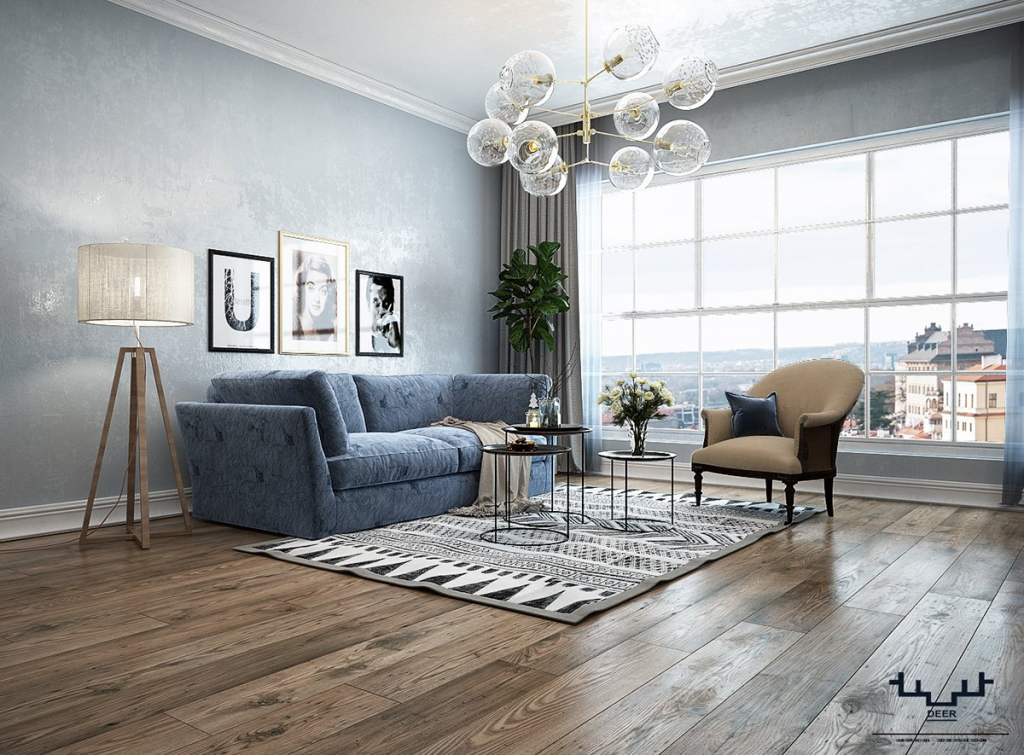 Living areas are ideally set to acquire the afternoon sun, therefore, oriented in the East. The goal is to position the living area in space exposed to natural lighting with minimum heat gain. In Scandinavian living rooms, tall and wide windows are often the fundamental source of natural lighting. It would be perfect, especially during hours where the household shares their time for entertainment or just for catering to guests. 
In treating windows, it would be best to limit textiles to block the natural lighting. Light sheer curtains are ideal if you want natural light at a bare minimum. Achieving Scandinavian design is easy to accomplish for a living room. Using light textile materials should be used for the curtains rather than other window treatments that are too heavy to look at. Sheer fabrics will limit the acquired light but can give a more accessible view of the outdoor environment. 
Utilize a Contrast Color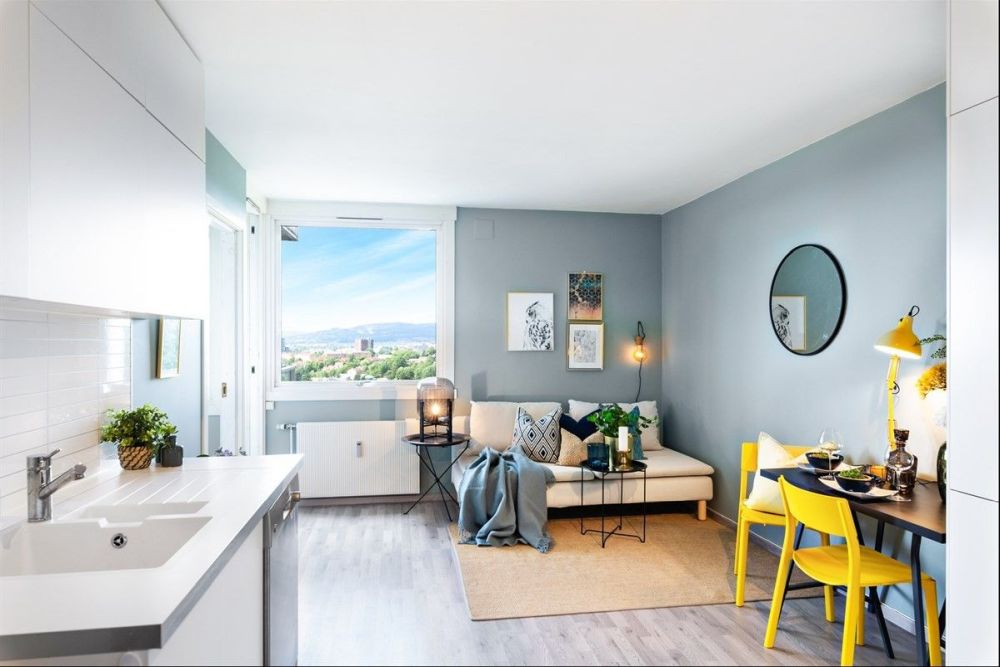 What builds the interior design of a Scandinavian-themed living room is the contrast of eye-catching and neutral colors. A preference for a contrasting color enables a design that catches the eye of the household and the guests. Besides, a splash of a different intense color can define the architectural details often found in buildings in Scandinavian design. Without a contrasting color, the entire space will just look like all the elements are floating. The contrast color should ideally be on a darker tone to easily define the details. 
Build a Cozy Atmosphere
Whether it be a small or large living space to fill, the cozy atmosphere should apply to all the aspects of the decor. From using nude colors to soft textiles, it brings the best living area where you can relax comfortably. What makes the living area cozy will be the color and the textile. This will make the living area your favorite space within your home. Besides, the living room is not just housing the guests but where the household takes time to rest or just be lazy. 
Keep the materials and textures soft and light for the pillows, curtains, and upholstery. This makes it more inviting for the household to stay in it. Besides, nothing beats the comfort of a couch and a blanket on a cold afternoon. Layering is ideal for Scandinavian-themed living rooms. You can work on textiles of different patterns and textures layered on the couch. On the side, you can add a fluffy carpet in a dark tone to complement the light-colored flooring. 
Indicate an Accent Wall 
One thing to look forward to in a Scandinavian living room is the accent wall. This is often identified as a wall with a fireplace, a minimalist gallery, or just a wall differing from the others. In some cases, a wall with a different color also works well. A fireplace would work as an accent wall with a centerpiece bringing warmth to the living area. It creates a warm and cozy identity that makes you want to lounge on the couch for a long time and just relax. 
If you're rooting for an exhibit-type of living area, a minimalist gallery is also an option. Pick a few monochromatic images printed on canvas to hang on the wall. This trick can add a historic touch to the living room. Besides, the Scandinavian theme is all about tradition and culture. A gallery as an accent wall would add a more personalized touch. Hence, keeping it monochromatic can match it to the theme of the living room. 
Choose Subtle and Earthy Colors 
What makes a Scandinavian living room is light and neutral colors. If you're up for a fresh start for the design, nudes work best in retaining the outdoor touch you want to achieve. Different tones of browns, greys, and whites blend perfectly with the neat yet classy image of a Scandinavian living room. It's not a bad thing to add a few popping colors such as blue, green, or pink, as long as the dominant tone is neutral. 
As it is close to minimalist architecture, keeping it light and simple works well with the entire design. Plain walls in different tones build induces the Scandinavian touch. There is no room for loud colors and elements. It's all about muted and matte tones. There may not be a specified color palette but what works best are often plain and in the hues of white, grey, and black. The soothing effect it brings makes the entire space stand out and look neat but sophisticated.